Sky-High Ambitions
Aurora cannabis (OTCQX:ACBFF) is a licensed marijuana producer in western Canada with a market cap of $560 million. In Q4 2016, the company began the development of Aurora sky, an 800,000 sq. ft. cannabis production facility in Leduc County, Canada. The new facility, designed to be more than 15 times bigger than Aurora's current 55,200 sq. ft. facility in Mountain View, Alberta, will be the largest and most technologically advanced marijuana production facility in the world. Management boasts that Aurora will have innovative and industry-leading automation features for growing and cultivating marijuana plants. The company estimates that Aurora sky will produce over 100,000 kilograms of cannabis annually.
(Source: NewsWire)
The company also claimed that Aurora sky's location is a tremendous vantage point for access to natural resources, transportation, and a direct consumer base in the prosperous city of Edmonton. Management believes these elements will enable Aurora to grow premium quality and low cost cannabis in abundance when operation begins in Fall 2017.We see Aurora sky as a highly ambitious effort from Aurora to match up against Aphria (OTCQB:APHQF) and Canopy (OTCPK:TWMJF) growth, the 2 current largest Canadian marijuana producers by market cap. Aurora's grand ambitions comes with an investment risk of equal caliber for early investors. In order to fuel the Aurora sky project, Aurora has accumulated high levels of debt relative to its cash on hand. If Aurora sky doesn't pan out well, the company could be heading to dark times or even bankruptcy. In this article, we will examine what Aurora hopes to accomplish with Aurora sky and the risks associated with investing in this ambitious marijuana player.
Answer to a Marijuana Shortage
To understand why Aurora decided to construct a facility with size equivalent to over 16 foot stadiums, we have to look into the expected national demand for both medical and recreational marijuana in the near future. According to Canaccord analysts Matt Bottomley and Neil Maruoka, Health Canada impose a strict barrier of entry for companies to become licensed cannabis producers. In 2016, only 2% (23 out of 1200) of cannabis applicant were approved by health Canada. Canaccord analysts do not believe existing marijuana players will have the necessary capacity to meet the expected cannabis consumption of 400,000 kilogram by 2021.This lack of production will inevitably lead to a shortage for marijuana as legalization takes place in the next few years. In fact, there is an apparent shortage of cannabis currently amongst the current medical marijuana supplier. Checking the Google reviews for major marijuana suppliers, the most frequent complaint by far is the lack of inventory.
We believe Canaccord's basis for a potential marijuana shortage is absolutely valid. Bill Blair, head of PM Trudeau's legalization efforts, recently commented that "we will take as much time as it takes to do it right" (in regards to legalizing recreational marijuana). Blair cited that the government is still working on strict policies to control the production,distribution, and quality of marijuana suppliers. We expect Health Canada to continue its strict licensing of new producers. This safety protocol will undoubtedly cause a cannabis shortage when recreational use is legalized.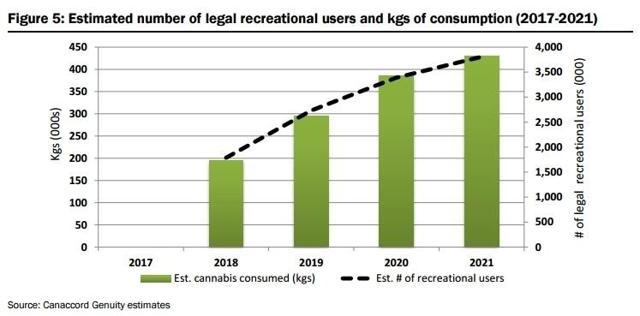 (Source: Canaccord Genuity)
Given the current and upcoming shortage, Canaccord analysts estimate that weed will have a price floor of $8 per gram (compared to current prices ranging from $10 to $12.50). Canaccord projects that, assuming legalization takes place by 2018, Canadians will consume over 400,000 kilogram annually by 2021. Using Canaccord's price floor of $8 per gram and 400,000 kilogram of consumption in 2021, we estimate a total available market (NYSE:TAM) of $3.2 billion in sales by supplier. Assuming Aurora sky is complete and capable of producing over 100,000 kilogram by 2021. The facility alone would allow Aurora to capture around 25% of total sales in 2021. This estimated 25% TAM represents over $800 million in potential revenue for Aurora just from the new facility.
Canaccord actually projects total marijuana sales from both medical and recreational use to reach $6 billion in Canada, which may include the sales of cannabis products such as edibles that are not sold by suppliers such as Aurora. Additionally, big four accounting firm Deloitte approximate marijuana sales to fall between $5 billion and $8.7 billion annually by 2021. Market leaders Canopy and Aphria only raked in 2016 revenues of $22.9 million and $11.3 million respectively. If marijuana industry sales in 2021 come anywhere close to what Canaccord and Deloitte are projecting, players with notable production capability and market share will profit handsomely.
Meaningful Risks
Aurora has taken on a heavier debt relative to its competitors in jump-starting the Aurora sky project. The company, with $15.3 million in debt and $41.5 million in cash, is not quite as healthy financially compared to its competitors. However, this is a drastic improvement from the prior quarter, when Aurora was sporting $10.3 million in debt and merely $17.7 million in cash. Canopy and Aphria have $68.7 million and $75.2 million cash on hand, respectively. Additionally, both companies carry almost a third of Aurora's current debt. Aphria and Canopy may leverage their higher cash on hand and brand recognition to develop facilities which can match Aurora sky's production. Overall, we believe it would be uncanny for these two industry leaders to lay around doing nothing while Aurora is building to maximize revenue opportunities upon legalization.
*Please note that all cash and debt numbers are converted to USD via Bloomberg.
Aurora investors also face risk in the form of a somewhat questionable management team. This management risk was investigated explicitly and elaborately in an article by SA contributor Grumpey Bear Research. The article detailed that CEO Terry Booth has no experience with the marijuana industry and faced a lawsuit in the past for selling his company after giving overly optimistic projections. The article adds that President Steve Dobler also has no relevant experience in the marijuana business and was noted by Grumpey Bear as a past business partner of Booth. Grumpey Bear remarked that ex-director Marc Levy worked to "aggressively promote Aurora in order to drive the share price higher" before selling his shares and leaving the company in August 2015.
Final Thoughts
As hopeful marijuana investors, we must ask ourselves; why should we take the risk of buying Aurora when we can invest in the renowned Canopy growth or the exceptionally managed Aphria? The answer, albeit obvious, comes down to Aurora's low stock price and high percentage return that risk-loving investors can gain from it. Cannabis stocks as a whole are not trading on fundamentals in any sense of the word. From our following of cannabis tickers for the past year, we've learned that stock prices entirely follow news on legalization and the two highest valued marijuana companies (Canopy and Aphria) are also leaders in sales revenue for the industry.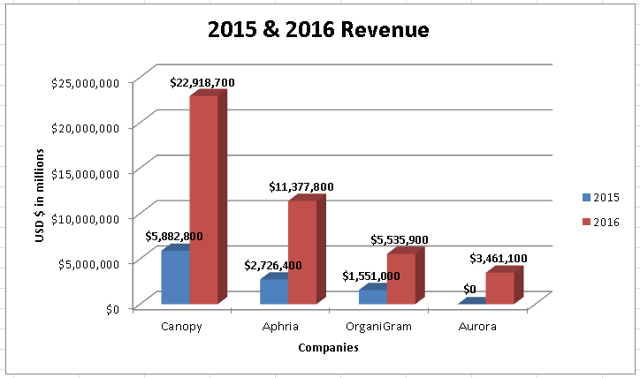 (Source: Bloomberg)
Since we have no way of forecasting Canadian politics in the short term, we have to look for correlation between sales revenue and stock price. Aurora's first year sales of $3.46 million in 2015 surpassed Aphria's 2015 revenue of $2.72 million by a good margin. If Aurora is able to surpass Apria's current TTM sales revenue in 2017, we believe there is high potential for Aurora to double from its current price in the next 9-12 months. Of course, this capital appreciation would come along more smoothly if upcoming news on legalization are positive. Personally, we do not have the risk tolerance to initiate a position in Aurora. We may buy into Aurora in the future but we'll stick with Canopy and Aphria for now.
Disclosure: I am/we are long TWMJF, APHQF.
I wrote this article myself, and it expresses my own opinions. I am not receiving compensation for it (other than from Seeking Alpha). I have no business relationship with any company whose stock is mentioned in this article.
Editor's Note: This article discusses one or more securities that do not trade on a major U.S. exchange. Please be aware of the risks associated with these stocks.