Military service is not constant action. From my time on board of a FG navy vessel I remember the following situation:
Officer to idle sailor: "Nothing to do?"
Sailor: "I have already done a lot."
While the navy has its own way to deal with work ethic, academics may wonder about three aspects of that answer:
What has this guy exactly accomplished?
Can he provide any measurable proof for it?
And, most importantly, isn't this a suspiciously weak attempt to avoid any further efforts?
Berkshire Hathaway's (BRK.A, BRK.B) annual meeting is featuring Warren Buffett as the sailor this year. It should be obvious that I am not referring to his past performance as investor. I am taking issue with his views on current and future environmental challenges that in turn may well affect future returns.
The good
Berkshire's environmental track record is ambiguous. Bill Gates is on board as non-executive director. He is on record saying
The three nightmares that I worry about are nuclear war, pandemic and climate change.
Also, Berkshire's participation in the Climate Pledge prior to the 2015 UN Climate Change Conference in Paris made the news as well.
The bad and ugly
At the same time Berkshire ranks 5th among the largest power producers in the US by CO2 emissions.
There are three shareholder proposals on the agenda of this year's meeting, two of them climate change related. SA's newsfeed was quick to suggest activists would have filed the proposals to get the publicity on the world's most attended annual meeting:
[..] BRK meetings [...] draw such large crowds that they have attracted activists seeking to highlight causes from the environment to human rights.
I am not sure how the merits of the proposals can be linked to the crowd size.
Although some Americans may feel like they have resolved the climate change nuisance by means of their vote in November last year, the data tells a different story. The years with the highest global temperatures on record are in descending order: 2016, 2015, 2014.
The planet's average surface temperature has risen about 2.0 degrees Fahrenheit (1.1 degrees Celsius) since the late 19th century, a change driven largely by increased carbon dioxide and other human-made emissions into the atmosphere
says NASA. Berkshire is not in denial. But their take on the two proposals in question is, well, suspiciously weak.
Avoiding leaks
The first climate change related proposal addresses the following concerns:
Methane leaks from gas operations contribute significantly to climate change (and revenue losses)
Health and safety standards in the industry need to be improved as precaution against further incidents such as the Aliso Canyon gas leak that Sempra Energy's (NYSE:SRE) subsidiary SoCalGas failed to prevent.
For these reasons, the proponents want Berkshire to pursue a data driven best practice strategy including reduction targets to minimize leakages.
Enter the sailor. Here is what the board of directors has to say in response to the proposal:
We understand minimizing methane leakages is important.
Northern Natural Gas has been voluntarily participating in the EPA's Natural Gas STAR program since 1994 aiming at a reduction of methane emissions.
We are even founding partners of the EPA's voluntary Natural Gas STAR Methane Challenge Program and committed to quantifiable reductions of emissions. We have accomplished a lot already and data is publicly available.
The reference to the Natural Gas STAR program cannot reassure. SoCalGas joined the Natural Gas STAR program one year before Northern Natural Gas did and it did not help the residents of Aliso Canyon/Porter Ranch.
What is not to like about the methane challenge? Let me ask a question in return: Would you as BRK shareholder find it acceptable to get aggregated financial data rather than company specific numbers? Like all conglomerates such as Leucadia (NYSE:LUK), Loews (NYSE:L) and Carlisle (NYSE:CSL) put in one basket with Berkshire? Well, this is how the methane challenge works:

Source: EPA
Is Berkshire to blame? Two times yes. Berkshire's feedback to the design suggested by the EPA included the following: "partner companies should have the ability to identify information that should not be published." The EPA then left it to the participants to opt for a less ("Best Management Practice Commitment") or more ("ONE future commitment") transparent program:

Source: EPA
Thus, it is fair to conclude Berkshire actively avoided the disclosure of any methane emission related data that would allow shareholders to track the progress made at Berkshire's subsidiaries.
Invasion from Zorblatt 9
The second proposal is a more straightforward. In the light of climate change related risks, it aims at the divestment of all stakes in companies whose business model relies on fossil fuels within 12 years. The board's opinion is equally straightforward. In my words: We do not care as long as it is legal.
The contrast between the wording of the proposal ("existential threat to civilization") and the response ("complex social and moral issues") is almost comical. What could be easier to understand than an "existential threat to civilization"? Alec Baldwin's impersonation of a U.S. president who is confronted with an alien invasion from Zorblatt 9 comes to mind.
As I have written in the Guide To Treehugging, the "it is legal" argument is not good enough. Building up risks for others to take, is a risk in itself. When these risks materialize they tend to backfire through regulations and lawsuits. Ask SoCalGas.
The 100 trillion Dollar question
Others, outside the Berkshire HQs, care more about climate change. Like 827 investors that have become CDP (Carbon Disclosure Project) signatories or members. It surely has not escaped their notice, that Berkshire is one of the three largest companies by market cap that constantly refuses to report its carbon footprint.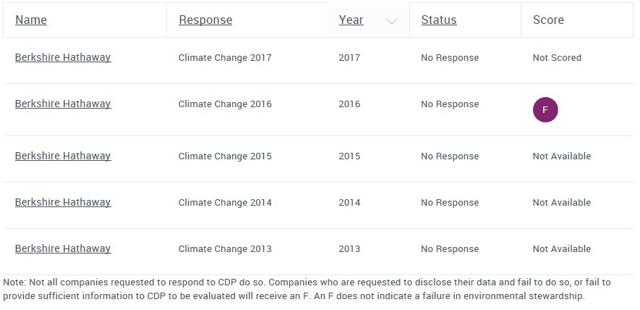 Source: CDP
One could think of this as a generational problem, if the other two non-responders weren't Facebook (NASDAQ:FB) and Amazon (NASDAQ:AMZN).
While investing heavily in renewable energy, Berkshire features a lack of open commitment and transparency. Bill Gates has more than once stressed the importance of measurement. Berkshire fails to deliver on that front with regard to the environmental aspects of its business. This is one of the reasons I have never considered buying shares in Berkshire (the other being that I try to avoid celebrity centered companies). Berkshire can live with my decision, no doubt. The 827 guys and gals mentioned above, though, manage some $100 trillion in assets. This leaves us with the question who is fighting climate change before they take the gloves off? Well, the U.S. Navy for example.
Disclosure: I/we have no positions in any stocks mentioned, and no plans to initiate any positions within the next 72 hours.
I wrote this article myself, and it expresses my own opinions. I am not receiving compensation for it (other than from Seeking Alpha). I have no business relationship with any company whose stock is mentioned in this article.