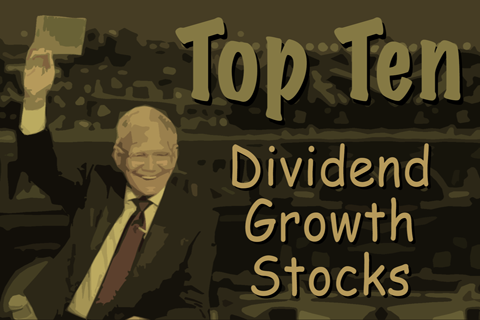 David Fish maintains a list of stocks with at least five consecutive years of paying higher dividends. Colloquially called the CCC list, it contains more than 800 dividend growth stocks trading on U.S. exchanges. The CCC list and the accompanying spreadsheet is a wonderful source for dividend growth investors and I've been using it for years.
In my monthly 10 Dividend Growth Stock series, I identify 10 CCC stocks worthy of further research. To create the list, I trim the CCC list using various screens. I rank the trimmed list and assign a 7-star rating to each stock. Stocks rated 5 stars or better are worthy of further analysis.
Trimming The CCC List
The latest CCC list contains 813 stocks. Rating more than 800 stocks would be a daunting task, so I use several screens to trim the CCC list. This month, I applied the following screens favoring established dividend payers with positive earnings growth:
Number of Years of Consecutive Increases > 10 (removes 489 stocks)
10-year Dividend Growth Rate ≥ 7 (removes 110 stocks)
Ratio of Debt to Equity < 2.00 (removes 45 stocks)
Past 5-year Earnings Growth ≥ 0.00 (removes 44 stocks)
Dividend Yield ≥ 1.60 (removes 42 stocks)
No MLPs or stocks being acquired (removes 6 stocks)
These screens trim the CCC list to 77 candidates.
The Ranking Process
I ranked the 77 candidates using data from the CCC spreadsheet and additional sources like Morningstar, S&P Capital IQ, and F.A.S.T. Graphs. My ranking system favors established dividend paying stocks with strong fundamentals and stocks potentially trading at or below fair value. Dividend safety is another important factor.
Here are the top 10 ranked stocks for March 2017:


Stocks I own in my DivGro portfolio are highlighted.
Four stocks from last month's top 10 appear in this month's top 10. These stocks are identified with a subscript that represents last month's ranking. For example, CVS3 means CVS was ranked third last month.
Ratings and Sectors
The following table presents the top 10 ranked stocks by sector, along with my star ratings for each stock. This month, four of the stocks earned a 7-star rating. I consider stocks with a 5-star rating or better worthy of further analysis:
| | | | |
| --- | --- | --- | --- |
| Rank | Company | Rating | Sector |
| 1 | VF Corporation (VFC) | ✭✭✭✭✭✭✭ | Consumer Discretionary |
| 2 | Hormel Foods Corporation (HRL) | ✭✭✭✭✭✭✭ | Consumer Staples |
| 3 | CVS Health Corporation (CVS) | ✭✭✭✭✭✭✭ | Consumer Staples |
| 4 | Qualcomm Inc (QCOM) | ✭✭✭✭✭✭✭ | Information Technology |
| 5 | T. Rowe Price Group, Inc (TROW) | ✭✭✭✭✭✭✩ | Financials |
| 6 | Texas Instruments Inc (TXN) | ✭✭✭✭✭✭✩ | Information Technology |
| 7 | General Dynamics Corporation (GD) | ✭✭✭✭✭✭✩ | Industrials |
| 8 | Franklin Resources Inc (BEN) | ✭✭✭✭✭✭✩ | Financials |
| 9 | Target Corporation (TGT) | ✭✭✭✭✭✭✩ | Consumer Discretionary |
| 10 | 3M Company (MMM) | ✭✭✭✭✭✭✩ | Industrials |
Five sectors are represented this month and each has two stocks in the top 10.
Key Statistics and Fair Value Estimates
The table below presents some key statistics as well as fair value estimates for the top 10 stocks. Unless otherwise indicated, data are from the CCC spreadsheet.
In the table, Yrs are the years of consecutive dividend increases, Payout is the EPS (earnings per share) payout ratio, and Debt is the ratio of debt to equity. The compound dividend growth rate over a 5-year period (5-Yr DGR) is provided, where available. Morningstar's Moat and Standard and Poor's Credit Rating, as well as Value Line's Safety and Financial Strength ratings also are provided. Finally, I present my own estimate of Fair Value, along with a calculation of the current discount to fair value (Discount).


To estimate fair value, I use a multi-stage DDM analysis with proprietary adjustments. Generally, I set a required rate of return of 10% and use estimates of the annual EPS growth rate for the next 5 years. Thereafter, I taper the growth rate to a perpetual growth rate of 3% after 10 years. Adjustments to the calculated fair value are based on various factors, including an assessment of dividend safety.
Finbox.io provides a comprehensive set of analysis tools to estimate fair value. Below I include snapshots for the three stocks trading below fair value. Note that Finbox.io includes range visualizers not only for its own estimates but also for Wall Street analysts' targets and the stock's 52-week trading range: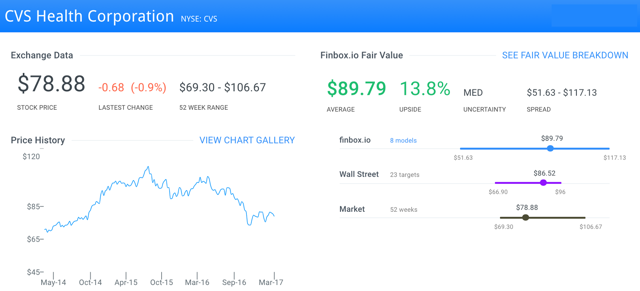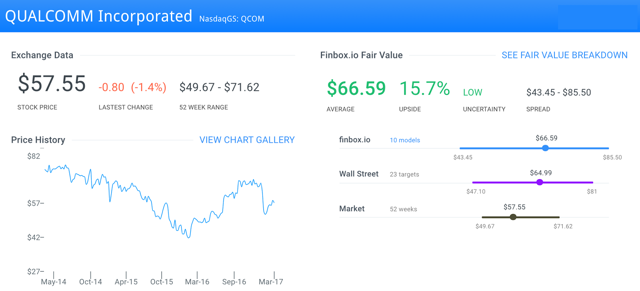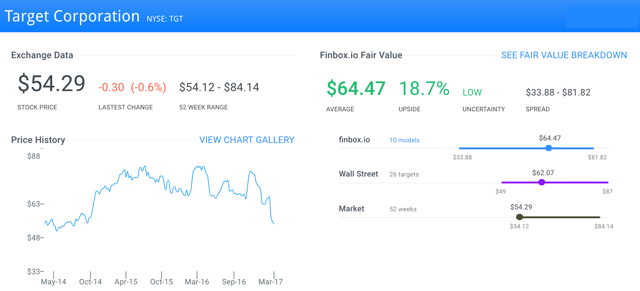 While we're in agreement that these stocks are trading at a discount to fair value, we differ on the size of the discount. For example, Finbox.io estimates that TGT is discounted by 18.7%, whereas I think TGT's fair value is $60.30 for a discount to fair value of about 10%.
I like Finbox.io's analysis tools because you can adjust several input parameters based on your own assumptions and see the impact on the fair value estimate.
Top 10 Snowflakes
Simply Wall St is a Sydney-based startup that offers various analysis and visualization tools. A particularly useful infographic is the Snowflake, a visual summary of 30 different checks that Simply Wall St performs when analyzing stocks.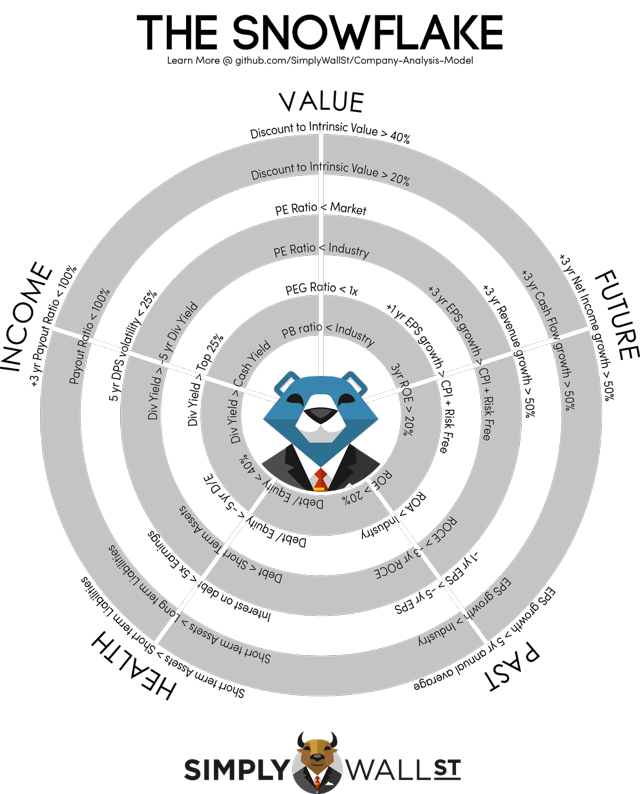 Each snowflake represents Value, Future, Past, Health, and Dividend scores.
The Value score indicates how undervalued a stock is. The Future score represents growth expectations based on analyst estimates, while the Past score captures a stock's past performance. The Health score considers a company's balance sheet and debt levels, and the Dividend score measures the quality and sustainability of a company's dividend.
The color of each snowflake changes from red to green depending on the number of checks a stock passed.
Below is a snowflake matrix of this month's Top 10 stocks. I included an overlay of the scores for value, future, past, health, and dividend so readers can get a sense of how shapes correlate with scores.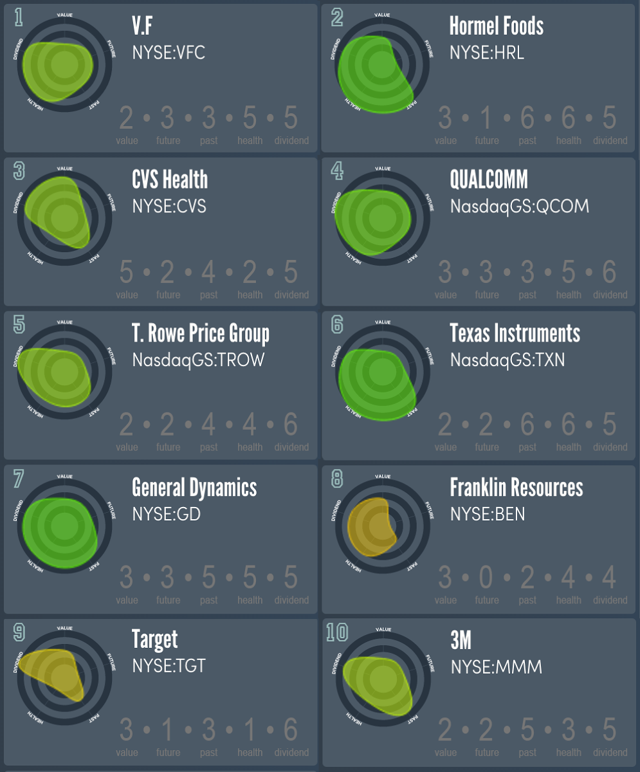 What I like about these snowflakes is how easy it is to recognize quality stocks.
Looking Back
Since the one-year anniversary of monthly 10 Dividend Growth Stocks article series, I've been looking back to see how my year-ago selections performed. Here's a chart showing the price performance (excluding dividends) of my top 10 ranked stocks from March 2016: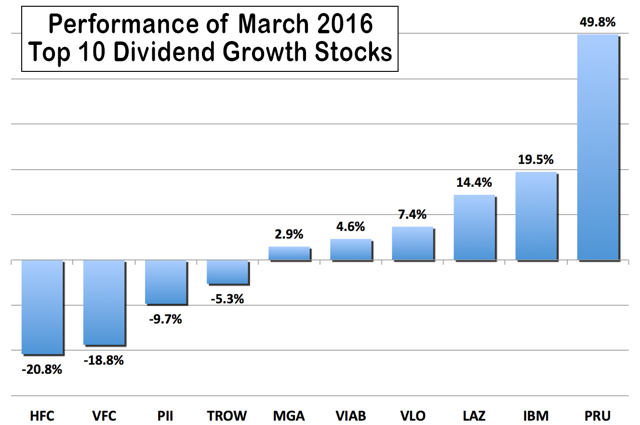 The arithmetic average of these returns is 4.4%. In comparison, the Vanguard Dividend Appreciation ETF (VIG) returned 13.1% over the same period (excluding dividends).
The performance of my year-ago selection was significantly dragged down by HollyFrontier Corporation (NYSE:HFC), an Energy Sector stock, and by VFC, which happens to top this month's top 10 list!


Please note that I'm comparing the performance of last year's top 10 ranked stocks to VIG's performance for fun. I'm certainly not implying that a small portfolio of 10 stocks, while carefully selected and ranked, would outperform a well-diversified ETF like VIG.
Concluding Remarks
As a dividend growth investor, I explore different ways to identify candidates for further analysis and possible investment. With my 10 Dividend Growth Stock series, I screen the CCC stocks and rank a selection of candidate stocks. This month I screened for established dividend paying stocks with positive earnings growth over the last five years.
Of the top 10 ranked stocks trading below fair value, I own shares of QCOM and TGT, but no shares of CVS. However, I recently sold two put contracts on CVS. If CVS trades below $75 on or before 19 May, I'll buy 200 shares at a cost basis of $74.08 per share.
VFC is trading near fair value and it may we worth looking into selling puts on VFC at a strike price near $52. First, though, I would need to do a thorough analysis of VFC to see if the stock is worth a long-term investment.
Please note that the top 10 ranked stocks are candidates for further analysis, not recommendations.
Thanks for reading! If you liked this article and would like to read similar articles in future, please click the Follow link at the top of this article.
Disclosure: I am/we are long QCOM,TROW,GD,TGT,MMM.
I wrote this article myself, and it expresses my own opinions. I am not receiving compensation for it (other than from Seeking Alpha). I have no business relationship with any company whose stock is mentioned in this article.