Enterprise Products Partners (NYSE:EPD) announced interesting news this past week, to which the market had only a slightly positive reaction. The bankruptcy of Azure Midstream Partners had resulted in an auction of that company's assets and Enterprise scooped them up for a cool $189 million. It's initiative like this that make me confident in this company to take full advantage of the recovery in commodity prices, and, subsequently, volumes. Right now, I believe it's key to look at this asset pick-up as a strong positive, despite its relatively small size; additionally, taking a look at the company's valuation relative to peers is key to determine how EPD will trade over the long-term.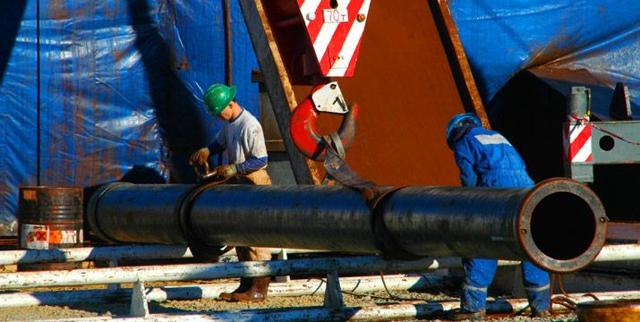 Source: Azure Midstream
Finding Value In All Places
It's interesting that the market's reaction to solid moves by management has been nonexistent. However, I will say that it makes sense given the current short-term trends of commodity prices. Right now, EPD is up about half a percent on the year, but has been in a steady downtrend since mid-February, but is well off its 2017 highs of $30.25. I'm waiting for this downtrend to settle itself as the stock just moved below its 50 EMA and the slope of the 200 DMA is flat and if the stock doesn't receive support from commodity prices, it could rip to the downside and we could see the stock hit $26 as soon as a few weeks.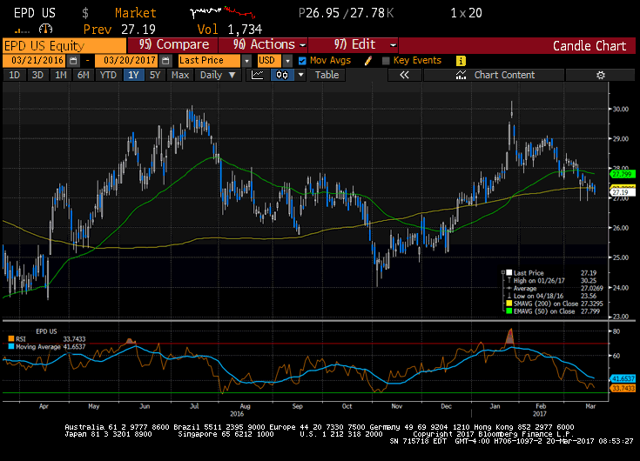 Source: Bloomberg
So, what did EPD get from Azure? This now bankrupt company out of Dallas had assets spanning east Texas and north Louisiana. Enterprise received two NGL pipelines with a capacity to ship up to 10 kbopd. As the hallmark, Enterprise will receive 960 miles worth of natural gas gathering pipelines, as well as three processing facilities.
Yes, this is a nice compliment to existing assets, as the company has strong footprints in east Texas and north Louisiana, with ATEX on the latter. Stepping up the NGL operation, which has seen only its first increase in revenue since 2014, is key to offsetting the losses currently being experienced by their crude oil and natural gas pipeline segments, as well as their petrochemicals segment. NGLs posted revenue of $8.38 billion in 2016, up from $8.04 billion in 2015, but still down drastically from 2014's keep of $15.46 billion.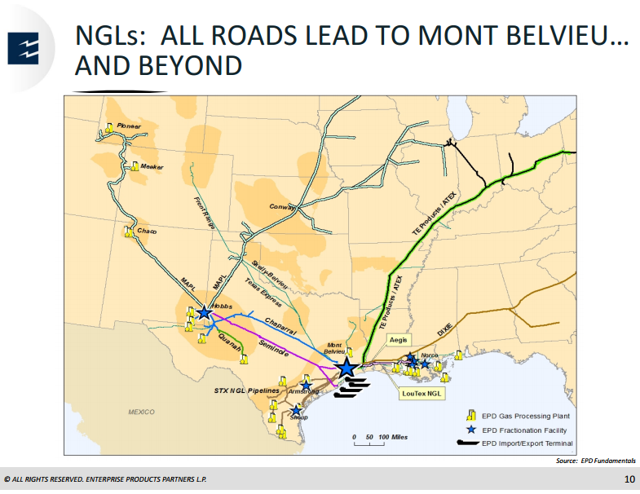 Source: Investor Presentation
It's necessary that EPD continues to grow its assets as on the recent investor presentation, CEO Jim Teague noted,
Volume declines in most regions (excluding Permian) have resulted in underutilized midstream assets, which leads to operational leverage when volumes return.
So, I like the play here by EPD, as I believe management recognized that reinforcing their asset base and stepping up their market share in east Texas and north Louisiana were key to longevity. "Preparing to export virtually everything we touch" is the key strategy here. So, this expansion, while relatively small from a dollar perspective, is key to bumping up the investor offering and driving a higher level of sales over the long-term.
Speaking Of Value
As the crude oil market trucks along with added turbulence thanks to the build in inventories over the last couple of months, with the natural gas market unable to get above $3/MMBtu since mid-February, it's important to look at the relative valuation of Enterprise. This is just a helpful analysis in order to gauge how large the discount or premium Enterprise is trading at relative to peers to see if it's warranted to add to EPD or to build a position in another midstream.
Without including distributable cash flow metrics, the following are the core ratios investors should be looking at. Take a look at the below table.

Source: Capital IQ
First, it's clear that Williams (NYSE:WMB) is overvalued here on an EV/Sales basis, with the max ratio of 7.5x. Enterprise is sitting mid-pack at 3.5x, which is respectable, but not the lowest of the peer group. Rather Plains All-American (NYSE:PAA) has a 1.8x EV/Sales. Moving forward, the story changes, where Plains is overvalued on an EV/EBITDA basis. Enterprise, again, is mid-pack with a 15.7x EV/EBITDA. The same can be said for EV/EBIT, as well, as the company has a 22.4x multiple. What's interesting, here, is that Kinder Morgan (NYSE:KMI) has the lowest ratio, something I didn't expect to see, at 19.6x.
The latter two metrics are tough to fully assess considering that Energy Transfer (NYSE:ETP) and Williams both don't have positive LTM diluted EPS, yet. However, for what it's worth, Enterprise is significantly undervalued compared to Kinder Morgan and Plains in this regard, posting a 22.4x versus their average of nearly 79.5x. On a P/B basis, Enterprise is
Enterprise is actually towards the top end of the range, surpassing the average of 4.1x. It'd be useful to see where Williams is at, but that information is currently unavailable. While P/B is important, the general takeaway from this table is that Enterprise is the middle player in its competitive pool, but is highly undervalued on an earnings basis.
To supplement this table, let's take a look at margins relative to peers.

Source: Capital IQ
What we can see is that Enterprise is underperforming on a gross margin basis, with the second-lowest of the peer group at 14.9%. However, they make up some ground when it comes to the EBITDA margin, posting a 20.9% margin, but that's still the second-lowest of the peer group. Next, the EBIT margin tells an identical story. However, again the earnings of this company shows its strength as the company has the highest net income margin out of the peer group and is the only company here to have a double-digit positive net income margin. That's saying a lot, given how challenged earnings have been for the industry at large over the last two and a half years. So, for what they lose in valuation on gross and operating margins, they make back up on earnings.
To bring distributable cash flow back into the picture, the below graphic may help substantially. Distributable cash flow has seen a turbulent path for Enterprise, spiking in 2015 on the back of non-recurring items, and then normalizing in 2016 to $4.1 billion. However, it's still nearly a $100 million improvement YOY, despite challenging commodity prices and lower realized averages. Technically, distributable cash flow has increased every year for the last five years, but the growth rates aren't too exciting. However, I am surprised distributable cash flow hasn't declined in light of the operating environment's many problems.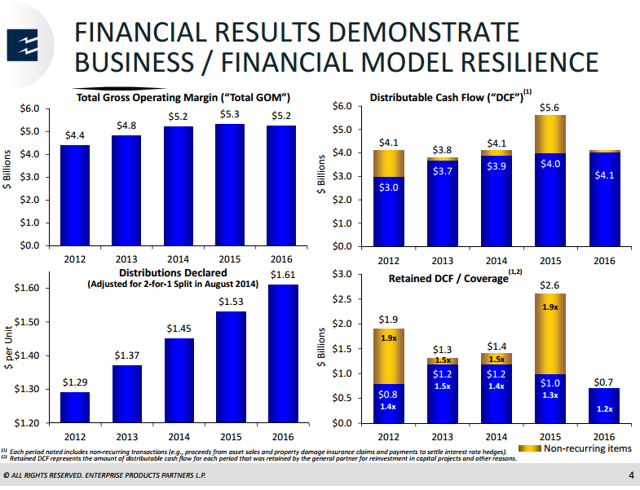 Source: Investor Presentation
| | | | | | |
| --- | --- | --- | --- | --- | --- |
| | Enterprise | Kinder Morgan | Energy Transfer | Plains | Williams |
| Distributable Cash Flow | $4.10B | $4.51B | $796M | $1.41B | $1.61B |
| DCF/Share | $2.88 | $2.35 | $1.45 | $3.74 | $1.96 |
Source: SEC
The size of DCF in and of itself isn't comparable as all of these companies have large differences in enterprise value, as well as market cap. However, the DCF/Share is an easy-to-use benchmark. Williams does not report distributable cash flow, rather I used free cash flow to try and somewhat benchmark this company versus its peers. Here, Enterprise is mid-pack again, but has one of the highest literal distributable cash flow levels. Plains seems to be the exception here, with Williams and Energy Transfer lagging the group. Enterprise's $2.88 DCF/share is praiseworthy and will allow the company to fund significant growth initiatives as prices recover.
Conclusion
After going through that recent investor presentation linked in the above article, Enterprise's focus is to capitalize on high-return assets as they enter their third year of lower commodity prices. A "live within the means" strategy has been applied and will continue to be applied until real pricing strength presents itself, but the move to pick up assets from Azure is another step in the right direction. With a modest valuation and a solid level of distributable cash flow per share, the company deserve to trade at a premium to peers and I expect we'll see that as commodity prices trend up over the long-term.
Disclosure: I am/we are long KMI, EPD, ETP.
I wrote this article myself, and it expresses my own opinions. I am not receiving compensation for it (other than from Seeking Alpha). I have no business relationship with any company whose stock is mentioned in this article.