The demand for lithium is soaring due to the rapidly growing demand for electric vehicles. In fact, one of the world's largest producers of lithium, Albemarle (NYSE:ALB), just increased its forecast for annual lithium demand growth by 50% from an average annual increase of 20,000 tonnes to an average annual increase of 30,000 tonnes!
This increase is driven largely by global lithium-ion battery production which is set to soar more than 500% by 2020:

Source: Visual Capitalist
Meanwhile, after a slow start to 2017 the lithium equity sector as represented by LIT has staged a technical breakout from a bullish flag pattern: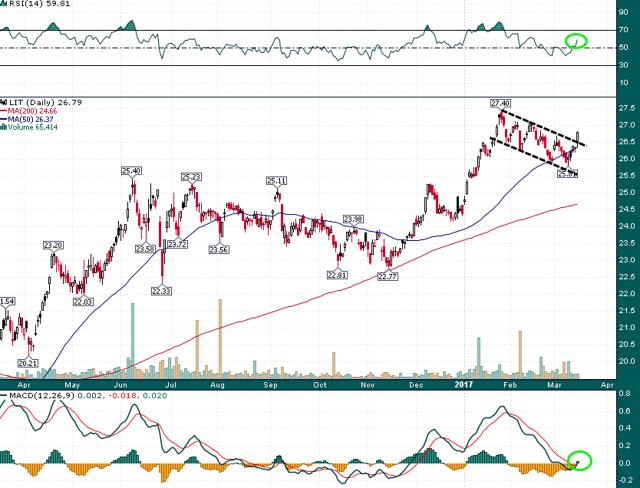 Source: Stockcharts.com
Bull flag breakout with MACD bull crossover, targets fresh 52-week highs $28+.
As the demand for lithium increases at a rapid rate end users are scrambling to lock up stable sources of supply. Tesla (NASDAQ:TSLA) has already indicated that it is committed to sourcing as much of its raw material needs from North America as possible. However, based upon current mine supply it looks like that will be a virtually impossible commitment for Tesla to keep.
Tesla will require 25,000 tonnes of lithium hydroxide per year to build 500,000 electric vehicles per year by next year alone. Meanwhile the largest producing lithium mine in the United States produces less than 1,000 tonnes of lithium hydroxide annually, therefore it is looking increasingly likely that Tesla will look to Latin America to supply a significant portion of its lithium needs.
Tesla has already signed offtake agreement with two Canadian companies, however, unfortunately for Tesla both of these companies are years away from production. Therefore, time to production is becoming an increasingly important factor in any potential lithium producer's success.
There are many companies that have scrambled to snap up lithium exploration properties and begun to act as if they are prepared to fuel the electric vehicle industry's hunger for lithium, however, there are few who have the management teams with a proven track record of bringing an economic lithium resource into production.
Enter Lithium X (OTCPK:LIXXF) and its world class management team which includes COO Eduardo Morales, a lithium industry legend. As President of Rockwood Lithium Latin America, Morales successfully led the development, commissioning and operation of Rockwood's Salar de Atacama project, his tenure with Rockwood Lithium ended with the company's sale to Albemarle Corporation for US$6.2 billion in 2014.
In addition, Paul Matysek, Lithium X's Executive Chairman, has built and sold four separate commodity businesses for massive profits, including Lithium One, which was sold to Galaxy Resources (OTCPK:GALXF) for over $100 million in 2012. Matysek has successfully developed and exited two Argentine mining assets in the last few years, and looks to do it again.
Lithium X CEO Brian Paes-Braga is also one of the young, bright stars in the global resource industry - Paes-Braga has quickly made a name for himself in his short time as an executive in the sector. In the last week Paes-Braga demonstrated his confidence in Lithium X by adding to his already huge ownership position in LIX shares with three open market purchases of LIX stock totaling more than C$130,000:

Source: Canadian Insider
Anytime a CEO who already has a large ownership interest in a company plunks down a large chunk of his own cash to increase his position it has me take notice.
Brine deposits are likely to be the key to meeting the surging demand for high grade lithium concentrate due to the longer resource lives of brines compared to hard rock deposits in addition to their higher grades. Lithium X's Sal De Los Angeles is a world class resource with more than 2 million tonnes of lithium carbonate equivalent in all classes - Sal De Los Angeles also has the unique potential to fast track into commercial production by Q4 2018 with a high grade 5% lithium concentrate with a low magnesium content: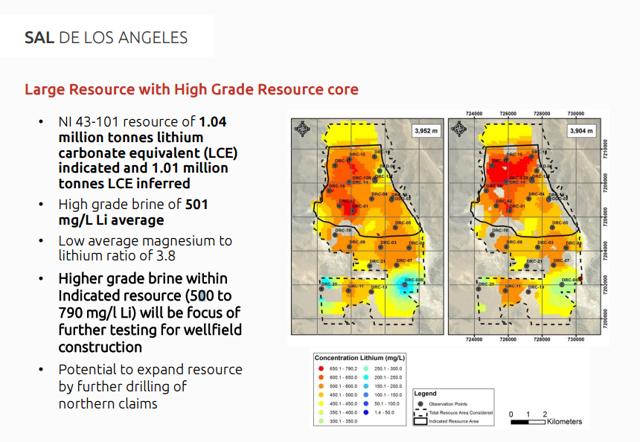 Source: Lithium X
LIX has received permits for the construction of the initial ponding facility at its flagship Sal De Los Angeles project in Argentina which will be designed for an output of approximately 2,500 annual tonnes of lithium carbonate equivalent in 5% lithium concentrate. This equates to approximately $25 million a year in potential revenue at current market prices of ~$10,000/tonne.
LIX expects to have lithium concentrates ready in late-March and plans to begin shipping 5% lithium concentrates to major producers in early Q2. The company already has multiple confidentiality agreements in place with major lithium producers to receive shipments of 5% lithium concentrates in Q2.
Investors can look forward to Lithium X reaching several key milestones during the remainder of 2017:
Successful construction of the initial ponding facility at Sal De Los Angeles
Successful production and shipping of 5% lithium concentrate from LIX's pilot pools on site during Q2. This is a high purity brine concentrate that could serve as feed to existing or new battery grade lithium carbonate and/or lithium hydroxide plants.
Feasibility study for Sal De Los Angeles completed by end of Q3 2017
Achieving initial commercial offtake stage by end of 2017
After consolidating above C$2/share for much of the last year LIX's recent share price correction may have presented investors with an opportunity to get in at a 20%+ discount just before the company embarks on the most important couple of quarters in its brief history:
LIX.V (Daily)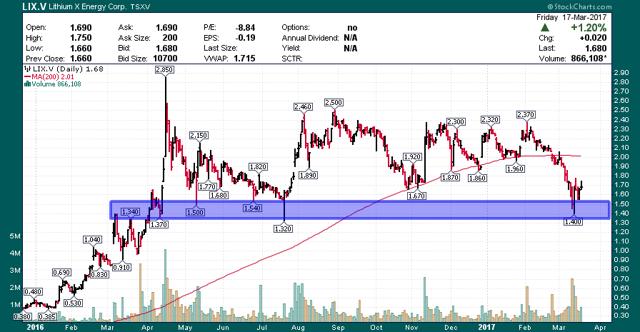 Source: Stockcharts.com
Significant long-term support/resistance near C$1.50/share
Do your own due diligence. As always it's your money and your responsibility.
Disclosure: I am/we are long LIXXF.
I wrote this article myself, and it expresses my own opinions. I am not receiving compensation for it (other than from Seeking Alpha). I have no business relationship with any company whose stock is mentioned in this article.
Editor's Note: This article covers one or more stocks trading at less than $1 per share and/or with less than a $100 million market cap. Please be aware of the risks associated with these stocks.