I've always been an optimist when it comes time to discuss the stock market. Though the S&P 500 broke more records at the beginning of 2017, a few companies continue to show buying opportunities. I recently went through all of the companies raising their payouts during the latest earnings season and found four undervalued stocks according to the dividend discount model.
BlackRock (NYSE:BLK) dividend raise of +9.00%
BlackRock is one of my favorite holdings as the company shows the perfect balance between a stable business model and growth vectors insuring higher stock price in the future.
For once, BlackRock is the world's largest investing firm with $5.148 trillion in assets under management (AUM). Being a leader in such a large market has its benefits. BLK manages 64% of its AUM for institutional clients: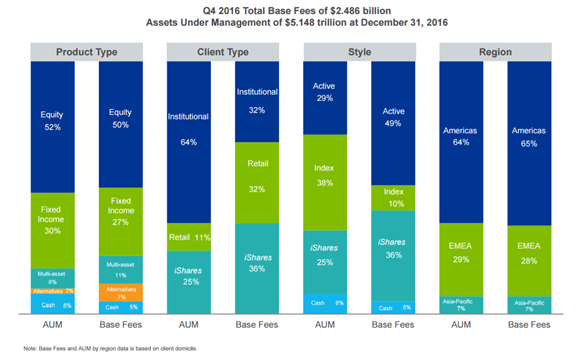 Source: BLK Q4 presentation
Having this much money invested by institutional clients helps provide additional revenue stability for this asset manager. Institutional clients do not decide to move their money in or out based on emotions, as there is no incentive for them to move their money from one place to another. Doing so would notably trigger capital gains for nothing. Institutional clients tend to take more time to select their managers, but stick with them for a longer period as they face switching costs and increased uncertainties among investors each time they make a change.
Another key benefit in the BLK business model is its wide variety of products. Through a strong product offering, BLK ends up making money no matter what. Investors can move from active to passive funds or equity to fixed income products without having an effect on BLK. While index funds and fixed income products will generate smaller margins, BlackRock will still retain its clients instead of losing them to the competition.
BlackRock is not just a good example of a stable business model; its future looks bright too. BLK is the world's largest ETFs manufacturer through its iShares brand. Over the past decade, money has been going out of managed funds and instead invested toward index funds and ETFs.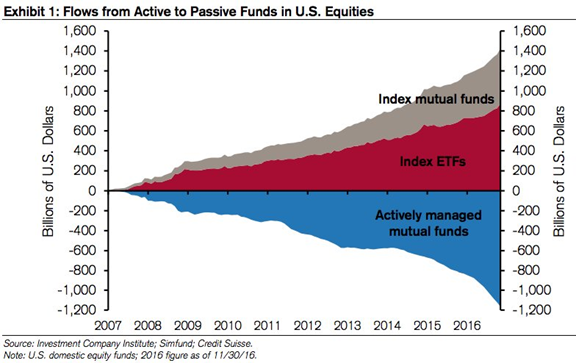 Being a leader in this industry also provides a strong growth opportunity for the future. Recent developments in the Department of Labor's (DOL) new law project that putting clients' interests upfront will benefit from BLK's large ETFs product offering. The law puts more pressure on advisers to select products for their clients' benefit instead of for their own pockets. BlackRock has even developed an investing platform for advisers called Aladdin, which helps them to offer their products.
At the beginning of the year, management announced another dividend raise of 9%. BLK has not raised its dividend for many consecutive years yet, but don't wait until it becomes a Dividend Champion to purchase some shares. I ran the dividend discount model right after its dividend increase and the stock is still slightly undervalued:

Source: Dividend Monk Toolkit Excel Calculation Spreadsheet
3M (NYSE:MMM) dividend raise of +5.86%
With its most recent dividend increase, 3M now shows 59 consecutive years with a payout raise. This company is part of the elite group of Dividend Kings, which includes the 19 companies showing over 50 years of consecutive dividend increases. You can see the complete list of Dividend Kings here.
When you look deeper into the MMM business model, you understand that this company is a pure money-making machine. About 50% of MMM products are not only appreciated by its customers, but also require repetitive purchases. Just think of the famous Post-Its for example. The more you use them, the more you need to buy them. It is just a never-ending cycle. Finally, evolution in several different sectors helps provide great diversification in which there is always a business segment doing well:

Source: 3M Q4 Presentation
The company operates in so many countries and offers so many different products that buying its shares will create instant diversification in your portfolio. Plus, management doesn't just reward its shareholders through share buybacks and dividend raise; it also invests massively in innovation and uses an average of $2 billion per year to acquire smaller competitors. Therefore, you can expect steady, but more humble growth from 3M. In its latest earnings presentation, management expected EPS growth between 4% and 8% with organic sales reflecting growth of 1% to 3%.
Nevertheless, this company has shown strong dividend growth over the past few years. It continues with a dividend hike of nearly 6% for 2017. With a payout and cash payout ratio of around 50%, the company has plenty of room to continue its dividend growth policy. A purchase of MMM is not only a purchase of a "safe & steady" dividend payer, but one that also comes with a small upside potential:

Source: Dividend Monk Toolkit Excel Calculation Spreadsheet
Hasbro (NASDAQ:HAS) dividend raise of +11.76%
When I think of HAS, I picture the application of the seven principles of dividend growth investing in action. Hasbro is showing a great variety of growth: revenue is up 17.77% (total) over the past five years, earnings are up by 60.15%, and dividend payments are up by 65.83% during the same period: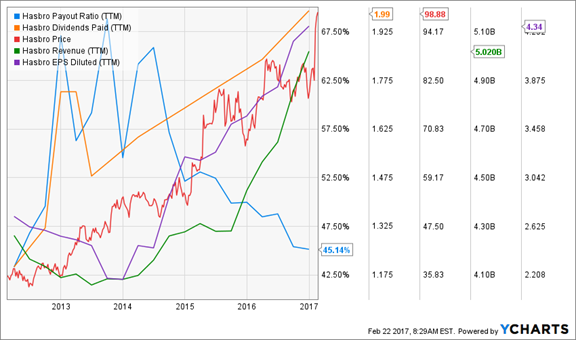 Source: YCharts
The company has increased its dividend payments for seven consecutive years and shows no signs of stopping, with a payout ratio of 45%. The best part is that Hasbro has shown important growth over the past 12 months:

Source: HAS Q4 presentation
The most impressive gain of all came from Hasbro's girls' toys segment with a revenue increase of 50%. Do you know why? One word: Disney (NYSE:DIS). Through its licensing deal with Disney, Hasbro is now able to sell princess and, most importantly, Frozen character figures. HAS has also made a similar deal with DreamWorks' 2016 box-office success, Trolls. Oh… and did I mention that there is another Frozen movie coming in 2018?
Through its licensing business with Disney, Hasbro has assured itself strong revenues for the next five years at the very least. Between the princesses and Frozen, HAS will also benefit from two more Star Wars movies (Episode 8 and 9), plus two Star Wars "anthology" movies based on famous characters Han Solo and Boba Fett. While Mattel's (NASDAQ:MAT) star is fading, Hasbro's is shining.
Considering its latest 12% dividend increase this quarter, the stock shows a fair value of $120.84.

Source: Dividend Monk Toolkit Excel Calculation Spreadsheet
Final Thoughts
Entering a new position when the stock market is at an all-time high is always a bit tricky. We all fear buying a stock the moment it is about to drop. I think that the aforementioned three options are strong picks and reflect a business model that will stay the course as they are presently undervalued.
At the moment, my favorite pick among this short list is Hasbro. With the recent success of the first two Star Wars movies under Disney and the fact that Frozen 2 is coming in 2018, we can already foresee a good part of the company's future revenue potential.
Disclaimer: I hold BLK, MMM & HAS in my Dividend Stocks Rock portfolios.
The opinions and strategies of the author are not intended to ever be a recommendation to buy or sell a security. The strategy the author uses has worked for him and it is for you to decide if it could benefit your financial future. Please remember to do your own research and know your risk tolerance.
Disclosure: I am/we are long BLK, HAS, MMM.
I wrote this article myself, and it expresses my own opinions. I am not receiving compensation for it (other than from Seeking Alpha). I have no business relationship with any company whose stock is mentioned in this article.