CNBC: 9:15 EST

US equity futures (NYSEARCA:SPY) are starting off slowly this week, moving into a range-bound environment after pushing lower on the Sunday open. Strong buying pressure was observed below the 2370.50 level, as market participants jumped at the chance to buy underneath the initial reaction from last week's FOMC statement and interest rate decision.
Traders are also digesting headlines from the G-20 meeting of financial leaders, where some analysts described the sudden lack of traditionally strong support for free trade as "disturbing." Meanwhile, the VIX is up slightly from its close on Friday.

CNBC: Friday Close
Both the Dow Jones (NYSEARCA:DIA) and S&P closed in the red on Friday, despite finishing higher on the week. The Nasdaq (NASDAQ:QQQ) finished the week unchanged from Thursday's close, and the Russell 2000 (NYSEARCA:IWM) turned in a strong performance, gaining 0.40% on the day. The S&P was pulled down by weakness in the financial (NYSEARCA:XLF) and health care (NYSEARCA:XLV) sectors, while the industrials (NYSEARCA:XLI) and materials (NYSEARCA:XLB) sectors were the small bright spots.
Article Shout-Out
Today we highlight a weekend piece from Long/Short Investments, published early yesterday morning on Seeking Alpha. The article, titled "The 3 Main Elements Weighing Down The Market" makes the case that uncertainty regarding fiscal policy timeline, Federal Reserve tightening, and potential deflationary forces in the world economy are causing US equities to pause for a breather, after a 13% run up in prices since the November elections.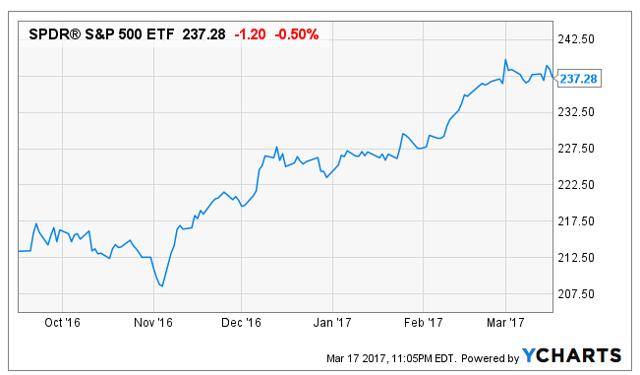 The author notes that while legislation generally moves more quickly when the same party controls the Presidency, House, and Senate, the small majority the Republicans currently enjoy in the Senate may call for a more bipartisan approach to matters such as healthcare for them to move as swiftly as expected. Additionally, Long/Short mentions, a significant part of the recent run-up in stocks has been due to the expectation of slashed corporate/individual tax cuts. It is currently unclear whether these cuts will be implemented in time to influence 2018 financial results.
Next, the author notes that with a tightening Federal Reserve, there must be a fundamental shift in earnings expectations to outweigh the impact of future potential rate hikes. Also, as bond yields begin to rise, investors are provided with a more compelling alternative to stocks.
Finally, Long/Short brings up the possible overestimation by market participants of how high inflation will go. The headline figure is currently just under 3%, but may moderate in the months to come. Oil has dropped 15% from the highs of its recent $52-$56 range, and it is unlikely over the medium term to see a strong bullish move if OPEC ceases any part of the cuts currently priced into the market. Additional disinflationary influences with the potential to hold stocks back include industrial overcapacity in China and India, as well as high central bank debt throughout the world.
Thoughts on Volatility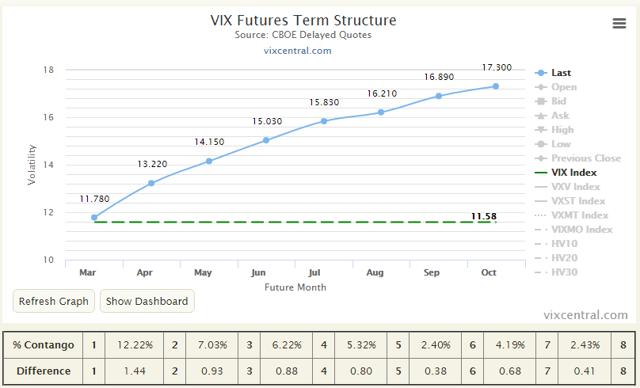 As we noted at the end of last week, we expected to see a continuation of the March VX contract trending down to meet spot VIX values over the weekend. Though volume has jumped back and forth several times between the March and April contracts, we will consider April as the current front-month as that is where the highest open interest lies. The March VX contract is set to expire this Wednesday.
There have been no major changes to the VIX futures term structure, though we continue to see a flattening of the middle-to-far end of the curve.
As a reminder for those readers looking to get long volatility, we maintain that using a spread position with near-month VX futures contracts may be considered as a worthy alternative to using an outright position with a long-volatility ETP such as VXX or UVXY. In our opinion, using a May/July spread position has the benefit of being best exposed to political events such as the French elections, while not being subjected to the aggressive contango present when using the very near-end of the futures curve.
It is also important to note that while taking a position farther out on the futures curve will cost less in contango, it will do so at the cost of less movement in the event of a volatility spike. Regardless of how you choose to participate in the volatility market, make sure that you really understand the core drivers of your product. We like ES options, and we keep a very tight eye on the VIX and VIX futures curve. Others use volatility ETPs, which is fine. We are just quite concerned that many people do not understand the essence of what it is they are trading or (worse yet) investing in: that is a problem.

After last week's initial post-Fed vol crush, organic Vol as picked up by options on ES futures has since picked up again. Front-end rallied the most: perhaps this week's Fed Speak has traders nervous (see the Tactics section below)? The one-month and one-quarter expiries are more or less unchanged.
Tracking the Trade*(please read disclosures) - Trade Initiation:
In last Tuesday's bulletin we began a new trade to follow over the next two weeks. We will take the perspective of someone who has about $50,000 in cash in a trading account, with no current positions, who wishes to speculate on a market sell-off.
Trade End Date: Mar 24, 2017
Trade Instrument: ES (e-mini futures contract on S&P 500)
Trade Strategy: Modified Risk reversal
Strategy: Thesis (Set out on Mar 14)
We are of a mind that the S&P 500 is an over-believed market. Market internals appear to be getting sloppy. The aftermath of the Fed meetings could provide opportunities for some of the S&P to trade over a broader range of values, with movement favoring the downside. As of this morning, the market was more or less unchanged from Friday's close at 2374.50.
We also believe that the market is presently range-bound, and that a meaningful narrative shift may need to occur in order to make the S&P sustainably shift into a different range (either up or down). So far we are still within the range of where we've been for the last couple weeks, but we're near the top end and it is possible that with the Fed and now the G-20 out of the way, we could get our new range.
To implement this strategy, we will work with a spread known as a "risk reversal". We'll refer to the spread as a "RR". In the Chicago trading pits, these are short-handed to being called "a risk".
For a pure RR, the strategy is as follows:
For a particular expiry, buy an out-of-the-money ("OTM") put For the same expiry, sell an OTM call
Buy an OTM put, sell an OTM call. That's the essence of the spread. In retail these are frequently called "collars", but we here are using the terminology that is used in the trading pits: "RR". In fact, in Chicago terminology a collar is long a put spread, short a call: similar, but not quite the same.
Tactics
The specific RR we implemented was:
Buy the May 31 2250 put Sell the Apr28 2410 call
These two options have different strikes, and as such this might be considered a modified RR.

Source: Interactive Brokers
The solid line shows P&L for varying levels of this trade as of the day of initiation, whereas the dotted line shows the "final" P&L as of the Apr28 expiration.
It is clear that this trade is not very different from "going short" the S&P 500. It has "unlimited downside", and it has more or less unlimited upside. From a practical standpoint, the risks are fairly balanced, especially if monitored and adjusted properly.
"Where does the trade stand now?"

With the ES at 2372.50, there is a 50 x 92 market priced with a $4.75 midpoint debit. That means our position is up $3.75 from Friday, but still down $3.00 from where we initiated. With a 50x multiplier, that is $152 after commissions, 0.33% of our theoretical $50,000 sim account.
Last week before the move higher on the Fed news, we wrote:
This is a pretty chunky trade for a $50,000 trading account. Losses need to be considered relative to what the needs of the owner are and what other assets this particular individual has.
For instance, say this individual has a portfolio with $1,000,000 and it is long stocks and bonds. This account is more of a way to learn trading and hedge losses. Well if that is the case then perhaps meaningful losses in the trade account are relatively acceptable. If on the other hand this is the one and only account that the trader has and they cannot afford to lose much, then this is really not the best way to trade their thesis: too much risk.
"Should you modify this trade?"
Before we answer that, let's begin with our Greeks.

Now the fact that we traded this with some breathing room by setting the strikes relatively farther apart (which in turn was itself partly a function of using longer expirations) allowed things to play out a bit more.
Almost a week into the trade, the theta is still zero. All our losses are attributable to the 10 handles that the ES had traded up since we initiated last Tuesday.
At this point we have five days left until the trade closes. The major market mover is behind us, but we have quite a follow-up show on deck: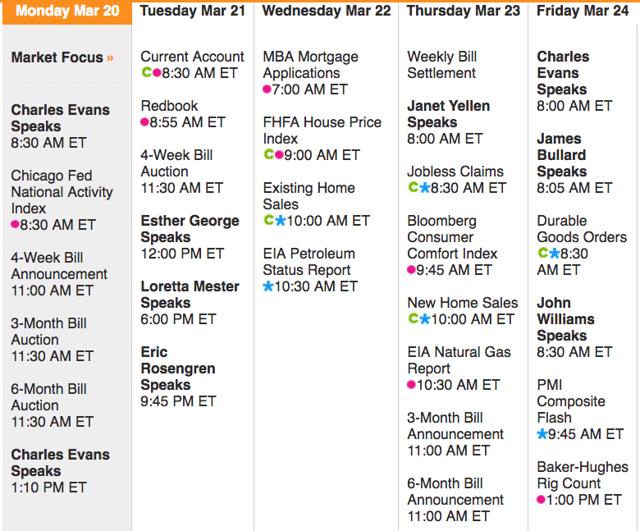 Source: Bloomberg
While the economic calendar is quite light, there is voluminous Fed Speak this week.
Our own thesis is that the Fed did not strike the mild fear into the market that it wanted to. Understand that we do not believe they wanted some giant sell-off, but we believe they did want a widening of yield spreads, a higher VIX, and a stronger dollar. Many posit that they also wanted higher Treasury yields, but we do not accept that hypothesis. More on that later.
In a nutshell, it is possible that this dip lower in ES since Friday's quad witching indicates caution on the part of the market as they anticipate some pain. That said, our main market mover (last week's Fed meeting) is in fact behind us.
We will modify this trade by adding a call spread and selling a put spread, to help balance out the delta, which at current levels stands at -48. This means that, at the current ES level, every one handle that ES rises, our RR loses $48 (and vice versa).
We just want a gentle modification here: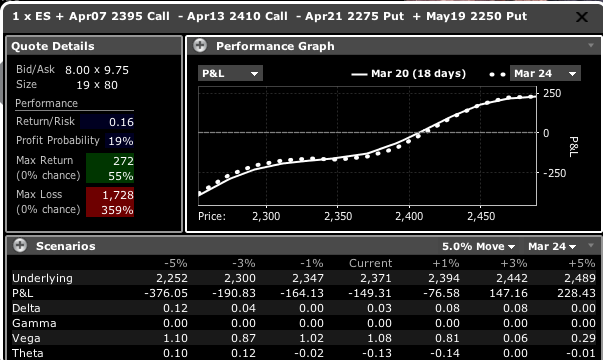 Note that the P&L is bounded on both sides. The delta is positive pretty much across the board. We're looking for something that just takes the edge off a loss, while preserving the lion's share of any gains.
Mechanics (no changes from yesterday):
The order looks as follows:

We're not in any particular rush to do this trade given market dynamics. We would say a limit at $8.50 is highly likely to get filled.
This really is a modest hedge. If you were considering soft closes on Friday's wind-down, trading two or even three of these would be not unadvisable. If you were to do that, we'd recommend trading the first mod at a higher price, and then scaling into the second spread at a lower price (say $2 lower or so), and so on.
Closing Thoughts
A lot of ink is being spilled on whether the various markets "got the Fed correct". What if the Fed meeting was more like a "whisper number", that the Fed missed? If so, then perhaps the movements in the dollar (lower), oil (higher), VIX (lower), S&P (higher), 10-yr yields (lower) actually makes some sense. Markets were looking for more.
Our ES trade is down and we are near the mark where we should think hard about modifying the trade, but we'll say we're not quite there yet.
Regardless of whether you are a "trader" or an "investor" (whatever those words mean!), consider how breaking your ideas down into strategy, tactics, and mechanics could help you incrementally improve in whatever it is you do (or don't do) in the markets.
Have any questions or suggestions? Let us know! We really enjoy reader comments, and post strong comments from our readers with regularity. We appreciate that.
Please consider following us. And check out our commentary on last Wednesday's Fed decision!
Disclosure: I am/we are short SPY.
I wrote this article myself, and it expresses my own opinions. I am not receiving compensation for it (other than from Seeking Alpha). I have no business relationship with any company whose stock is mentioned in this article.
Additional disclosure: We actively trade the futures markets, potentially taking multiple positions on any given day, both long and short. It is our belief that the S&P 500 is meaningfully overvalued. As such, we typically carry a net short position using ES options and futures.