On December 31st, 1999, Wal-Mart (NYSE:WMT) traded at $70.25 per share. Today, over seventeen years later, it is trading at almost exactly the same price. While the dangers of overpaying back then were very real, the company has grown tremendously since then and today the stock represents a very compelling value in a market that feels like it is significantly overpriced. Investors have had a complete sentiment shift on Wal-Mart. The stock was priced for perfection in 1999, and today is priced as if it is a struggling retailer. Looking a little closer, we find that Wal-Mart is a very relevant cash machine that represents one of the best values in the market today.
INVESTORS IRRATIONALLY OVERPRICED WAL-MART BACK IN 1999.
One thing that Wall Street has a tendency to do is to push prices to extremes in either direction based on "rear view mirror" investing. When Wal-Mart reached $70.25 per share in 1999, they had decades of rapid growth behind them and investors were bidding the stock higher and higher in anticipation of continued endless growth. Sales, earnings, and dividends have continued to soar over the past seventeen years, yet the stock price languished year after year as a way of resolving the overvalued situation. Back in 1999, Wal-Mart was earning $0.99 per share. We can use a discounting calculator to see that at $70.25 per share and with $0.99 per share of earnings per share, Wal-Mart would have needed to grow earnings at double digit rates forever to justify its 1999 stock price. Using a discounting calculator to value a stream of earnings is the traditional method of valuing a stock and can help investors tremendously by not allowing them to overpay for a company. For some reason, time and again, investors look in the rear view mirror to determine what will happen in the future. After decades of double digit growth, investors euphorically were predicting it would never end.
TODAY, ALL RETAIL IS HATED, EVEN SUCCESSFUL RETAILERS:
Today, even after almost two decades of growth, Wal-Mart still sits at basically the same price. Once euphoric investors who were willing to pay over 70 times earnings to own Wal-Mart, now pay around only around 15 times earnings, a huge discount to the broader S&P 500. The number one problem today is the disruption occurring in retail caused by the explosion of e-commerce and online competition. Today, investors have become doubtful that brick and mortar retailers will ever be able to grow again. Any mention of weakness in sales at brick and mortar stores and the share prices of the companies are punished. Investors have broadly written off the entire sector as uninvestable. Investors were wrong on Wal-Mart in 1999, and they are wrong today. Here's why.
WAL-MART IS STILL A GROWTH COMPANY:
First off, Wal-Mart is a growth company. It just happens to be a very large growth company. Sales have grown by almost $335 billion over the past 17 years, and to the surprise of many, the company is still in growth mode. Comp sales are increasing, square footage is increasing, and the online division is growing very rapidly under a number of e-commerce names in addition to the Wal-Mart.com name. In last year's annual report, Wal-Mart set a goal of growing revenue by $45-$60 billion over the following three years. One year into this goal, constant currency sales increased from $482.1 billion to $496.9 billion. Wal-Mart is on track to meet its goal, and sales should ramp up in the coming years for a couple of reasons.
WAL-MART IS GAINING SHARE IN THE GROCERY CATEGORY:
Even as Wal-Mart is already the largest grocery seller in the United States, it is gaining market share in the space. With the rollout of online grocery pickup, gains should continue. Wal-Mart has tested an idea in the Denver, Colorado area where customers can order groceries online and pick them up at a convenience store sized pickup location that also sells gasoline. For customers who are looking for the easiest possible grocery shopping solution, this may be it. It also makes sense that Wal-Mart recently announced that it will be building and owning its own gas stations going forward.
In the past, Murphy USA was Wal-Mart's partner for fuel. My suspicion is that going forward we will see a lot more of these Wal-Mart grocery pick-up with fuel stations across the United States, allowing Wal-Mart to capture market share in grocery as well as fuel.
WAL-MART IS RAPIDLY GROWING IN E-COMMERCE:
Wal-Mart is already the third most popular online retailer, and this past year we have seen a huge push to continue to grow in this category. With the acquisition of Jet.com, Moosejaw, and with Jet.com acquiring ShoeBuy, it should be becoming very clear to investors that Wal-Mart is going to be a winner in the online space. Online sales are growing in the 30% range, and with now 35 million items for sale versus 8 million a year ago, with free two day shipping on orders of $35 or more, and with online grocery, expect to see continued 25%-30% annual growth in online sales from Wal-Mart.
COMP SALES ARE INCREASING AND SHOULD CONTINUE TO DO SO:
Last quarter comparable sales increased at Wal-Mart by 1.8%. Going forward a couple of factors should allow growth to continue. First, food cost deflation is expected to ease by the end of this year. Headwinds from food costs have been in the range of 50 basis points in recent quarters and with this pressure easing, Wal-Mart U.S. comp sales should benefit. Also, there is a fairly well publicized price war going on and history tells us that larger, better capitalized companies like Wal-Mart always end up the winners in price wars. In addition, competitors are closing large amounts of stores. Kmart recently announced plans to close 109 stores this year which likely will leave former Kmart shoppers headed to Wal-Mart for their future shopping.
DESPITE ITS SUCCESS, INVESTORS ARE NOT VALUING THE COMPANY APPROPRIATELY:
Whether it is because the sentiment surrounding retail in general is so pessimistic, whether it is because of the near two decades of flat share price action, or whether it is because of ongoing price wars and investments in wages, investors are entirely too pessimistic on Wal-Mart. I believe that after another year of continued growth in comp sales, as well as another year of 30%+ growth in e-commerce and online, investors will have their "Aha" moment, and the stock price of Wal-Mart will finally break out to new highs. It is simply impossible to ignore all of the good things happening with Wal-Mart and, refreshingly, investors don't have to pay outrageous valuations to buy into the company. One time costs associated with a giant pay raise given to workers over the last couple of years will begin cycling out of year over year comparisons soon, and forward earnings are only about 10% below their all time high set back in 2013. Using the same discounting calculations as before, today we can see that Wal-Mart, once they anniversary the investment in wages, is only pricing in about 3%-4% growth, a level that is achievable in so many ways. They could achieve this minimal amount of growth through the continued growing comp sales, the 30%+ growth in e-commerce and online sales, the expanding grocery pickup locations, the expected easing of food price deflation, the closure of a large number of Kmart stores, or the $20 billion share repurchase program that is expected to be completed this year. It doesn't take much to get 3%-4% growth in earnings per share. Instead of focusing on the negatives, the questions investors should be asking is, "What happens if all of these things go right and earnings per share end up growing even faster than expectations?"
CONCLUSION:
Investors who seek a reassuring feeling by buying a company with positive sentiment surrounding it often end up years later realizing that they have underperformed their peers. As Warren Buffett said, "You pay a very high price in the stock market for a cheery consensus." The Wal-Mart investors of seventeen years ago have paid the price, but the opportunity today is clear for new investors. Wal-Mart is a very relevant, growing, cash machine that is winning in many ways. I believe rear view mirror investors who view Wal-Mart at dead money going forward are going to have their "Aha" moment very soon, and Wal-Mart shareholders will be greatly rewarded over the next seventeen years.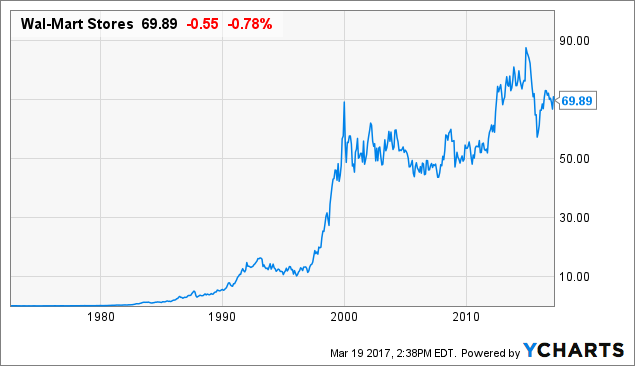 Disclosure: I am/we are long WMT.
I wrote this article myself, and it expresses my own opinions. I am not receiving compensation for it (other than from Seeking Alpha). I have no business relationship with any company whose stock is mentioned in this article.