It was reported on Sunday by Bloomberg that Albertsons (backed by Cerberus Capital Management) was in talks to merge with natural/organic grocer Sprouts Farmers Market (NASDAQ:SFM). These talks coincided with a 23% stock price jump over last week. Albertsons is ranked as the third largest private company in America, with a 2016 revenue of $58.7b. With Albertsons having completed the acquisition of Safeway for $9.4b in 2015, Sprouts' market cap of $3.3b represents a significantly lower purchasing risk. Whole Foods (NASDAQ:WFM), which had found a lucrative operating model throughout the recession, has just recently announced the closure of nine stores during this quarter. It hasn't closed any since 2008. This news came in February after a sixth straight quarter of comp declines was reported. As consumers continue to adhere to low price grocers, this merger could particularly put Whole Foods at a competitive disadvantage, as explained below.
Sprouts Farmers Market stock value increased 23% last week, after a year long decline of 26%. It also experienced a near record of trading volume. The chart below shows the performance of the stock since the relatively recent IPO in 2013. After strong growth in the early stages, the stock has generally trended downward since. A potential reason behind the downward trend may be related to their cash to debt ratio, which is far less favorable and flexible than that of Whole Foods.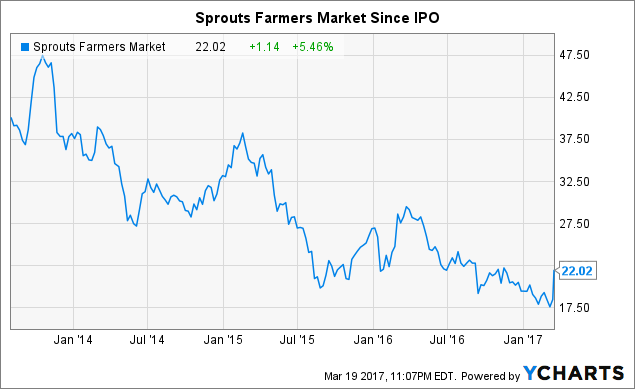 SFM data by YCharts
Within the grocery industry, the prices, quality, and priority of a supplier's product availability is based on the volume of the firm demanding it. To provide an example, if a major supplier experiences a shortage (often due to poor crop conditions), that supplier will generally set aside the most favorable part of their inventory for their biggest customer. The last thing a supplier wants is to lose business on their largest account, so common business sense dictates they will appease the biggest at the expense of the smallest. Economies of scale also translates into more favorable pricing. With organic/natural products, there is no doubt that Whole Foods currently holds the upper hand, competitively speaking, with suppliers. Ultimately, this upper hand converts into higher margins and increased customer satisfaction.
Sprouts recently generated just over $4b in 2016 revenue, which pales in comparison to $58.7 reported by Albertsons. If the merger occurs, Sprouts will shift into a significantly higher tier of volume with many shared suppliers. This shift will in turn have the effect of increasing price flexibility (through lower costs) and should also increase the service and instock levels in the event of shortages. Additionally, having access to the capital from Albertsons would bolster future expansion opportunities.
There are currently 253 Sprouts locations and each averages $.49m in net income. Whole Foods has 427 stores averaging $1.19m in net income. Whole Foods has been experimenting with the Whole Foods 365 format, which is smaller than their normal stores and more in line with a Sprouts Farmers Market location as far as price. If Whole Foods expands their 365 format, the average net income will decrease. As it stands now, Whole Foods is delivering significantly more profit on a per store basis, but taking into account the six consecutive comp declines (the most recent being -2.6%), the profit margin is likely to shrink. More alarming than the comp decline for Q4 is the -4.2% in total transactions, which posits that customers are visiting the stores less. As shown below, the Whole Foods stock has declined considerably since the firm started reporting the comp decline streak, seemingly hovering around the $30 price.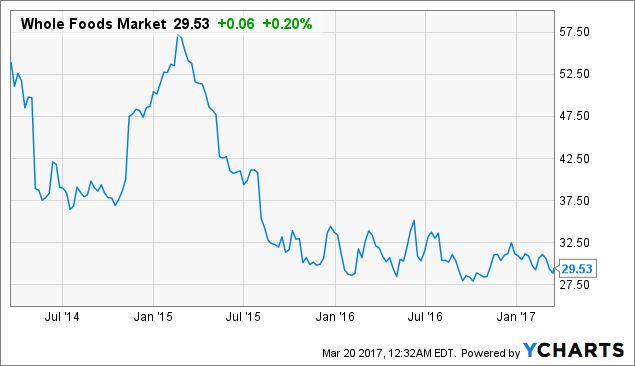 WFM data by YCharts
It has been well documented that grocery prices have plunged across the board as of late, and are expected to remain depressed. As both of these grocery retailers operate more as low cost leader models and less so as upscale differentiators, the competition can be summed up as a race to the bottom. This race is only likely to accelerate with price wars heating up between big players like Wal-Mart (NYSE:WMT), Target (NYSE:TGT), and Amazon (NASDAQ:AMZN) as retailers evolve to capitalize on the discount preference. Despite Whole Foods having the current upper hand versus Sprouts as a larger market presence, they will likely lose their competitive advantage with suppliers if Sprouts merges and moves up in volume tiers.
Disclosure: I/we have no positions in any stocks mentioned, and no plans to initiate any positions within the next 72 hours.
I wrote this article myself, and it expresses my own opinions. I am not receiving compensation for it (other than from Seeking Alpha). I have no business relationship with any company whose stock is mentioned in this article.