The immunological synapse is a thing of beauty to behold under a microscope but the kiss of death for a cancer cell.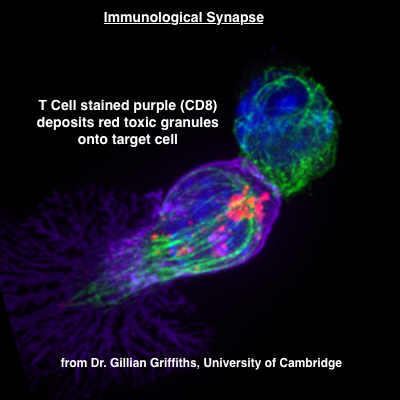 "Synapse" is the word used to describe prolonged contact between a T cell and its target, contact which enables efficient and precise delivery of toxic granules. Cancer cells are able to avoid this deadly kiss as discussed below. Amgen's Bispecific T cell Engager ("BiTE") antibodies artificially force that contact to occur.
Amgen (NASDAQ:AMGN) acquired German firm Micromet to get its BiTE platform in 2012. Blincyto blinatumomab appeared effective in phase 2 trials and increased survival and remission rates in the just published (Kantarjian, 2017) phase 3 trial in patients with relapsed/refractory B-cell precursor ALL (acute lymphoblastic leukemia). The synapse-creating immunotherapy paradigm, which is in concept a 'transfusion-less' form of cell therapy, will be expanded. There are now 3 other BiTE targets in the AMGN pipeline: One is solid tumor antigen CEA, one is CD33 in patients with acute myeloid leukemia, and one is BCMA (B Cell Maturation Antigen) for patients with myeloma. All three BiTE antibodies for these targets are currently in Phase 1.
As mentioned above, cancer cells may by one of several tactics avoid the deadly kiss of an activated T lymphocyte.
One very important mechanism is loss through mutation of an essential immune protein called MHC1. Loss of MHC1 means that T-lymphocytes and other immune cells do not "see" foreign (neo-) tumor antigen on the surface of the tumor cell. This type of immune evasion was recently reported by Tran et al. (2016) in a KRAS-mutant colorectal cancer metastatic to lung. This patient had been treated with autologous, ex-vivo expanded tumor infiltrating CD8+ T cells (like the one fluorescently-stained in the photo above) that recognized and killed the patient's tumor cells, but one clone of them mutated to an MCH1-negative state - this one tumor nodule recurred.
If a cytotoxic T cell does get close enough for a kiss, the cancer cell may try to fend it off with PD1 ligand. This is where immuno-oncology has been focused for the past several years, giving a boon to Merck (MRK) and Bristol-Myers Squibb (NYSE:BMY). But checkpoint inhibitors like those that target PD1/PD-L1 and CTL4A merely take the brakes off an attack by the immune system, and only if it has already been activated via MHC1-related immune recognition. So recognition has to come first.
If the normal process of MHC1-related immune recognition is broken then checkpoint inhibitors will not work, and they seem not to work in about 80% of cancer cases. This is why researchers in the immuno-oncology field know they have to keep up the struggle, and why the tremendously arduous and frustrating efforts to develop cancer vaccines continue, and will continue until an effective method is developed. Neoantigens will be the targets of choice because, as the term implies, they are new to the immune system - foreign. Cancer neoantigens can therefore be attacked in theory without any collateral damage to normal cells.
Until a method of teaching an exhausted or defeated immune system to recognize cancer neoantigens is developed, there will continue to be an important role for antibodies that target antigens that are abundant on certain cancer cells but also present in the normal cells from which they arose. This can only be done when collateral damage to normal cells can be accepted. This is where drugs like anti-CD20 Rituxan from Roche (OTCQX:RHHBY), anti-CD30 Adcetris from Seattle Genetics (NASDAQ:SGEN), and anti-CD38 Darzalex from Johnson & Johnson (NYSE:JNJ) will continue to make their contribution. These antibodies have potent effects on lymphoma, leukemia and myeloma cells where their targets are overexpressed, and do little if any damage to other tissues where those same antigens are expressed at very low levels or not at all. Collateral damage is therefore limited to normal cells of the same type ie lymphocytes and plasma cells.
Each of these monoclonal antibodies or ADC's (antibody drug conjugate) is itself the 'effector' meaning it directly targets the cell bearing the antigen which it is designed to bind. Blincyto blinatumomab is not the effector, T cells are. This is an important difference. Blincyto is two antibodies combined into one, one that binds to a CD3 molecule on the surface of a normal (the effector) T-cell, the other to CD19 which is expressed on acute lymphoblastic T cells (the target); CD 19 is also expressed on very immature lymphocytes which will be collateral damage. In binding simultaneously to one antigen on the effector and one on the target cell, Blincyto artificially creates an immune synapse, circumventing the need for MHC1. Like locking two politicians into the same room until they agree (I think that was Winston Churchill's idea) Blincyto forces a synapse that didn't happen naturally because the tumor had somehow evaded detection or attack.
Aside from the important fact that TOWER together with earlier trials show that a BiTE antibody can prolong life with leukemia after other therapies fail, the platform is conceptually attractive and unique among current antibody therapies. For patients like the one reported by Tran et al. (2016) in whom an MHC1-deficient subclone formed a recurrent tumor after autologous T cell therapy, it is quite plausible that a well-constructed anti-KRAS BiTE antibody might have brought tumor cells and T lymphoctyes together for deadly a deadly kiss. That is why I have referred to the BiTE concept as transfusion-less" cell therapy.
BiTE adds to the bull case for AMGN which already has a lot going for it: a highly diversified pipeline, healthy growth for such a large company, and importantly in the current era of pricing pressure, seven biosimilars in the pipeline. BiTE establishes for Amgen a niche in the immuno-oncology market that will expand as the paradigm expands. At present Blincyto has no antibody competitors. CAR-T cells targeting CD19 are on the horizon. It will be interesting to see the relative roles of these two forms of therapy - BiTE will certainly be easier to deliver and an order of magnitude cheaper than T cell transfusions.
Bear case: Amgen has grown into a large pharmaceutical company afflicted like other large ones with growth that is decelerating due to an aging line of products with multiple competitors and declining sales. Y-o-Y growth of Blincyto sales was second highest in its portfolio at 27%, $85 million in 2016.
For Blincyto comparisons I looked at 2016 US sales of two other oncology antibodies: Gazyva obinutuzumab CHF116 (Swiss franc is about par with USD), up 49% over 2015. ADCETRIS sales were $266 million, up 18% over 2015. Since Seattle Genetics is valued at $9.5 billion, I would conservatively guess the BiTE product and pipeline to be worth $5 billion.
Speaking of sales, the $101 million in sales for Repatha is generally seen by investors as a big disappointment. I never expected sales of either Repatha or Praluent to dazzle because patients and their doctors are reluctant to have an injection when there are pills to take. We estimated that less than 1% of our clinic population on cholesterol medication would be chosen for a PCSK9. My reaction to the 6% drop in AMGN last Friday after the release of FOURIER was 'buying opportunity' - I'm just not buying biotech and pharma right now.
References:
BiTE® antibody webpage: www.biteantibodies.com
Benjamin and Stein. The role of blinatumomab in patients with relapsed/refractory acute lymphoblastic leukemia. Ther Adv Hematol. 2016
Griffith, Professor Gillian webpage
Kantarjian et al. Blinatumomab versus Chemotherapy for Advanced Acute Lymphoblastic Leukemia. NEJM 2017
Löffler et al. A recombinant bispecific single-chain antibody, CD19 × CD3, induces rapid and high lymphoma-directed cytotoxicity by unstimulated T lymphocytes. Blood 2000
Mack et al. A small bispecific antibody construct expressed as a functional single-chain molecule with high tumor cell cytotoxicity. PNAS 1995
Nele et al. and Griffiths. The cytotoxic T lymphocyte immune synapse at a glance. J Cell Sci 2016
Topp et al. Targeted therapy with the T-cell-engaging antibody blinatumomab of chemotherapy-refractory minimal residual disease in B-lineage acute lymphoblastic leukemia patients results in high response rate and prolonged leukemia-free survival. J Clin Oncol. 2011
Disclosure: I/we have no positions in any stocks mentioned, and no plans to initiate any positions within the next 72 hours.
I wrote this article myself, and it expresses my own opinions. I am not receiving compensation for it (other than from Seeking Alpha). I have no business relationship with any company whose stock is mentioned in this article.
Editor's Note: This article discusses one or more securities that do not trade on a major U.S. exchange. Please be aware of the risks associated with these stocks.