Every week we record the CBS Morning Show and Face The Nation hosted by John Dickerson. Yesterday's, March 19th, Sunday Morning cover story was about the 2016 world's happiest Country, Denmark, in anticipation of today's United Nations world happiness rankings. Much to everyone's surprise, the 2017 World Happiness Report was just released, (I made sure to wake up at 3am EST) to be the first to cover this topic on SA, and Norway has leapt to the top spot. Interestingly, the United States (NYSEARCA:DIA) has dropped a spot to 14th out of 155 countries.
For perspective, on January 30, 2017, I wrote the following article: The Rising Popularity Of Hygge In The Age Of Uncertainy. Although this piece was action packed with lots of information, perhaps it wasn't as crisp or well crafted as of some my other stuff, so, much to my surprise, it was met with a very limited reaction. Undeterred and given that today is the start of spring, I figured I would reintroduce this topic to the dynamic and well read Seeking Alpha community.
Similar to last year's report, there are six key factors used to quantify country happiness:
1) GDP per capita
2) Social support
3) Healthy life expectancy at birth
4) Freedom to make life choices
5) Generosity
6) Perceptions of corruption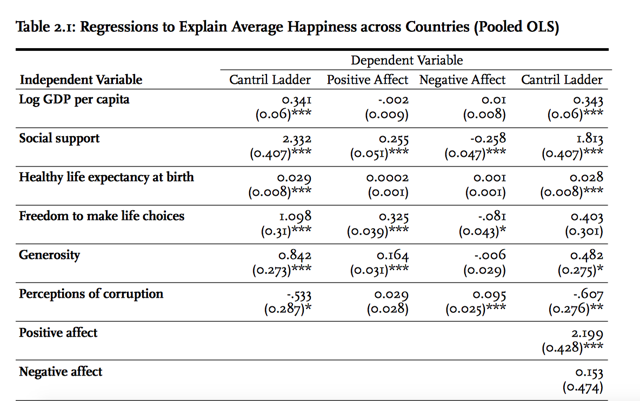 Here is more qualitative information on the six key factors.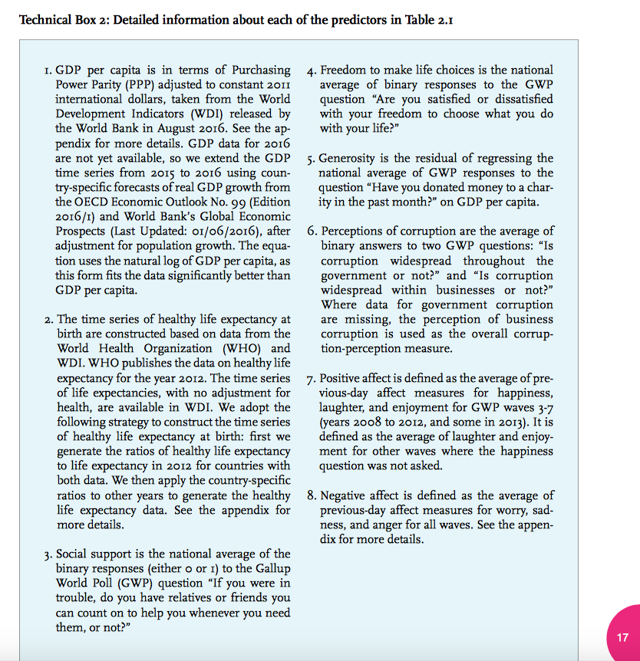 CBS News, which has a team of journalists stationed around the world, already published a very brief article about today's report.
They said the following about the U.S. in today's report:
· Happiness is falling in America, thanks primarily to a drop in four key indicators -- access to social support, a sense of reduced personal freedom, lower donations, and a perceived increase in corruption -- rather than economic causes.
Given that Norway is number one for 2017, let's take a high level look at Norway's economy and see if the U.S. can emulate Norway.
In terms of population, Norway is tiny, at roughly 5.3 million people.
In my day job, I am a credit analyst for an energy company, so perhaps unlike some readers, I know that Norway has a massive sovereign wealth fund from its high taxation of Statoil ASA (NYSE:STO). I would argue that it is a bit disingenuous to say Norway is number one because its sovereign fund of $820 billion easily enables the country to fund it social programs. Moreover, $820 billion divided by a population of 5.3 million equals $155K per person. How do you fairly compare a country as large and diverse as the U.S. in terms of population, culturally, socially, and geographically to a more socialists country with tiny population?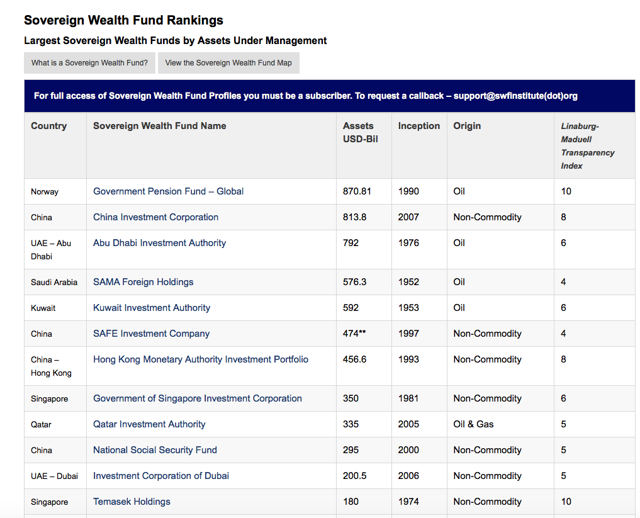 Source: Sovereign Wealth Fund Rankings
Incidentally, I find it a bit rich that Norway is a touch holier than thou when it comes to green energy, yet the reason the country can fund it social welfare state is largely due to oil and high tax rates. Here is an interest piece in The Nation, albeit written from a left leaning prism, by Ann Jones, describing her experience living in Norway. Speaking of Social Democratic forms of government, during the hotly contested U.S. Presidential Democratic Nomination contest, Bernie Sanders raised the U.S.'s consciousness (see this March 1st article in The Atlantic) about this very topic, but despite his fervent support from the youth, Hillary Clinton edged him out with her decisive wins in the Southern states and powerful superdelegates.
Takeaway
Given that today is World Happiness day, I figured it was worth my time to get up early and report the news for the benefit of Seeking Alpha readers. Although this report will garner headlines across the globe and be the topic "de jour" around the proverbial office water cooler, these surveys are a bit silly in that there is no fair way to compare a country like the United States (NYSEARCA:SPY) with the likes of Norway, which has a smaller population than Massachusetts and is blessed with a $820 billion sovereign wealth fund. That said, I can see why Norwegians are so happy given that they enjoy a free education, health care, short work weeks, more vacation time, and extended maturity time off, I am just not sure how realistic they social programs are in the United States.
Disclosure: I am/we are long SPY.
I wrote this article myself, and it expresses my own opinions. I am not receiving compensation for it (other than from Seeking Alpha). I have no business relationship with any company whose stock is mentioned in this article.