How is the economy really doing? Is the stock market overextended? Should I be hedging my positions? These are questions that are difficult to answer at the best of times. And the situation is only made worse by what our leaders say and do. Whether it be politicians or Federal Reserve board members, they all have their own agenda, and it isn't to put money in your pocket. And government-generated statistics… Well what can I say. They are designed for maximum political exploitation.
Take the unemployment rate for example. Does anyone seriously believe that the unemployment rate is really 4.7%? How can there be full employment at a time when food stamp usage is far higher than pre-recession levels?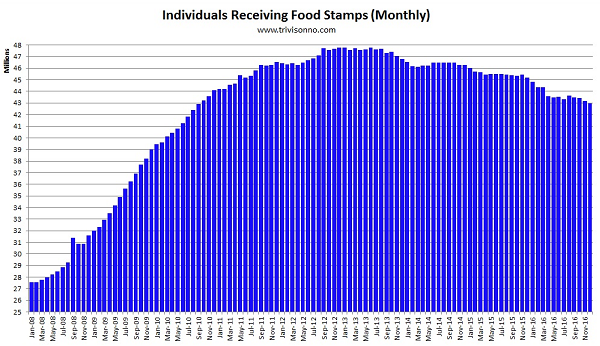 (Source: trivisonno.com)
The cost of living/inflation statistics can't be trusted either. Why? The simple truth is that government workers' benefits, retirees and recipients of Social Security benefits are tied to the cost-of-living. If the cost of living were to rise too fast, then government(s) would be on the hook for paying much higher wages and benefits.
The GDP is another suspect number. Consider how the UK was able to increase the size of its economy by 5% by including prostitution and drug dealing in the GDP figures. The government is constantly changing the manner in which it is calculated, and there is always a concern of manipulation in order to make those in power look good. One simple way of increasing the GDP is by increasing government spending, as the party in power might do in an election year just to make the economy look good.
Use Company Fundamentals
The best decision you can make as an investor is to discard all those suspect government statistics and work with numbers that aren't so easy to manipulate. For this reason, I like to use an aggregate of company fundamentals. An aggregate fundamental is a single number that represents the entire universe of companies for a specific factor such as P/S Ratio or P/E Ratio. The number could be the sum, median value, average, or MktCap-weighted average. For example, when an ETF provider publishes the P/E Ratio, it is the average P/E Ratio for all companies held by the fund.
Individual company reports can be (and are) manipulated to show better performance than is deserved, but the aggregate value for all companies should be manipulation-free, unless there some sort of mass conspiracy which would be rather unlikely.
For this article, I used the website Portfolio123 and its custom series facility to generate aggregate fundamentals. The aggregate fundamentals were calculated from a universe of all publicly traded companies where: (1) the country of domicile is the United States; and (2) company fundamentals are available. Private company fundamentals are not listed on an exchange (or OTC) so I have made a basic assumption that the stock universe is generally representative of all U.S. businesses.
Total Revenues
As much as the Federal Reserve would like us to believe that the economy is expanding, the total revenues from all public companies says something different. Company revenues have been in decline since the start of 2015, and are now at the same level as early 2012.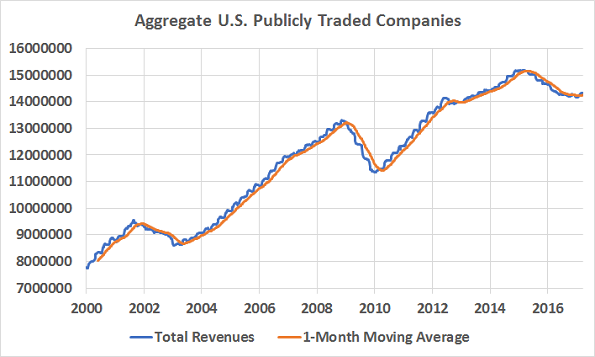 (Source:Portfolio123, Charting Tool: MS Excel)
While most of the revenue decline can be explained away by falling commodity prices, one would have thought that other sectors such as industrials, consumer discretionary, and information technology would have picked up the slack. But that didn't happen.
Total Income Tax Expense
A true measure of economic health is the amount of taxes collected by the government(s). Believe it or not, U.S. companies are paying the same amount of (net) tax now as in 2006. Company taxes have never recovered to pre-recession highs. I'm sure that much of this can be explained by tax-avoidance schemes such as shifting the head office to a foreign country. The big question is how President Trump will manage to cut corporate taxes from 35% down to 15%. How is the already existing shortfall going to be made up? The country already has a massive deficit.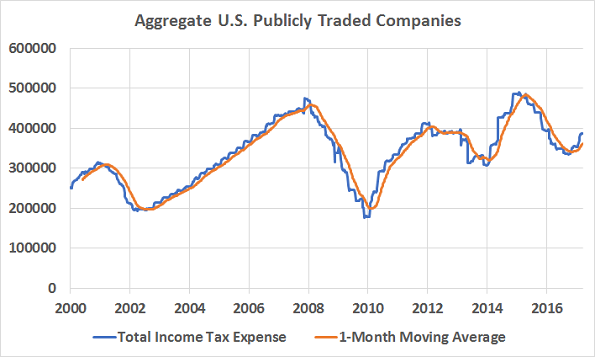 (Source:Portfolio123, Charting Tool: MS Excel)
Median Price/Sales Ratio
If you are wondering if the stock market is overextended then this aggregate might be the answer. The median Price/Sales Ratio for all U.S. public companies is higher than at any time previous (since 2000). It is higher than when the dot com crash occurred in 2000 and higher than when the market meltdown occurred in 2007.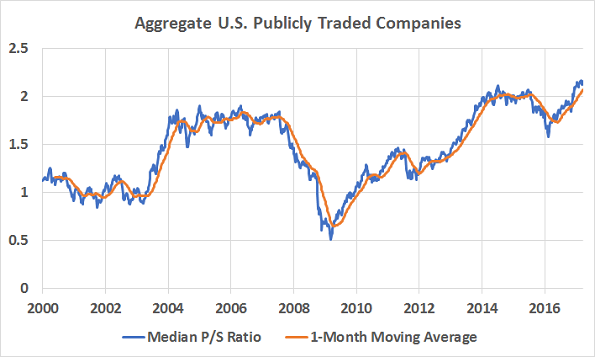 (Source:Portfolio123, Charting Tool: MS Excel)
So the answer is 'Yes, the stock market is overextended.'
Median Return on Investment
The aggregate Return on Investment is another telling calculation. The ROI for U.S. publicly traded companies has been declining since 2012, even before the oil collapse in 2014.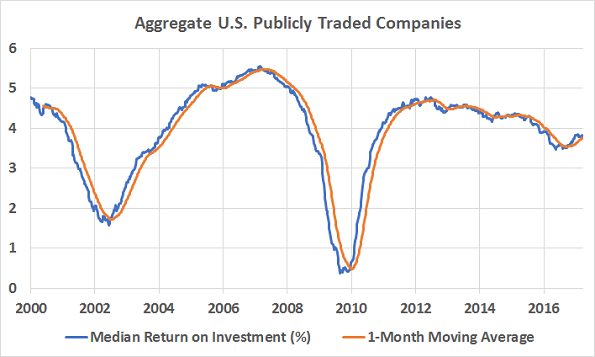 (Source:Portfolio123, Charting Tool: MS Excel)
Median Interest Coverage
Interest coverage is defined by Portfolio123 as:
"… the ratio of Earnings Before Interest and Taxes for the trailing twelve months divided by the trailing twelve month Interest Expense."
The interest coverage is another parameter that has deteriorated since 2012, dropping from 2.75 down to ~2. This factor will become more prominent as interest rates rise.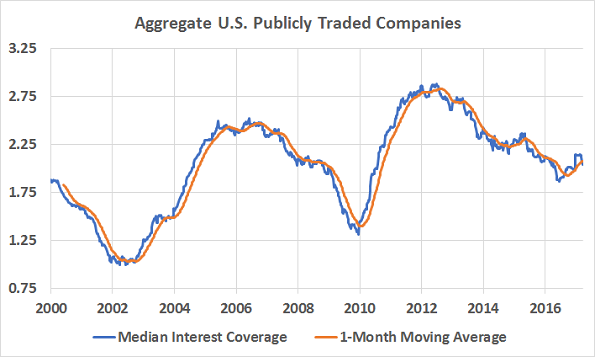 (Source:Portfolio123, Charting Tool: MS Excel)
What Should Investors Do?
I have presented some charts that show that the stock market is on shaky ground. Timing the market is difficult to do, and that is certainly not the objective of this article. This article suggests that it is time to start lowering the risk of your investments, either by withdrawing some capital from the markets, diversifying, or hedging your portfolio.
Your portfolio could be hedged with instruments such as the ProShares Short S&P 500 ETF (NYSEARCA:SH), ProShares UltraShort S&P 500 ETF (NYSEARCA:SDS), or ProShares UltraPro Short QQQ ETF (NASDAQ:SQQQ).
Wrap-Up
The best decision you can make as an investor is to discard all those suspect government statistics and work with numbers that aren't so easy to manipulate. Aggregate company fundamentals are a better approach for judging the health of the economy and can be calculated using tools provided by Portfolio123. Among the many aggregates that point to an overextended stock market, the P/S Ratio sticks out as a significant danger signal. It is prudent to protect your investment capital by hedging or removing money from the markets. Then you can sleep like a baby instead of popping sleeping pills .
Disclosure: I/we have no positions in any stocks mentioned, and no plans to initiate any positions within the next 72 hours.
I wrote this article myself, and it expresses my own opinions. I am not receiving compensation for it (other than from Seeking Alpha). I have no business relationship with any company whose stock is mentioned in this article.
Additional disclosure: Portfolio123 is an affiliate link. Signups get 30-day free trial instead of 15.