Intro
Now that the hype has died down on Snap Inc's (NYSE:SNAP) IPO, the stock has quickly settled down from a high of $29, to $19 per share. This puts the current market capitalization of the company at ~$23B ($19/share x 1.2B/shares).
Since making its financials public, Snap has found itself to be the victim of a lot of scrutiny and criticism, based on its lack of profitability. I would argue this skepticism is unwarranted.
Snap's S-1 filing revealed that the company only began to monetize its platform in late 2014. We are still in the very early stages of Snap creating its business model. Comparing Snap to more mature companies like Facebook and Google (NASDAQ:GOOG) is relevant analysis, but must be taken with a grain of salt as there is massive disparity in both the growth rate and age of the companies.
Torrid Revenue Growth & Signs Of Improving Profitability
Since launching its ads in late 2014, Snapchat has shown impressive execution in growing its revenue.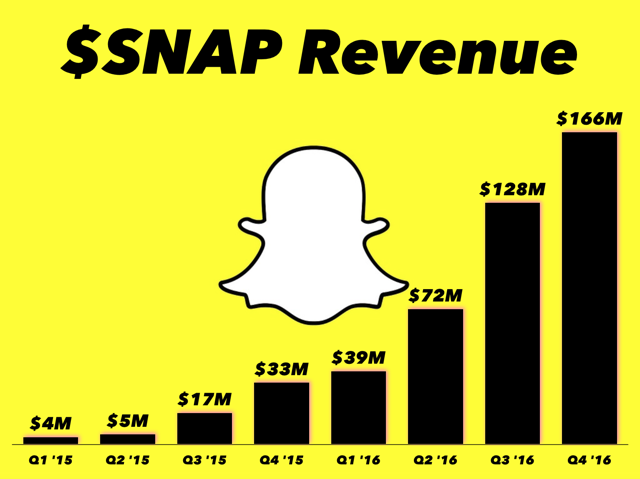 Snap's Q4 '16 revenue of $166M, was up 404% year over year. This growth rate will slow dramatically in the coming quarters, but the numbers are impressive to say the least.
In addition to growing its top-line, Snap's gross margin has improved significantly in each of the last 6 quarters.

In Q4 '16 Snap posted a gross profit of $12.3M, equivalent to 7% of revenue ($165.7M). This is still well below the gross profit levels of Facebook and Twitter (NYSE:TWTR), but that will change quickly as Snap continues to refine its advertising model.
With such a rapid growth rate, and quickly changing margin dynamics, it's impractical to value Snap on historical financials.
Going forward, investors should be focused on not only the company's top-line growth, but Snap's ability to continue to improve both its gross and operating margins.
Risks: User Growth Slowdown & The Instagram Threat
The bull case on Snap will crumble if they cannot continue to grow users.
The biggest obstacle that Snapchat is facing to user growth is Instagram. Facebook (NASDAQ:FB) has been pushing full steam ahead to copy every feature of Snapchat across almost all of its different social properties.
In fact, Instagram replicated Snapchat's Stories feature in August 2016, and ever since then Snap's user growth appears to have slowed down dramatically.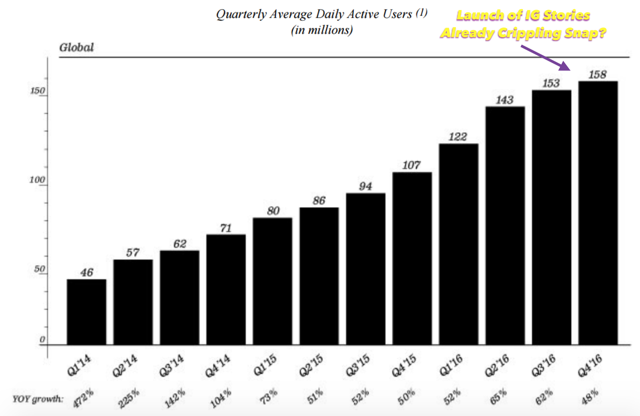 Snap only added 5M new daily active users users in Q4 '16, the lowest number of new Daily Active Users (DAUs) in a quarter since Q3 '14. It's still unclear whether Instagram Stories has been responsible for this slowdown, but either way, it will be something to watch in Snap's upcoming quarterly reports.
If Instagram successfully integrates Snapchat's features into it's already booming platform, it will be the demise of Snap Inc.
However, the fact that Zuckerburg continues to copy all of Snapchat's functionality, confirms that the LA-based social media newcomer is doing something very right.
New Vice Partnership Shows A Glimpse Into Snap's Potential
Just this week Snap anounced a partnership with Vice to produce 8 original shows that will be aired exclusively on Snapchat. The show will feature rapper Action Bronson and is about him setting up different couples (it sounds Bachelor-esque).
As Snapchat evolves beyond being just a social network and integrates news and exclusive shows, its monetization potential will continue to increase. Initiatives like the recently announced Vice deal are allowing Snap to grow into a content delivery network/media company.
Watching leading content companies like Vice invest in exclusive shows for Snap's new age media platform, is a very bullish indicator.
Valuation
According to the analyst consensus provided by Yahoo! Finance, Snap is projected to hit $1B in 2017 revenue, and $2B in 2018 revenue.

Based on the current market capitalization of $23B, that translates to a 2017 P/S multiple of 23X, and a 2018 P/S multiple of 11.5X.
These numbers are very rich, but not too far outside of the valuation range that Facebook currently trades at. With a market capitalization of $405B, and projected 2018 sales of $48B, Facebook trades at 2018 P/S multiple of 8.4X.
However, Facebook's 2018 revenue growth rate is estimated at 27%, versus Snap's 100%. Taking this into consideration, the price/sales multiple looks very fair, if Snap can continue to execute on monetizing its user base.
Facebook just reported Q4 '16 revenue of $8.81B, with 1.227B DAUs. This translates to revenue per DAU of $7.18, during the quarter. On an annualized basis this is a revenue run-rate of $28.72 per DAU.
Snap's average revenue per DAU is still drastically lower than Facebook's, but continues to grow quickly.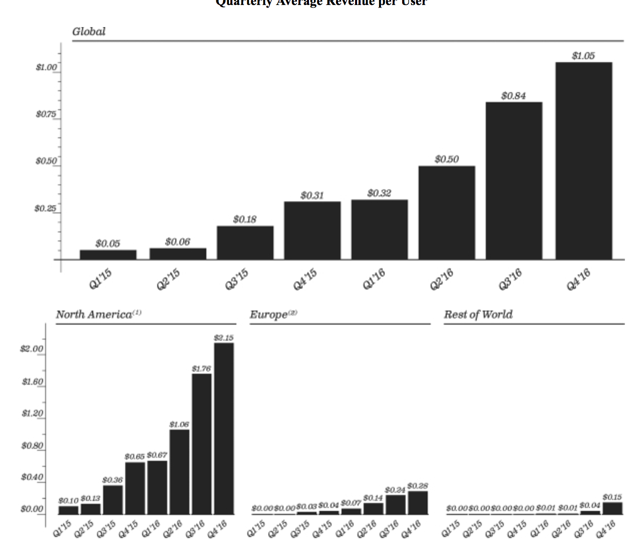 As Snapchat is still early in ramping its monetization efforts, it's revenue per DAU has tremendous upside, and increased 239% in Q4 '16 (to $1.05 from $0.31).
If in the long run, Snap can continue to keeps its users on the app for 25-30 minutes per day, it's revenue per DAU potential will be similar to Facebook's.
The Bull Case
If Snap continues to grow its user base at a rapid rate, the company will look very cheap at $19/share ($23B market cap). With 300M DAUs users in 2020, Snap has the potential to be worth $50B+, more than double what it is currently trading for.
This assumes Snapchat can ramp its annual revenue per DAU to $20 from 2016's $4.20 (+386% in 4 years).
In this scenario, Snapchat would have 2020 revenue of $6B (300M x $20), and likely still be growing revenue and earnings at a very rapid clip. In 2020, a $50B valuation would give the company a P/S multiple of 8.3X, very similar to where Facebook trades today.
Conclusion
At $19 per share Snap Inc presents an attractive risk/reward opportunity, if you believe the company can continue to grow its user base.
The biggest obstacle to Snap's success will be Facebook's repeated attempts to copy its functionality. If Facebook drives a meaningful portion of Snapchat's engagement over to Instagram, the valuation has a long way to fall from $23B.
In short, Snap Inc appears to have a very binary future. Either the company will continue to dominate in the younger age demographic (14-25) and quickly become a very profitable social media titan, or it will crumble in the wake of Zuckerburg's wrath.
Snap Inc S-1 Walk Through
For those interested in further analysis on Snap Inc, I went through the company's S-1 IPO filing step by step in a YouTube video series.
Disclosure: I/we have no positions in any stocks mentioned, and no plans to initiate any positions within the next 72 hours.
I wrote this article myself, and it expresses my own opinions. I am not receiving compensation for it (other than from Seeking Alpha). I have no business relationship with any company whose stock is mentioned in this article.