In the end of this month, our $45/share strike Coca Cola (NYSE:KO) call options that we sold 4 months ago will expire, leaving us with a significant gain in a relatively short period of time.
As a result, we are going to sell our KO stocks, and enter into a long position in PepsiCo (NYSE:PEP), for the following reasons.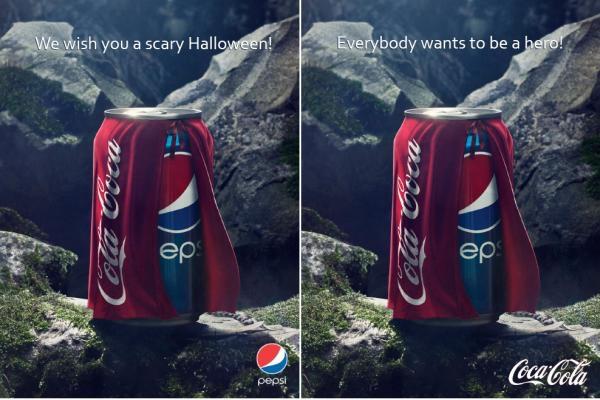 Q4 results and 2017 Outlook
Beside reporting much higher revenue growth (negative 6% for KO, and positive 5% for PEP), PepsiCo guided for a much higher EPS growth in 2017; Coca Cola guided for a 1% to 4% decline in its EPS, whereas PepsiCo. guided for a 4.9% increase in its EPS.
Both the company's outlook and Q4 earnings can give us a clear picture about how things are going to be for these companies. It's clear that Coca Cola is facing headwinds, including weak inorganic segments, higher currency risks (11% effect on EPS for KO, and 3% effect for PEP), and a stagnating organic segment. However, PepsiCo seems more comfortable in the current environment, where it has more diversification and lower risk resulting from currency fluctuations.
In addition, we find it worrying that KO is guiding for a lower EPS when it slashed its SG&A expenses by 9% in the latest quarter, which means that if that weren't the case, EPS guidance would have been much lower.
The implications of low capital spending for Coca Cola
Capital spending plays a major role in generating future revenue. PepsiCo always had a much higher capital spending than Coca Cola.
Actually, Pepsi's 2016 Capex spending is 35% higher than KO, which means that it is investing in itself at a much higher rate.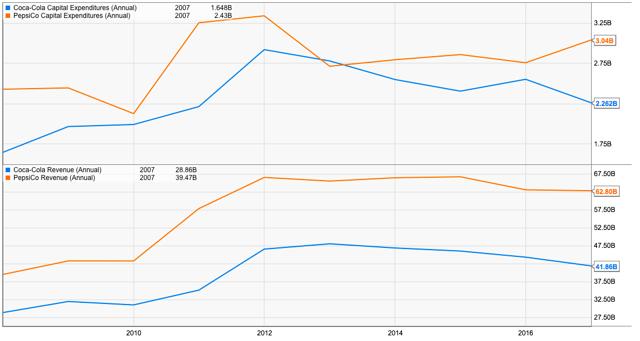 This higher capex spending, accompanied with higher return on invested capital (13.4% for PEP, and 9% for KO), gave PEP the edge in higher revenue growth over the last 10 years; KO grew its revenues 45%, while PEP grew its revenues by 60%.
We believe that as long as that is the case, PEP will continue to generate higher revenue growth than KO over the coming years.
Thus, we don't find the higher valuation of KO revenues by Wall Street investors makes any sense.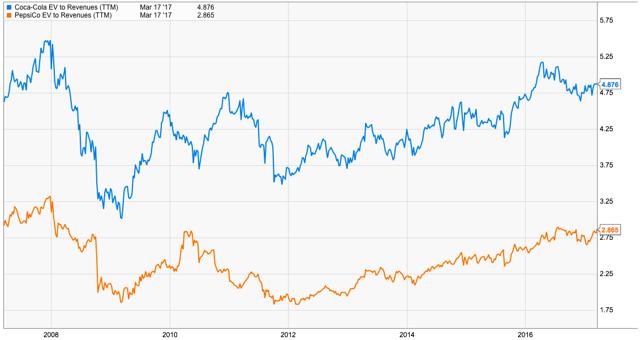 Why would I pay 70% (!) higher for every $1 generated in revenue for a company that is not putting a clear roadmap for how to face its major risks, and has a stagnating growth rate?
Just for the record, in the last 2 years, KO revenue declined 12.4%, whereas, PEP revenue increased 84%!
At the same time, KO's long-term debt increased 19%, while PEP's LTM increased 15%.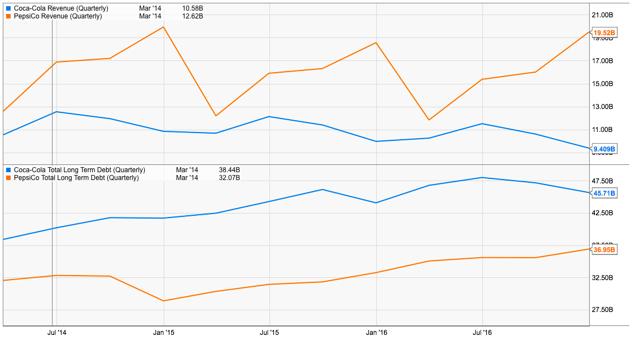 In addition to all of this, PepsiCo has a much lower valuation on the FCF front than Coca Cola.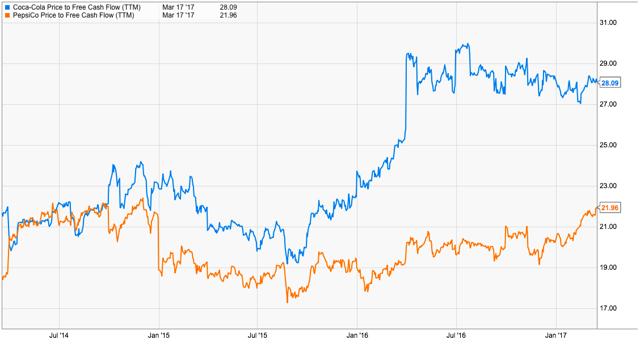 Conclusion
The only thing that makes Coca Cola stock more favorable is profit margins (and of course dividends, but that's due to the higher PM for KO). KO stock has a profit margin of 15.59%, while PEP has a profit margin of 10%. However, we believe that this gap will narrow down once PepsiCo starts focusing on its bottom line and cools down its growth engine. The higher margins for PEP translates to a higher dividends in the future, which gives the stock more upside potential.
In our latest article about Coca Cola, we talked about how consumers are shifting away from soda drinks. This gives PepsiCo an edge over Coca Cola, that's because it has a more diversified business, with much known other brands like Tropicana, Lays, Doritos, and Gatorade.
Last but not least, rising interest rates will negatively affect Coca Cola's stock more than Pepsi's. That's because KO stock price is purely based on the dividend yield, whereas PEP stock is based on both attractive dividend yield and growth.
As a result of all the reasons mentioned above, we feel more safe holding Pepsi stock.
Happy investing to all.
Disclosure: I am/we are long PEP.
I wrote this article myself, and it expresses my own opinions. I am not receiving compensation for it (other than from Seeking Alpha). I have no business relationship with any company whose stock is mentioned in this article.