Inphi (IPHI)- a leader in data movement interconnects- is a top stock to track right now. On a five-year basis, the stock has demonstrated incredible growth from about 2014 when shares were just $12. Current prices are down slightly to $45.5 from $51.40 on February 20 creating a strong investing opportunity.
Prices dipped on concerns that optical component makers are experiencing weaker trends in China. However according to Stifel Nicolaus' Tore Svanberg Inphi's exposure to China is mainly in its recent new digital module and DCO win, providing some insulation from the downward trend.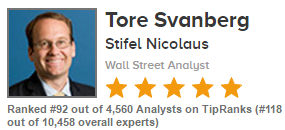 Positive stock catalysts- ColorZ Accelerates in 2H17
Concerns about China should not distract from a fundamentally impressive Inphi picture. The company released higher-than-expected Q4 results, generating $80.9 million in Q4 revenue, an over 50% increase from last year's strong Q4. In particular, the ClariPhy acquisition, which closed in mid-December, added about $1 million in revenue. Overall the results demonstrated strength in Inphi's core communication business (which should see growth of 46% this year up from 42% last year) while the optical cycle has further upside due to secular demand from cloud customers.
As far as future growth is concerned, it will be interesting to see how Inphi's ColorZ 100G PAM4 platform solution developed with Microsoft ramps up. ColorZ is due to begin accelerating in 2H17- generating a potential $30 million in revenue this year. ColorZ can deliver up to 4Tb/s of bandwidth over one fiber and can essentially 'stitch together' multiple data centers 80km so they act like a single virtual data center.
"ColorZ is the last leg of growth and this is where we can have the highest data if you wish. And this is where we're very excited about, what could happen in the next few years as we see multiple applications and multiple user scenario develop" Inphi CEO Ford Tamer said in Inphi's Q4 earnings call (published on Seeking Alpha).
Rare Insider Buy, New Positions for Top Hedge Funds
We can see that- for the first time in the last 10 months- a corporate insider has made an informative purchase of Inphi shares 17 days go. CFO John Edmunds bought 74,000 shares worth $217,000 at a share price of $46.77 (just above current levels). Edmunds, who now holds $5 million of Inphi shares, last made an informative buy of shares back at the end of 2012.
While the overall hedge fund picture was fairly neutral last quarter, it is worth noting that two highly-respected fund managers chose to initiate positions in Inphi. Christopher Lord (of the $2.45bn Criterion fund) and Joel Greenblatt (of the $7.77bn Gotham Asset Management fund) now have IPHI positions worth $2.7 million and $1.65 million respectively. Lord is ranked an impressive #22 out of 203 hedge funds tracked by TipRanks as Criterion has an outstanding measured performance of 98.8% vs. the 85.5% of the S&P 500.

Serious upside price potential
The bullish average analyst price target of $57.83 represents an impressive upside of 26.9% from the current share price of $45.57. Interestingly the range in price targets offered by analysts is only $5 with the lowest published price target of $55 still translating into an upside of 20.1%.
Indeed, Svanbarg reiterated his buy rating on the stock on 16 March with a $60. Separately, five star Jefferies analyst Mark Lipacis also reiterated his buy rating on the stock on March 20 also with a $60 price target.
Financial accountability engine TipRanks reveals that Inphi has a strong buy analyst consensus rating with no hold or sell ratings published on the stock in the last three months. All of these six buy ratings are from top-performing analysts.

Disclosure: I/we have no positions in any stocks mentioned, and no plans to initiate any positions within the next 72 hours.
I wrote this article myself, and it expresses my own opinions. I am not receiving compensation for it. I have no business relationship with any company whose stock is mentioned in this article.