Although there is no 'holy grail' in trading, certain indicators can provide a definite edge.
Demark developed a set of indicators to show points where trends become 'exhausted' and will likely reverse. One of these indicators has been timing the turns in silver (NYSEARCA:SLV) for some time now and it's worth taking a closer look.
Context
Most indicators fail when they are used in the wrong context. If there is a strong uptrend, overbought indicators such as RSI and Stochastics are generally useless.
But use them during a pullback, the same indicators showing oversold readings tend to work very well.
Alternatively, if the market is trading a range, it is possible for both overbought and oversold indicators to work well.
This has been the case with silver, as it has made higher lows and lower highs for some time now. In this context, the Demark set-ups have caught many of the turns. Currently they are more effective at catching pull backs, which indicates the market is bullish and buying dips.
The Set-Up
Before we get into the technicals of what a Demark set-up is, and how it is created, it's good to look at how well it has performed. The below chart is from my February 3rd article. The red lines show where longs can be covered or shorts taken, and the green lines show where shorts can be covered and longs taken.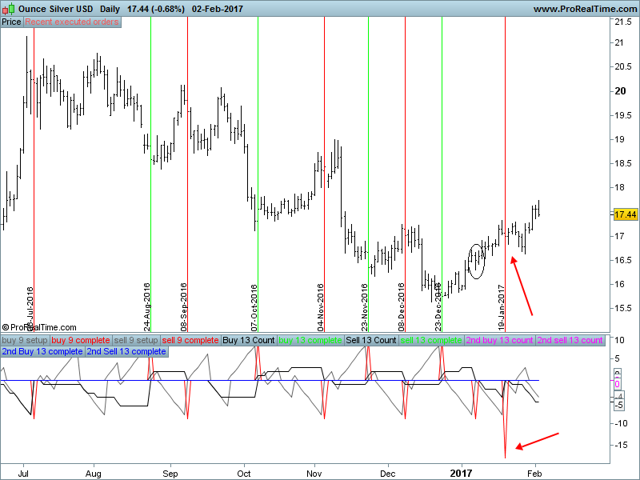 The first set-up to fail occurred on Jan 6th, which I wrote was 'one way of showing that buyers are much more aggressive and are shrugging off sell signals. The market has changed, and the high probability bet is to now "buy the dips".'
This relates to what I said in the first section of this article about context.
Look how the signals have performed recently: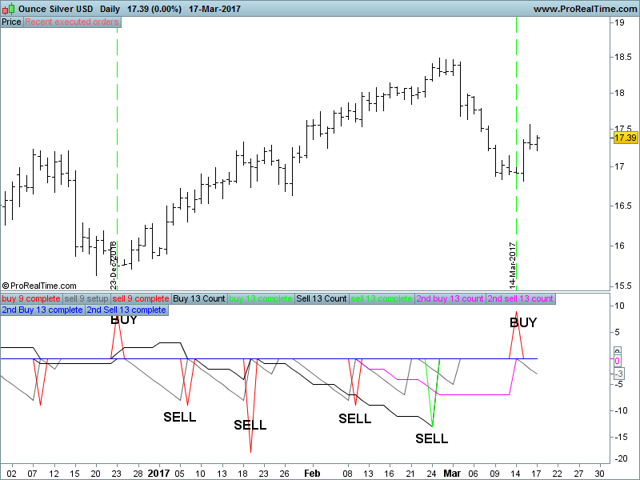 The last buy signal flashed a day before the post-Fed rally. On the other hand, three out of four sell signals failed.
As I said in February, 'sell signals will not work in this market and the high probability set-ups are now on the long side.'
The Mechanics
Demark indicators are fairly under the radar. They don't come as standard on most chart packages and for many years I used to track them by hand. The charts in this article use a coded version, but for anyone interested, the set-ups can be can be worked out by the following calculations taken from this book by Jason Perl:
For A Buy Set-Up,
A Bearish TD Price Flip occurs when the market records a close greater than the close four bars earlier, immediately followed by a close less than the close four bars earlier.

After a bearish TD Price Flip, there must be nine consecutive closes, each one less than the corresponding close four bars earlier.
A sell set-up is recorded with the exact opposite sequence.
There is slightly more to the technique, but for the buy signal just passed, this is all you need to know. Here is how I would track the set-up by hand: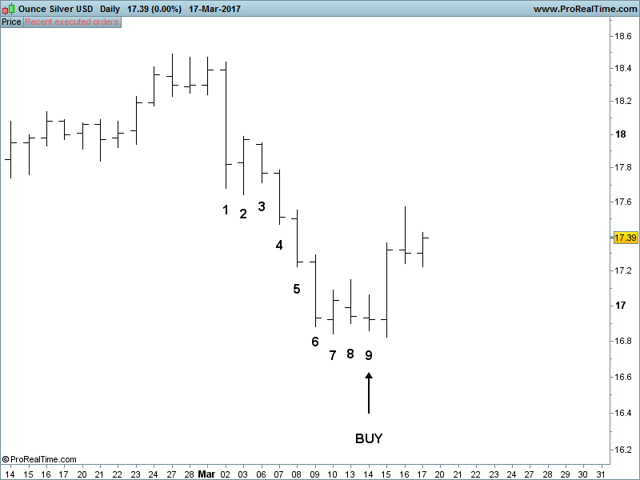 What Next?
There are certain expectations for what happens after a buy set-up. The first hurdle is the high of the set-up, which in this case is $18.44. A qualified break of this point should bring much higher prices.
If a sell set-up completes before a break-out, it may lead to a period of consolidation. Silver is currently on bar 3 of a potential sell set-up.
Conclusions
Trading indicators can be hit and miss, but occasionally they can be used to time a market very effectively. They also tell us about a market's character; if sell signals fail, the market is bullish.
Demark indicators are working very well in silver, and are telling us the trend is still up.
Disclosure: I am/we are long GLD.
I wrote this article myself, and it expresses my own opinions. I am not receiving compensation for it (other than from Seeking Alpha). I have no business relationship with any company whose stock is mentioned in this article.
Additional disclosure: I am long GDX and gold futures.