The global video game market generated $91 billion in 2016. Moreover, it is expected to reach $118.6 billion by the end of 2019. Activision Blizzard (NASDAQ:ATVI) is the biggest company by market capitalization and one of the most successful firms in this industry by net income comparison. And with its results for 2016, Activision Blizzard shows a fine potential for growth, especially taking into account its current price below $50, results of my DCF model (even with conservative assumptions) and multiplier comparison with its closest competitors.
Revenue
The noticeable increase in the stock price after the reveal of results for 2016 (from $39.02 to $43.88 and higher in the following days) was motivated by several factors. Among them the most noticeable being extreme revenue growth.
From 2015 to 2016, the company's total revenue increased by 41.68%, which is an extreme growth, especially compared to the results of its closest competitors like Electronic Arts (NASDAQ: EA) with revenue growth of -2.16%, Nintendo (OTCPK:NTDOF) with revenue growth of 8.243% and Take-Two Interactive Software (NASDAQ:TTWO) with strong but nevertheless inferior growth of 30.56%.
Also, the product sales part of revenue decreased by 10.26% while Activision Blizzard's revenues from subscription and licensing increased by 99.008%.
Costs
However, even though the overall increase in net income is 8.29%, it is important to mention that many costs associated with the subscription and licensing processes increased to such an extent that pre-tax income is down 1.33% compared to pre-tax Income in 2015.
And only with the help of a sufficient fall in the amount of tax paid, Activision managed to have growth in the bottom line.
Inefficiency is what separated this company from even a stronger rise in its price.
Its average operating margin from 2011 to 2015 was 28.56%, and in 2016, it dropped to 21.36%.
Changes in operating and gross margins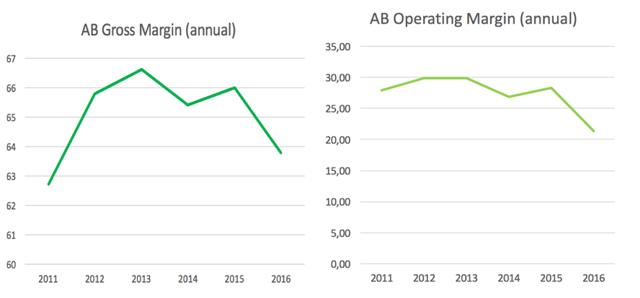 Its Gross Margin is also at its lowest level since 2011, with 63.77% in 2016 against the average value of 65.3% (for the years from 2011 till 2015).
How do we compare these results with the same margins of competitors?
Electronic Arts had gross margin of 69.2% and operating margin of 20.4% in 2016. UbiSoft (OTCPK:UBSFF) had a gross margin of 78.1% in 2016.
DCF Analysis
Results of DCF model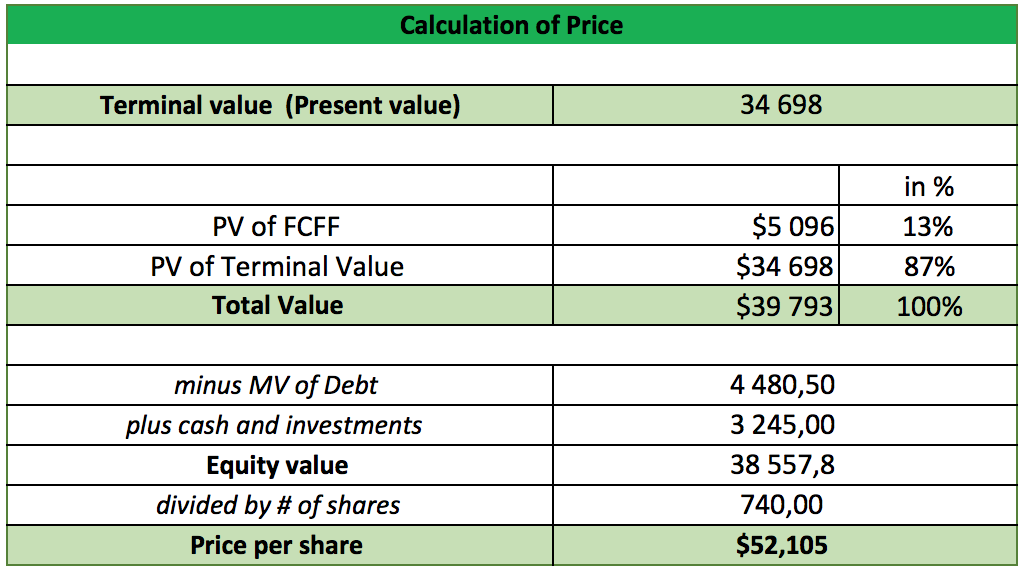 The results of my DCF model are presented in the table above.
In this analysis, I assume several things.
First of all, Activision will have an average growth of revenue (average for the last 4 years) for a few years followed by slight increases, which appear due to the overall market growth. Secondly, I also assume that the company will be able to bring its previous levels of efficiency back.
I have made this assumption for 2 reasons.
Firstly, Activision Blizzard managed to achieve higher margins in the past and that is why I believe that it has a good chance to maintain them in the future.
Secondly, those efficiency levels were higher in the past, and now, the company will most certainly focus on getting them back to those levels.
Given this information, my model results in equity of about $38.6 billion.
Still, even with those (more or less average) assumptions calculated price per share is $52.105, which is about 5% higher than its current price (about $49.5 at the time of writing).
Sensitivity Analysis
Table of share prices for different values of growth and WACC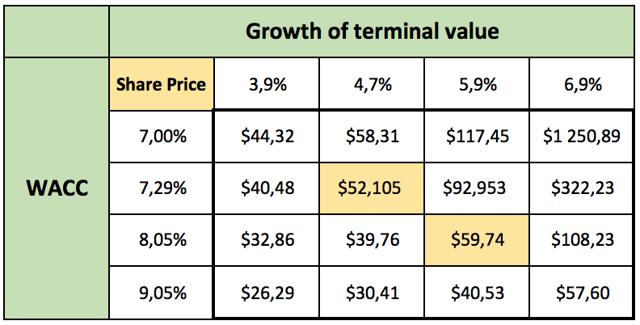 With different assumptions about WACC and growth of terminal value, it can be concluded that the share price for Activision Blizzard should be in the range from $40.48 to $59.74.
Comparative Analysis
There are three different ratios in my comparative analysis: EV/EBITDA, EV/Sales and P/E. Activision has EV/EBITDA of 13.85, EV/Sales of 5.37 and P/E of 36.83.
Electronic Arts has EV/EBITDA of 22.16, EV/Sales of 5.21 and P/E 25.09.
Take-Two has EV/EBITDA of 22.42, EV/Sales of 3.17 and negative P/E ratio.
Square Enix (OTCPK:SQNXF) has EV/EBITDA 9.57, EV/Sales of 1.26, P/E of 21.33.
Average EV/EBITDA (according to Damodaran for software entertainment) is 17.18.
EBITDA multiple shows that the company is undervalued when compared with its competitors. However, it seems overvalued when it is compared with the industry average multiple by Damodaran.
The price-to-sales multiple and the P/E ratio also show that the company may be overvalued.
Comparison of multiples for Activision Blizzard and main competitors

New products and launches in 2017
Activision Blizzard owns several major franchises in the video game industry. Many of them showed good results in 2016. MAU metric for both WoW and HeartStone increased and new properties like Overwatch were well acclaimed by both customers and critics (Source: AB presentation).
However, not all of them were proven to be successful in 2016. Call of Duty, one of its major franchises in 2016, showed a drop of ~48.8% in sales in the UK compared to sales of the previous installment in 2015. And even though they plan to bring the series "back to its roots," it is unclear whether they will be able to compete with products of competitors, which already managed to get the trends of first person shooters.
Recommendation
In my opinion, Activision Blizzard, despite its operating inefficiency, has a good prospect of revenue growth, especially taking into account that DCF analysis and some of the comparables show that company may be undervalued. I would recommend investors to buy this stock and wait for the third quarter of 2017, when many planned projects will be either announced or released and audience reaction could be projected.
Supporting Documents
Disclosure: I/we have no positions in any stocks mentioned, and no plans to initiate any positions within the next 72 hours. I wrote this article myself, and it expresses my own opinions. I am not receiving compensation for it (other than from Seeking Alpha). I have no business relationship with any company whose stock is mentioned in this article.
Editor's Note: This article discusses one or more securities that do not trade on a major U.S. exchange. Please be aware of the risks associated with these stocks.