Calgon Carbon's (NYSE:CCC) stock endured a volatile past year. After selling off sharply in June 2016 following Brexit, shares steadily climbed higher until November when they spiked into the high teens following President Trump's election. After giving up some of the Trump rally gains earlier this year, shares cratered in February following disappointing Q4 EPS of -$0.12 (projected $0.16) and FY 2016 EPS of $0.27 (-67% YoY).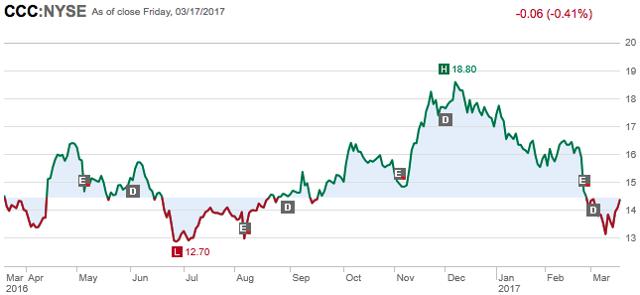 Source: Schwab.com
Undoubtedly, these are disappointing results. However, a closer look at the numbers reveals the results are not as bad as they seem. Additionally, several catalysts for Calgon should begin to bear fruit over the next 12-24 months, including benefits from the CECA acquisition, additional reactivation capacity coming online, and the expected implementation of the International Maritime Organization's (IMO) in September of this year. Despite a challenging 2016, I reiterate my rating of CCC as a buy below $15 and a strong buy below $14. The goal of this article is to touch on developments over the past year, as well as to consider near-term catalysts and challenges for Calgon.
2016 Highlights
As noted, 2016 was a tough year for Calgon. EPS dropped to $0.27 (from $0.82 in FY 2015) and annual sales decreased $20.8M to $514.2M. The fourth quarter, in which the company lost 0.12 a share, proved to be particularly challenging. The loss stemmed from a $13.7M charge associated with its CECA acquisition. The charge was for "acquisition and project related expenses," and amounted to more than double the estimate provided by Calgon last quarter ($5-6M).
The surprise arose from tax payments associated with the transaction that Calgon thought could be deferred, but, in reality, required immediate payment. Therefore, the loss should be a one-time event. This said, even when ignoring the fourth quarter charge, the earnings throughout the year were below expectations. Calgon's CEO blamed muted industrial activity and a rising dollar for the poor results.
Despite the challenges of 2016, Calgon did achieve a positive milestone when it purchased CECA, a filtration media company based in Europe for $153M. The deal closed this fall and contributed to the Q4 results.
Tailwinds
I maintain a bullish outlook on Calgon's shares in spite of its recent struggles, as it appears the market is discounting a number of potential catalysts that should boost Calgon's top and bottom line over the next few years.
CECA: As mentioned, Calgon closed on its acquisition of CECA in 2016 and expects the unit to be fully accretive to 2017 results. In FY 2017, Calgon estimates CECA will generate $100M in sales; initially, Calgon was estimating that CECA would contribute $0.08-0.11 to FY 2017 EPS, but it appears it may have backed off that estimate likely in part due to a final acquisition charge of $0.7M that Calgon will take in Q1 2017.
However, CECA's profitability should improve significantly over the next two years as Calgon still expects to improve CECA's EBITDA margin by 40% by 2019. Moreover, the CECA purchase adds a layer of consistency to Calgon's earnings, which are subject to fluctuation due to lumpy utility sales and a dependence on industrial activity. As the graphic below displays, CECA generates the vast majority of its revenues from industries that are relatively recession proof and will diversify Calgon's sources of revenue. Lastly, it is worth remembering that the new CECA arm also adds a layer of geographic diversification by improving Calgon's presence in Europe and Asia.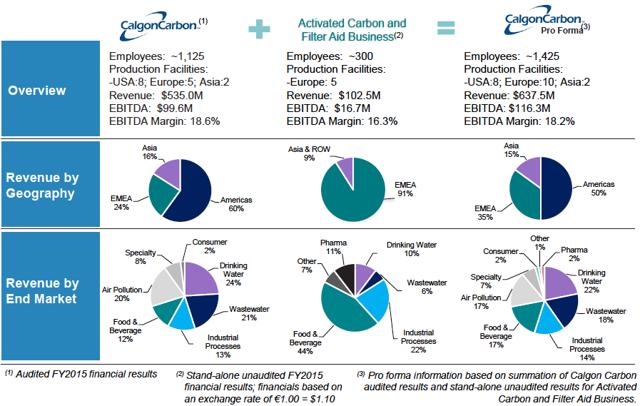 Source: Calgon Carbon's Planned Acquisition of CECA's Activated Carbon and Filter Aid Business
Capital investments: Calgon has invested millions of dollars in boosting its reactivation capacity and increasing margins. These investments will improve earnings going forward, especially given that Calgon seems to have moved past the hiccups with its renovated Tipton reactivation plant.
Additionally, Calgon continues to invest in its businesses, and this year, expects to spend $70-80M to improve its reactivation capacity in the U.S. and expand CECA's wood carbon volumes. Though this is a jump from its three-year average capex ($52.6M), I view it as a positive that the company has profitable projects in the works and is investing in its future.
PFC's: Perfluorinated carbons (PFCs) are chemicals used in some manufacturing processes and consumer goods because of their anti-adhesive properties. However, due to health concerns, in the U.S., some PFCs have been banned while others are being quickly phased out. Despite these efforts, PFCs have contaminated many drinking water sources due to their long history of use in the U.S.
FILTRASORB is an activated carbon made by Calgon that specializes in stripping PFCs and other difficult contaminants from water. Additionally, the reactivation process destroys PFCs entirely, meaning Calgon's products offer a long-term solution to PFC contamination. For the time being, Calgon has been recognizing sales from drinking water utilities that draw from sources (typically aquifers) contaminated by PFCs. In 2017, Calgon earned $10M in revenue from this sort of sale, and moving forward, it expects sales of FILTRASORB to drinking water utilities to continue to grow. Moreover, an even larger opportunity exists, as Calgon's products can be used to remediate water sources tainted by PFCs, many of which were contaminated by the Department of Defense. If the DoD ever remediates these sites, there would likely be a significant boost in demand for Calgon's technologies.
Calgon's management has refrained from estimating the size of the PFC market, in part because contamination is still being discovered, but it has characterized the opportunity as a significant one and suggested it should be around for at least the next decade.
Infrastructure bill and economic growth: Should President Trump succeed in his $1T infrastructure plan, it would likely benefit Calgon both directly and indirectly. For one, it could spur investment in America's water treatment infrastructure. Randy Dearth, Calgon's CEO, stated on the most recent conference call that he met with members of Congress earlier this year and was encouraged by their interest in Calgon's technologies and how they could be applied to both large municipal water treatment plants and smaller, rural treatment systems.
Secondly, even though 2016 was a year of sluggish growth, Calgon still derived 30% its 2016 sales (pro forma) from economically sensitive businesses (manufacturing, chemicals, power generation, etc.). Given the nature of infrastructure spending, a significant portion of the $1T would likely go industrial companies, leading to increased industrial activity and, therefore, higher sales of Calgon's products.
Of course, whether from infrastructure stimulus or some other catalyst, any sort of increased American industrial output would boost Calgon's sales and earnings. Recent economic indicators seem to point to an uptick in growth, and Calgon's management has stated it is cautiously optimistic 2017 will deliver a rebound in sales to economically sensitive customers.
Capital return to shareholders: Calgon's annual $0.20 dividend is nothing to get excited about (1.4% yield), but I do expect it to grow over time, albeit at an irregular pace. Additionally, though Calgon froze its buyback to help fund the CECA acquisition, $64.1M still remains on the program - good enough to retire 8.8% of the float at the Calgon's current market cap ($729.3M). I was hopeful share repurchases would resume this year, but after management's comments during the Q4 conference call, I wouldn't be surprised to see it hold off on the buyback until 2018. In either case, whenever the buyback resumes, it should give a nice boost to the EPS.
Ballast water: Perhaps the most compelling reason to invest in Calgon is the impending Ballast Water Management Convention, which will go into effect on September 8th, 2017. This convention, which is organized by the International Maritime Organization, will require boats to treat ballast before discharge.
Ballast water is water taken on by cargo-light ships so they maintain optimal weight and balance in the water. When the ships take on cargo, they discharge ballast so as to maintain their desired weight and balance. While ballast has improved the efficiency and safety of maritime shipping, it has had negative consequences on the environment. This is because when ships release their ballast, the water often includes invasive species from distant regions of the globe. The introduction of invasive species can have a negative effect on ecosystems and economies of port cities around the world. Growing concerns over these impacts led the recent implementation of the IMO's ballast water treatment legislation.
Calgon stands to reap major benefits from the ruling thanks to its Hyde Marine Guardian ballast water treatment system. To date, the system has been a drag on results, as Calgon waited for ratification of the IMO legislation and worked to overcome testing hurdles imposed by the U.S. Coast Guard (USCG). Calgon has only recently begun testing the system in accordance with USCG standards and the IMO convention has not yet come into effect, but Calgon has still already noticed an uptick in quoting activity. While it is yet to drive much business from Hyde Marine, it seems Calgon is well-positioned to soon begin capturing meaningful sales from what amounts to an $18B-28B total addressable market.
Analyst sentiment and fundamentals: Though Calgon's TTM P/E is extremely high (53.6), its forward P/E sits at 22, as the Street expects EPS to bounce back to $0.66 in FY 2017 and rise to $0.93 in FY 2018.
Generally, I would be wary of investing in a stock with so much good news expected of it. Calgon is also a difficult stock to value given how variable its earnings can be (FY 2014 EPS was $0.92 and FY 2015 EPS was $0.82). Despite the volatility, with a multitude of potential growth drivers in place, it seems pretty reasonable to believe Calgon could earn $0.80 per share in FY 2018. If one applies a P/E of 25 (Calgon's five-year average P/E is 27) to these earnings, the corresponding share price is $20, a 39% increase from CCC's current price ($14.40).
The four analysts who cover Calgon all also like the stock and assign it an average 12-month target price of $18.50.

Source: Financial Times
Headwinds
As with any investment, Calgon also faces challenges. I highly recommend any prospective investor read through Calgon's 10-K to get a thorough understanding of the risks associated with Calgon as an investment. Below are several near-term headwinds that I believe are worth paying particularly close attention to.
Coast Guard approval: USCG approval for ballast water treatment system has proven to be difficult for manufacturers to obtain. Last year, the USCG confirmed that it would not accept system performance data based on the most probable number (MPN) method (MPN measures whether a microorganism can reproduce, not whether it is alive or dead). The decision to reject the MPN was a blow to Calgon and other manufacturers of this equipment as the MPN is accepted by the IMO and provides a simple way to measure water quality. While it seems Calgon has adjusted accordingly to this ruling and should get USCG approval, nothing is guaranteed, and investors should pay attention to any developments.
EPA and MATS: Environmental regulations drive a significant portion of Calgon's sales. During the Obama administration, this aided Calgon particularly due to the rolling out of Mercury and Air Toxics Standards (MATS), which limits acceptable emissions of mercury and other toxins released from the combustion of coal. This pro-environment stance from the executive branch changed decidedly with the election of President Trump. President Trump and Scott Pruitt, the newly appointed head of the EPA, have been vocal in their support for rolling back environmental regulations and helping the American coal industry. As the Attorney General of Oklahoma, Mr. Pruitt even sued the EPA to block MATS. On a pro forma basis, Calgon generated 17% of its FY 2016 sales from air quality products, and these sales generate a high profit margin for Calgon. Therefore, if Mr. Pruitt goes after MATS, it could have a noticeable impact on Calgon's financial performance.
This said, despite potential resistance from Washington, MATS has a significant advantage on its side: inertia. Currently, most American coal power plants have already purchased and installed MATS equipment, and essentially, every American coal-powered plant has invested significant time and capital into preparing for MATS. At this point, it may simply be easier for utilities to maintain the status quo and continue with MATS compliance. This means the Trump administration might actually face resistance from utilities on the issue, despite it appearing on the surface that it would embrace the government's about face on MATS. Complicating matters is the fact that a number of states have enacted their own legislation to require treatment of flue gases, so even if the EPA ended MATS, there would still be a market, albeit reduced, for Calgon's air quality media. To me, it seems more likely than not that MATS will remain in place. That said, rhetoric from the White House is far from supportive of MATS, and Calgon investors should be aware of this risk.
Natural gas prices: Another headwind for Calgon's FLUEPAC sales is the abundant, cheap natural gas flowing throughout the U.S. After climbing throughout 2016, natural prices crashed early this year due to a mild winter throughout much of the country. Though prices have recovered somewhat, they still remain below where they were for much of 2016. This has implications for Calgon's FLUEPAC sales as electricity generated from coal is less competitive than electricity generated by gas when the price of gas is cheap. Therefore, inexpensive natural gas results in reduced output from coal-powered plants and thus lower demand for FLUEPAC. Should gas prices continue to fall, it will have a detrimental impact on Calgon's sales for air quality products.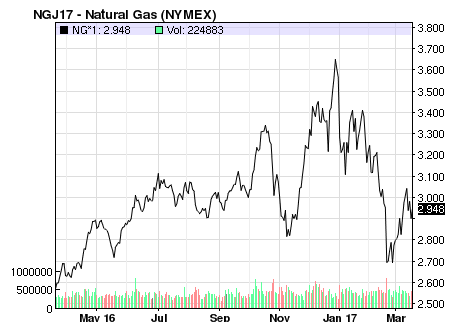 Source: Nasdaq
Japan fair-trade investigation: On February 21st, the Japan Fair Trade Commission informed Calgon that it is investigating its Japanese unit (as well as several other activated carbon providers) over concerns of an anti-competitive product. The investigation appears serious, as Japanese authorities searched the offices of Calgon Carbon Japan.
This is obviously a concerning situation, especially given that Japan is Calgon's third largest market, accounting for 6.9% of FY 2016 sales. Management did not address the matter in the Q4 conference call, and given the recent nature of the investigation, very little information is available online. The most detailed description I could find was on page 21 of the FY 2016 10-K. At this time, it remains uncertain what the investigation means, but it is certainly not a welcome development.
CECA acquisition: Lastly, though I view the CECA acquisition as a smart move by Calgon, I will be paying close attention to its integration efforts and any future charges. Management clearly misread expenses in Q4 2016, but it appears to me it has a handle on things moving forward. A final charge of $0.04 should be realized in Q1 2017, and management is still confident in its ability to raise CECA's EBITDA margins by 40% over the next two years. Nonetheless, the market is expecting CECA to be a positive contributor to results, and any future disappointments will certainly weight on Calgon's share price.
Recommendation
Despite a tough 2016 and plenty of potential near-term challenges, I reiterate my belief that Calgon is a buy below $15, and a strong buy below $14. A number of tailwinds, most notably, impending ballast water treatment regulations and a fully accretive CECA subsidiary, should provide a nice boost to Calgon's top and bottom lines. These drivers for growth, along with Calgon's legacy water treatment business, lead me to believe the company is in a strong position to generate robust shareholder returns over the next several years.
Lastly, I would like to emphasize that this article focuses on near-term tailwinds and headwinds, and I highly recommend prospective investors further familiarize themselves with Calgon before making any investment decisions. Looking over its 10-K is a great way to do so; additionally, if you found this article helpful, you may also enjoy a more comprehensive report on Calgon I wrote last May.
Thank you for reading, and good luck with your investments.
Disclosure: I am/we are long CCC.
I wrote this article myself, and it expresses my own opinions. I am not receiving compensation for it (other than from Seeking Alpha). I have no business relationship with any company whose stock is mentioned in this article.