Penn West Energy (PWE) is getting Mr. Market excited. Management has already raised the guidance for the new year that was previously issued. The stock has risen from its lows, but expectations of more capital gains and a bright future remain intact. It is still very early in the turnaround process. So investors can still invest in a very promising situation that is listed on a major exchange. Plus this turnaround situation has a few advantages not shared by other competitors.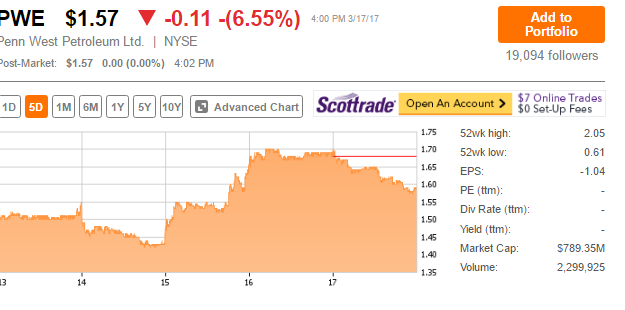 Source: Seeking Alpha Website
This stock is already up nicely from its lows. While some may not consider this stock a bargain in the traditional sense, the management is unusually deep and experienced for a company of this size. So investors are getting quite a bargain in the form of the management of this company. Mr. Market could be anticipating quite a growth trajectory and the initial announcement excites investors.
Not all bargains are listed on the balance sheet. Some cannot even be reasonably valued. But that does not mean that investors are not getting a bargain. This management will be expected to do more with the same assets than many competitors because of the advertised management experience. Time will tell if those expectations are realized, but management appears to be off to a good start.
First this management reduced debt by selling enough properties. Yet a viable future remains for the company even after the dramatic and material sales of some major assets. Now operational progress is becoming evident to Mr. Market. So the spotlight is on management to perform well.
(Canadian Dollars Unless Otherwise Indicated)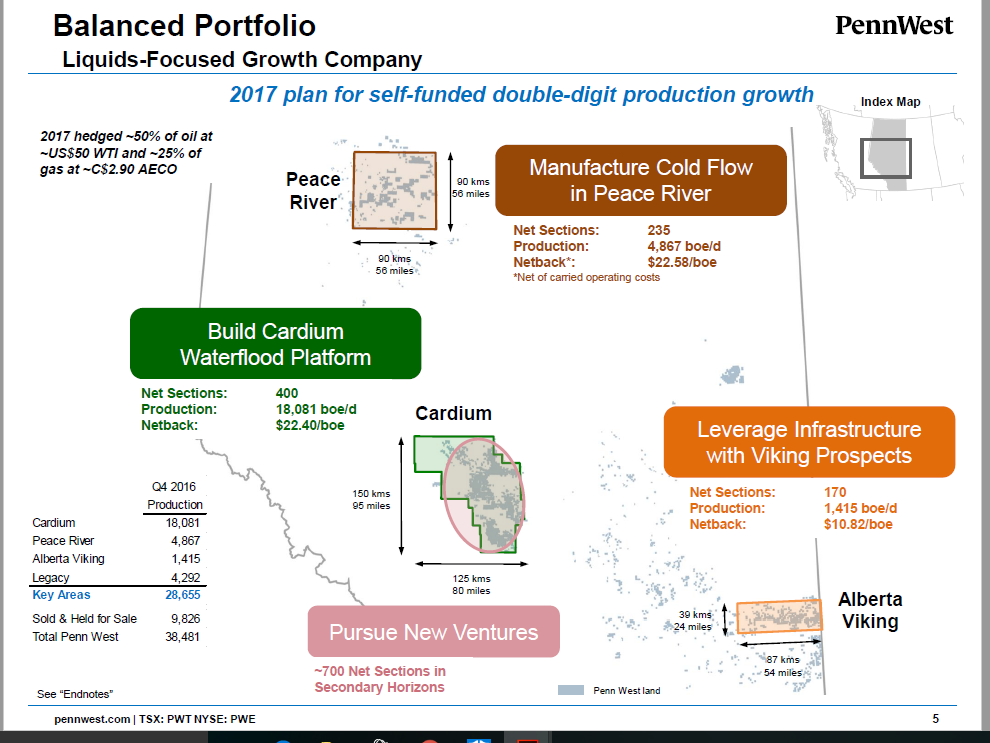 Source: Penn West Exploration March, 2017 Corporate Update
The company painted a fairly broad definition of non-core assets (click on March Presentation) to dig itself out of a very deep financial hole. But management managed to retain some very interesting prospects. Costs on these prospects not only remained competitive, but offered prospects of lower future development costs. So as the industry breakeven costs have lowered, this company is able to keep pace with those lowering costs. As a company that now has operations solely in Alberta, the location offers some of the better geologic plays. The company has an excellent base to build upon as growth resumes. This experienced management can be expected to keep discipline and cost focus through the growth. Mr. Market has been excited about the possibilities all along and every positive announcement reinforces excitement of successful anticipation. This stock feels like a long term buy and hold stock.
(Canadian Dollars Unless Otherwise Indicated)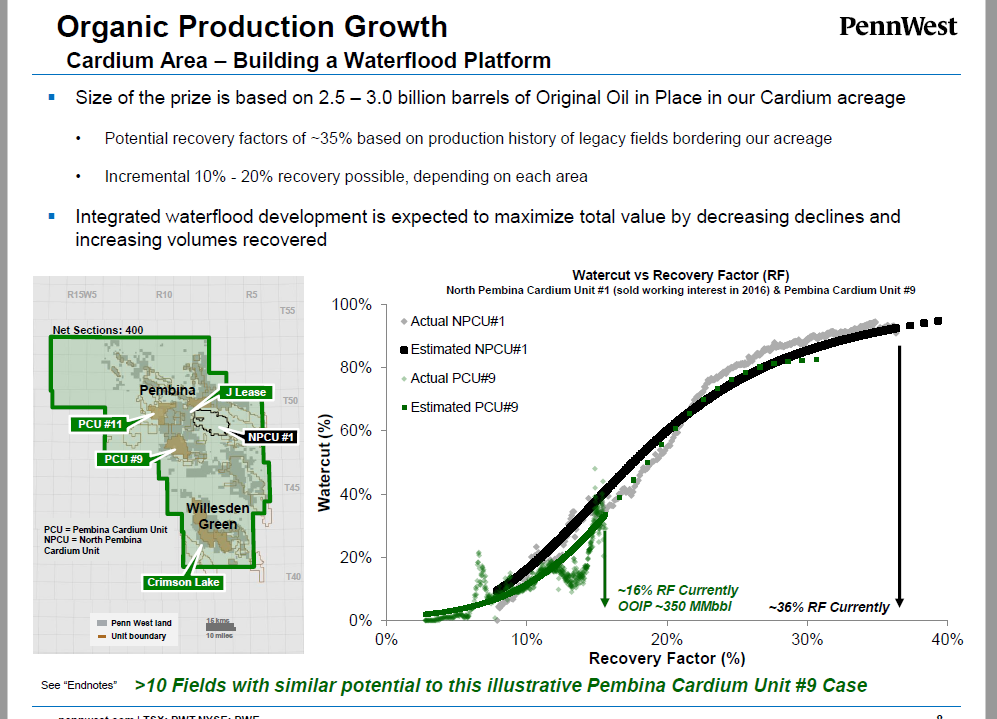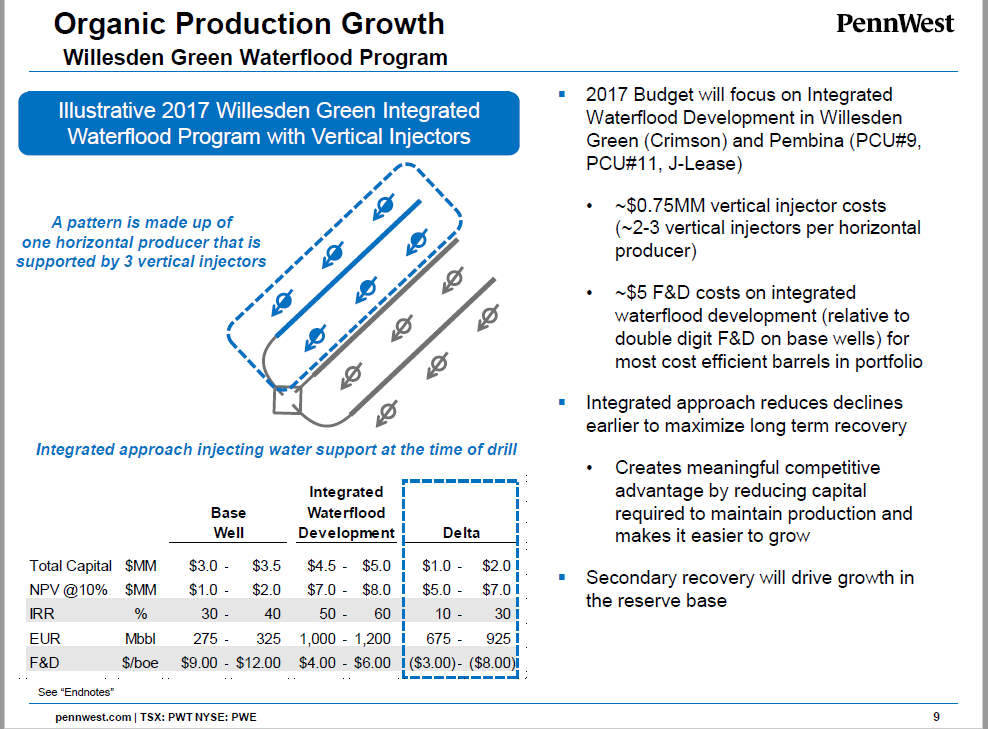 Source: Penn West Exploration March, 2017 Corporate Update
Management has found a waterflood proposal that has managed to keep costs low. Operating costs company wide are estimated at $13 BOE. Since much of the projected production will result from the waterflooding program, this program has unusually low costs. Denbury Resources (DNR) has a corporate expense total of about $11 BOE. Additional field level expenses of another $22 BOE place the company at a significant competitive disadvantage. So it is very easy to see where the financial troubles of Denbury are sourced.
(Canadian Dollars Unless Otherwise Indicated)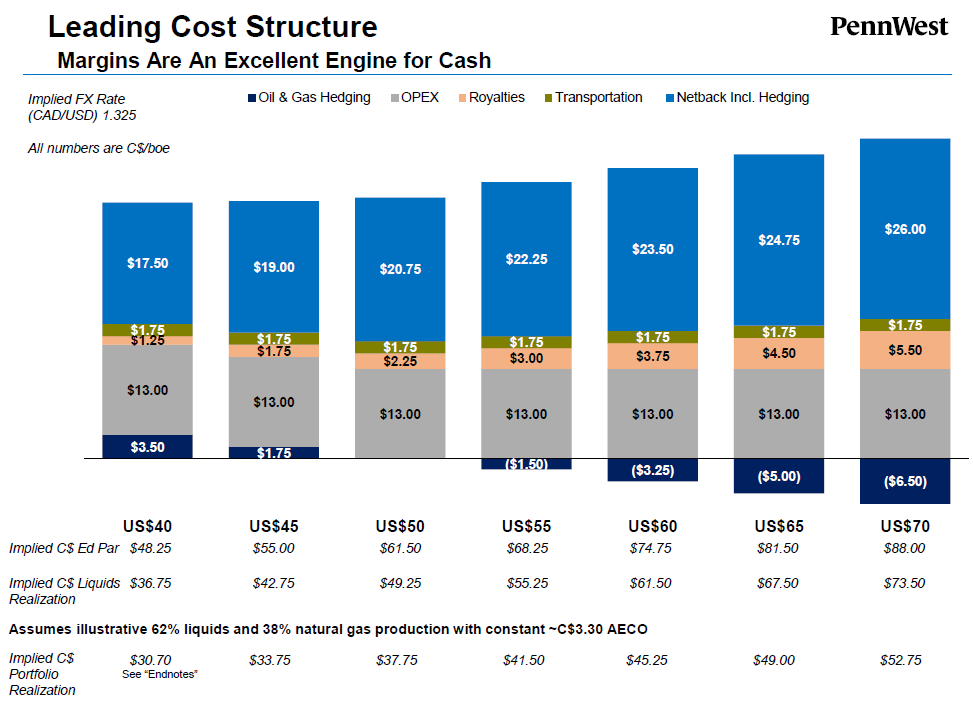 Source: Penn West Exploration March, 2017 Corporate Update
So when the management of Penn West Exploration states that the costs shown above are industry leading, a simple comparison shows they are not kidding.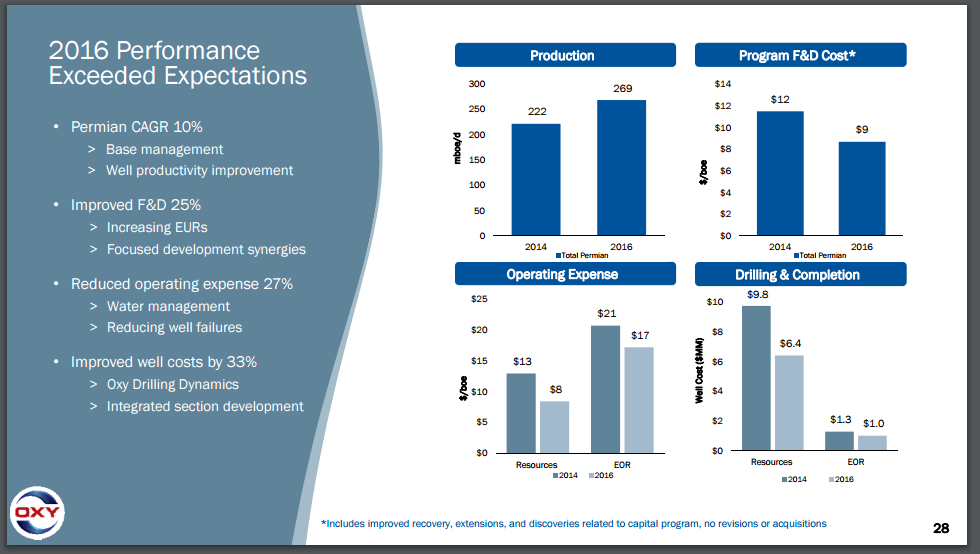 Source: Occidental Petroleum Fourth Quarter, 2016, Earnings Conference Call Slides
The cost structure of Penn West compares favorably to the cost structure Occidental Petroleum (OXY) reported for its Permian properties. Occidental is one of the biggest names in the EOR business. The Permian often gets Mr. Market very excited so many of the Permian companies trade at a Premium. Yet this Canadian company has costs that are every bit as competitive, especially when the lower Canadian dollar is factored in . So Penn West continues to keep the cost structure aligned with industry leaders, then a very profitable future is a likely outcome for shareholders.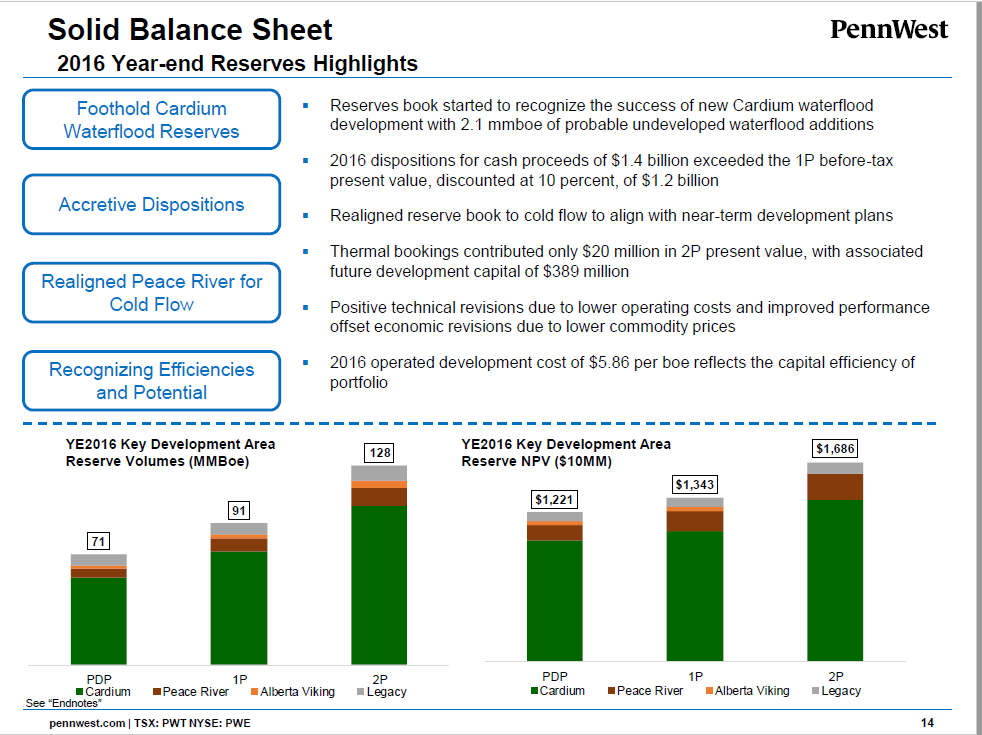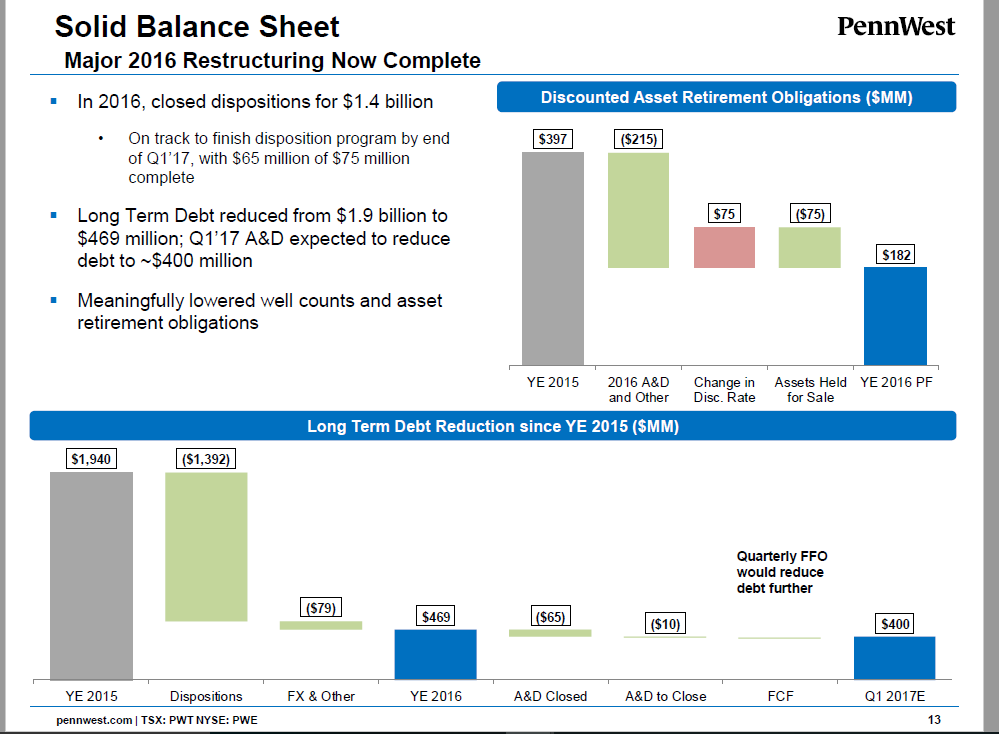 Source: Penn West Exploration March, 2017 Corporate Update
Management has a goal to keep debt at a level (click on March Presentation) of no more than twice cash flow in the future. The slides above show that management is off to an excellent start. Banking relations are back to normal after an extended period of lender nervousness. That restoration of relations was a major accomplishment. Many competitors slipped into more formal reorganization processes.
The non-cash charges could lag quite a bit. The new management of Penn West has some very different ideas about accounting since they took over the management of the company. Impairment costs have been taken, non-core properties have been sold and the accounting in general has become far more conservative. However, there is still production from legacy assets and infrastructure that was built under the old management. To some extent this management is stuck with the proposed allocation decisions made by the previous management. So although those asset valuations could have been modified, the non-cash charges like depreciation and amortization may not quite be what Mr. Market expects for a few years.
In addition, it took the new management some time to lower costs to competitive levels. The non-cash charges reflect a combination of old and new costs. So depreciation and amortization never really reflect the new efficiency until costs stabilize. Since costs are still decreasing, the non-cash charges will continue to play "catch-up" for the foreseeable future. There will continue to be a difference between realized profitability of already producing properties and projected profits for proposed development wells. Hedging can protect profits in the early years and in effect guarantee a minimum profitability of new production. Unfortunately that does not change the historical and mixed nature of the non-cash charges.
So the cash flow statement may be a far more reliable indicator of cost and growth progress. Cash flow is a little harder to manipulate. So the statement tends to be misleading. Plus it reflects cost progress a little more quickly than the income statement.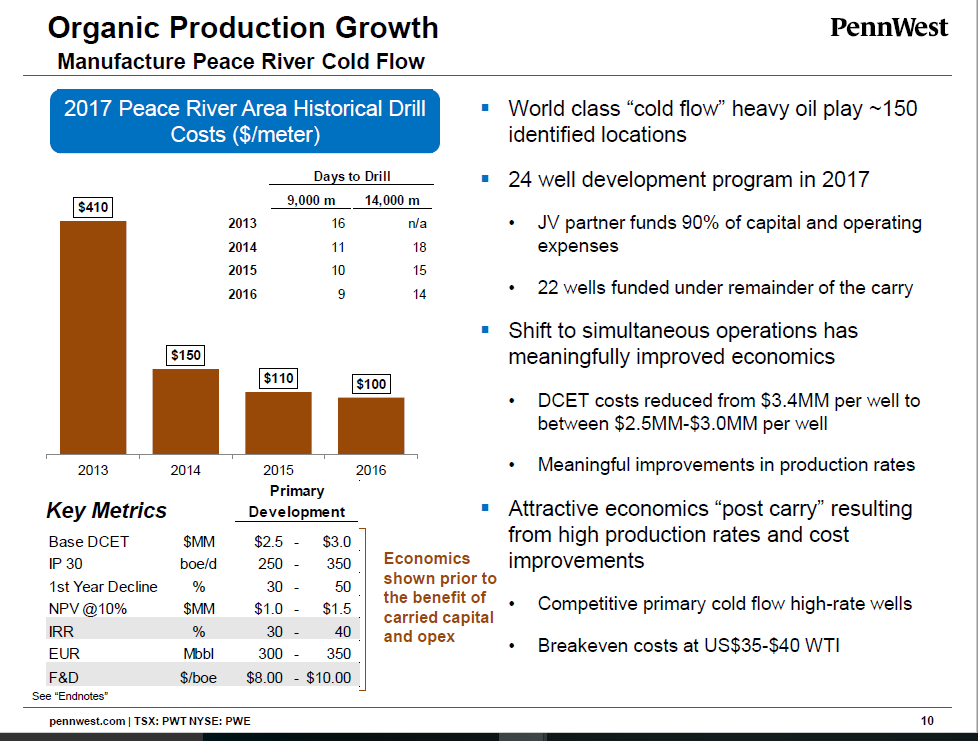 Source: Penn West Exploration March, 2017 Corporate Update
This company management has a small interest (click on March Presentation) in a heavy oil play. Interestingly, the play has very low breakeven costs for heavy oil. So heavy oil production can continue in some fairly hostile industry conditions. This is in contrast to the low commodity price reaction of much of the industry that shut production down in the first quarter of 2016. With costs improving, the play should become more competitive in the future.
The resulting growth could easily be 15% a year. Acquisitions could speed up the growth pace but are currently not factored into the future projections. A safe assumption would be that the stock price will double in five years. But management this deep and experienced should beat that conservative forecast. A tripling of the stock price over the next five years would be an aggressive assumption; but not unreasonable. The balance sheet is now fairly conservatively structured. Banking relationships are back to normal. Plus growth projections are now the norm. As the nightmare of the last few years fades, hopefully this new management will restore the luster of a long time company name. The reserve report is also far more realistic than it was and costs of future development are attainable from a variety of reasonable sources. In short this low price stock does not have near the risk of its other low priced peers.
Disclaimer: I am not a registered investment advisor and this article is not advice to buy or sell stock in any company. The investor needs to do his own independent investigation that includes reading the company governmental filings and press releases, as well as anything else relevant to determining if this company fits the investor's risk profile.
Disclosure: I/we have no positions in any stocks mentioned, and no plans to initiate any positions within the next 72 hours.
I wrote this article myself, and it expresses my own opinions. I am not receiving compensation for it (other than from Seeking Alpha). I have no business relationship with any company whose stock is mentioned in this article.