"History never repeats itself but it rhymes" - Mark Twain
There are many analysts who look at historic valuations and come to the conclusion that today's market is a bubble. And just like all bubbles, eventually it will pop they say.
However, just as there are no two stock-charts alike, there are no two markets (QQQ) (DIA) alike. One can draw many data points to prove a point that they are the same, however the truth is that circumstances are always different.
Before coming to any conclusion about why the market today should correct, or deserves a lower P/E ratio, let's first take a historic look at the P/E ratio of the S&P 500 Index (SPY).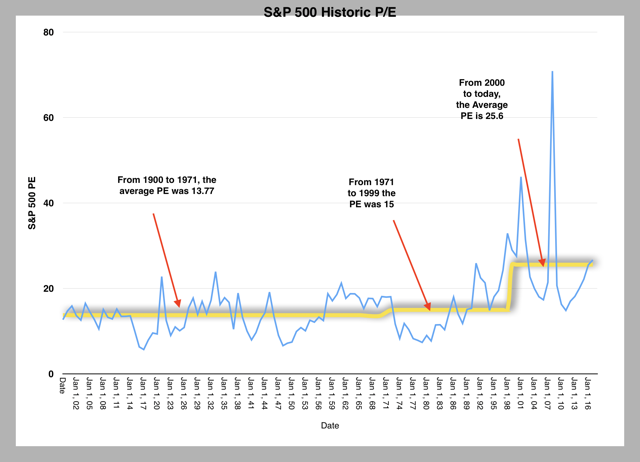 source - chart constructed by me
I took the data of the P/E of the SPY from 1900 to today. I then averaged the P/E of three different periods.
1) From 1900 to 1971 (end of the gold era) P/E 13.77
2) From 1971 to 1999 - P/E 15
3) From 2000 to today - P/E 25
Now the reason I did this is because circumstances have been very different throughout all these time periods. As a result, markets have behaved and acted very different. And yes, when circumstances change, valuations change and adjust to the new norm.
For example, 70 years ago you could not buy stocks at the click of a button half way around the world. You did not have trillions of dollars in FX trading on a daily basis, and you could not buy and sell shares with algos. You also did not have a bond market worth trillions. As a result, valuations should be different.
So what is different today?
One example of how valuations change is the stock market itself. The more liquidity a stock has, the higher the valuation. This also applies to markets. Today's market liquidity and dept has nothing to do with the market of 1950 for example.
And why does liquidity and dept matter? Because the easier investors can get in and out of a stock, the higher the valuation is. As such a higher valuation today is warranted. Of course there are many other factors, however liquidity and market dept is also a factor.
Technology has also transformed the valuation landscape. The higher productivity is, the higher valuation a market or a company should have. I think we all agree to that. And to give you an example of what I mean, take a look at the chart below: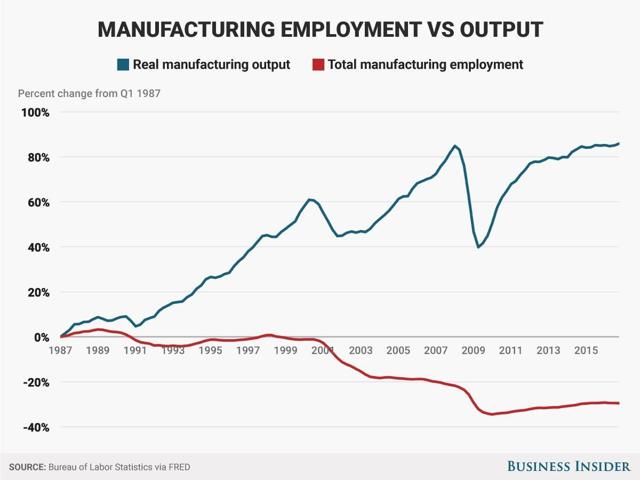 While manufacturing output in the U.S. is the highest ever, it is being achieved with a 30% lower workforce.
And this is just from 2000. Good luck to President Trump fighting with technology to bring manufacturing jobs to the U.S.. The truth is manufacturing never left the U.S., it just evolved. And yes, the above chart means markets should be priced richer.
Another reason are high debt levels. As I have said in previous articles, central banks will never raise rates to where they were many years ago, simply because governments cannot afford to pay the interest.
While this is not so much the case in the U.S., it is the case for Europe, Japan and many other countries. So as I see it, interest rates will remain low forever, or until countries find a way to lower debt levels by a lot.
Believe it or not, one way to reduce debt is via negative interest rates. If nothing changes in Europe over the next 30 years, Italy's population (EWI) will be about 56 million (from 60 million today), and Germany's population (EWG) will be reduced to about 74 million, from about 80 million today.
This means that even if nominal debt levels are sustained at today's levels, debt per capita will increase, meaning the debt-load that each citizen will have to service will be higher.
Another way to look at it is the chart below:

The chart above is the U.S. 10 year maturity rate divided by 100. Basically, as bonds yield less, equities deserve a higher valuation.
The above chart is simply an example - and one can debate adding different data points - however the point is that in a lower interest rate environment, equities deserve higher valuations.
Bottom line
Be it productivity, technological advances, high debt levels or the fact that interest rates today are lower than yesteryear, the P/E ratio of the S&P 500 Index deserves to be elevated compared to years ago.
And because I think interest rates will be low forever (or at least for the next two generations), market participants should get use to much higher market valuations, and forget how markets were valued years ago, or the long term average P/E of the S&P 500 Index, that is used as a valuation benchmark.
I think that we have enough data points from 2000 in order to justify a new trend, or a new valuation benchmark. As such, I for one will disregard the average P/E of the S&P 500 over the past 100 years. The new P/E norm is probably around 25, with 15 being the low-end range, when a major correction happens.