Do you like the idea of buying real estate at 50 cents on the dollar? This is pretty much the investment thesis of Sotherly Hotels (NASDAQ:SOHO) at this point. It is small-cap REIT that trades at a high discount to the underlying value of its hotel properties. Since REITs have historically on average traded at a low-single-digit premium to net asset values, Soho appears highly undervalued based on this metric.
So the first question to answer here is WHAT is causing this high valuation gap to other REITs?
Interestingly, this has nothing to do with the properties or the management, which both appear to be of high quality. Very often, when a REIT trades at such a high discount relative to peers, it is because of a poorly performing portfolio or a lack of trust in the management. This is not the case here; instead Soho appears to suffer from an overleveraged balance sheet, concerns over past stock issuance decisions, and the poor liquidity of its common stock.
Soho is however working to solve all the above issues. It is today reducing leverage, getting bigger in size, and buying back shares to regain the shareholders' trust after having made a dilutive share issuance back in 2015. I believe that each of these three factors have the potential to create tremendous value for shareholders and therefore think that the REIT is moving towards the right direction to reduce its valuation gap relative to peers.
A Small, But Attractive Portfolio
Soho is one of the smallest REITs out there. It has a market cap of only about $90 million and owns just 12 properties.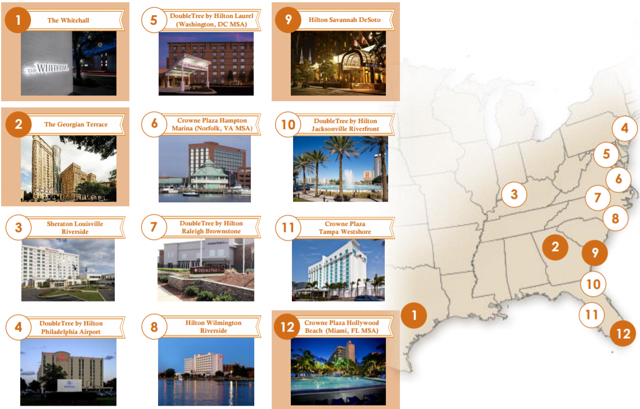 Sources: Soho Investor Presentation
Soho focuses on the higher range segment of the hotel market with 57% classified as upper-upscale and the remaining upscale. Hilton (NYSE:HLT) today operates more than half of its portfolio and the remaining is being shared between IHG (NYSE:IHG), Starwood (NYSE:STWD) and other independent operators.
As it can be seen from the above map, Soho targets properties located in primary Southern markets. The management believes that its targeted locations are set to outperform the broad hotel industry as a result of greater growth in population, economic activity and demand for the hotel/resort rooms.
Soho is active in its portfolio management and constantly looks for ways to improve its risk/return characteristics by disposing of non-core properties and reallocating capital to better opportunities.
This strategy has historically led to very attractive underlying results as evidenced by the multi-year increase in average hotel EBITDA margin and AFFO per share.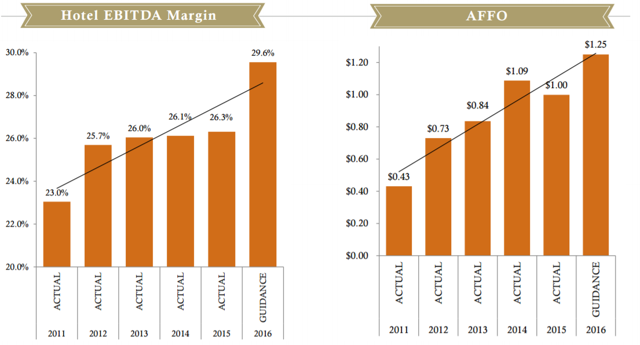 Sources: Soho Investor Presentation
After a consistent multi-year increase in AFFO per share, it dropped in 2015 due to a dilutive issuance of shares and again last year due to a difficult last quarter caused by Hurricane Matthew. Thus, the above guidance (in the chart) was not met and Soho reported $0.9 AFFO per share for 2016 - a 10% decrease relative to 2015.
Here is what the CEO, Andrew Sims, had to comment on the difficult fourth quarter and the overall 2016 performance:
The company experienced a difficult quarter largely as the result of two events. Hurricane Matthew disrupted operations at six of our twelve hotels during the high season. Because we have not concluded negotiations with our insurance carriers, we have not included any lost revenue in the fourth quarter financials. In addition, the Zika scare had a negative effect on the Miami market that severely hurt our Hollywood operations in the fourth quarter. On a more positive note, for 2016, Total Revenue increased 10.3% over the prior year, exceeding industry averages for the same period. For 2016, Hotel EBITDA increased 9.8% and FFO increased 7.3%. With these two acts of God behind us, we look forward to returning to good operating metrics in the first quarter of 2017.
So overall, 2016 was not as bad as it may look like. The AFFO declined due to an isolated and temporary issue that negatively affected the demand for hotel rooms in the fourth quarter. This conclusion is also evidenced by the fact that the hotel EBITDA as well average RevPAR grew during the whole year at the exception of the fourth quarter.
Even more encouraging is the guidance for 2017. The management team is expecting to generate an AFFO per share in the range of $1.02-1.10 - or put differently a 13.3-22.2% expected increase in AFFO compared to 2016.
The Valuation is still Opportunistic
Despite recently running up in price considerably, Soho remains quite a good deal. Fellow contributors here on Seeking Alpha have on numerous occasions tried to value the shares based on the underlying NAV and the FFO multiple of the closest peers. The estimated values that I have seen ranges from $10 to $14 (See CCM's article; Morwa's article; Lott's article). By capitalizing the NOI of the properties with an 8% cap rate, the NAV would be approximately $13 per share. Back in 2014, Soho acquired a new property in Hollywood at a 7.4% cap rate and I believe that cap rates have still slightly decreased since then, so the 8% cap rate assumption appears to be reasonable.
Since the current share price is $6.50, there could be between 54% and 115% upside to fair value according to these estimates. I do not expect Soho to close the gap to its NAV any time soon, but the potential upside is so large that I would not be surprised if the share price increased 20-30% this year, especially knowing that the guidance is positive and the management is buying back shares aggressively.
The management also agrees that its share price is too cheap. Consequently, it has been trying to make the case for its own stock itself by comparing its valuation metrics to peers in investor presentations: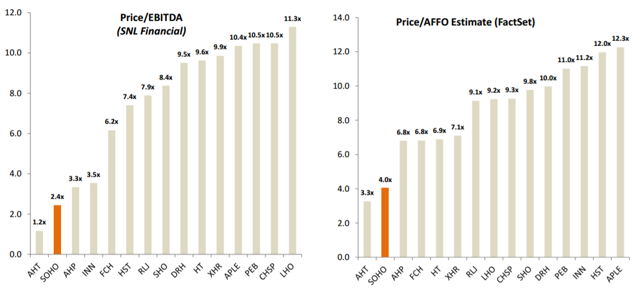 Sources: Soho Investor Presentation
The numbers here are a year old and come from the 2016 presentation, but still note the extreme discount to peers. The current AFFO multiple is getting closer to 5, but this still remains very opportunistic.
The dividend yield stands currently at 6.3% and represents only about 40% of its cash flow. Notice how the REIT has managed to keep on increasing its dividend quarter after quarter. The payout almost tripled in the last three years.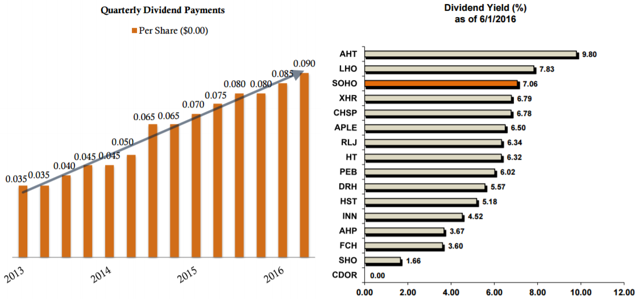 Sources: Soho Investor Presentation
The management recently sent a very bullish signal to the investment community: it announced that it had obtained the approval to buy back up to $10 million of its own stock. Since the market cap of the REIT is only $90 million, this buyback is very significant and it is not a surprising that the market reacted very positively.
The Board's approval of this program reflects our confidence in the Company's future. Repurchasing stock is one means of underscoring our commitment to enhancing stockholder value.
Using the cash flow to buy back highly discounted shares is probably the best investment that the company can make and I expect it to create substantial value.
Since this approval in December 2016, the stock has already increased in price reflecting the increased demand for the shares: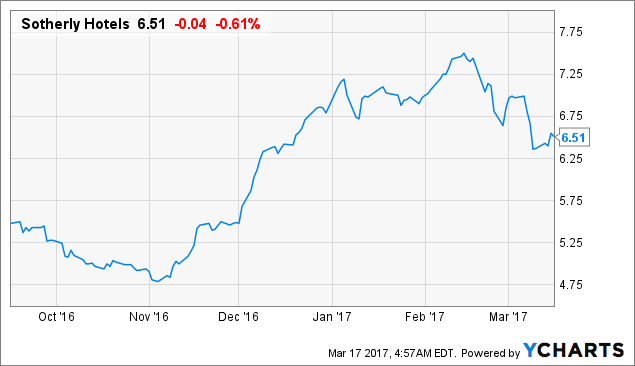 After peaking at $7.66, the shares are today back down to $6.50, which appears inexpensive considering the much higher underlying real estate value and the positive guidance for 2017.
Biggest Risk: Overleveraged Balance Sheet
The largest risk that I see in Soho is its capital structure. Due to its very small size and incapacity to issue new shares to finance new deals, Soho has had to strongly rely on leverage to build its portfolio.
With $324 million in liabilities and $81 million in total equity, the REIT has an aggressive debt to equity ratio of 4. In realty, the leverage is lower after accounting for the fact that its equity is undervalued and that the true value of its asset is not reflected on the balance sheet. Nonetheless, the leverage remains high and above the average of its peer set.
Especially in today's market environment, it could be argued that this high leverage makes Soho a very risky play. It really depends on one's perception of the economy: if you believe that the economy will do fine over many years to come, then Soho will be able to manage its debt without any issue and its shares will most likely earn investors a very respectable return. On the other hand, if the economy turns south, the downside could be brutal.
So, while Soho appears very cheap based on all valuation metrics and could be a great opportunity, it is also very heavily leveraged which causes substantial risk. I consider it a "high potential return, but high risk" play and thus would not bet the house on it.
Final Thoughts
There is a lot to like in Soho at today's price. It is one of the cheapest REITs of the whole market as measured by its low AFFO multiple and high NAV discount even though it owns a well performing portfolio. Furthermore, its management seems to be well focused on creating shareholder value as evidenced by the recent share buyback announcement. This comes however with risk, big risk. The REIT operates in a famously cyclical market (hotels) but still decides to work with considerably more leverage than the average.
This is the reason why I prefer to remain long Hersha (NYSE:HT) today. In a recent article, I noted that I consider Hersha to also be undervalued, but its balance sheet is stronger than the one from Soho. Soho may be even more undervalued and could lead to higher returns, but its risk profile is also more aggressive.
If you enjoyed this article, please scroll up and click on the "Follow" button next to my name to not miss my future articles on other REIT opportunities.
Disclosure: This article is for informational purposes only. It is not a recommendation to buy or sell any security and is strictly the opinion of the writer. Readers are expected to conduct their own due diligence or seek advice from a qualified professional.
Sources: Soho Investor Presentation; Soho Stock Buyback; Soho Fourth Quarter
Disclosure: I am/we are long HT.
I wrote this article myself, and it expresses my own opinions. I am not receiving compensation for it (other than from Seeking Alpha). I have no business relationship with any company whose stock is mentioned in this article.
Editor's Note: This article covers one or more stocks trading at less than $1 per share and/or with less than a $100 million market cap. Please be aware of the risks associated with these stocks.