Introduction
As many readers are probably aware, Google (NASDAQ:GOOG) search queries are often leading indicators for a variety of social and economic conditions. The volume of simple queries like "claim unemployment" or "flu symptoms" can indicate overall and geographic trends much more quickly than traditional methods of statistical collection.
In this article, I look at what Google Trends reveals about Herbalife (NYSE:HLF) in general, with a particular emphasis on the US. All charts and graphs in this article are generated from data provided by Google Trends and available to anyone that is interested.
Before we proceed to look at Herbalife let me first establish a track record on behalf of Google Trends. For our first example, we look at two large retailers, Sears (NASDAQ:SHLD) and Walmart (NYSE:WMT). Back in 2004 the level of public interest in these two companies was quite comparable.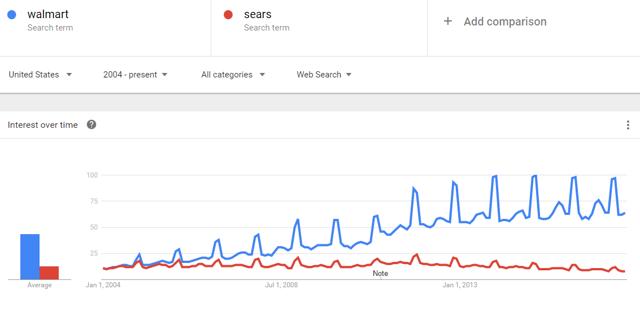 I doubt anyone in the US is surprised by the general trends in this chart. The large spikes represent the Thanksgiving to Christmas period, the smaller spikes are back to school.
In the second case, we mix our metaphors and see how the fortunes of Budweiser, the "King of Beers", are waning while its darker, bitter second cousin, the India Pale Ale (ipa) are on the ascent. The spikes on the Budweiser line are what happens when you advertise, especially during the Superbowl.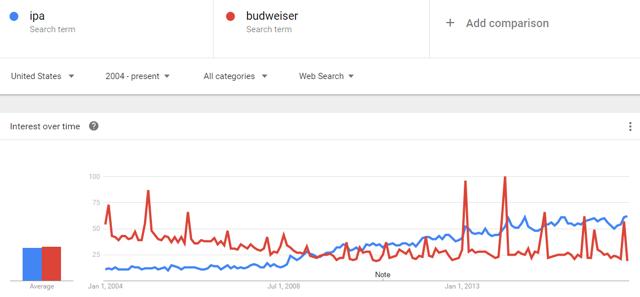 The two most important lessons from these charts are:
Upward trendline = Good
Downward trendline = Bad
None of these trends are surprising but they illustrate a very important point, that trends in public interest on Google search terms are an accurate proxy for the ascendancy or decline of the companies or brands they represent. Read Appendix 1 for a brief explanation of how to interpret the charts.
Section 1 - Herbalife Trends
Now let us go back to Herbalife and see what Google Trends reveals about the public interest in the word "Herbalife". This graph has been formatted using Excel to incorporate Worldwide and US interest in the word "Herbalife" into the same graph.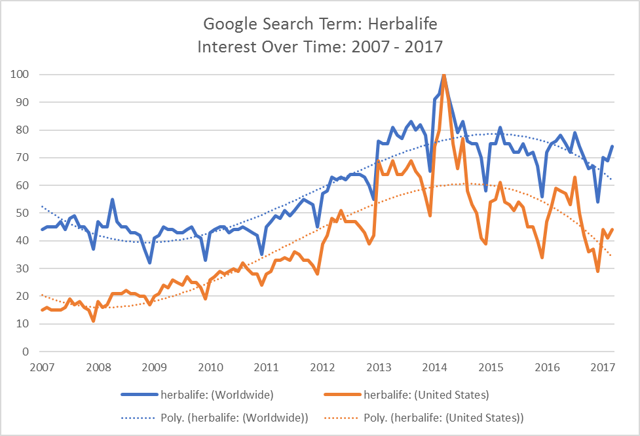 The chart shows a clear pattern of increasing public interest in the term "Herbalife" leading up to 2014 and a slow decline since then. Note: The peak interest in Herbalife occurred in March of 2014 when the FTC investigation was announced.
Clearly one off events such as news (good or bad), viral events, marketing campaigns etc. can increase public interest. Thus, I believe the troughs are a better overall indicator in identifying changing fortunes in this case. Whichever method you choose the trend is clear and undeniable.
Herbalife Brand Awareness
Some may say brand awareness of Herbalife on the internet is not particularly relevant because it's a word of mouth, family and friends type of business. To that I say baloney, and here is why.
Look at this chart of interest in Avon (NYSE:), the biggest public MLM of them all. Notice the uptrend until late 2010 and a steady decline since then.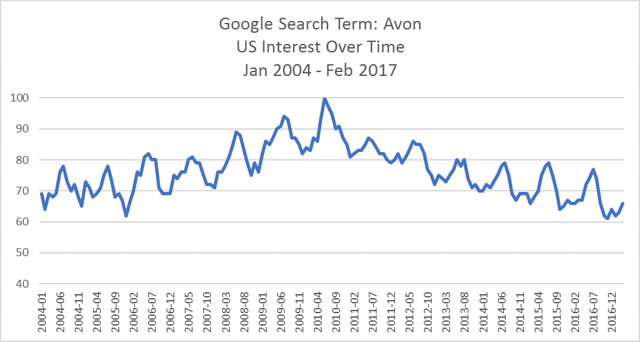 Now compare the above chart to the annual revenue chart for Avon. Avon's peak revenue occurs in FY 2011 and subsequently enters a downward trajectory which has yet to be halted.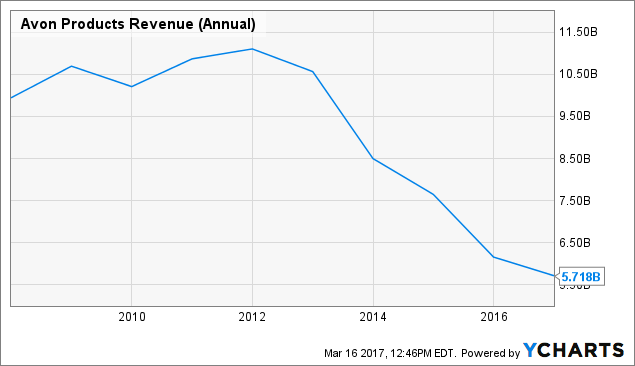 To be clear, internet searches are not themselves the leading edge of a trend. Rather they reflect the sum of all factors such as news, economics, marketing, pricing, social media, fads, seasonality, unemployment, demographics, reputation, advertising, lifestyle trends, competition etc. expressed as the answer to one simple question. Are people more interested or less interested in a topic over time?
In 2016 internet advertisers spent $195 billion with one goal in mind, to increase awareness of and interest in their brand or products, all in the hope of increasing future sales. Although Herbalife doesn't advertise directly on the Internet, they do spend about $70 million a year, primarily on sports sponsorships, to get the name "Herbalife" in front of the public. Where would a curious potential customer turn to find out more about Herbalife? The internet of course and probably Google search.
Internet interest in a product or brand is an important factor in evaluating future sales trends, regardless of whether those products are sold in retail, on the internet or via an MLM network.
Section 2 - Herbalife Buyers
Studies show that around 90% of consumers turn to the internet to perform product research and read reviews on items they are interested in purchasing. So, it is no surprise that "Herbalife reviews" is the most common "Herbalife something" query suggested by Google.
The chart below shows the level of interest in this query over the past three years within the US.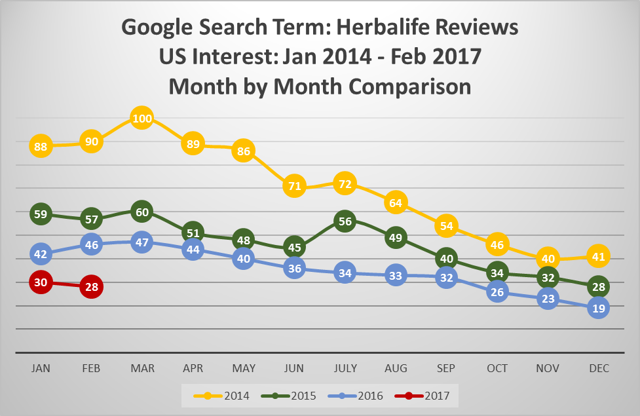 Since the peak of Herbalife revenue in 2014 the number of people in the US looking for reviews of Herbalife products has dropped significantly each successive year. The first two months of 2017 show a continuation of the same pattern of decline.
It is worth noting the large impact that dieting has on these results. A Google Trends chart for "diet" or "weight loss" shows a very similar annual trend, a surge in late December\early January and then a decline through the remainder of the year.
One trending query suggested by Google Trends related to "Herbalife" is the phrase "does Herbalife work". A very reasonable question for a potential buyer to ask.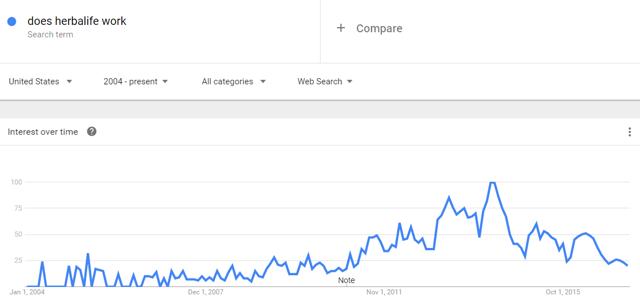 The fact that less people asking whether Herbalife products work surely cannot be a positive for the company.
Perhaps the starkest indicator of the public interest in consuming Herbalife products is the term "buy Herbalife".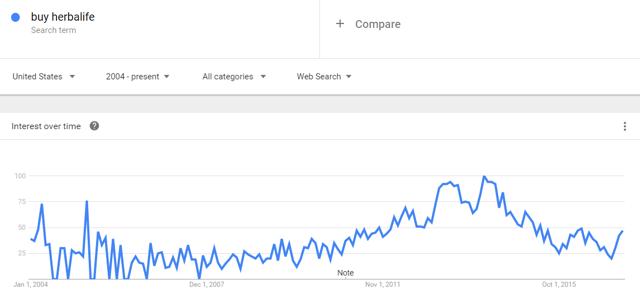 Again, we see the same trend that we have seen in numerous other charts, a general decline in interest since the peak in 2014.
Perhaps the issue lies with an ineffective network of Herbalife Distributors? As the chart below demonstrates, interest among members of the public who bypass the distributor network entirely have also cumulatively declined since 2014.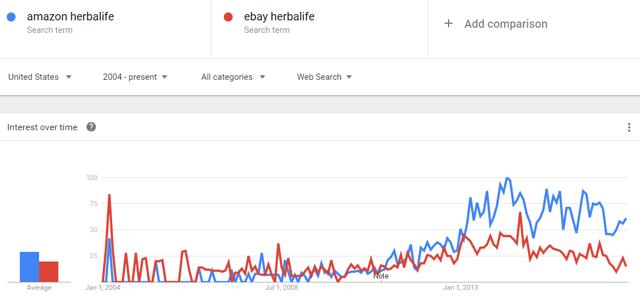 The US public may have declining interest in Herbalife but what about Herbalife Members? Well, to buy Herbalife products, members logon to myherbalife.com to place their orders. Fortunately, Google Chrome treats the address bar just like the Google search box so we can take a closer look.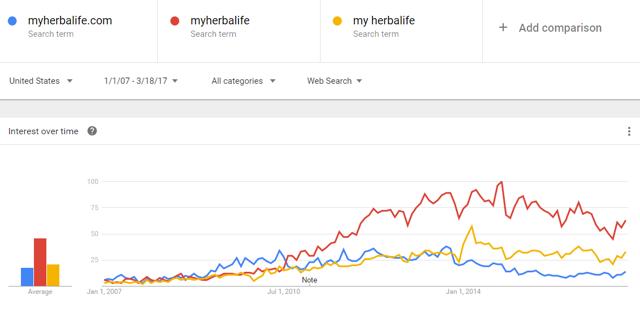 Clearly US interest in "myherbalife.com", "myherbalife" and "my herbalife" shows a cumulative downward trend. For reference the red 100% peak is Oct 2014.
All these different indicators pointing towards falling sales in the US begs the question, if interest in the US for consuming Herbalife products has been going down since 2014, why is it not reflected in the Volume Points for North America.
| Year | Volume Points (000's) |
| --- | --- |
| 2013 | 1,250 |
| 2014 | 1,244 |
| 2015 | 1,156 |
| 2016 | 1,248 |
Ackman would say that you don't need consumer interest, just enough Herbalife distributors stockpiling product. I can't imagine what explanation Herbalife might offer to address this obvious contradiction, but with a 90% annual churn rate it's not due to a loyal customer base.
Section 3 - Herbalife Sellers
Herbalife claims that 86% of their members join primarily for the 25% discount they can obtain on the products. This leaves 14% that would join to become distributors and pursue the business opportunity. However, the graph below tells a different story.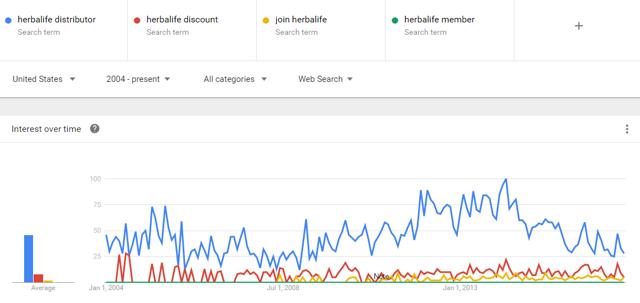 In fact, members of the US public express interest in the term "Herbalife distributor" at a much higher rate than they do for the term "Herbalife discount" or "buy Herbalife".
Furthermore, the next chart indicates that there are more people interested in selling Herbalife products (at least in English speaking countries) than in buying them.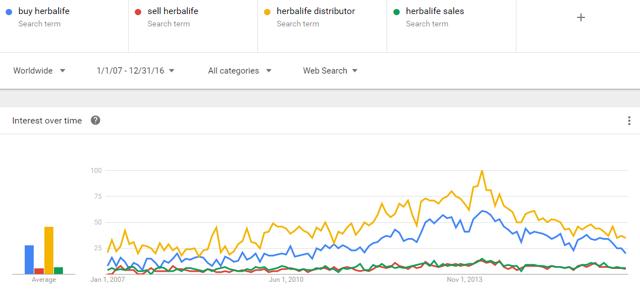 The same query for Tupperware (a public MLM) demonstrates a much healthier situation where interest in buying Tupperware is the dominant trend (although entering a decline in English speaking countries!) and selling Tupperware is significantly lower.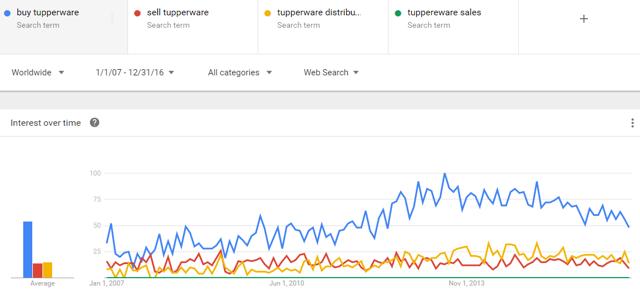 If selling Herbalife were an easy and lucrative business it would be easy to understand the relatively high level of public interest, but we know this is not the case as a typical distributor only makes a few hundred dollars a year.
Can a business be healthy and sustainable when there are more members of the public interested in selling your product to someone else than buying it for themselves?
Herbalife Business Opportunity
As we have seen there is relatively strong interest expressed in the term "Herbalife distributor" within the US, and we can assume this is a common query for those interested in pursuing the business opportunity. The chart below shows how this has changed over time in the US.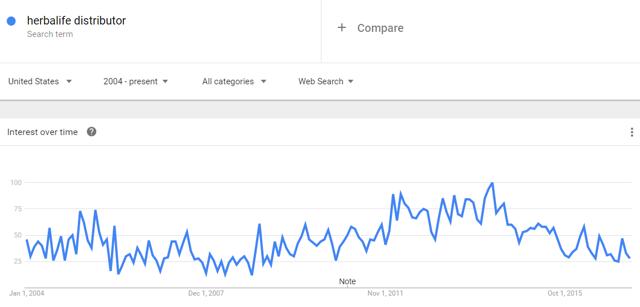 Let's take a closer look at US public interest in the term "Herbalife distributor" over the last few years.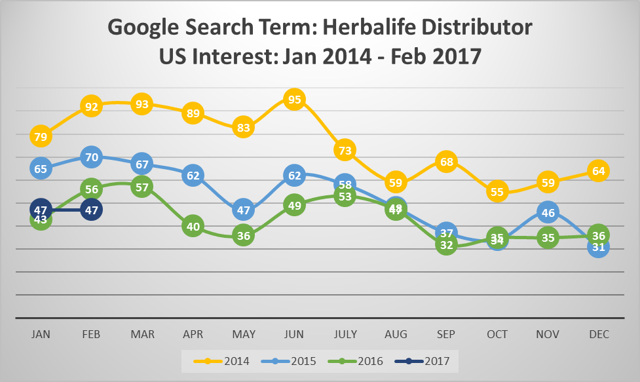 Again, we see a similar downward trend with each passing year. The degree to which this decline was a response to the FTC investigation announced in March of 2014 is unknown, but it must certainly be a contributing factor.
Note: the peak interest in the term "Herbalife distributor" was registered in August of 2013. This chart only shows years 2014 - 2017.
Section 4 - Herbalife Brand Depth
Thus far the term "Herbalife" has been used as a proxy for the products it sells. Some might argue that people will search for product names, rather than the name of the company, so lets take a look at that. The following chart compares US interest in the term "Herbalife" with several of its most popular products, several of which are uniquely named and trademarked.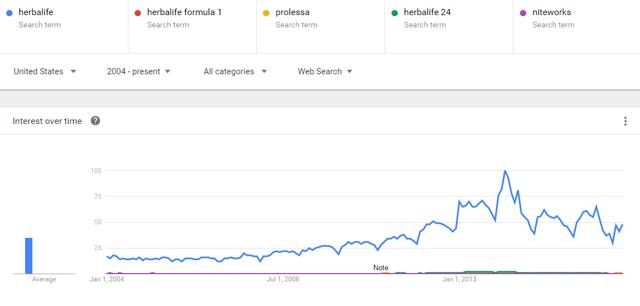 As you can see, searches by product name are miniscule relative to searches for the term "Herbalife". So much so that the lines don't register on the chart in some cases.
Even though Herbalife product names are relatively weak compared to the overall Herbalife name, perhaps they are on the ascent. A closer look at the US interest in several unique Herbalife product names shows how they have fared over time.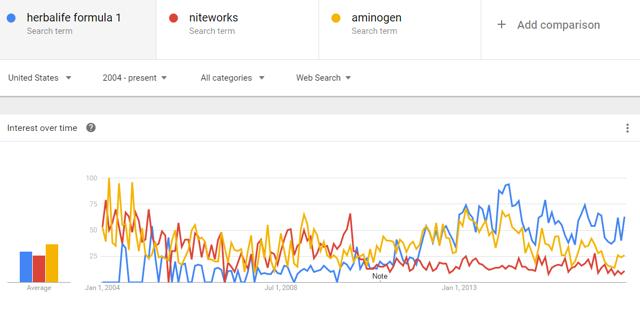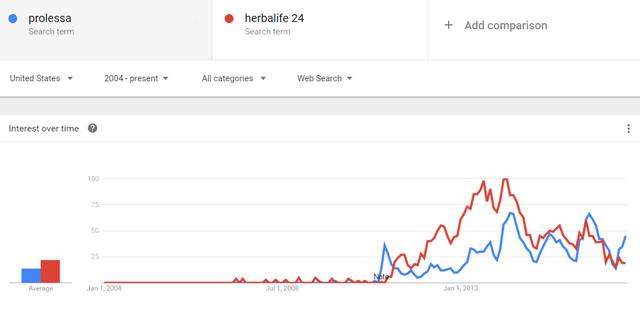 Across these two charts we can see declining US interest in "Herbalife formula 1", "Herbalife 24", "Aminogen" and "Niteworks" with only "Prolessa" being relatively steady, since 2014.
Section 5 - Herbalife Brazil
In the Q4 conference call Herbalife specifically identified Brazil, the worlds 9th largest economy, as one area of weakness. To place the situation in a more positive light CEO Michael Johnson said this.
"In Brazil, we're ushering in business changes to focus our distributors on daily consumption and other methods that we expect will enable more sustainable customer growth."
However, Brazilian public interest in the term "Herbalife" continues to drop. The green markers indicate January of each year, typically the month with the highest levels of interest.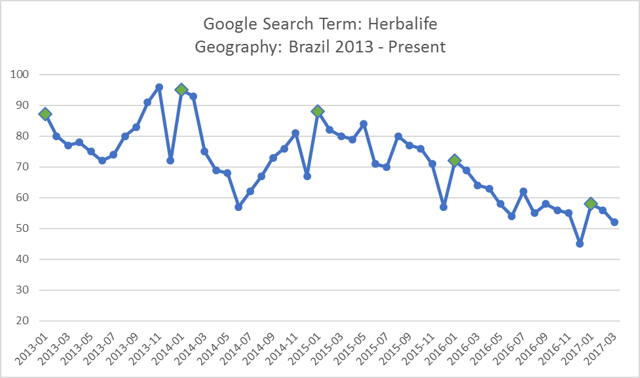 While Michael Johnson is using terms like "enable more sustainable customer growth" to generate investor optimism a more honest assessment of the chart says the Brazilian public has shown no sign of increased interest in "Herbalife" and therefore the situation looks likely to deteriorate further in 2017.
Later in the 2016 Q4 Conference call Michael Johnson went on to assert that the underlying problem is the Brazilian economy.
"However, we face a particularly challenging Brazilian economy and a unique challenge in consumer credit that is affecting many companies."
But an analysis of Google Trends tells a different story. The chart below shows Brazilian public interest in the terms "Herbalife" and "Tupperware" over the last 5 years.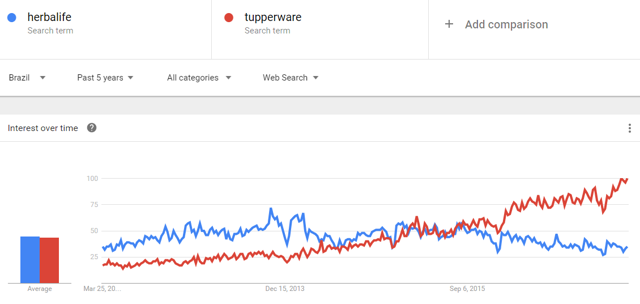 Despite the countries economic woes, interest in "Tupperware" continues to increase steadily.
The Tupperware Q4 press release had this to say about Brazil.
"Brazil was up 57% in dollars and 32% in local currency, reflecting higher volume from a 20% advantage in total sellers with increased productivity in connection with sales force additions and onboarding, and effective merchandising and marketing campaigns."
Wait a minute! One MLM is seeing over 30% growth in Brazil while another MLM is citing poor economic conditions as the primary reason for their decreasing sales. We need a tie-breaker, so lets take a look at public interest in Avon.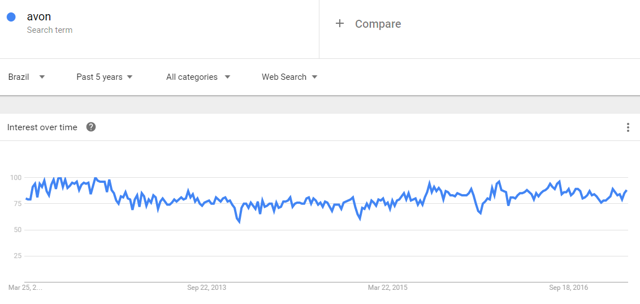 As you can see, interest in Avon is relatively steady within Brazil, this is confirmed by the Avon Q4 Conference call.
"Starting with Brazil, our largest market. In the fourth quarter, Brazil continued to post strong growth, delivering 7% revenue growth in local currency, driven primarily by higher average order."
Arguably Herbalife products are closer to being a necessity (a meal replacement) than those of Tupperware or Avon, so they should be more resilient to weakening economic conditions.
I don't know which is more concerning, that Herbalife management does not grasp the true nature of their decline in Brazil, or that they do grasp it and choose to mislead investors.
After a softer than expected 2016 Q3, China saw a precipitous 11.7% Y/Y drop in their 2016 Q4 business. Management states the problem to be a shift in distributor behavior away from personal networking towards social media. Time will tell whether their China diagnosis proves to be accurate, but given their misread of Brazil, I have my doubts. Unfortunately, because Google has no presence in China, further analysis is not available.
Appendix 1 - A Quick Word About Google Trends Data
Google Trends looks at the period requested and finds the single highest value, this represents the 100% mark. All other points on the chart are marked as percentages of that peak. Therefore, a peak of 100% does represent twice as many queries as a value of 50%.
In a comparison chart, such as Budweiser vs IPA, Google Trends takes the single highest value of either of these terms which becomes the 100% mark. Therefore, we can make accurate relative comparisons between the two terms and say conclusively, for example, that in January of 2017 the US public was twice as interested in "IPA" as they were in "Budweiser".
In cases where I have used Excel to combine results from multiple geographic regions each data point within a given country is only relative to the other data points within that country. We cannot make comparative statements between countries, only the trends between the countries are important, i.e. rising or falling.
Appendix 2 - A Note from the Author
This is my third article on Herbalife, you can find my others here and here. I know from experience that I will (again) be accused of being a paid shill, working on behalf of Ackman to bring down a great company. So, let me state categorically that the idea for this article is mine alone. I have no connection, allegiance, communication or affiliation with Ackman or any of his representatives, either in the past or the present. My only financial compensation for this article is the paltry amount that I receive from SeekingAlpha.
I do have a small short position in HLF (Jan 2018 Puts) which I took out on 3/9/2017, a few days before news of the Icahn purchase hit the news. As I have said in my past articles, investing in Herbalife is more of a gamble than an investment, but I believe the odds are in my favor. In my opinion, the real value of Herbalife can only be revealed by resolution of the following factors:
Icahn makes a bid to buy the company.
Icahn exits his position in a substantial way.
Ackman closes or vastly reduces his short position.
The uncertainty surrounding the future prospects of the US and Chinese markets is removed.
While Icahn holds the trump card of time over Ackman. Time holds the ultimate trump card over Icahn.
Disclosure: I am/we are short HLF.
I wrote this article myself, and it expresses my own opinions. I am not receiving compensation for it (other than from Seeking Alpha). I have no business relationship with any company whose stock is mentioned in this article.