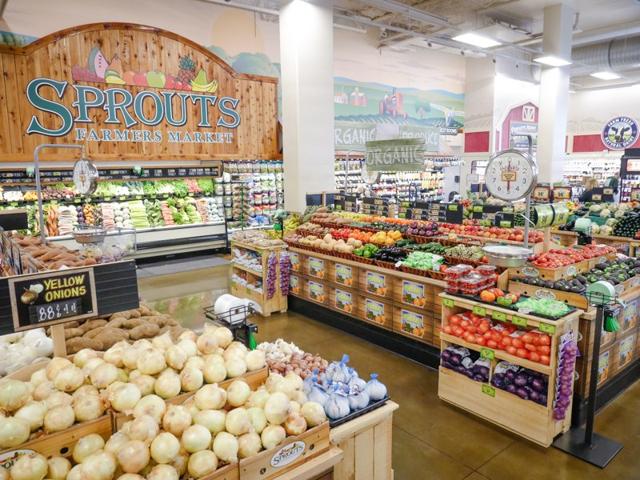 Source: Google Images
Late Sunday night news came out regarding Albertsons reportedly considering a merger with Sprouts Farmers Market (NASDAQ:SFM). As reported, preliminary talks were held over the past few weeks. The deal to merge Sprouts with Albertsons Cos. would add a natural and organic presence to the traditional grocery store group including Albertsons, Safeway, Vons and Shaw's.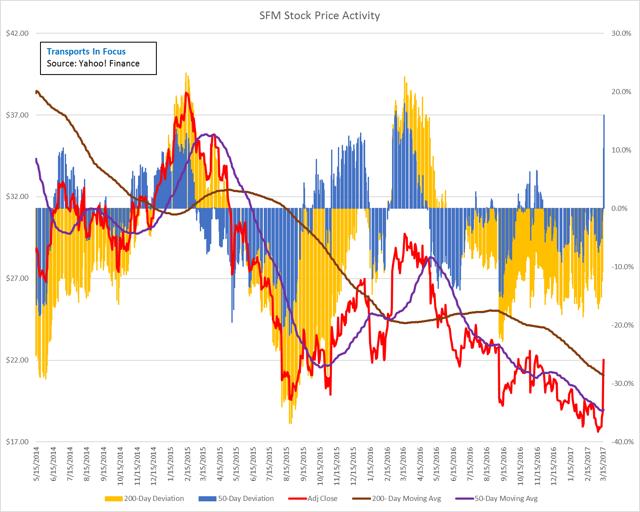 Sprouts stock price surged by nearly 24 percent this past week, led by gains of eleven and five percent Thursday and Friday. This surge led to Sprouts stock price increasing above both the 50- and 200-day moving averages. This had not occurred since May of 2016, an over 220-day period.
This type of deal is not a surprise as consolidation in the grocery industry has occurred and is expected to continue. Amazon.com (NASDAQ:AMZN) and Wal-Mart Stores (NYSE:WMT) have both had impacts on retail sectors through e-commerce and pricing pressures.
Sprouts is appealing for Albertsons as the company has strengths in its perishables, vitamins and private label brands. Sprouts has a very robust process to ensure its perishable products are price-competitive and at top quality for its customers. Sprouts is one of the few retailers which sources, warehouses and distributes all produce in-house. This includes a strong quality control process as well as a decentralized purchasing structure associated with high-volume purchasing.
The component of Sprouts success has been the growth of private label products, now reflecting 2,150 products and over 10 percent of net sales. Sprouts private label brands are priced lower than other bands but deliver generally higher margins to the company.
The important piece where Sprouts value is paramount is that traditional grocery stores, warehouse clubs and supercenters are still too dependent upon legacy food and beverage companies. Companies including Pepsico (NYSE:PEP), The Coca-Cola Company (NYSE:KO), General Mills (NYSE:GIS), Mondelez International (NASDAQ:MDLZ), and the Kraft Heinz Company (NASDAQ:KHC), among others, reflect a large amount of processed foods and/or food with content high in sugar and carbohydrates.
Newer brands like The WhiteWave Foods Company (NYSE:WWAV) and many smaller private labels catering to natural and organic foods and ingredients are prevalent throughout Sprouts stores. There is no need to keep shelf space for traditional brands such as Doritos, Oreo, Nabisco, Pepsi and Campbell's, among many others.
For these reasons among others, it is more advantageous for traditional grocery stores to keep their commitments to primary shelf space for these legacy food companies while diversifying into niche markets where companies like Sprouts are building the next generation's long-term food item preferences.
Sprouts' current enterprise value sits at around $3.5 billion as of this past Friday's close. Preliminary talks are typically a gauge for both parties to get a sense of where each one is coming from based on valuation perceptions. I would tend to think that Sprouts' self-perception is in the $35-40 share range, while Albertsons Cos. is in the $25-30 range.
Sprouts is focused on the future growth potential, especially for an inflationary growth cycle environment, whereas Albertsons Cos. is looking to take advantage of the current deflationary pressure facing the grocery industry. This environment has depressed stock prices for Sprouts and its peers.
Overall, like any merger attempt, it is all about how willing each party is to negotiate on an agreed upon fair price. As it looks like this has only begun, it could be some time before anything materializes. But the chances of Sprouts getting acquired at some point is inevitable from my stance. There is just too different of a focus for traditional retail grocery stores.
Disclosure: I am/we are long AMZN, SFM.
I wrote this article myself, and it expresses my own opinions. I am not receiving compensation for it (other than from Seeking Alpha). I have no business relationship with any company whose stock is mentioned in this article.