Exxon Mobil (NYSE:XOM) is a dividend aristocrat, which has raised its dividend for 34 consecutive years. Therefore, it is only natural that most of its shareholders are holding the stock for its reliable and growing dividend. For these shareholders the big question is how much the oil giant will raise its dividend next month?
Due to the ongoing 3-year old downturn in the oil market, the earnings and the free cash flow of Exxon have plunged. More specifically, its free cash flow plunged from $12.1 B in 2014 to $3.9 B in 2015 and $5.9 B in 2016 while its capital expenses amounted to $16.1 B in 2016. Therefore, the free cash flow is clearly insufficient to cover the generous dividend, which stands at $12.5 B per year. It is also remarkable that the company spent $4 B in 2015 and $1 B in 2016 to repurchase the shares that it offered to its management as a bonus. In other words, the management received 1/6 of the free cash flow as a bonus in one of the worst years of the company. The above figures indicate that there was a deficit of $7.6 B between the free cash flow and the distributions of the company last year.
Even worse for the deficit, the management recently stated that it will increase its capital expenses to $22 B this year. While it has markedly reduced its capital expenses since the price of oil started to collapse, it cannot not keep reducing them because at some point it has to resume replenishing its reserves. To be sure, as all the oil companies have drastically cut their investment projects during the last two years, oil and gas discoveries fell to their lowest level since World War II last year, to just over 6 B barrels. Consequently, oil producers managed to replace only 10% of their reserves last year. This is certainly a non-sustainable situation and hence oil producers, including Exxon, will soon have to boost their capital expenses.
Unfortunately for Exxon, its portfolio mostly consists of shale gas and heavy crude oil, both of which are uneconomical in the current environment of low prices. That's why the oil stalwart recently reduced its proved reserves from 23.3 B to 20 B barrels. About half of these reserves require a sustained rally in the price of oil to become economical but such a scenario does not seem to materialize, as oil has remained range-bound after its initial bounce off its bottom last year. Therefore, Exxon is not likely to experience meaningful output growth anytime soon.
Fortunately for its shareholders, the company recently acquired companies in the Permian Basin, which are expected to double its reserves in the area, to about 6 B barrels. This deal is certainly in the right direction. Moreover, the management recently expressed its optimism that it would increase its output from 4.1 M barrels/day to about 4.4 M barrels/day in 2020. Nevertheless, as the company is still unable to offset the natural decline of its oil fields, it still has a long way to go to return to growth trajectory. Its shareholders should also note that similar promises have been repeatedly made by the management of Exxon during the last 5 years but the company has failed to exhibit any output growth during this period.
In reference to the dividend growth rate, the company raised it by an average 9.7% rate in the decade leading to 2015. However, due to the ongoing downturn in the oil market, the oil giant has markedly decelerated its dividend growth rate in the last two years. More specifically, it raised it by only 5.8% in 2015 and 2.7% in 2016.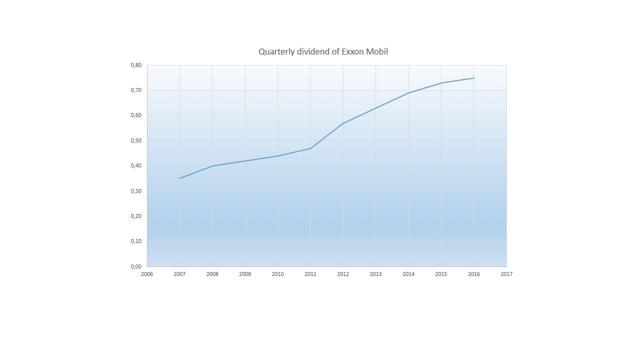 Even worse, as its 12-month trailing earnings per share are $1.88, its dividend payout ratio currently stands at 160%, which is far from sustainable. Of course the company is expected to approximately double its earnings this year but these estimates have not taken the recent weakness of the oil price into account. Even if these optimistic estimates eventually materialize, the dividend payout ratio will just decrease to about 80%, which is still elevated given the high capital expenses of the company.
On the other hand, Exxon has one of the strongest balance sheets in its group and hence the above factors will not prevent it from raising its dividend. The management will certainly do its best to maintain its dividend growth streak, just like the management of Chevron (NYSE:CVX). Nevertheless, the management of Exxon is likely to prove conservative in the upcoming dividend hike, just like it has during the last two years. This means that the most likely scenario is a dividend hike similar to that of last year, i.e., by $0.02 per quarter, from $0.75 to $0.77.
To sum up, no-one really knows how long the ongoing downturn of the oil market will last. However, Exxon will start boosting its capital expenses this year, as it needs to start replenishing its reserves at some point. Therefore, the company is likely to experience another year of deficit between its free cash flow and its dividend. Consequently, the company is likely to be conservative in its upcoming dividend hike and hence it will probably raise its dividend by about $0.02 per quarter.
Disclosure: I/we have no positions in any stocks mentioned, and no plans to initiate any positions within the next 72 hours.
I wrote this article myself, and it expresses my own opinions. I am not receiving compensation for it (other than from Seeking Alpha). I have no business relationship with any company whose stock is mentioned in this article.