Facebook (NASDAQ:FB) is a stock that has been too "expensive" (using traditional metrics) for me to buy since it went public in 2012. And while the trailing P/E ratio is still above 40x, Facebook shares now trade for a slightly more reasonable 26x expected 2017 earnings. While technology companies such as Apple (NASDAQ:AAPL), Microsoft (NASDAQ:MSFT) and even Alphabet/Google (NASDAQ:GOOG) (NASDAQ:GOOGL) are known as free cash flow generating machines, Facebook does not have that reputation. Therefore, I expected that the results would not be positive if I analyzed Facebook shares using my DCF model and performed a sensitivity analysis of the results.
Note: I invite you to read my original article that outlines the DCF sensitivity analysis methodology. The basic idea is that since the results of a DCF analysis can be heavily skewed by making minor changes to the terminal growth rate or WACC (weighted average cost of capital), I have used a range of long-term growth rates and discount [WACC] rates in my analysis below. By using one's own estimate of long-term growth and an appropriate WACC (discount) rate, each individual investor can come up with their own target price for the security in question.
Facebook's past five years of results are as follows:

This data allows us to find the average Operating Cash Flow/Revenue (47%) and average Capital Expenditures/Revenue (17%). Perhaps not surprisingly as a social media company, Facebook has strong margins but spends a meaningful portion of its operating cash flow on capital expenditures. Investors should note that the above CapEx excludes the company's purchases of Instagram and WhatsApp. One could reasonably argue that those acquisitions should be included as part of the CapEx figure, but as I do not believe Facebook to a serial acquirer, I have excluded them.
Using the analyst consensus revenue forecasts for 2017 and 2018 leads to the following pro-forma free cash flow (FCF) projection. For my base-case scenario, I have used a long-term growth rate of 3%, which I believe to be fairly conservative. The model calls for revenue growth to decline in a linear fashion from 2018 until it reaches 3% in 2022. Although some might reasonably argue that Facebook deserves a higher growth rate (considering the company has averaged nearly 50% annual revenue growth over the last five years), projecting nearly $75 billion in annual sales in 2022 still allows the firm plenty of runway for future expansion.

These free cash flows (along with a terminal free cash flow estimate) are then discounted back to the present time using the WACC. With no debt outstanding, Facebook's WACC is equal to its cost of equity. Various different estimates of its beta are available depending on the time frame used, but a 10% discount rate was used in the base case of this analysis. The below table shows the results based on a WACC of 8-11%.
Using these variables in the model and adjusting for the nearly $30 billion in net cash on Facebook's balance sheet generates a target price of over $133 per share, which is approximately 5% below the current share price: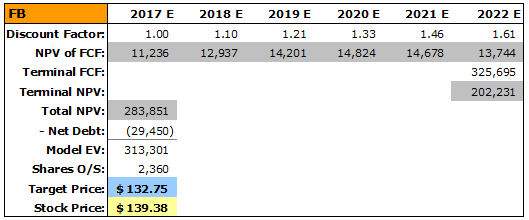 Below, I have summarized the results of 35 different simulations of the model using a range of long-term growth estimates and discount rates. The target prices range from $107.64 to $218.89 - the cells highlighted in red are more than 10% below the current share price, while those highlighted in green are more than 10% above the current share price:

Readers are encouraged to use the comment section below to explain what growth and discount rates they deem to be appropriate.

I would suggest that the above results indicate that Facebook shares are currently approximately fairly valued, with meaningful potential upside if the long-term growth rate exceeds 3%.
However, I decided to make one change to the model's inputs and recreate the above results table. In 2012, Facebook had just gone public and was barely profitable (it earned $0.01 per share). Therefore, it might not be reasonable to use its relatively low Operating Cash Flow to Revenue Ratio (31%) and relatively high CapEx to Revenue Ratio (24%) as part of the long-term averages. Removing 2012 and instead using the four-year averages from 2013-2016 to project future free cash flows makes a meaningful difference to the result: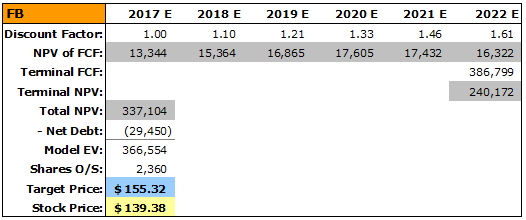 Using the same perpetual growth rate (3%) and discount rate (10%), the DCF model now computes a target price of $155 for Facebook shares, suggesting approximately 10% upside. Furthermore, this sensitivity analysis appears much more optimistic than the previous one did with no scenarios where the target price is more than 10% below the current share price:

Facebook emerges from this DCF analysis looking better than I ever would have expected. If the company can continue to match or exceed analyst expectations for future revenue growth and simply maintain its current operating and CapEx margins, its shares should continue to post strong results well into the future.
Disclosure: I/we have no positions in any stocks mentioned, and no plans to initiate any positions within the next 72 hours.
I wrote this article myself, and it expresses my own opinions. I am not receiving compensation for it (other than from Seeking Alpha). I have no business relationship with any company whose stock is mentioned in this article.