No other Apple product in recent memory has been the source of so much hostility.
(Geoffrey A. Fowler, WSJ)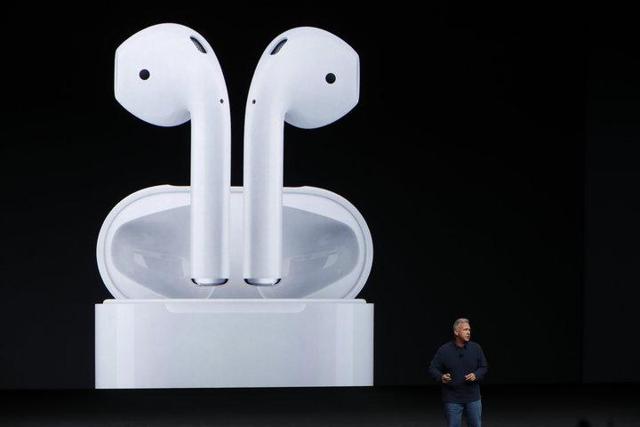 Stephen Lam via Getty Images
The Apple (NASDAQ:AAPL) AirPods included in the new iPhone7 represent a high stakes gamble for Apple. If adoption goes smoothly, it could represent a massive earnings driver. And, if the adoption is not received well, earnings and the share price would suffer as well as potential damage to the iconic brand.
Airpods: Wireless headphones. Finally untangled.
After a simple one-tap setup, AirPods are automatically on and always connected. Using them is just as easy. They can sense when they're in your ears and pause when you take them out. And the AirPods experience is just as amazing whether you're listening to your iPhone, Apple Watch, iPad, or Mac.
What's a chip doing in there? A whole lot.
All the groundbreaking things AirPods can do are driven by the custom-designed Apple W1 chip. It produces extremely efficient wireless for a better connection and improved sound. And the W1 chip manages battery life so well, you can listen for 5 hours on a single charge. It's performance that's unheard of in a device this small. (via Apple)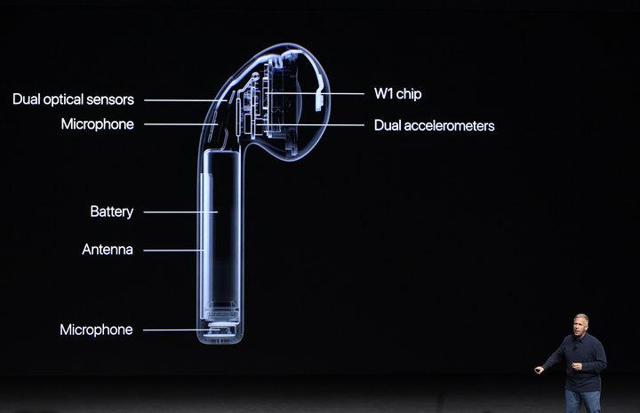 Stephen Lam via Getty Images
Media Criticism:
The company has received plenty of criticism about this product in the media and on social media. However, I would remind investors of the intense hostility the company received at the launch of the iPad. And the iPad became one of the most loved and best technology products ever invented.
Apple's Penalty Charge For A Lost AirPod (via Forbes)
Anyway, the running joke around the AirPods since they were announced was that Apple was going to be laughing all the way to the bank because of the high replacement costs when you lost a single AirPod.

If you're looking for a single replacement AirPod, it's going to cost you $69. A replacement charging and case will also cost you $69.

Buying a new set of AirPods (and the bundled charger) is $159. Buying the three elements separately will cost $207. At an individual level replacing a single AirPod will be an economical choice. Assuming you lose two over the effective lifespan it still (just) remains cheaper to buy two replacements rather than a new kit. But when you multiply the losses over the millions of users that Apple expects to buy a set of AirPods, then the increased gross revenue from solo AirPods and replacement cases over new units is going to add up.

Well played, Apple, that's a nice little earner.
The issue for investors to assess is whether a $159 replacement cost is significant to Apple's affluent customer base. Later on, I will evaluate different scenarios that could develop depending on customer reaction.
In order to analyze the potential customer reaction and the impact on sales and earnings, we need to consider the iPhone user demographic. Who is the iPhone buyer and is $159 significant?
What Kind of Person buys an iPhone? (via Forbes)
iPhone vs. Android demographic breakdown and analysis
iPhone people are more educated: they over-weight +27% for graduate/PhD education and under-weight -33% for high school education.
iPhone people are more affluent: they over-weight +11% for >$75,000, +30% for >$100,000 and +48% for >$125,000.
Android people are much less affluent but still have above average means.
Both iPhone people and Android people have the same age distribution as the U.S. adult population up to age 65.
iPhone people are professionals and business people; they over-weight +38% for professional/managerial and +31% for operations/sales. Both iPhone and Android under-weight for blue-collar and retired populations.
The iPhone demographic of affluent, well educated, business people and professionals varying by age is a start. I think it is a mistake to assume that simply because a demographic is affluent, that another recurring fee of $79 or $159 per year will be received well.

If anything, the user is a well educated professional who understands what a pure profit scenario this is for Apple and they may not receive it well. As Forbes found in their brand analysis, it is possible that Apple has "over extended the goodwill of it's customers."
Google Tops Apple As World's Top Brand (via Fortune)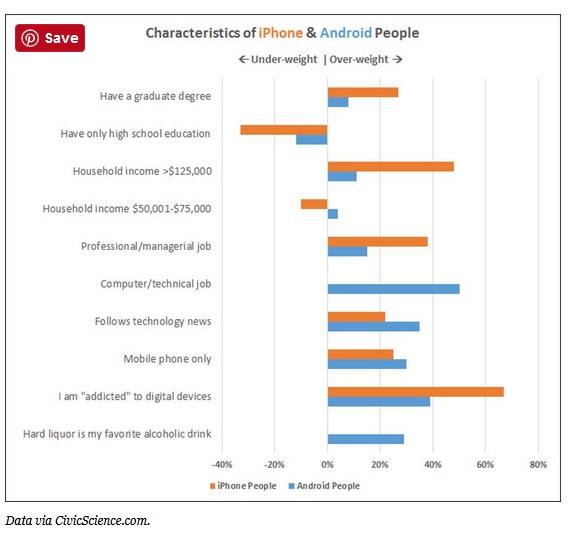 Apple customer demographics:
Via Who is Buying Apple Products
Men aged 65 and older spent more on Apple devices than any other demographic group in the United States last year, according to Slice Intelligence, which tracks online shopping data.

-- A higher percentage of customers who buy the iPhone, Macbook Air, Macbook Pro, and Apple TV are between the ages of 25 and 34.

-- Seniors 65 and older, and people between 35 and 44, are the biggest of iPad customers.

-- And those who are 35 to 44 made up the highest percentage of Apple Watch sales.

-- Households with an income level between $35,000 and $50,000 spent the least.

-- But, amazingly, households with an income level under $15,000 spent about as much as households with an income level between $125,000 and $150,000.
Households with an income level under $15,000 spent about as much as households with an income level between $125,000 and $150,000. So, again, the idea that the Apple customer is so affluent that an additional charge would be insignificant seems to be a poor assumption.
Apple AirPod reviews:
Common Issues Mentioned by reviewers:
Positive:
No wires
Good battery life (5 Hours)
Ability to Pause music when removed from ear
Negative:
Strange appearance
Likelihood of loss
Issues with clarity of sound outdoors
Unable to use walking quickly, running, or exercising
May not fit everyone's ears
Sound quality similar to free earbuds
Expensive to replace
Notable Quotes:
(Via Gizmodo):
Apple Will Charge You $70 If You Lose an AirPod

I suppose paying $70 to replace a lost AirPod is better than paying $160 for a whole new pair, but you should probably still think twice before using them for activity that is too strenuous. I've used AirPods and although they are just fine for walking around, I wouldn't recommend running in them without something like this. (via Gizmodo)

Apple's attempt to convince us that a headphone jack-less iPhone 7 wasn't a terrible thing created a whole new uproar when it became clear how easy it would be to lose the new $160 wireless AirPods. But don't worry, there's an easy solution to that problem too: a $10 wire that negates all that inconvenient wirelessness.

(Wired)

Looks aren't everything, though, and the fact is AirPods look the way they do because of their most important feature: they have no wires.

Sure, you might lose them, but that's a you problem, not a headphones problem.

Apple's evidently not all that concerned with how they sound. Your $159 doesn't buy you any better audio than you'll get from the EarPods that come free in the box with your iPhone

It'll be a while before wireless earbuds of any kind are more than a near-futuristic novelty. And it doesn't help that the AirPods look like two antennae sticking out of your ears.

(via Wall Street Journal)

How much are you willing to spend for a gadget you're extremely likely to lose?

I'm smitten. I will really miss these little guys when I inevitably leave them on a plane, drop them in the toilet or watch as they tumble through a sidewalk grate.

Earphones without wires really are pleasant, especially if you're frequently on the move or in a tight spot like an airplane seat.

I initially worried about them falling out, but have been pleasantly surprised they don't.

They sound a lot like regular EarPods-pretty good for listening to pop music with bass, and for taking phone calls. They don't have active noise cancellation;

Review: (via the verge)

I cannot get them to stay in my ears for long periods of time.

Every time I wear AirPods it's a constant battle to keep them in.

The company is basically saying it thinks number of people who won't be able to keep AirPods in their ear is small enough that they don't need to change the design.

I got every bit of the five hours Apple promises,

So if you share Apple's wireless dream, and EarPods fit you pretty well, there's a good chance you'll like AirPods, too. Just make sure you try them on first.
Bloomberg via Getty Images
Execution and financial risk:
It seems reasonable to assume that a certain percentage of users will not be able to use the product because it will not fit comfortably in their ears. Most high-end ear bud products include rubber tips because ear sizes vary, as mentioned in some reviews. That is not the case here.
Additionally, another percentage of users will not like the product design or the cost of replacement. The assumed risk by the shareholder is that the overwhelming majority of iPhone users will like the product and pay Apple for every replacement AirPod.
Even with a substantial focus group budget, it would be difficult to definitively know what the consumer is likely to do. However, investors need to be aware of these execution risks as they will affect the share price.
Valuation and Risks:
Based on the better case scenarios, the shares have limited upside as the price relative to earnings has steadily risen to the higher end of a 5 year range, while year over year growth is also slowing.
In fact, in less favorable scenarios, there is high risk to the shares.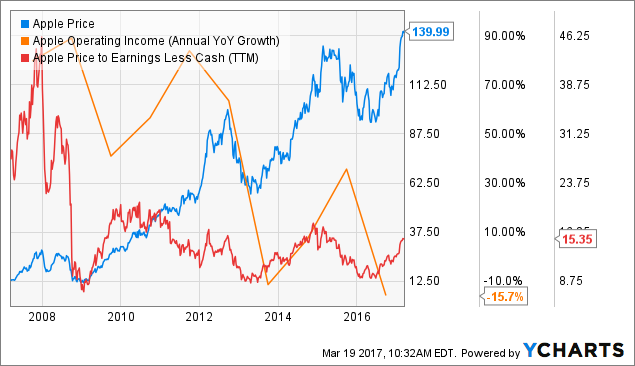 Unknown Risks:
The situation provides many important risks and uncertainties:
What percentage of users will lose the AirPod in the first year of usage?
And what percentage will lose more than one pair?
How many lost AirPods will it take before the customer reaches threshold and decides to purchase a competitor's product or downgrade to a different iPhone?
What will the loss rates be for children, tweens, teens?
And how will parents respond to these recurring charges?
They will not fit in some customers' ears.
Does the iPhone consumer include replacement cost of the AirPods ($159) in evaluating the price of the phone?
Will the customer view the $159 fee as a "penalty"?
Liability issues for swallowed AirPods?
Will iPhone customers accept an awkward looking headphone?
What if the iPhone customer base is divided between customers who like the new AirPod and those who strongly dislike them?
We will not know the answers to these questions until the data from customers is available. The stock is at all-time highs and at the high end of valuation, in spite of these unknown risks.
Slower growth:
Likely scenario: Some percentage of the user base will view this as a penalty fee and react simply by postponing a decision. This theory is also supported by customer surveys of customer satisfaction (see below).
Less affluent iPhone customers could simply postpone the upgrade decision entirely. Perhaps (3-5%) of users. This cost-conscious customer likely does not want to run the risk of loss and replacement of the AirPods and instead, would simply continue using current models longer than anticipated.
The net effect, would be a minor slow-down in growth for iPhone sales, but offset by higher revenues due to the replaced AirPods. As we see below, in product satisfaction surveys, customers are less impressed with newer models and do not see a large value-add in newer models. "Customers shrug at new models." (via CNET)
This is a trend that presents a risk to Apple and its competitors no matter the outcome of the AirPod issue. It is dangerous to assume that simply because customers have upgraded on a predictable timetable in the past, that they will continue to do so. At current valuation, shares include a premium of an expected upgrade cycle that could take longer than expected to materialize.
Customer satisfaction:
Apple's only 'thiiisss' much better than Samsung in customer satisfaction via (Cnet)

You may gripe about battery life, but on the whole, you're pretty darn satisfied with your phone.

And if you're an iPhone owner, you're likely the happiest of the bunch -- but just barely.

After tying with Samsung last year in terms of smartphone satisfaction, Apple has nudged past its major rival to take the No. 1 spot this year, according to a new American Customer Satisfaction Index report released on Wednesday. In 2015, both companies scored 80 out of 100 for customer satisfaction. For 2016, Apple inched up to score 81 out of 100, while Samsung stayed where it was the year before.
Customers shrug at new models:
That level of satisfaction may be good for you, but it hasn't been great for the companies that make your phones. Their sales have leveled off or dropped as consumers, who have bought millions of phones in recent years, collectively shrug at new models that hardly seem a step above what they've already got in their hands.

Among the top smartphones for customer satisfaction, Samsung's Galaxy Note 5 took first place with a grade of 86 ahead of Apple's iPhone 6S Plus, which scored 85. Samsung tied for third and fourth place with its Galaxy S6 Edge+ and Galaxy Note 4. Though companies such as Motorola and LG appeared on the list, Apple and Samsung dominated the top rankings among satisfied customers.
The Apple Brand;
Google Tops Apple As World's Top Brand (via Fortune)
Google is now the world's most valuable brand, according to a new study, snagging the No.1 spot from Apple which has been the incumbent since 2011.

The news of its No.2 spot comes as "Apple has failed to maintain its technological advantage and has repeatedly disillusioned its advocates with tweaks when material changes were expected," the study's authors wrote, who further explained that the tech-giant has "over-exploited the goodwill" of its customers, namely because of its failure to generate significant revenues from products like the Apple Watch, and its inability to "demonstrate that genuinely innovative technologies desired by consumers are in the pipeline."
Let's be clear, this is still the second best brand in the world. But, the conclusions by the Fortune authors are troubling, since the new AirPod product could exacerbate trends that they believe as having already begun. (i.e. that Apple has over-exploited the goodwill of some of its customers.)
If that hypothesis proves correct, then a recurring charge of $159 paid to Apple for losing a tiny device could damage the brand and impact future sale and earnings.
If these issues are not significant and adoption goes smoothly, earnings would benefit greatly both now and in the future.
Financial Overview:
AirPod Financial Benefits to Apple:
The potential sales of AirPods are estimated to be a $3.5B market, assuming a 10% penetration rate.
Potential Sales Impact: (via Forbes)
While Apple is unlikely to disclose sales figures, we believe that it should be able to ship roughly 22 million AirPods in the first year, assuming an attach rate of 10% with the iPhone. We believe this figure is reasonable, as Barclays projects initial production figures at 10 to 15 million units. Assuming an ASP of $159, this would translate into revenues of roughly $3.5 billion in 2017.

It is possible that margins for AirPods could be higher as well over the long-run as Apple irons out early manufacturing yield issues, given the lower component and software development-related costs compared to the Watch. This could mean that the AirPods will be more value-accretive to Apple stock compared to the Apple Watch.

Moreover, the relatively accessible $159 price tag and Apple's wide distribution footprint should make AirPods fairly easy to cross-sell to iPhone customers, who typically pay upwards of $650 for their smartphones.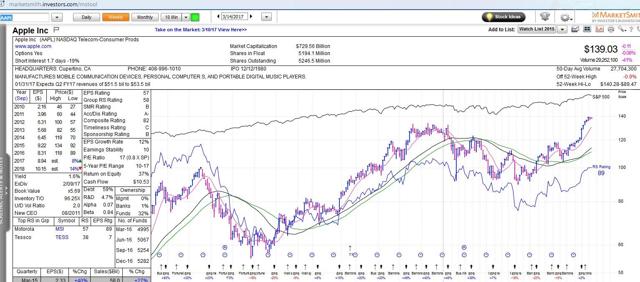 (via Marketsmith)
Financial Scenarios:
Earnings and Brand Impact
Good Scenario: (35-55% probability) : Little or no customer pushback occurs.
Apple has discovered an incredibly profitable new revenue and earnings stream as customers lose AirPods on a consistent basis and keep purchasing replacement units. While positive for shareholders, this scenario is potentially damaging to the brand as some percentage of customers will find this "penalty fee" by Apple to be excessive. Result: Financial benefit/ loss to brand equity.
Financial impact: Positive impact beginning in 2018 on sales as customers replace lost units, and potentially very positive over time as a new revenue and earnings stream emerges.
Low-Mid Level Scenario; (20-25% probability): Moderate to Significant pushback.
To placate unhappy consumers, Apple issues a credit or rebate of the first lost AirPod, or $50. On sales estimate of 66M units, (via Barrons) and adjusted for the current low-end sales scenario, the estimated short-term cost to Apple: $3.63B
By issuing a credit, Apple would receive the funds over time on future customer purchases, so it is viewed as a cost and not a loss.
Financial impact: Reduction of earnings by $.69/ share.
Earnings for the 12 months reduced to $9.31/ share and a p/e of 13, representing a reduction due to the uncertainty. Revised share price estimate: $121.03 (on a 20-25% probability event).
Result: Financial Loss/ Brand equity loss.
Worst Case Scenario: (10-15% probability) - Significant customer pushback and increasing public relations damage.
To placate unhappy and potentially angry customers, Apple issues a refund or credit of $150 to cover the first pair of lost AirPods. On a customer base of 60M units (via Barrons), the estimated Cost to Apple of $6.66B.
Earnings for the 12 months reduced by $1.27 to $8.88. A lower p/e of 12 would be necessary for significant uncertainty. Resulting share estimate: $106.56 (on a 7-15% probability event).
Significant losses in both financial terms and brand equity.
Finally,in this scenario, we would anticipate a high probability that the company would announce an increase in the current stock buyback to support the shares.
Investment Strategy Recommendations:
I would not recommend shorting the common stock at this time, as it uses too much capital and there are far better investment ideas available that I see. (Investors interested in my ideas are encouraged to find the "follow me" button at the top of the page for my current recommendations and future ideas.)
Preferred Option Strategy:
For the investor interested in the risk/ reward to the downside and familiar with options, I would recommend the following strategy:
Purchase: the May 19 $130 Puts at $1.30
Sell: the May 19 $115 Puts at $.20
The benefits to this strategy: Low cost/ Very high potential return
Net cost: $1.10
Break-even: $128.90 (the stock would need to fall by 7.9% before May 19 to break even on this strategy.)
At $125, a payoff of $3.90 or a return of 354%
At $120, a payoff of $8.90 or greater than 800%
Very little cost involved with a potential large payoff.
Conclusion:
Customer demographics suggest some portion of iPhone customers will be affected by this cost issue and likely, postpone the purchase decision, resulting in slower growth.
The release of Apple's iPhone7 includes a large gamble by Apple that customers will adapt to their new wireless AirPods. If successful, the company will receive a new earnings stream. If customers resist adoption however, in two scenarios described, cost issues could significantly hurt earnings and the share price. While these are lower probability events, investors would be wise to consider the risk in these scenarios.
The majority of expected scenarios involve slower growth, lowered earnings as well as valuations and all involve a loss of brand equity.
At current price levels, the shares are overpriced relative to these risks. Limited upside in a positive outcome and large risk to the downside in a negative scenario.
Disclosure: I/we have no positions in any stocks mentioned, and no plans to initiate any positions within the next 72 hours.
I wrote this article myself, and it expresses my own opinions. I am not receiving compensation for it (other than from Seeking Alpha). I have no business relationship with any company whose stock is mentioned in this article.
Additional disclosure: Options investing involves risk of loss. Investors without experience should consult an advisor.