After some quick pressure by activist investor Mantle Ridge, railroad operator CSX (NYSE:CSX) caved and installed a "turnaround expert" and gave up board seats to the hedge fund. There's high hopes forHunter Harrison, who's helped turn around Canadian National Railway (NYSE:CNI) and Canadian Pacific (NYSE:CP).
The 72-year old has health issues, but how hard is it really to turn around a rail company with a bloated expense structure? CSX has an operating margin that's sub 30%, while rail peers like CP, CNI, Kansas City Southern (NYSE:KSU) and Union Pacific (NYSE:UNP) are all north of 35%.
Harrison's big plans is to take on the trucking freight industry, noting that CSX has lost business to the highway. And we should expect more job cuts at CSX courtesy of Harrison, as well as yard shut downs. Granted, all exciting stuff, but all this may well be baked into the stock. Shares have soared to all time highs - up 32% in 2017.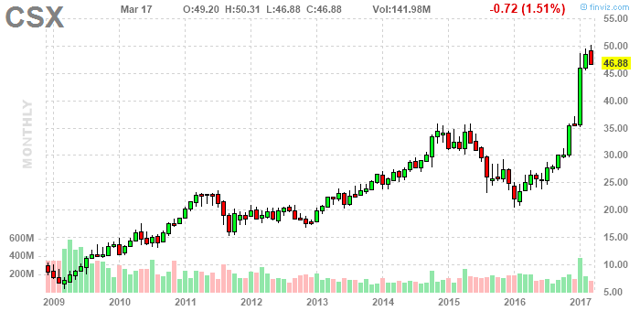 There is a positive out of the activist camp.
Mantle Ridge has agreed to commit $1.2 billion to CSX for five years, a move likely required to get CSX to agree to the settlement. It's forced its limited partners to commit to a five-year lock-up instead of the typical quarterly redemption setup for hedge funds. Harrison also got a four-year contract as CSX CEO instead of the two-years they wanted to give him.
Some of Harrison's initial plans will likely include figuring out a way to improve efficiency in sharing tracks with Amtrak and commuter trains on its rail network.
But Harrison also has to deal with CSX's large reliance on coal, which is its top earning commodity. There's only so much Harrison can accomplish with cost cuts without a coal rebound. The shift away from coal, notably by utilities, is real.
Then there's the other uphill battle for CSX. To start, CSX is very different than the other railroads that Hunter Harrison has turned around. The majority of CSX's routes are in urban areas, while Canadian rails run through snowy rural areas. There are different populations and size/shape of areas to deal with.
In the end, with CSX at all-time highs, Harrison has his work cut out for him. I still contend shares have moved too far too fast, especially with CSX's major revenue generator, coal, being in a secular decline.
Disclosure: I/we have no positions in any stocks mentioned, and no plans to initiate any positions within the next 72 hours.
I wrote this article myself, and it expresses my own opinions. I am not receiving compensation for it (other than from Seeking Alpha). I have no business relationship with any company whose stock is mentioned in this article.