It is likely that Tesla (NASDAQ:TSLA) will have no financial problems in this initial year of Model 3 production. Even with the large debt increase related to the acquisition of SolarCity, TSLA had no difficulty last week in selling up to 1.53 million shares at $262 and $850 million in convertible notes due 2022 (with a conversion price of $327.50). Indeed, raising a total amount that may climb to $1.4 billion will help Tesla's balance sheet, which is far from beautiful.
Nevertheless, we have to understand that Tesla is still at an investment project stage showing huge potential. It's a long-term enterprise with many years to make vehicles that customers are waiting for. With so much cash flow waiting to be generated, innovation will be crucial to this project, and in my eyes, it will be through this path that the company will succeed.
Elon Musk sees an 80% chance that the company does not need additional funds this year and we believe that Tesla may return in due time to the markets on the right conditions and especially if production is running smoothly as planned.
Less than four months away from the beginning of the low-volume production of the Model 3, prototypes are being built with production tooling, not prototype tooling. That's why the company is calling those vehicles release candidates instead of beta prototypes. In any case, 5,000 units of the Model 3 are planned per week later this year. Possibly, with 500,000 reservations for the Model 3, its production is sold out for the first 12 months.
Especially from now on, Tesla's stock price will reflect the expectations - positive or negative - of investors. In fact, with the sale of more elitist models, Tesla has shown the EV production capacity at its factory in Fremont. With its Gigafactory, the company is taking the necessary steps for the large production of the Model 3.
However, there is a factor that seems crucial when we look at the five-year weekly chart below: share dilution. In September 2014, prices topped at $291.42. Since then, a very slight downward trend has been evident in conjunction with a long consolidation. The danger for a drawdown was demonstrated with what happened in February and November 2016.
In both cases, declines were quite relevant and only stopped near the EMA(200). In the last weeks, the share price has tried to reach the aforementioned top value but has retreated again. From the relative situation of moving averages of 50 and 200 days, it will appear that conditions are created to see in the long term a rise to levels around $300/share or even a bit more if no problems arise in the Model 3 production schedule.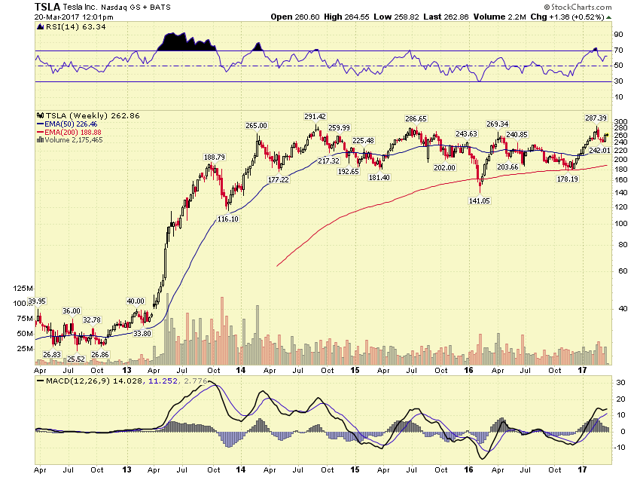 Chart courtesy of StockCharts.com
Note: This chart is in semi-logarithmic scale
Naturally, this Tesla project has issues much beyond those already mentioned above. The problem of dilution is a very serious one. In fact, we can say that the stock's inability to rise in recent years has much to do with share dilution. In fact, as of January 31, 2013, the company had 114.5M shares outstanding. As it will soon have up to 163.2M shares outstanding, its total dilution will be around 42.5% in this time period. But it has to be noted that in the meantime, the situation of the company has changed radically.
With the current number of shares, there is much greater potential for the company than the difference between the number of shares in the indicated years. Therefore, it has been a necessary dilution, which potentially increases the value of the company. However, from now on, the more stabilized the company gets, the greater impact it will have with an increase in shares issued because they will undermine the value of the existing ones.
Of course, it is not yet a serious problem given the company's potential and the fact that it has taken anti-dilution measures in respect of convertible notes. Indeed, it seems that Tesla is entering into specific transactions to soften future dilution to existing shareholders in case the notes are converted. I do not know their exact technical configuration but it is desirable that the future situation does not involve much greater dilution in which case a rise in shares will be much more difficult.
Conclusion
The risks of the project are meaningful, the amount of investment is colossal, and innovation has to be the real drive that will allow the company to stay ahead of competitors and get the valuable return that the shareholders expect. It is impossible to advance a project of this magnitude and be free from difficulties and complicated phases.
This innovative project has merit and should not be stopped because of lack of financial means. In fact, nothing points in this direction, but rather in the validity - here more than ever - of its risk/reward ratio. The risk lies behind this project and investors must carefully evaluate the conditions needed to overcome all the obstacles as, in my opinion, the reward will be there for those who have managed to resist.
Disclosure: I/we have no positions in any stocks mentioned, and no plans to initiate any positions within the next 72 hours.
I wrote this article myself, and it expresses my own opinions. I am not receiving compensation for it (other than from Seeking Alpha). I have no business relationship with any company whose stock is mentioned in this article.
Additional disclosure: The author of this article is not an investment adviser and gives only his personal view and opinion, never making any investment advice or recommendation to buy or sell specific securities. Investors in financial assets must do so at their own responsibility and with due caution as they involve a significant degree of risk. Before investing in financial assets, investors should do their own research and consult a professional investment adviser.