Lumenpulse (OTC:LMPLF) is a company who designs, develops manufactures and sells a wide range of high performance and sustainable specification-grade light-emitting diode (LED) lighting solutions for commercial, institutional and urban environments.
A bright future is to come for the LED industry after two hard years in 2015 and 2016. Manufactures in the LED industry have been pressured to lower prices in the short term. This explains why many manufactures had losses. The LEDinside website noted that the main growth centers in the global lighting market will be the U.S. and India.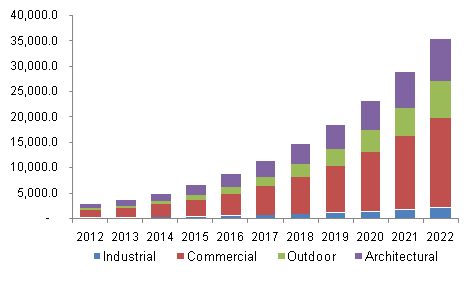 (Source)
After extensive research, it is impossible to find who are the direct competitors of Lumenpulse. There are lots of players in the commercial aspect but very few in the industrial and architectural.
The share nosedived 20% last week when the financial statements were not as good as planned by analysts. Third quarter of the Company's fiscal year tend to reveal lower revenues since the weather conditions are less favorable to construction and new installations program.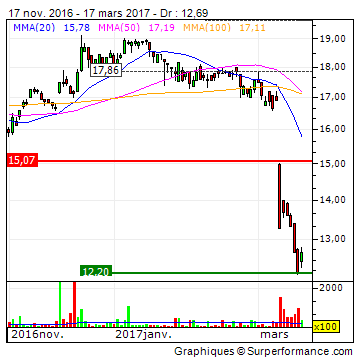 (Source)
Current liabilities have increased of 27% because of a business acquisitions contingent consideration. The contingent consideration in connection with business acquisition is payable based on the achievement of certain financial performance targets in specific periods following the acquisitions. In fact, Lumenpulse acquired Fluxwerx Illumination for $60 million in cash and shares. An additional $25 million may be paid depending on the achievement of certain targets.
Current assets increased of 3.28%. For the Three-month periods ended January 31, revenue popped up 33.06% and the nine-month periods ended January 31, revenue went up by 32.26%. Gross profit for these two periods increased as well. Net financing costs literally exploded because of the contingent consideration. This is why the net income for the period has been affected.
There has been a loss of $2.85 million in the three-month period ended January 31. However, this deficit is due to a non-recurrent event (contingent consideration). In reality, the business did not lose any money. The cash flow statement confirms my hypothesis with an operating income of $1.4 million. Still according to this hypothesis, I am able to affirm that the price earnings would be 58 years. The market cap is very high as the market anticipates strong growth.
In my opinion, the stock dropped this much because of the highly expectations for a third quarter. World economy is doing really good right now so I don't expect a downward forecast in the next four years.
65% of the activities of Lumenpulse are in the United States. With Donald Trump's will to invest in infrastructure, many companies could get some financing to improve their installations. Lumenpulse expects to get a high demand considering this move from the White House. This could translate into higher incomes in the next financial statements. Furthermore, estimated earnings by analysts for the 2Q 2017 are lower (0.12 EPS) than the previous one (0.17 EPS). With the reasons outlined above, I am convinced that Lumenpulse can surpass expectations which would be benefit for the stock.
Disclosure: I/we have no positions in any stocks mentioned, and no plans to initiate any positions within the next 72 hours.
Disclosure: I/we have no positions in any stocks mentioned, and no plans to initiate any positions within the next 72 hours.
I wrote this article myself, and it expresses my own opinions. I am not receiving compensation for it (other than from Seeking Alpha). I have no business relationship with any company whose stock is mentioned in this article.