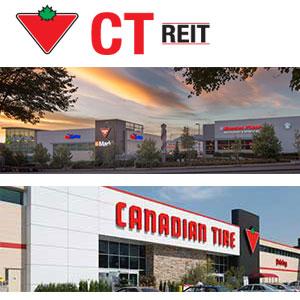 CT REIT (CTRRF) was a spin-off from Canadian Tire four years ago. It was a real estate play by Canadian Tire to unlock value from its real estate. For the dividend growth investor looking for growth in a stable environment, CT REIT is one of these opportunities.
12.6 Year Lease Agreement with Canadian Tire:
For companies paying dividends every month, having clarity of where future cash flow will come from is important. Clarity helps reduce uncertainty, and this minimizes market risk. The parent company, Canadian Tire (OTC:CDNTF), had signed an initial 15-year lease term agreement (which now has 12.6 years left). This lease agreement makes up 94.2% of CT REIT's GLA portfolio and 93.2% of its base rent. The agreement also has step rents factored in with 1.5% of annual increases. Also, Canadian Tire has been in operation for over 85 years with a strong retail presence across Canada. Its EPS growth in the last three years has been positive and has been growing above 7%:

(Source: Google Finance)
The likelihood of Canadian Tire defaulting on its rental obligations is low. The degree of certainty in this stock also shows through from its low beta of 0.21 (a low beta means a lower risk profile in comparison to the overall stock market). This level of safety gives the stock a huge defensive quality to it.
Prospects of a Dividend Hike are High:
Historically, CT REIT has raised its dividends each year in December:

(Source: CT REIT Financials)
I see this trend continuing given its healthy dividend payout ratio of 80%:

(Source: CT REIT Financials)
CT REIT Lives and Breathes "Canadian Tire":
CT REIT is very much intertwined with its parent company. CT REIT is effectively 85.16% owned by Canadian Tire. CT REIT's operations are also managed by its parent company through an administrative agreement that renews each year. This type of relationship also gives CT REIT an advantage in that the landlord CT REIT understands its tenant's business (Canadian Tire) very well. Likely, CT REIT would have access to annual sales figures at each of the Canadian Tire stores, an advantage that most other landlords do not have with its tenants.
Growth Strategy:
Another distinct advantage CT REIT has over other retail REITs is that CT REIT holds a right of first offer (ROFO) for seven years with Canadian Tire, where CT REIT can make an offer on all Canadian Tire properties.
To grow the portfolio, in 2016, CT REIT has made a number of acquisitions: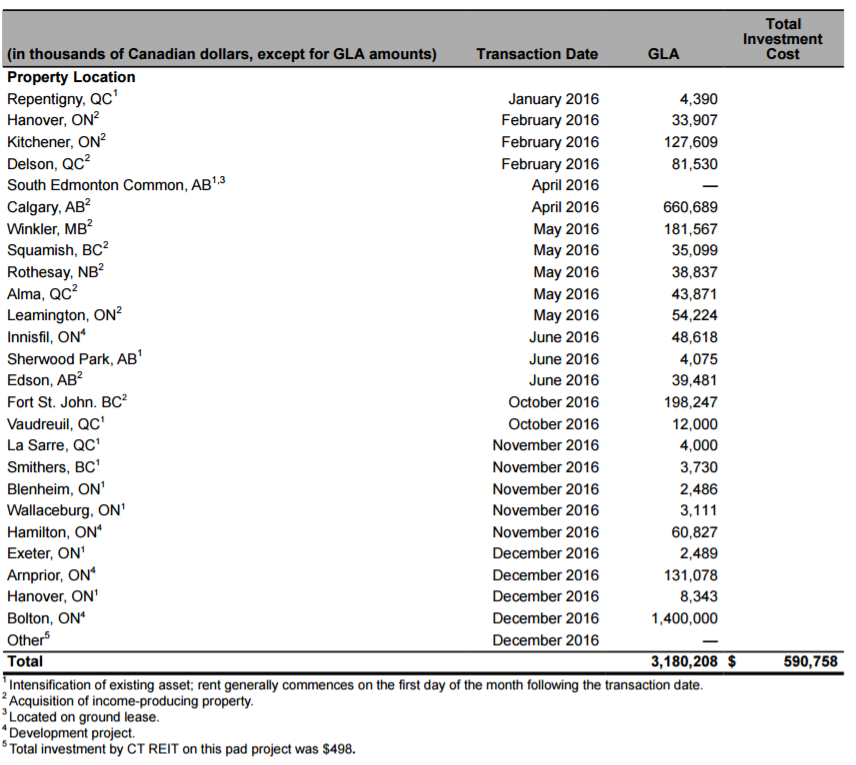 CT REIT is also in the process of developing a number of properties: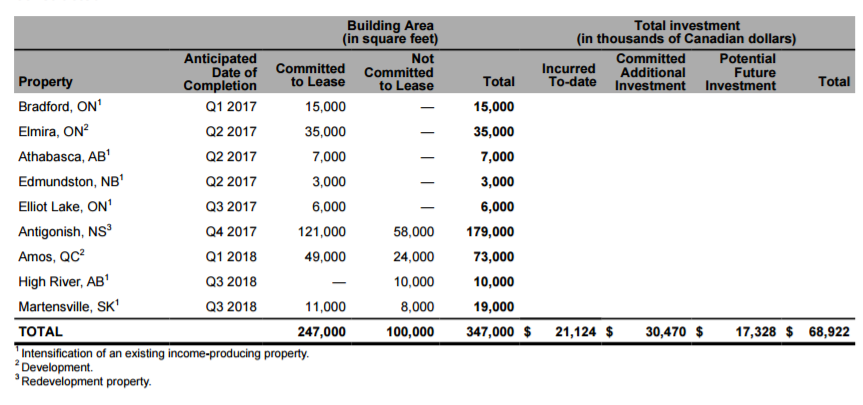 Combining its development and acquired properties together, the REIT had spent in total $598 million for 2016.
Where some REITs have stopped acquiring because properties have gotten expensive, CT REIT continues to grow and expand.
The Downside: Lack of Tenant Diversity
CT REIT enjoys a lot of benefits from its association with Canadian Tire. But there are downsides as well: the lack of tenant diversity makes the company particularly vulnerable if anything negative should happen to Canadian Tire: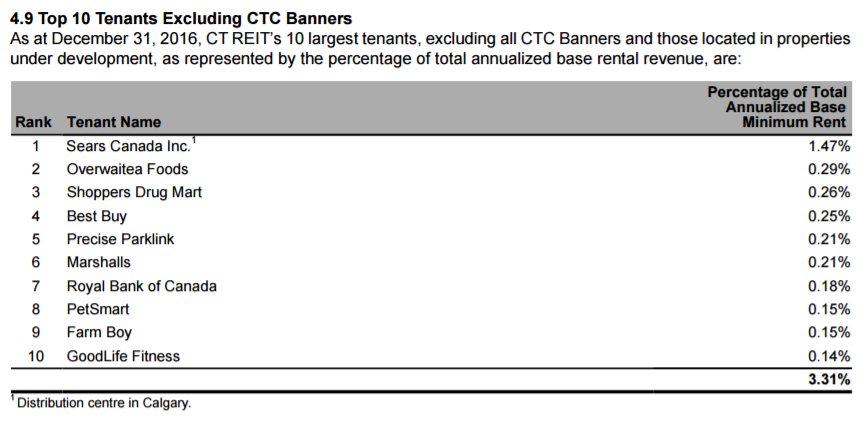 (Source: CT REIT Financials)
Also, Canadian Tire operates various retail lines from: PartSource, Gas+, Sport Chek, Hockey Experts, Sports Experts, National Sports, INTERSPORT, Pro Hockey Life, Atmosphere, Mark's. Would CT REIT allow a competitor of Canadian Tire to locate to one of its CT REIT own properties? I'm guessing no, and this may hinder CT REIT's ability to find the best value out there.
Summary:
2016 was a year when investors started noticing CT REIT dividend yields were compressing as investors purchased more shares of the company. Using the dividend yield to measure stock price value, the stock certainly has gotten more expensive than in 2015:

(Source: CT REIT Financials and Google Finance)
I would not go as far as to say the stock is currently overvalued, rather, the stock price right now is fairly valued. To me, if the stock price can trade at where the dividend yield is above 4.50%, then I would consider buying in. That means the stock price would have to be at $15.55 on the TSX.
It is certainly not one of the higher dividend payers in the market but it is one of the safest. Since the company's IPO in late 2013, the stock price has enjoyed a rise of almost 50%. I believe there is still upward momentum here because of the inherent growth in the company.
I rate CT REIT as a buy because it makes a great dividend income generator for any portfolio. It also makes a good diversification play if you are too heavily invested in a certain industry sector. Lastly, not many REITs publicly traded have this much cash flow certainty.
Disclosure: I/we have no positions in any stocks mentioned, and no plans to initiate any positions within the next 72 hours.
I wrote this article myself, and it expresses my own opinions. I am not receiving compensation for it (other than from Seeking Alpha). I have no business relationship with any company whose stock is mentioned in this article.
Editor's Note: This article discusses one or more securities that do not trade on a major U.S. exchange. Please be aware of the risks associated with these stocks.