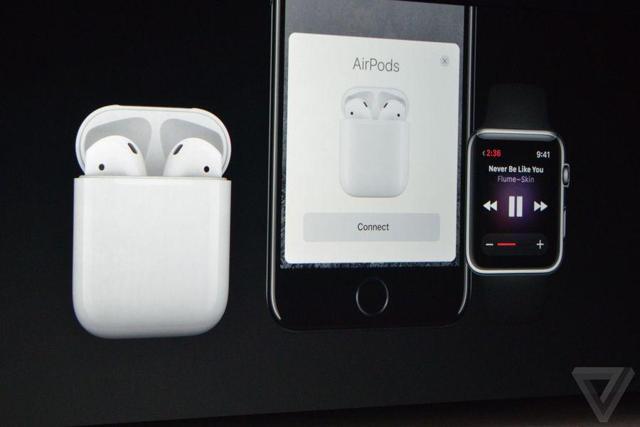 Source: theverge
There has been some interesting moves by Apple (NASDAQ:AAPL) recently in regard to some of its ancillary products, which has definitely shown the willingness of the company to compete at a lower price point with some of them.
This may not seem like that big of a deal to some investors, but it is definitely a change in direction that appears to be a probable wave of the future for the tech giant.
If that's true, the question then is how much of an impact, if any, it'll have on margins of the company, and if it has plans to extend that to other products as well.
The two major products it has lowered prices on are AirPods and Apple Watch, with a more stealth price cut on it 2016 MacBook Pro, now offering it in its refurbished section (without the TouchBar) for a 15 percent discount.
Apple Watch and AirPods
There are a couple of way to look at the cut in prices of some AirPods and Apple Watch. It could be considered an attempt by Apple to boost the performance of its products outside of the iPhone, which everyone knows needs to eventually be a smaller percentage of company overall sales, without losing its own momentum.
The other way to look at it is that Apple could be upping the bar at the lower end of the market with these two products, which will make it difficult for competitors to compete at that level.
As for the best way to view this, I think both of the above are part of the reasoning behind the price cuts. AirPods are being price at $159 on the lower end, and Apple Watch is priced at $269.
For the AirPods, be sure to take into consideration the fact that they are wireless, and shouldn't be compared with wired headphones. I mention that because a number of commentators have pointed out the lack of sound quality of the AirPods.
With the AirPods, I think Apple is trying to crush its competitors while raising the quality on the lower end of the market to the place where it'll overwhelmingly dominate the space.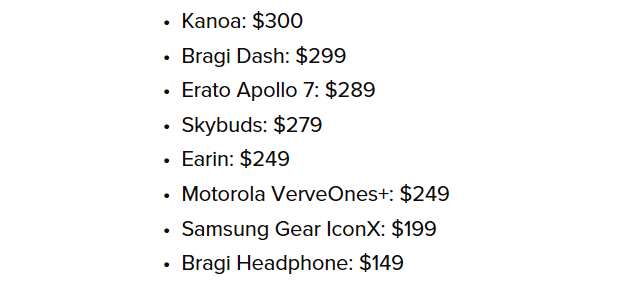 Source: aboveavalon
For the Apple Watch, it appears the company is attempting to compete at all price points, while employing the same strategy at the lower end of the market. At this time, consumers can acquire an Apple Watch at price points of $269 and $369 on the low side, and with its Hermès and Edition offerings, which sell for $1,149 and $1,249, it can still offer higher end products for serious users.
This suggests that it's not only targeting all parts of the market, but is doing it for the purpose of trying to increase the percentage of sales of ancillary products in order to lower the risk associated with its iPhone.

Source: aboveavalon
I do like the fact the company is attempting to do this with existing product lines and not trying to go with unproven products or services. It also tells me it's communicating to customers that it's not going to abandon the market.
2016 MacBook Pro
Another interesting strategy Apple is using is in regard to its 2016 MacBook Pro. By removing the TouchBar, it can offer it in its refurbished section for 15 percent less than it was sold for before.
What this does is provide a lower price product on the upper end of the line. It's similar to releasing another product altogether. Also, it offered a steep discount of $330 on its 13.3-inch MacBook Pro that includes a 2.4 GHz dual-core Intel i7 processor, along with 512GB storage and 16GB of RAM.
This assuages some of those looking for bargains, gets rid of inventory, and when offered with the lower priced products mentioned above, gives the company a group of quality products for a low price. The result could be an increase in new customers willing to pay for perceived value at a competitive price.
Will it eat into margins?
Recently, I wrote about the possibility Apple may be winning domestic smartphone share from Android, which could provide it revenue growth as it looks for ways to grow internationally, which it has struggled to do.
If this is a trend, it could allow the company to boost the revenue of its secondary line of products without giving up much on the margins and earnings side. I mean by this more sales of iPhones will produce more earnings. Also, with more scale of these products, it could demand further cuts from suppliers, which could help the company offset the lower price points.
As mentioned earlier, it'll also potentially help keep up with the presumed growth of the iPhone, even if the pace is slowing down. The larger percentage iPhone sales and revenue represent, the more nervous investors are becoming.
This is why if it is about to take back some market share in the U.S., it will buy it time to not only boost overseas iPhone sales, but to enhance its other product lines.
Conclusion
For some time, I've been thinking Apple needs to show it can meaningfully grow products outside of its iPhone. While obvious, a major reason is when the next recession hits, an expensive iPhone wouldn't be the top priority for many consumers who struggle to make ends meet. Having a variety of other products for sale at different price points is a no-brainer to me.
I think Apple can do this without giving the impression it's changing its overall business model. The company will more than likely increase the price of its next iPhone offering, while at the same time continue to provide its other products with a lower price option.
Consumers think of the iPhone when considering Apple, and it won't lower its brand in anyone's eyes if the company goes after some consumers looking for entry level prices for some of its products. Over time it can always upsell an existing customer.
Finally, if Apple is actually trying to raise the bar on these types of products, and offer them at very competitive or lower prices, it will redefine what these types of products are, and make it difficult to compete with the company on scale and price. Essentially, it could be creating a new market with existing products.
This isn't necessarily caving into low-price pressure, but potentially offering quality at a price consumers aren't used to paying. That means its competitors will have to up their game in order to compete and they may not have the resources or ability to do so.
If Apple can sustainably implement this strategy, and assuming that's what it's trying to do, it will allow it to grow its other product lines in a way that attracts new customers, and provides the type of growth it's needed for a long time outside of iPhones.
Disclosure: I/we have no positions in any stocks mentioned, and no plans to initiate any positions within the next 72 hours.
I wrote this article myself, and it expresses my own opinions. I am not receiving compensation for it (other than from Seeking Alpha). I have no business relationship with any company whose stock is mentioned in this article.