Diversified Royalty (DIV) (OTC:BEVFF) is a Canadian royalty-collecting company that provides financing to businesses and franchises. DIV purchases the trademarks and intellectual property (IP) of businesses and franchises (royalty partners), and then licenses these assets back to the royalty partner, who must pay recurring royalties, which are usually around 6% of revenues. This relationship with royalty partners is mutually beneficial: DIV receives stable royalty payments while its partner receives capital. Think of this agreement like an ordinary loan, except the interest payments are royalty payments and the collateral is the partner's intellectual property. This agreement with DIV is attractive because it allows the royalty partner to "borrow" against an otherwise unusable asset: its trademarks and IP. Financial institutions are not likely to lend to a business using its trademark and IP as collateral, because it would be beyond a nightmare to monetize in a bankruptcy scenario.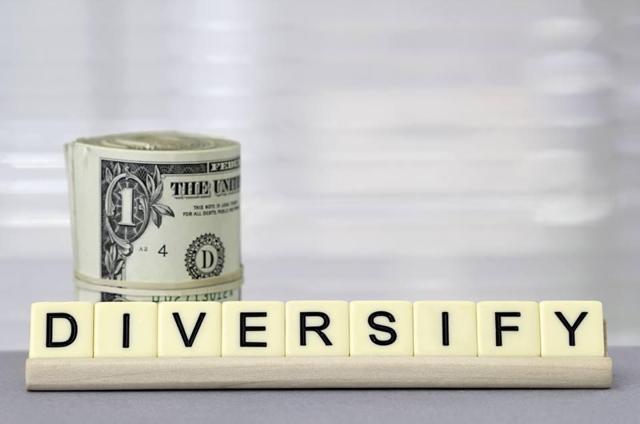 DIV has a history of steadily increasing its dividend. Today, the company pays a hefty $0.24 yearly dividend per share, and its royalty streams are very stable. Sounds too good to be true, right? Here's the catch: it can't pay for it. Its payout ratio is well above 100% right now. This was caused by a decision by management to dispose of one of its underperforming royalty pools: Franworks.
Franworks: An Unlucky Acquisition
Franworks is a multi-brand restaurant, hospitality, retail and related services company that is headquartered in Calgary, Alberta. DIV acquired the trademarks and rights of Franworks restaurant businesses in 2014 for $103 million in exchange for top-line royalty payments of $12 million per year. At that time, Franworks' restaurants were seeing rapid same-store-sales growth (SSSG). However, their performance declined quickly as the oil price crash and subsequent economic retraction hit the Albertan economy. Recently, DIV sold the Franworks trademarks and IP to another organization for $90 million to lower its exposure to the struggling Albertan economy (Exhibit 1). During the sale, management indicated that it would search for other stable and growing royalty partners to make up for the income shortfall.
With the proceeds of this $90 million sale, DIV will use $15 million to extinguish existing debt, and the remaining $75 million rest will be kept as cash in wait of another royalty partner opportunity.
Exhibit 1: Franworks Royalty Pool

Source: Q3 2016 MD&A
With the Franworks royalty pool sold, DIV now relies on royalty income from its Sutton royalty pool and Mr. Lube royalty pool. However, since Sutton represents such a relatively small portion of DIV's royalty income, DIV is almost fully supported by the Mr. Lube royalty pool.
Exhibit 2: Sutton Royalty Pool

It is difficult to call DIV a "Diversified" Royalty when the company now solely relies on one royalty pool. Luckily for DIV, Mr. Lube has been performing very well. SSSG was 4.4% for the nine months ended September 30, 2016, and is expected to continue growing moving forwards. As part of the agreement, DIV is able to benefit from this continued sales growth by purchasing the rights to the royalties of new locations, thereby adding them into the royalty pool.
Exhibit 3: Mr. Lube Royalty Pool

This growth will not even come close to making up for the cash flow shortfall left behind by the Franworks disposal, though Franworks royalty payments used to amount to nearly $12.6 million per year.
It Doesn't Cover Its Dividend
The disposal of its Franworks royalty has put the company in a tough situation. Right now, DIV cannot cover its annual per share dividend payments of $0.24 with its current royalty income, and it is far above a 100% payout ratio as a result. Management has stated it is searching for a new royalty partner to make up for the shortfall, but it is unclear when it will be able to find such a partner. As a result of the Franworks disposal, the company is cash-rich, and so it could theoretically continue to pay its dividend just with its cash for several years. However, that is far from ideal, and it is far more likely that one of the following two options will be chosen by DIV management in the next few months:
1. It will find another royalty partner to increase its royalty income.
2. It will cut its dividend while it searches for a new royalty partner.
Let's take a look at the merits of each option.
Will It Find a New Partner?
To answer this question, another question needs to be answered: what types of businesses or franchises would be interested in partnering with DIV in the first place?
A company that needs capital for one reason or another, whether it be expansion plans or refinancing other debt. It must also not be too large. Once a business or franchise reaches a certain scale, I find it very unlikely it would be willing to sell its intellectual property to obtain financing. Larger organizations are much more likely to finance their business using traditional means, and do not need the safety net that DIV provides with its percentage of revenue royalty terms.
Any new partner should also have revenues in the ballpark of $200 million, so that a 6.5% top-line royalty would make up for the $12 million DIV lost from the Franworks disposal. I suppose DIV could also make a few smaller acquisitions that total $200 million as well, but one large acquisition is ideal in my mind.
It is also important to note that while DIV is a Canadian company, it looks for royalty partners across North America. For an idea of just how many franchises there are, take a look at this list. DIV is looking for a franchise that is stable and growing.
With signs that the North American economy will have a strong 2017, DIV is searching for new royalty partners at a good time. Here are several of the reasons that a strong economy will make it easier for DIV to find an acquisition:
Interest rate hikes. It is widely expected that we will see several interest rate hikes over the next year, making traditional financing methods more expensive for companies looking for capital to fund their operations or expansion plans. More expensive debt makes DIV's royalty proposition more attractive, because royalty payments made on top-line revenue are tax-deductible and will not increase as interest rates rise. Since the company is not able to pledge its trademarks and IP as collateral to banks, it also increases the total amount of financing it has access to.
Promising job creation. More jobs equal more disposable income, which leads to increased consumer spending. Businesses looking to invest in their company understand that the best time to do so is during the early stages of an economic recovery in order to capture the greatest benefit that results from increased consumer spending. As more positive job reports are released, this will increase the likelihood that companies will decide to invest in their business, which is good for DIV in its search for partners.
Oil Prices Set to Rise. This benefits Alberta as well as the Canadian economy as a whole. DIV still earns just under 20% of its royalty income in Alberta, so a recovery in oil prices will increase DIV's royalty income. More importantly, a recovery in oil prices will help the overall Canadian economy, making it more attractive for companies to invest in its business. With the interest rate hikes discussed above, it will be more attractive to fund this investment with DIV's alternative financing.
The renewed confidence in the economy after a long period of uncertainty may spur investment by businesses and franchises looking to capitalize on the economic growth, and so this may help DIV find companies willing to become royalty partners.
Management is clearly optimistic about the future prospects of the company, and in its ability to successfully navigate these challenges; over the past few months, top management has purchased close to $1 million worth of DIV shares.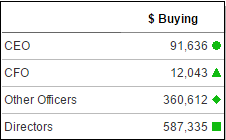 Source: INK Research
The above factors make me optimistic that DIV will be able to find new royalty partners to make up for the Franworks cash flow shortfall. The best-case scenario is that DIV is able to quickly find a new royalty partner and will not need to cut its dividend in the mean time. However, with the loss of $12.6 million in royalty income, there is also a worrying chance that it may be forced to cut its dividend by nearly 50% to preserve its cash pile if it cannot find a new partner soon enough. There is no reason to continue burning through its cash pile if it knows that a new partnership will take a long time to solidify.
Summary
I think the loss of the Franworks partnership is a temporary setback that will not harm DIV in the long term. Once it is able to find a stable and growing royalty partner, it is very unlikely that a situation like this will arise again. At that point, DIV will be able to reliably and sustainably cover its distributions, and once again, move forwards with its mission of increasing distributions through acquisitions.
It is difficult to say whether or not DIV will be able to find a royalty partner soon enough, or if it will decide to cut its dividend and wait until a great opportunity arises. Long term I believe the company is well positioned, and if it does indeed cut its dividend I am confident it would eventually return to its previous level once it is able to find a suitable royalty partner. I would rather see a dividend cut in anticipation of a great partnership rather than the dividend being maintained but DIV entering into a mediocre partnership. Overall, I am optimistic about the future of DIV; if you have been looking for a company that pays a large dividend and provides long-term stability, look no further.
Disclosure: I/we have no positions in any stocks mentioned, and no plans to initiate any positions within the next 72 hours.
I wrote this article myself, and it expresses my own opinions. I am not receiving compensation for it (other than from Seeking Alpha). I have no business relationship with any company whose stock is mentioned in this article.
Editor's Note: This article covers one or more stocks trading at less than $1 per share and/or with less than a $100 million market cap. Please be aware of the risks associated with these stocks.