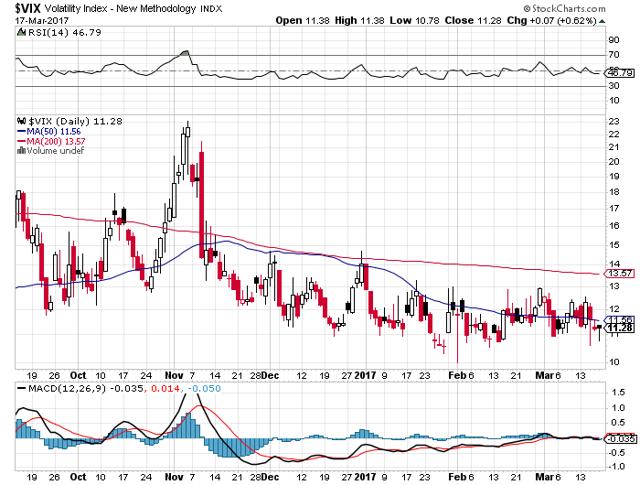 In my last article, I laid out several catalysts that I felt made a long volatility strategy through the use of the iPath S&P 500 VIX Short-Term Futures ETN (NYSEARCA: VXX) and other long volatility options attractive over the near term. Needless to say, that did not work out as planned as my brokerage statement would easily confirm. It is always easy to just say that volatility is dead, or it does not work in the current market environment. But as an investor, I always try to understand why a failed strategy did not work out. In this vein, I examined the catalysts that I laid out to analyze each one individually.
What Were Expected to be Near Term Catalysts for Long Volatility
Extreme Market Valuations and Market Sentiment: Market valuations are still at extremes usually seen before market pullbacks, and the market rally still looks like it is ahead of itself. Sentiment and optimism are also at extremes. Just take a look at the charts below that appeared in a recent article by Seeking Alpha contributor The Heisenberg which he credits to BofA Merill Lynch. Market euphoria is definitely at peak levels. Add to this the amount of retail investor cash flowing into the markets recently through ETFs and other vehicles, and markets appear headed for at least some sort of pullback soon.

Low Investor Hedging: Investors are still largely unhedged on their equity portfolios. If this had changed from the time of this linked article, we would have expected some sort of increase in the VIX Index and an upward move in the volatility term structure. What has happened can be seen in the below chart from vixcentral.com from this past Friday. While this is not news to many, the chart depicts a volatility term structure that has only been moving lower. And, as is still valid, you don't buy insurance because you want to use it, you buy it to protect yourself from uncertainties outside of your control. So, if this market is still at an extreme level, investors will at some point again turn to hedging strategies, and this will lead to sizeable spikes in VXX and other long volatility products. The unknown is the timing.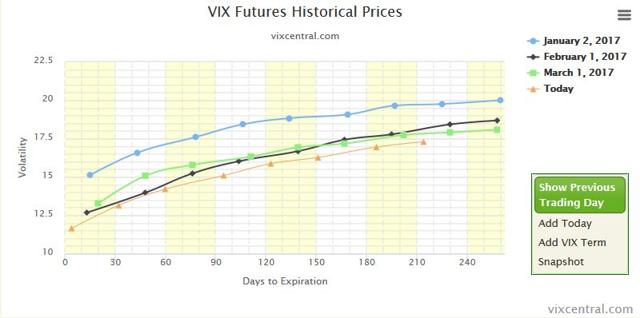 Fed Interest Rate Hikes: The hike has happened, and the markets seem to have embraced the move as proof of an improving economy. Whether this turns out to be the case is still unknown. But, with the move out of the way, one market uncertainty is now gone, and less uncertainty usually leads to lower volatility. This would not be a factor in favor of a long VXX or other volatility strategy. However, there are more near term catalysts like this that would historically have led to higher volatility levels. Some of these include the upcoming French elections, further Fed interest rate hikes as soon as June and the U.S. debt ceiling debate that is just getting started.
Short volatility strategies continue to be winners as would be expected when the volatility term structure is in contango. The only problem with this is that in terms of current positioning, a short volatility strategy is not so attractive when we have the extremes that are in place today. Short volatility may continue to be a winner for some time, but the time will come when investors see a large drawdown from short volatility as mean reversion is a time tested truth in markets. Again, the recurring consideration is the timing.
So where does this leave any volatility strategy in the near term? As appears clear, it depends on the timing. There are many times when short volatility looks attractive. But, given the current environment, it seems a less attractive option now compared to any other period when volatility is at least elevated above current extreme low levels. There are very specific instances when long volatility looks attractive. But, I can not say that this is the case at present given investors' lack of appetite for portfolio hedging and no very near term catalysts. Elevated equity levels could still persist for some time, and time decay is the enemy of any long volatility strategy.
So great, the answer seems to be that market timing is the key to implementing a volatility strategy. This is nothing new, and if any of us were good at market timing, we would likely be enjoying our wealth instead of looking for clues to make better trading decisions. What can be said is that while the current market environment may not be providing any clear direction, the extremes that abound today are at least warning us that the current landscape may not be sustainable, and some amount of mean reversion to the downside is more probable than not. So, if long volatility is not an attractive option, waiting for a better entry point for a short volatility position may be a better alternative. And, to answer the question from the title, no, volatility is not dead, it has likely only been dormant. But, one day soon, it will awaken to provide investment options for both long and short investors.
As always, I strongly urge anyone considering this type of investment to fully investigate the performance characteristics of any security they are planning to use before implementing any trading strategy. This article is just my opinion, and I encourage all readers to decide for themselves whether they find the contents relevant to their own situation. If you find my articles interesting, informative and useful, please follow me by clicking on the follow button at the top of the article. To view my past articles, you can look here. My website where I provide daily volatility updates and other useful volatility related information can be found here. Thank you for reading.
Disclosure: I am/we are long VOLATILITY.
I wrote this article myself, and it expresses my own opinions. I am not receiving compensation for it (other than from Seeking Alpha). I have no business relationship with any company whose stock is mentioned in this article.