About a year ago, I wrote one of my first articles here on Seeking Alpha, where I provided a valuation analysis on Teladoc (NYSE:TDOC). Trading at $12 a share at that time, I was valuing the stock at around $18. One year on, the stock price is at roughly $23, with 90%+ capital gain. On this occasion, I have decided to revalue Teladoc and come to the conclusion that the market is finally just about right about the company even after taking into account one of the biggest concerns about the viability of TDOC.
Thesis
One year on, Teladoc is still not profitable, which should not be much of a surprise, given how relatively young the company is, low overall telehealth market penetration, and considerable investments in infrastructure (such as call centres, technology, sales teams) TDOC implements to support future growth. This very fact does not mean, however, there is nothing we can use to analyse its performance. Unlike its competitors, Teladoc implements a subscription-based business model, implying that each participant pays a per-employee-per-month (PEPM) subscription fee, which gives an access to the telehealth providers' network of physicians; participants are then charged a fee on each visit carried out during the year by each employee. While some people view this approach on the part of the company as risky (only one-year-long contracts across the participants), non-conformant with the industry "standard" (visit fee only), or even doomed to fail (80%+ of revenues comprise subscription fees), my personal take is not that radical.
First, even though contracts are only one year in length, participants are effectively locked-in for the duration of 12 months, providing Teladoc with, at least, subscription fee until the contract expires; this is not the case for other players in the industry, which may see customers switching to and fro as well as experience lower predictability in revenue streams.
Second, despite high overall per-visit fees above $120 (consisting of visit and subscription fees, given PEPM model), there is an obvious downward trend, with both overall and subscription access fees per visit declining, as evidenced from the graph below. Moreover, fees per visit have remained roughly unchanged and low at about $24 on average.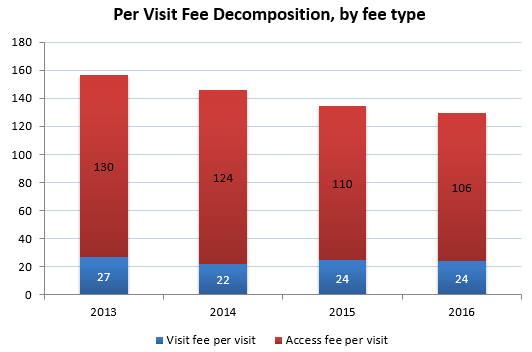 An unsurprising conclusion of the figure above is that higher utilisation rates should drive the overall per-visit fees down at the expense of lower access fees per visit, which is good news for participants. This turns out to be a major aspect that still bothers me, however, as the low rate of employee utilisation has hit just above 5% in 2016. Additionally, as the table below indicates, rising utilisation rates during the last three years are mostly attributed to an increase in the number of members rather than visits from existing members (23% of visits due to higher utilisation from existing members in 2016 as a proportion of an overall change in visits compare poorly to 59% in 2014).
2013

2014

2015

2016

Members

6,200,000

8,100,000

12,200,000

17,500,000

Visits

127,107

298,833

575,689

952,000

Utilisation Rate

2.1%

3.7%

4.7%

5.4%

Change in visits due to membership increase (as percent of total change in visits in brackets)

70,097

(41%)

193,469

(70%)

288,320

(77%)

Change in visits due to higher utilisation (as percent of total change in visits in brackets)

101,629 (59%)

83,387

(30%)

87,991

(23%)
The good news, however, is that an improvement to only 23% of utilisation rate (keeping Teladoc's average per-visit fee at $24 and assuming no improvement in the number of subscribers) will dwindle overall per-visit fee from the current level of $129 (see graph above) to $49, which is the typical telehealth visit fee charged by such competitors as Doctor on Demand and MDLIVE. As a consequence, any further improvement in the utilisation rate will pull the overall per-visit fee even lower.
Valuation
As always, I will value the stock using a three-stage DCF model, taking into account the following assumptions and considerations:
Growth - I view Teladoc, at least for now, as a company with U.S.-based operations only, given strict and divergent healthcare regulations of other countries and the inability of the existing network of physicians to cover non-U.S.-based participants (even such a simple thing as visiting the company's website will show that it is inaccessible to anyone living outside the U.S.). Consequently, the total addressable market (TAM) size is going to be limited, though still significant. In order to understand how substantial it is, I have used the latest available statistics (as of 2013 year-end) from the U.S. Centers for Disease Control and Prevention (CDC) on ambulatory care visits to physicians' offices (NAMCS). According to that data, about 490.8mln visits a year are primary care physician (PCP) visits, which could potentially be covered by telehealth solutions. Furthermore, the latest telehealth consumer survey shows that about 62% of patients are interested in seeing their PCPs over a video call. Finally, given that the average cost per telehealth visit is around $40, the potential market size can be estimated to be more than $12bln (490.8mln*62%*$40). Unfortunately for Teladoc, the market is already highly competitive (with major players being MDLIVE, American Well, and Doctor on Demand) and is likely to attract new competition, given the market potential. As a result, I will give TDOC only a relatively low market share of 10% 10 years from now (though, I am still cautious over how successful it will be in improving the utilisation rates - an important and key aspect for both growth prospects and survival probability). This will translate into $1.22bln in year 10, or an annual growth rate of about 37% for the next five years, steadily declining afterwards to a terminal growth rate of 2.45% (10-Year T-Bond, as of December 30, 2016).
Target operating margin - Even though Teladoc is a provider of healthcare support service via any type of communication device, such as Internet (desktop or mobile) or telephone, it is in and of itself only a platform, which lets patients meet physicians. On this occasion, I believe that it is better to look at TDOC as some sort of an Internet software company, when talking about profitability potential. The industry data provided by A. Damodaran shows that the pre-tax operating margin (adjusted for capitalised operating leases and R&D) for the "Software (Internet)" companies has been 23.55% on aggregate in 2017. With gross margin of more than 70%, R&D depreciation expense (after its capitalisation) of about 10% and highly likely drop (as the company matures) in SG&A expense to around 30% (similar to WebMD or Veeva), I believe it is reasonable to expect Teladoc's adjusted target operating margin to be about 25%.
Reinvestment - In the case of TDOC, I have computed the sales to capital ratio as incremental revenues divided by reinvestment (which is net CapEx plus WCInv) for each of the four years of data available.
| | | | | | |
| --- | --- | --- | --- | --- | --- |
| TDOC | 2013 | 2014 | 2015 | 2016 | 4-Year Aggregate |
| ∆Sales | 20 | 24 | 34 | 46 | |
| Reinvestment | 19 | 12 | 21 | 37 | |
| Incremental sales to reinvestment ratio | 1.07 | 1.93 | 1.60 | 1.25 | 1.39 |
The ratio has been relatively stable over the years, and I have applied a four-year aggregate ratio of 1.39 in my model.
4. Risk - Teladoc is a young company with high risk - high growth profile and U.S.-based operations only. As a result, the cost of capital of 9.02% that I will apply during the transition period of five years will reflect the risk of the typical U.S. company in the 95th percentile. As the company matures, its risks will converge from year 6 to year 10 to the median U.S. company's WACC of 7.22%.
Apart from these major assumptions, I have also assumed the following:
Share count of 54.24mln as of February 24, 2017 (10-K, 2016, p.1).
Marginal tax rate of 35% in the terminal period.
Net Operating Loss (NOL) of $192.3mln, which will shield from taxes even when the company will turn profitable, until exhausted (10-K, 2016, p. F-28).
Value of debt of $51mln. Please note that even though the debt on the balance sheet as of 2016 fiscal year-end is $44mln, the company does have off-balance sheet operating lease commitments (10-K, 2016, p.F-22), which I have capitalized by discounting to the present the future minimum lease payments at 16.45%, computed as the default spread of a typical high-risk non-manufacturing company of 14% and the risk-free rate of 2.45%.
Value of options of $28 million, based on 1.604 million options, an average strike price of $6.08, average maturity of 7.2 and standard deviation of 45% (10-K, 2016, p. F-25).
Given how cautious I am about the low utilisation rate, I will apply a 10% chance the company will not be able to improve it and fail, with recoverability rate of the company value being only 4% (its net assets, excluding goodwill, as a percent of estimated company value).
The table below presents the model output results: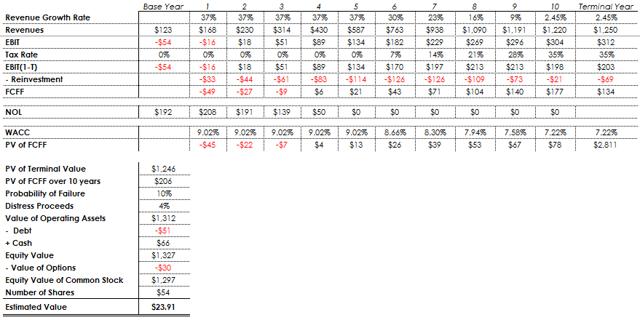 The resulting value per share is about $24, which is just 2% above the current price of around $23. Once again, I have run the Monte Carlo simulation to look at the range of possible values, assuming the following:
Growth - A triangular distribution, with the likeliest value being my base case assumption, and maximum and minimum (least likely) values being within 15 percentage point range around the base case (this makes the maximum value equal about 50%, which is the growth rate expected by Teladoc itself for the next year).
Margin - A normal distribution, with mean value being my base case assumption of 25% and standard deviation equal to 5%. Given statistical properties of a bell-shaped distribution, approximately 95% of values will have a margin between 15% and 35% of varying frequency.
The correlation coefficient between growth and margin is +50%.
Reinvestment - A triangular distribution, with minimum, likeliest, and maximum values being 1.0, 1.39, and 1.78, respectively.
Cost of capital - A uniform distribution (equal likelihood of occurrence), with minimum and maximum values being within 1.5 percentage points around the base case assumption of 9.02% to approximately reflect median (minimum) and 99th percentile (maximum) cost of capital of a typical U.S. company.
Probability of failure - A log normal distribution, with location parameter (minimum) of 6%, mean of 10% (base case), and standard deviation of 4% (such that the 90th percentile is about 15%, meaning that anything higher than that will imply low probability of occurrence).
The correlation coefficient between risk and the probability of failure is +25%.

The resulting distribution shows that the median value is $23.45, which is very close to the base case value that I obtained of $23.91 (an unsurprising result given that my distribution assumptions have all been around the base case). It also shows how close the current price of around $23 is to the median, suggesting that the market value of the company is just about right now.
Conclusion
One year after writing a valuation article on Teladoc, the stock price has performed so well that it increased from $12 at the time to a price level even beyond my value of $18. As a consequence, I decided to revalue the stock and see what value I would attach to the company now. My narrative has largely remained the same. Teladoc is a young growth company in a newly formed and blossoming industry of telehealth services; even though TDOC is unprofitable, it has invested and continues to invest much in infrastructure, which has translated into a strong double-digit growth in revenues; once the expenses level off, it should allow the company to improve its margins in the future. The greatest concern, however, is the low utilisation rate, which must be improved to support the viability of the company and its value, which I estimate to be roughly equal to the current stock price in the range of $23-24.
Disclosure: I/we have no positions in any stocks mentioned, and no plans to initiate any positions within the next 72 hours.
I wrote this article myself, and it expresses my own opinions. I am not receiving compensation for it (other than from Seeking Alpha). I have no business relationship with any company whose stock is mentioned in this article.