Subscribers to The Mortgage REIT Forum had early access to this article.
Blackstone Mortgage Trust (NYSE:BXMT) has been an exceptionally strong mortgage REIT. It has been investing in commercial real estate loans during a period where property values were appreciating and credit risk spreads were shrinking. All in all, BXMT had the ideal environment with one exception. Its portfolio is designed to see net interest income increase when short-term LIBOR rates move higher. That is precisely what we are witnessing today and it is exceptionally positive for BXMT.
The problem is that BXMT tends to trade around 110% to 120% of book value. If the company simply declined to trade at book value, rather than a premium, the investor could lose over two years of dividends on the price movement. Latest BV is $26.33 with a latest price of $30.80. That is roughly 117%. The premium of $4.47 would take a little over seven quarterly dividends to recover.
Dividends
The following chart covers core earnings and dividends.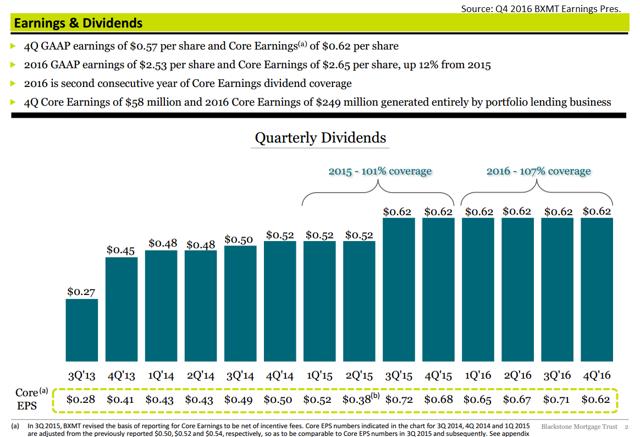 So far, it looks pretty good. Right? There are two things I find a little strange. The first thing that merits mentioning is that BXMT includes a significant adjustment for stock-based compensation expense. Would you be open to the company simply issuing new shares, receiving nothing, and giving those shares away? No? Then you don't want to ignore stock-based compensation expense.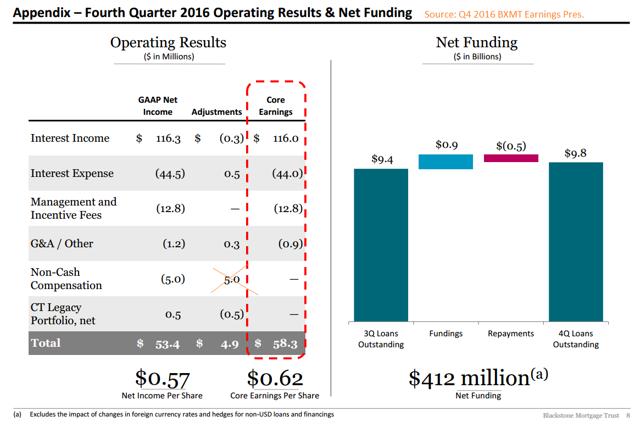 The adjustment added back $5 million. That should translate into something around $.05 per share based on the very simple math between $58.3 million in core earnings and $.62 per share. When the numbers are that simple, we don't even have to glance at the shares outstanding.
Consequently, it looks like BXMT may be slightly overpaying its dividend. However, this is its established metric and I would expect it to stick to it. Consequently, we could see an increase announced as early as this summer.
The LIBOR Impact
The following chart, from Q2 2016 (not Q4) shows the projected impact of an increase in USD LIBOR: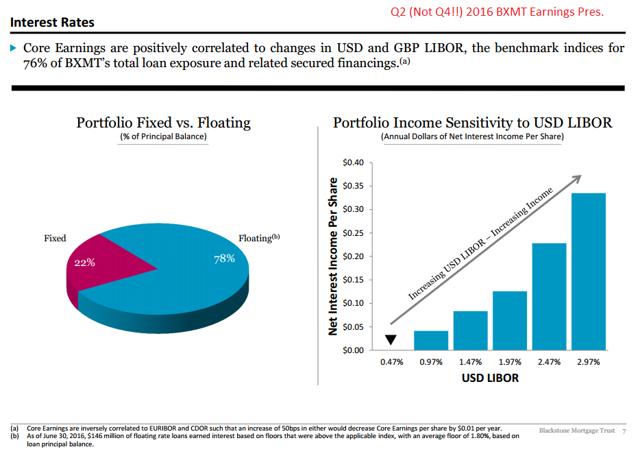 The reason I pulled this chart to highlight is because it shows net interest income rising when rates increase. That isn't what we witnessed, though. USD LIBOR for Q4 2016 was materially higher than it was for Q2 2016, yet both GAAP and core EPS came in a bit lower. This could be related to the way several loans carry floors, but that should be worked into the table because it shows the growth rate in interest income increases as LIBOR rates move higher. Perhaps it is simply an awkward situation with LIBOR falling precisely in the wrong place.
Q2 Vs. Q4
In the second quarter, we were moving into Brexit. Rates were still quite low and the curve was flattening. However, the shape of the curve is not a major factor for mREITs that depend on commercial real estate loans. While the Federal Reserve didn't officially raise rates for the second time until December 2016, the market was already pricing those hikes in during Q4 2016. In the same manner, during Q1 2016, the market began shifting to price in another hike. Since the odds of a hike increased significantly as we approached March (and the hike occurred as expected), the full impact of that hike won't show up until the report for Q2 2017 (delivered during Q3 2017).
Conclusion
BXMT is pumping up core earnings by adding back stock-based compensation, but it has used those numbers in setting its dividend. I believe the company's dividend policy is fairly aggressive because of that adjustment, but the latest increase in LIBOR suggests a hike in could be in the cards for either the next dividend or the one following it. Despite the potential for increasing dividends, BXMT was trading at about 117% of book value. I like the way the mortgage REIT operates, but I don't like it enough to pay that premium. At the same time, I see no strong catalysts for a move lower.
This is your opportunity to lock in prices at $300 per year before the next price increase on April 1st, 2017. Rates are going up because of the high cost of providing such detailed analysis. By signing up today, your price is locked in against future increases. If you want to learn more about investing in high yield instruments, specifically mortgage REITs and their preferred shares, check out the reviews from my subscribers.
Disclosure: I am/we are long RSO.
I wrote this article myself, and it expresses my own opinions. I am not receiving compensation for it (other than from Seeking Alpha). I have no business relationship with any company whose stock is mentioned in this article.
Additional disclosure: Do your own due diligence. No financial advice. No offers to buy or sell any security.