General Electric (NYSE: GE) stock definitely qualifies as a battleground stock. The company has undergone a complete transformation from a financial company to an industrial pure play. Nonetheless, the company has not lived up to Wall Street expectations. Even so, the future prospects for the company look bright for several reasons. This has caused the bulls and bears to take up sides.
Current Chart
Source: scottrade.com
What's more, the charts are indicating the stock has reached coiled spring status. This means the stock may be about to break out or break down significantly in the near future. In the following piece I provide my take on the current situation for dividend growth and income investors.
Identifying breakout candidates
Identifying breakout candidates is nothing new for investing veterans. The approach was established by renowned traders such as William O'Neal and others. Properly identified breakout stocks may offer a worthwhile return on investment quickly, possibly in one to seven sessions. One key indicator is a Bollinger band width squeeze.
Bollinger bandwidth squeeze
The stock is currently experiencing a Bollinger band bandwidth squeeze. A squeeze candidate is recognized when the bandwidth is at a six-month low value.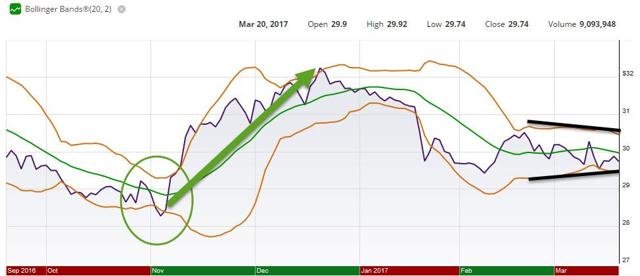 Source: scottrade.com
When Bollinger bands are far apart, volatility is high, and when they are close together, it is low. A squeeze is elicited when volatility reaches a six-month low and is recognized when Bollinger Bands reach a six-month minimum distance apart. The key is to identify the direction of the breakout.
Breakout or breakdown?
There can be several reasons for stocks to breakout or breakdown. To properly identify whether the stock is going to breakout or breakdown, it is prudent to identify future catalysts on the horizon. As far as General Electric's stock goes, I'd say a breakout is the next move for the stock. Here's why.
Recent sell off presents buying opportunity
The stock is down nearly 5% year to date. Nonetheless, I see shares climbing higher throughout 2017 as the synergies of the company's recent transactions and new initiatives take hold. What's more, I believe in the company's longevity. General Electric creates opportunities where others see obstacles. This ability to "invent" opportunities will allow the company to survive in the lean times when others may not.
Management shakeup
Many have been clamoring for CEO Jeff Immlet to step down for quite some time. The calls for Immelt to step down began nearly two years ago when the company essentially dove headfirst into the oil and gas business just prior to the major downturn in oil began. I submit this was the final nail in the coffin for Immelt.
Presently, I believe the odds of Immelt stepping down have increased exponentially. Furthermore, I believe this will be seen as a definite positive by market participants. Even so, the company is still well-positioned to return capital to shareholders based on a solid growth story.
Solid long-term growth story
I fully expect emerging markets to be a huge engine of growth due to demand for the company's infrastructure products. General Electric's shift toward industrial operations has opened up a plethora of opportunities for the company across the globe. This should underpin the company's results for some time to come. I have no reservation General Electric will be around to pay dividends for a long time.
For example, according to the company's recent presentation at the 2017 JPMorgan Aviation Transportation & Industrials Conference, GE Aviation will be one of the primary drivers for growth on a go forward basis. GE Aviation has about 44,600 employees worldwide at 85 sites (47 in U.S.), including more than 25,000 U.S. employees (16,500 in the U.S. supply chain).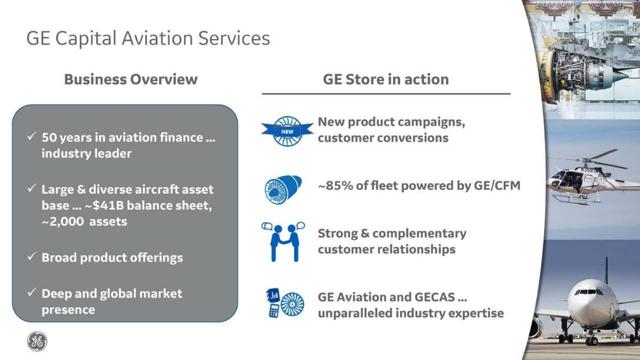 Source: ge.com
The division has an industrial backlog of more than $150 billion, while its joint venture CFM International collectively has a backlog of more than 15,000 jet engines. This helps me sleep very well at night.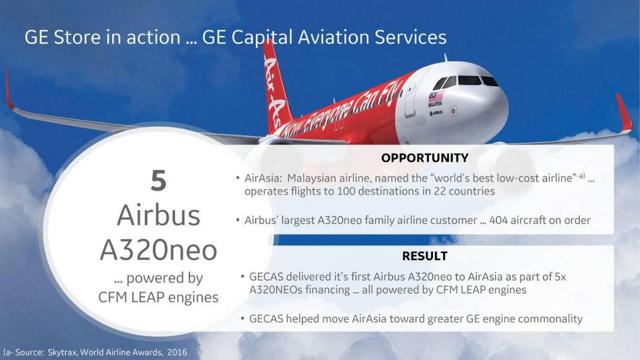 Source: ge.com
Furthermore, the company continues to be focused on return of capital to shareholders.
Focused on return of capital to shareholders
Despite the ups and downs of the stock market, General Electric has paid a dividend every quarter for the last 100 years. The company returned a whopping $30 billion in the form of dividends and buybacks in 2016 and over $130 billion in dividends since 2000 to its shareholders.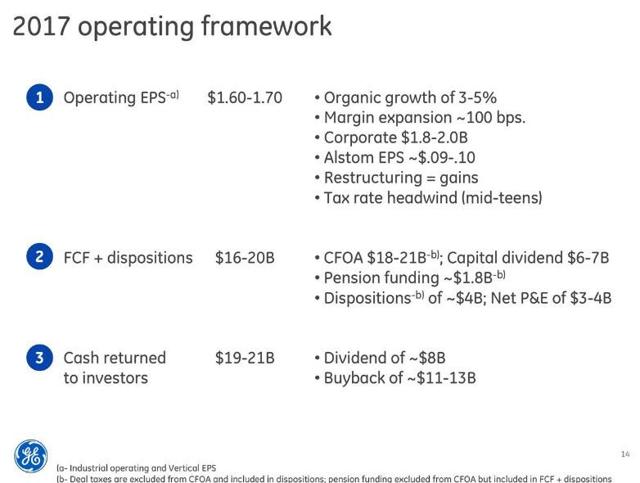 Source: ge.com
The company estimates it will return $20 billion to investors in 2017 in the form of dividends and buybacks as well. What's more, the company has increased the dividend 140% since 2009.
General Electric dividend growth

Source: dividend.com
What's more, the General Electric's current dividend yield of 3.23% is much higher than the 1.81% yield provided by other conglomerates. Moreover, stock is undervalued on a relative basis as well.
This may provide dividend and income investors the opportunity for capital gains on top of the solid dividend yield. This makes it an excellent total return opportunity. Furthermore, the company's EPS growth estimates look solid and may be in for a boost.
EPS growth is key
Currently, earnings per share growth is strong at 7.8% quarter-over-quarter. The earnings per share of a company is conceivably the most important statistic to understand before investing in a company's stock. Whatever is not paid out in the form of dividends is placed into the retained earnings, which then becomes a source of capital that can be used to help support the growth of a company and/or return capital to shareholders.
Moreover, President Trump's policies regarding corporate tax reform, potential repatriation of overseas cash, and focus on deregulation have not been factored into the stock. The company has not upped guidance based on these potential catalysts. The stock is undervalued on a relative basis
Stock Undervalued
General Electric has the lowest forward P/E ratios of the five largest industrial conglomerates at 15.70.

Source: finviz.com
The low P/E ratio is telling. The company is currently unloved. I submit this is due to Immelt's penchant for over-promising and under-delivering. It remains to be seen if the company can deliver the 3-5% growth he promised by Immelt. General Electric needs to execute perfectly to achieve the lofty goals set by Immelt. Nonetheless, I see him getting a big helping hand from the Trump administration in the form of tax and regulatory relief. Nonetheless, there are always downside risks.
Downside Risks
- Geopolitical risks
Geopolitical uncertainty remains a concern as Trump seems to be shooting from the hip regarding foreign policy decisions. I have never felt more uncertain of the outcome regarding geopolitical risks than I do right now. It seems as though our adversaries across the globe are pushing the envelope in order to test Trump's resolve. The recent dust up regarding North Korea is an example. Not a good situation if you ask me.
- Macroeconomic risks
General Electric's future growth plans are highly leveraged to China and Europe. The company has made several major investments in China. If something goes awry with US/China relations based on a trade war developing, this will not be good news for General Electric. Furthermore, any further negative developments in Europe could throw a monkey wrench into the company's hopes for growth.
- The market is price to perfection
Macro-economic and geo-political uncertainty and the markets are all at all-time highs. At the same time, the Fed has begun to pull the safety net out from under the markets. The issue is the markets seem to not care, until they do. Market sentiment can and will turn on a dime.
Conclusion
General Electric's forward PE ratio of 15.70 is well below those of its peers and indicates investors are not willing to pay a premium for this stock. There are many non-believers regarding General Electric's future prospects and negative sentiment against current management is great.
Nevertheless, I believe this has created a major buying opportunity in the stock for prospective dividend growth and income investors. General Electric has an excellent track record for returning capital to shareholders. The company has only cut the dividend twice in its history, during the great depression and recession. The company's focus on return of capital to shareholders coupled with a strong balance sheet and backlog offers an attractive buying opportunity for dividend investors presently. Factor in the potential upside from Immelt stepping down and Trump's pro growth policies and you have a recipe for outstanding returns. Those are my thoughts on the subject. I look forward to reading yours.
Do you think General Electric offers dividend and income investors a value trade or trap presently? Is the stock about to break out or break down? Please use this information as a starting point for your own due diligence and always consult an investment advisor prior to making any investment decisions.
Note: If you found this article interesting, please click on the follow button below. I would greatly appreciate it.
Disclosure: I am/we are long GE.
I wrote this article myself, and it expresses my own opinions. I am not receiving compensation for it (other than from Seeking Alpha). I have no business relationship with any company whose stock is mentioned in this article.