PepsiCo (NYSE:PEP) is a large stock with relatively stable earnings. This defensive company is making progress on a lot of fronts and is expected to see earnings growth in the near future because of it. The stock is very attractive as a defensive pick for investors. But after having already seen a significant upside movement, it gets more and more risky to open a new position in the stock.
Downward trend inrevenue partly due to Venezuela
At first sight PepsiCo may not look like it is performing as desired by investors. A quick look at the company's revenue from the past few years shows a somewhat disturbing trend.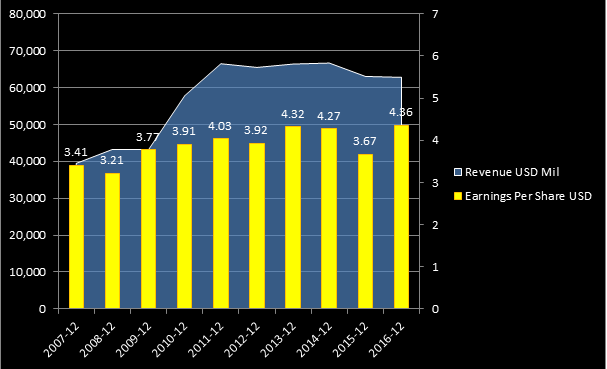 Since 2011 management has been unable to spur revenue growth, while also being unable to generate significant and steady EPS improvement. In this same period PepsiCo's shares have more than doubled in value. While this is far from a desirable chart of revenue and EPS, I would not worry too much about this company's future.
Deconsolidation of Venezuela is over
While the revenue has stagnated for the last couple of years, more recently this was for a large part due to the situation in Venezuela. Over the past fiscal year PepsiCo saw its Latin American revenue decline by about 17%, which is mostly due to the deconsolidation of the Venezuelan business. The Latin American business made up 13% of PepsiCo's revenue in fiscal year 2015, but has now declined to less than 11% in fiscal year 2016.
PepsiCo switches to healthier markets
PepsiCo's management sees this lack of revenue growth as a problem as well and understands that it has to work on improving both its top and bottom line.
One of the ways it is attempting to do this is by investing in the creation of healthier products, since people are getting more conscious about what they eat and drink and try to live healthier lifestyles. So the focus for the future is on healthier products. Of course the company is mostly known for its soda, but investors know that PepsiCo is much more than just a soda producer. Its Pepsi-Cola brand accounted for only 12% of total revenues in fiscal year 2016.
The company has a wide variety of food and beverages brands and keeps diversifying these. In order to make their existing products healthier and to bring more healthier food and beverages on the market, the company spends a significant amount on R&D. Since 2011 this amount has grown approximately 45%. Over the past five years the company has spent $3.5 bln in total on R&D, food quality and safety initiatives. This has led to the creation of new healthy products but also to making its existing products healthier.
We are not just seeing expansion of healthier products because of more R&D. PepsiCo is also looking for acquisitions of already well established brands in order to grow its own business. For example, past November, the company acquired Kevita, the maker of probiotic drinks.
Management is positive
Management seems to be very positive about the results it is seeing from investing in healthier products as was evident from the fourth quarter earnings call:
Meanwhile, we saw great momentum across our nutritious and functional beverages. Naked Juice is on its way to being our next $1 billion brand, while Tropicana launched Tropicana Essentials Probiotics, making it the first brand to bring probiotics to the mainstream juice consumer. Gatorade Frost exceeded $1 billion in measured retail sales, pushing Gatorade over a high watermark of $5 billion in measured retail sales. And our Russia team launched a new J7 apple juice that delivers all the fiber of a single apple in every glass.

At the same time, we grew our portfolio of healthier snacks with Quaker Breakfast Flats, a snack we plan to roll out in more than a dozen countries over the next two years. We are building on the success of Baked Lay's by broadening our lineup of baked products. And we're expanding Sabra, a brand that generates roughly $800 million in estimated annual retail sales.
The company is making great progress on this front. This is a good sign, as it would not be able to generate significant further revenue growth if it did not recognize the increasing demand for healthier products.
Lower costs
Besides expanding business and the number of brands, management is working on bringing down its cost structure as well in order to improve its margins. Now this is not anything new but the company is still seeing progress on this front. Thus far the productivity plan has resulted in $1 bln in annual saving since 2012. This trend is expected to continue for fiscal year 2017. Operating margin has improved by 1.40% over the past three years as a result of the plan. Besides working hard on finally generating revenue growth once again, we can see efforts in optimizing its profitability, resulting in higher earnings. We have already seen this in the most recent year when revenue did not grow, but EPS increased from $3.67 to $4.36.
Future earnings trend
Because of the progress that the management has made in shifting to healthier food and beverage markets and the lower cost structure, I believe we will see the company deliver further top and bottom line growth from now on. The deconsolidation of business in Venezuela is complete, PepsiCo is focusing on healthier markets with success, and we are seeing progress in improving its margins.
Management sees it the exact same way. In the most recent earnings release management guided for fiscal year 2017 organic revenue growth of 3% while it expects EPS to grow 8% constant currency.
Returning cash to shareholders
Pepsico's management announced during the earnings call of the fourth quarter that they would increase their annual dividends once again. The dividend will be raised from $3.01 per share, to $3.22 per share. This means a 7% increase and will be the 45 th consecutive year of raised dividends. At the current share price the yield would be 2.9%. Over the past five years approximately $38 bln has been returned to shareholders by way of dividends and share buybacks. In the most recent fiscal year $7.2 bln was returned to shareholders. To me returning cash to shareholders is especially important for large companies such a PepsiCo. So it is good to see the amount spent on shareholders grow annually.
Troubling Debt/Equity
Beside the stagnation of the revenue since 2011, there is something else that might look worrying to investors at first sight: the company's Debt/Equity ratio.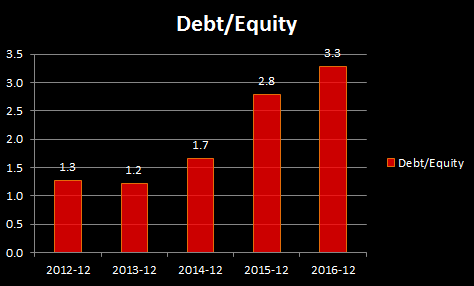 The past few years we have seen equity decline, while debt kept growing. This resulted in a Debt/Equity ratio of 3.3 at the end of fiscal year 2016. The most troubling about this is that this has happened in a period where there was no earnings growth, implying that the company had to take on more debt simply to sustain its business. And while it is nice that the company returns a significant amount of money to its shareholders every year, it is not good to see the Debt/Equity ratio increase so heavily in the same period. Some might think that it would be better to spend money on improving the debt position. A failure to turn this trend around could be very detrimental for its balance sheet. And with rising interest rates, its costs could go up significantly in the future, causing additional pressure on its bottom line.
But I personally do not believe that management would let it go so far up to a point where it would cause serious harm to its business. As I mentioned earlier, the company is expected to be more profitable from now on. Besides that the company already generates a FCF of $7.37 bln annually, which will increase along with earnings. If it got in trouble it could perhaps lower the share buybacks and have more money to lower its debt. So the current debt position might not look good for a company like PepsiCo, but it is not disturbingly high. It will not bring the company in danger.
Valuation and Conclusion
Despite the fact that PepsiCo is a giant with great brands, a good market position and is expected to grow revenue and net income considerably in the future, I would not necessarily recommend buying shares at the current price. The shares currently trade at an all-time high at a P/E of 25.5. Although the industry average is still about 26.8, I prefer to get in at good discounts, which is currently not the case. Its P/B ratio however, is currently almost double that of the industry average. PepsiCo's shares trade at a P/B of 14 vs an industry average of 8.
Despite its attractive dividend yield of 2.9% with ever increasing dividends, its share buybacks and improving earnings, PepsiCo's shares are not valued at a level where I would suggest you open a position. If you are interested in opening a position my advice would be to wait for a pullback before you commit money. Investors that already own shares would be right in holding these as PepsiCo is still a good stock for the longer term.
Disclosure: I/we have no positions in any stocks mentioned, and no plans to initiate any positions within the next 72 hours.
I wrote this article myself, and it expresses my own opinions. I am not receiving compensation for it (other than from Seeking Alpha). I have no business relationship with any company whose stock is mentioned in this article.