Retail Sales
Retail sales were disappointing in February, posting a gain of just 0.1% for the month, while sales rose 0.2% when automobiles are excluded. Auto sales, which account for approximately 20% of total retail sales, have now declined for the past two months. The strength in this report was led by the building material and garden equipment categories, likely due to the seasonally warm weather. I can attest to this after making two trips to Home Depot (NYSE:HD) during the month to purchase yard supplies for the spring.
The good news in this report was that January sales were revised upward from 0.4% to 0.6%, which means that the sales figures look a lot better when we average the first two months of the year. Still, if auto sales continue to decline, which is my expectation, it will pressure overall sale growth. Half of the year-over-year growth in retail sales is attributable to autos and gasoline while there is very little growth in discretionary spending categories.
The core retail sales figure, which excludes the more volatile auto and gas sales data, was up just 0.1% for February. This is the number that is used to calculate the increase in consumer spending on goods in the GDP report.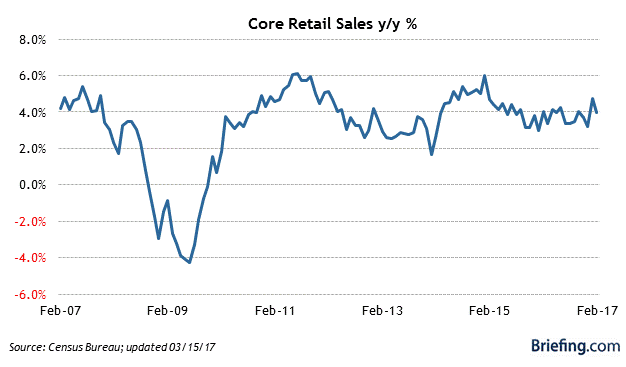 Industrial Production
Industrial production was flat on a month-over-month basis in February due to a 5.7% decline in utility output, but the weak headline number masks the continued strength in manufacturing, which rose 0.5% for a second month in a row. Mining also increased for a fifth consecutive month, rising 2.7%. Overall industrial production is now up a modest 0.3% on a year-over-year basis.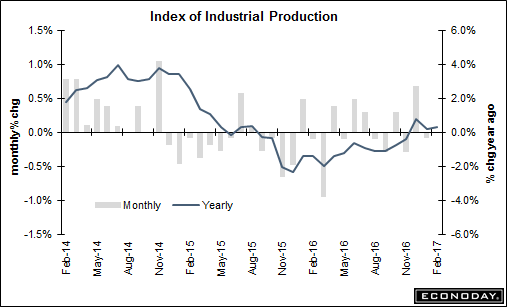 The capacity utilization rate remains at just 75.4%, which is 4.5% below its long-term average. This indicates limited need for additional capital investment moving forward.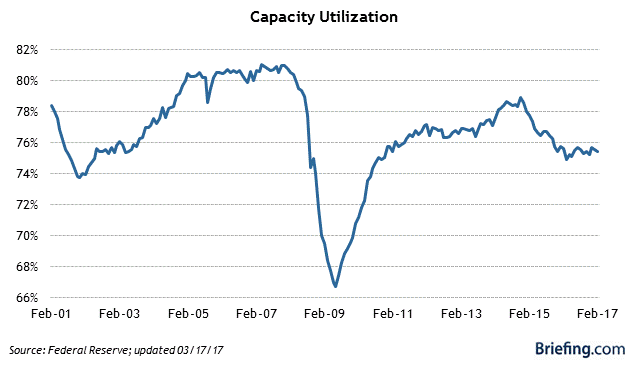 Our main concern is that a major source of the increased demand in the manufacturing component of the industrial production report is automobiles. If assemblies continue to rise as sales slow, then inventories will build, leading to slower rates of production later this year.
Business Inventories
Total business inventories, which include those of retailers, wholesalers and manufacturers, increased 0.3% in January, while business sales rose a more moderate 0.2%. The inventory-to-sales ratio remained at 1.35, which is the lowest level since December 2014. Again, rising autos inventories at dealerships are a potential headwind in this report, as the largest contributor to the inventory increase was motor vehicles and parts, which rose 2.4%.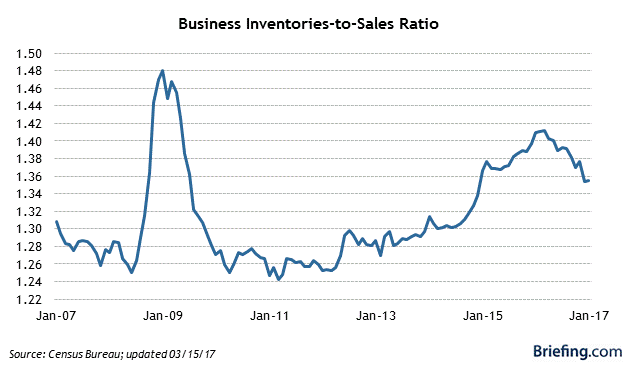 Home Construction
Housing starts rose 3.0% in February to a seasonally-adjusted annual rate of 1.28 million. The current run rate of homes under construction in the first quarter is 2.9% above the fourth-quarter average, which means that it will contribute to growth in the first quarter. The housing market remains on track for a slow and steady recovery. Our focus remains on the health of the lower-end of the market, as existing homeowners need to sell their homes to first-time home buyers so that they can upgrade to higher priced homes.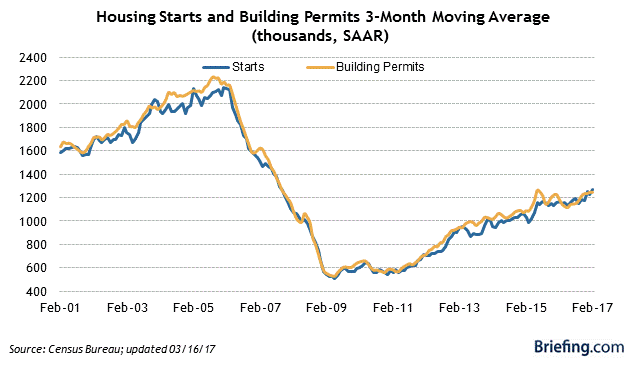 On that front we are watching how tighter financial conditions may impact home demand at the low end. Last month I pointed out that mortgage delinquencies for FHA loans, which are primarily used by first-time home buyers, rose in the fourth quarter for the first time since 2006. This increase was driven by loans made since 2014.
Consumer Price Index
The CPI rose 0.1% in February, and is now up 2.7% on a year-over-year basis, while the core index, which excludes food and energy, rose 0.2% and is up 2.2% on a year-over-year basis. What received very little coverage in conjunction with this report was that inflation-adjusted income declined on year-over-year basis for the second month in a row.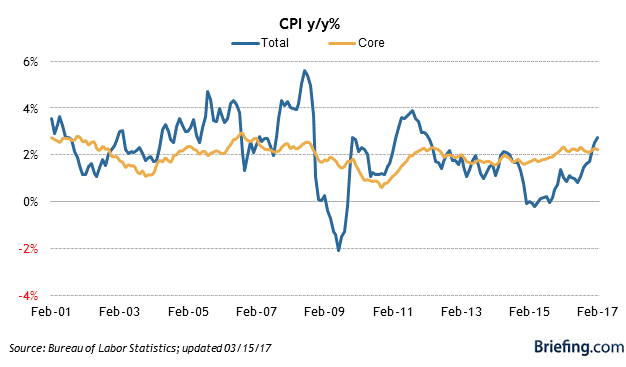 The cost of living is now rising at a faster rate than income for the majority of American households. This is revealed in the real average hourly earnings report for all employees, as can be seen in the chart below. Weekly pay, which accounts for the change in the number of hours worked, declined 0.3% on an inflation-adjusted basis in February. This is down from a 1.1% growth rate in February 2016 and a 2.4% growth rate in February 2015.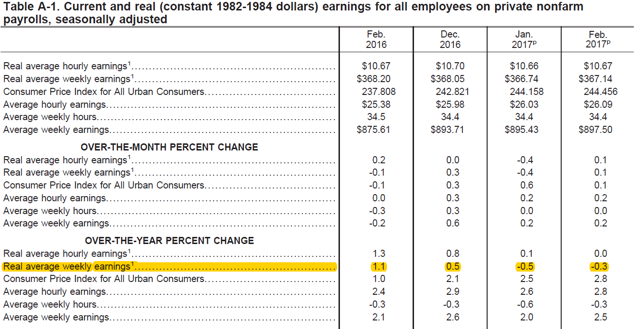 Conclusion
Declines in real income lead declines in real consumer-spending growth, which is what accounts for two-thirds of our overall rate of economic growth. We think that the recent decline in real income will result in slower rates of retail sales growth, led by a continued decline in auto sales. Yet consumer confidence levels remain near all-time highs, so something must give. We expect confidence to deteriorate through the remainder of this year, as consumers realize that very little of what has been promised on the fiscal stimulus front comes to fruition in 2017.
Disclosure: I/we have no positions in any stocks mentioned, and no plans to initiate any positions within the next 72 hours.
I wrote this article myself, and it expresses my own opinions. I am not receiving compensation for it (other than from Seeking Alpha). I have no business relationship with any company whose stock is mentioned in this article.