When I invest in public companies, I tend to always look for insider buys or well-known investors taking a big stake of the company, which confirm my long thesis. With Enphase (NASDAQ:ENPH), I carefully did my due diligence for several months, looking into SEC filings, financial statements and reading pro versus anti Enphase articles trying to get the full picture as I'm not a solar industry expert. Furthermore, I also looked at SolarEdge (NASDAQ:SEDG) financials.
When TJ Rodgers and John Doerr came on board, it became obvious to me that Enphase was going to crush it in the future and that 2017 will be the year of a strong comeback. I'm going to explain why in this article.
The bad
First let's start with the bad. Enphase has experienced a challenging FY 2016 as SolarEdge ate their lunch with competitive products (such as the HD wave inverter). The Israeli based company delivered strong results with sales having increased by 50% from $325M in FY 2015 to $489M in FY 2016. They also generated a lot of cash (cash balance of $223.41M) while Enphase has been issuing stocks and securing new credit lines to keep the boat afloat for FY 2017, while investing significant amount of R&D into new innovative products such as the AC Battery and IQ6/IQ7.
As a result, Enphase's gross margin suffered the most, having decreased from 23.92% in Q4 2015 to 17.92% in Q4 2016 because the company has experienced pricing pressures. In the meantime, SolarEdge's gross margin increased from 30.91% in Q4 2015 to 35% in Q4 2016, which points out the company's superior manufacturing process and lower cost products.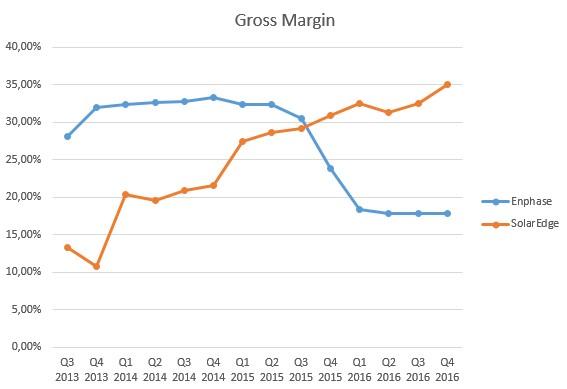 Source: 10-Qs, Kasteel Research
The good
Nevertheless, everything is not rosy for Enphase. I notice some positive signs of an early comeback for the California based company. Looking into warranty costs as a % of total sales shows a positive trend for Enphase (and a worrying one for SolarEdge shareholders). In fact, warranty costs as a % of total revenues have been decreasing quarter over quarter, from 46.54% in Q4 2015 to 25.19% in Q4 2016, which represents a significant move down. It can be explained by Enphase superior reliability for its microinverters (IQ5 & IQ6). I won't elaborate more on why microinverters are more reliable as SA Author TJ Roberts has explained it in his informative articles. For those interested, you can have a look at Enphase's website. Moreover, I expect this trend to continue going forward as the IQ7 is rolled over in the market. With higher reliability and lower cost, I expect the IQ7 to be a homerun.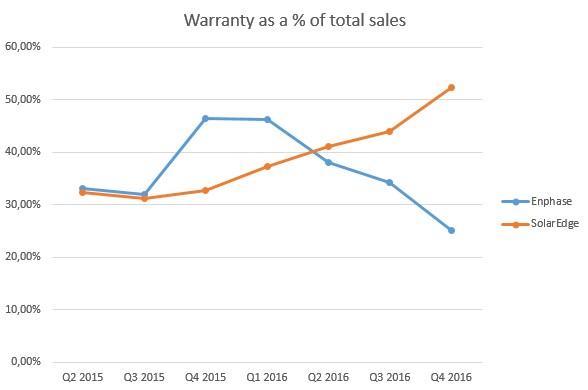 Source: 10-Qs, Kasteel Research
On the contrary, the Israeli-based company has seen its warranty costs as a % of total sales skyrocketed from 32.76% in Q4 2015 to 52.35% in Q4 2016, which shows that something must be wrong somewhere. The products are selling very well (total sales increase quarter over quarter) but warranty costs increase faster than that. Why? Maybe SolarEdge's string inverters are less and less reliable? Older products fail more often? Maybe the company did not invest enough R&D to build and test its products and is now stuck with higher failure rates. Let's have a look at R&D spending as a percentage of total sales.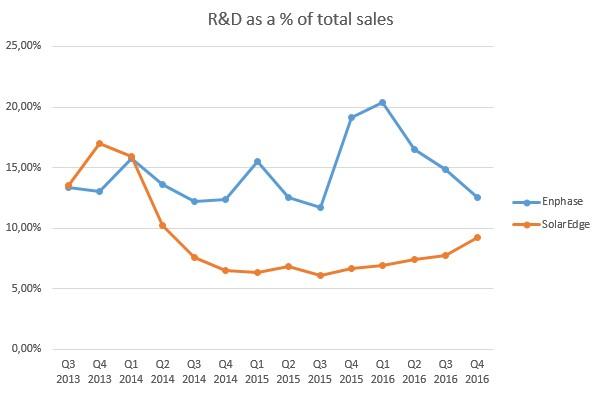 Source: 10-Qs, Kasteel Research
We can see that Enphase has been investing more in R&D than SolarEdge in the last few quarters. In absolute terms, Enphase spends more ($11.378M in Q4 2016 vs $10.344M for SolarEdge in Q4 2016). Thanks to that, the company built highly reliable products (IQ6) and also releases new innovative products such as the AC battery which open opportunities to significantly increase top line going forward. AC batteries represents a compelling market opportunity, and even Tesla (NASDAQ:TSLA) has jumped on it.
On the contrary, SolarEdge has made good money and generate a lot of cash ($52M of operating cash flow and $36M free cash flow) but in my opinion, the company has underinvested and will now have a difficult time to compete against Enphase's new microinverters.
A look at valuation
Enphase is cheap and the market seems to not realize it. The stock is still trading in the same range as 2016 while the financial picture is much better. I acknowledge that the company is still not profitable but that is going to change. In 2016, the company had serious going concern issues. Now, the story is different but the share price still does not reflect it. In fact, the company is still priced for bankruptcy. The market doesn't realize that CEO Paul Nahi took necessary steps to reinforce the financial structure and enhance the liquidity needs of the company.
Now that the restructuring has been done, he can focus on execution: increase sales and gross margin. I do believe the company will be able to achieve that and become profitable in Q3 and Q4 2017. Here is a snapshot of my views on it. I expect the company to report a non-GAAP EPS of $0.02 in Q3 2017 and $0.07 in Q4 2017. An EPS of $0.07 translates into $4.3 million net income based on 62M shares and represents a net profit margin of 4% based on sales of $110M.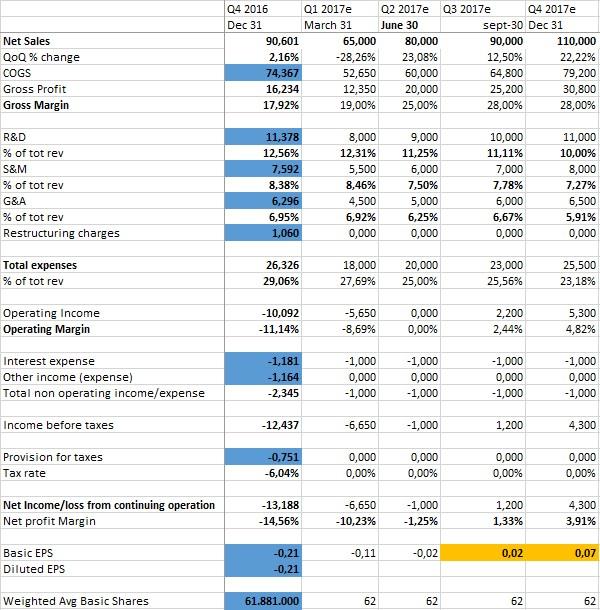 Source: 10-Qs, Kasteel Research
To demonstrate that the company is undervalued at $1.4 per share, let's make some basic assumptions. If I annualize the EPS number, I get an EPS of $0.28 for FY 2018. If I apply a conservative multiple of 10, I get a share price of $2.8, which represents 100% upside potential. I can also point out that the industry is expected to grow in the future. Therefore, a multiple of 10 will not be appropriate to reflect for future growth opportunities. Companies with growth opportunities are often valued with 15-20 multiples, so you get the picture. Enphase is deeply undervalued here.
Conclusion
While Enphase's situation has been concerning in FY 2016, the company took significant steps to improve its financial health and continue to invest in new products. I expect significant improvements in total sales and gross margin later in H2 2017 as the company will roll over IQ7 and ramping up AC battery availability. The restructuring has been done, the company has competitive products and world class investors on board. The timing is perfect to take a position.
Moreover, Enphase is grossly undervalued at $1.4 per share. According to my calculations, the company could be worth $2.8 per share. If you do believe the company can become profitable in H2 2017, this is a great opportunity to jump in because the market haven't figure it out yet.
If you find this article interesting, please hit the "follow" button.
Disclosure: I am/we are long ENPH.
I wrote this article myself, and it expresses my own opinions. I am not receiving compensation for it (other than from Seeking Alpha). I have no business relationship with any company whose stock is mentioned in this article.
Editor's Note: This article covers one or more stocks trading at less than $1 per share and/or with less than a $100 million market cap. Please be aware of the risks associated with these stocks.