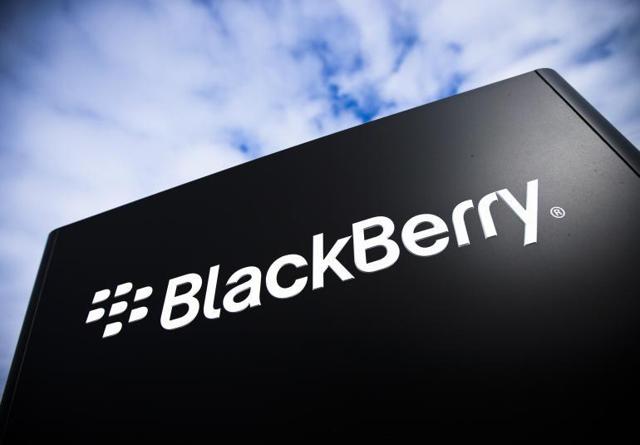 At the start of the month, I wrote an article entitled KeyOne: Unlocking BlackBerry's future. The article expressed a cautiously bullish long-term outlook for BlackBerry (NASDAQ:BBRY) based on the cost savings and operational efficiency improvements promised by the firm's new phone licensing deal with TCL.
However, we have changed our tune. Looking closer at BlackBerry's valuation multiples, it has become clear that the licensing deal doesn't solve the core problem with this struggling tech firm. BlackBerry's top line has not stabilized. And even now, after years of decline, the stock is still overvalued. BlackBerry represents a compelling short opportunity due to freefalling revenue and overvaluation.
BlackBerry's market cap is $3.7b - a 2.1 multiple of $2.16b in sales for 2016. However, BlackBerry's annual revenue growth rate is -35% YoY, and the full year revenue estimates for the next fiscal is only $978 million according to Ycharts.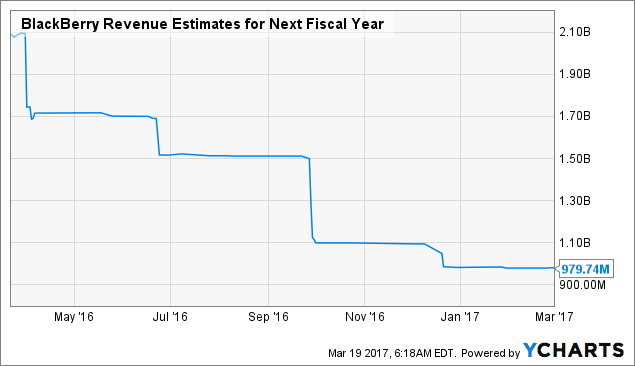 BBRY Revenue Estimates for Next Fiscal Year data by YCharts
This forward revenue estimate gives BlackBerry a forward P/S of 3.8 at the current stock price of $7.15. This forward revenue multiple is simply too expensive for a declining business.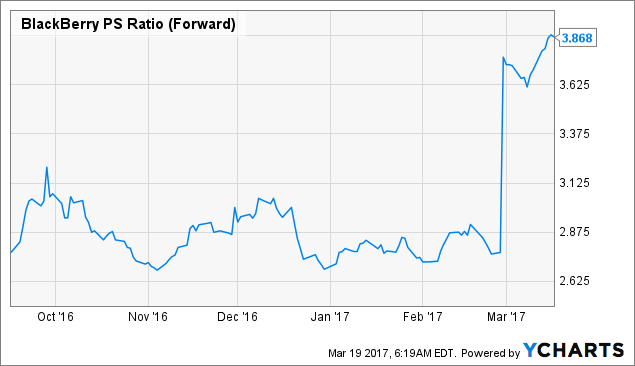 BBRY PS Ratio (Forward) data by YCharts
With a P/S of 3.8, BlackBerry would have a revenue multiple higher than Apple's (NASDAQ:AAPL), but Apple's top line is growing while BlackBerry's is in severe decline. Also, BlackBerry hasn't earned such high topline multiples since around 2010 - the struggling firm certainly doesn't deserve them now.
Even if the new licensing deal with TCL results in a smashing success regarding KeyOne sales, the actual benefit for BlackBerry may be minimal. BlackBerry has been tight-lipped regarding the numbers for these deals, and they are likely to have small margins. BlackBerry, in general, has a problem with margins, and this further supports the point that top line multiples overvalue the company right now.
For 2016, BlackBerry reported sales of $2.16b with COGS (excl. D&A) of $836m. Adjusted gross profit was $1.32b. When SG&A and R&D of $846m and $420m, respectively, are subtracted, this $1.32b becomes only $580,000.
Counter Argument
The only real threat to this short thesis is if BlackBerry's revenue stabilized this year. If this were to happen, an optimistic P/S multiple may be justified. However, there is little indication that this will be the case.
The TCL licensing deal is good because it protects BlackBerry's brand recognition, but it probably will not generate enough money to single handedly stop revenue from declining. The licensing deal helps BlackBerry's brand, but doesn't do much for its cash flow. For TCL its the opposite - the licensing deal helps TLC's cash flow but doesn't do anything for its brand.
Conclusion
BlackBerry's stock is still overvalued by topline multiples, especially the forward P/S at the current stock price of $7.15.
If BlackBerry's stock doesn't decline over the next fiscal year, the company will have a P/S of 3.8, which is higher than Apple's P/S and altogether too optimistic for a rapidly declining business with poor margins. BlackBerry stock should be avoided or shorted.
Disclosure: I/we have no positions in any stocks mentioned, and no plans to initiate any positions within the next 72 hours.
I wrote this article myself, and it expresses my own opinions. I am not receiving compensation for it (other than from Seeking Alpha). I have no business relationship with any company whose stock is mentioned in this article.