The National Oceanic Atmospheric Administration (NOAA) released its update for heating degree days (HDDs). The natural gas-weighted HDDs for the heating season through March 18th, NOAA estimates that HDDs are 17% below normal, but 1% higher than last year.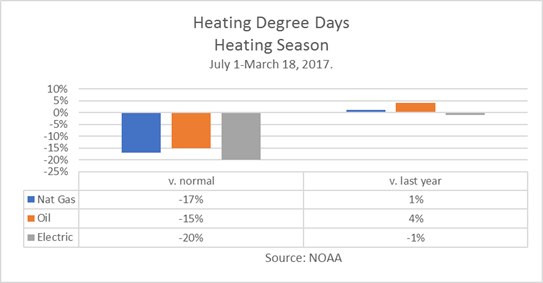 For the week ending March 25th, it forecasts HDDs will be 19% below normal and 11% lower than the same week last year.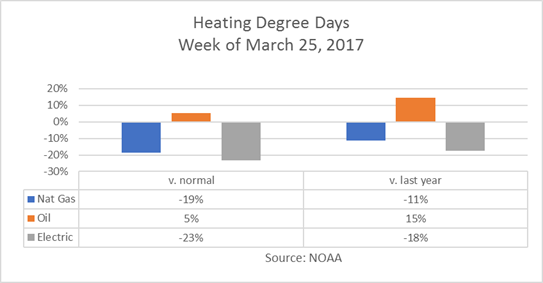 Looking ahead, market expectation for storage changes for the week ending March 18th is a draw of 161 billion cubic feet (bcf). That is very favorable compared to a build of 13 bcf last year and compared to a five-year average draw of 21. For this week ending March 25th, the storage draw expected is 51 bcf, favorable to a draw of 19 bcf last year and a 27 bcf draw over the past five years.
In the four weeks ending March 31st, the data show a drop of 231 bcf. This average is 230 bcf faster than the same weeks last year and about 182 bcf faster than the five-year average.
Storage Changes

2017

2016

5-Year

3/17/2017

-161

13

-21

3/24/2017

-51

-19

-27

3/31/2017

-24

6

-13

4/7/2017

5

-1

12

Total

-231

-1

-49
The end-of-season storage level is now expected to be 2,018 bcf. That is 459 bcf lower than last year, but 220 bcf higher than the five-year average.
End of Draw (BCF)

2017

2016

5-Year Average

Max

Min

7-April

2,018

2,477

1,798

2,482

837
Looking further down the road, the market now expects storage to peak at 3,640 bcf in the fall. That is 369 bcf lower than the same week a year ago and 221 bcf lower the five-year average.
End of Storage (BCF)

2017

2016

5-Year Average

Max

Min

3-November

3,640

4,009

3,861

4,009

3,588
Conclusions
The storage forecast over these four weeks has provided some much-needed support for natural gas prices. But I still consider the downside price risks to be significant due to the ending storage estimate.
Disclosure: I/we have no positions in any stocks mentioned, and no plans to initiate any positions within the next 72 hours.
I wrote this article myself, and it expresses my own opinions. I am not receiving compensation for it (other than from Seeking Alpha). I have no business relationship with any company whose stock is mentioned in this article.