When we talked about Nike (NYSE:NKE) around the time it reported its earnings results in December, we noted how the company had actually been performing reasonably well in the context of bad sentiment on the name. Fast forward three months, and unfortunately, we cannot say the same thing. While we still own NKE shares, we have recently reduced the quantity we own for the following reasons:
Google Trends data has deteriorated;
Under Armour (NYSE:UAA) provided very weak guidance;
adidas's (OTCQX:ADDYY) resurgence has gone from strength to strength;
Department stores have issued relatively weak guidance.
First, if we look at the Monthly Google Trends data versus the NKE share price, we witnessed significant decoupling prior to the December earnings report: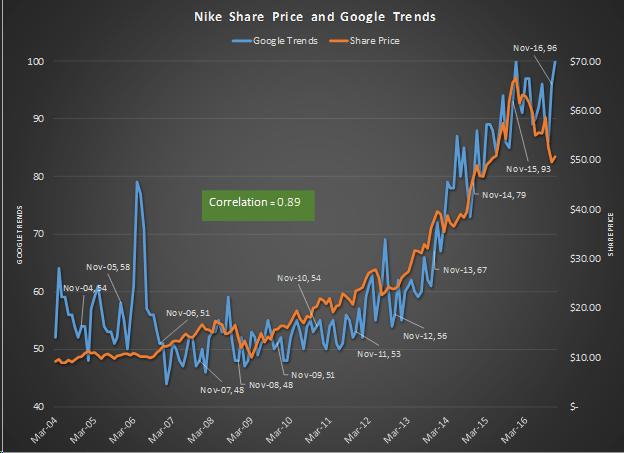 If we update that for the current quarter, the trend has reversed; the stock price has risen but Google Trends interest has declined: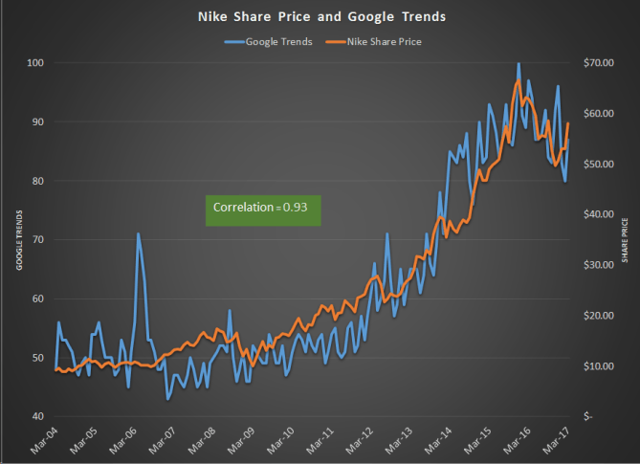 Google Trends measures search activity regarding a term so this suggests that fewer people are searching for "Nike". Moreover, the Christmas week bump that we have received in the past in weekly Google Trends data was noticeably absent this time around:
2016: Thanksgiving 100, Christmas 85
2015: 99, 97
2014: 85, 86
2013: 74, 74
2012: 59, 61
Please note that this data uses Google's in-house algorithm and is based on relative search activity. Therefore, these numbers may not reconcile if they are referred to in the future.
As a result of these data, it appears to us that the risk in the upcoming earnings report may be to the downside.
Under Armour's recent miss in revenue guidance (source: MarketWatch) suggests that either the end market for NKE is weak and/or carries the risk that UAA overbuilt inventory. This poses further risks to gross margin for NKE.
With adidas catching up to Nike in the Google Trends game, NKE appears to be facing threats from competitors that aren't abating: