I was recently asked, in the comment section of an article, about the varying investment merits of Microchip Technology (NASDAQ:MCHP) and Analog Devices (NASDAQ:ADI). This article is an answer to that question, and breaks down the two stocks' merits as potential investments.
MCHP and ADI - 5-year Share Price, Measured Against the S&P Index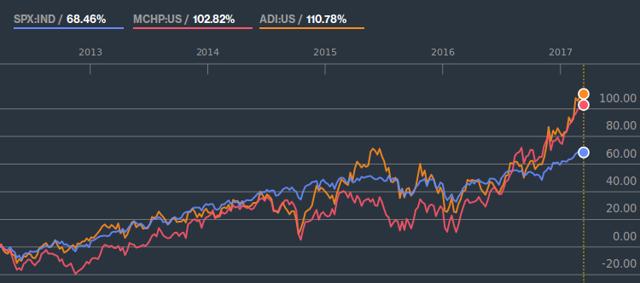 (Source: Bloomberg)
For some time now, the semiconductor space has been steadily on the up and up. In line with this trend, the two stocks that are the subject of this article, both in the long and the short term, have performed well. Illustrating this, as the above graph clearly shows, over the past year MCHP and ADI have outperformed the S&P Index.
Will Stein of SunTrust Robinson Humphrey on semiconductor investments:

There is, of course, the possibility that the global semiconductor market, with 2017 sales revenues of upwards of $346 billion, is beginning to overheat. The PHLX Index (NASDAQ:SOXX), up 53.55% in the past year, serves as an example of the sector's rising baseline values. Analyst Will Stein of SunTrust Robinson Humphrey does not, however, believe the market is overheating just yet. He suggests that there remains some room for growth. If you consider the yearly performance of four ETFs in the sector, it's hard to disagree. The iShares PHLX SOX Semiconductor Sector Index ETF, the PowerShares Dynamic Semiconductors Portfolio ETF (NYSEARCA:PSI), the SPDR S&P Semiconductor ETF (NYSEARCA:XSD), and the VanEck Vectors Semiconductor ETF (NYSEARCA:SMH) are all up over 38% year on year, with an average yearly increase of 50.4%. In fact, if you're interested in taking a position in the semiconductor market at large, these ETFs may certainly be worth further investigation. XSD, for example, holds both ADI and MCHP in its portfolio, as well as several other key industry players, including Intel (NASDAQ:INTC) and Broadcom (NASDAQ:AVGO).
4 ETFs in the Semiconductor Space - 1-year Performance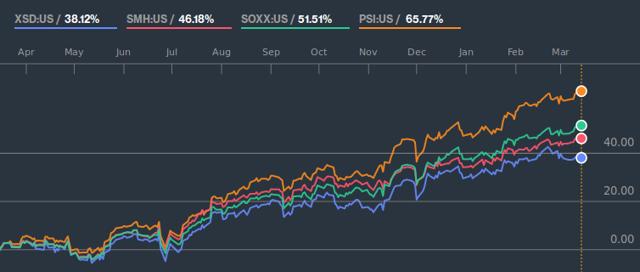 (Source: Bloomberg)
It is a truism to suggest that investing in products and services likely to be of long-term demand is a key part of driving returns, but it's worth noting that the semiconductor sector seems to fit this bill perfectly. Indeed, according to Inkwood, growth in the global semiconductor market is, for the moment at least, locked in. They anticipate that the market will grow from a value of $464 billion in 2016 to $832 billion by 2024. This marks the sector out as a rapidly growing area.
Global semiconductor sales revenue worldwide from 1987 to 2018 (in billion U.S. dollars)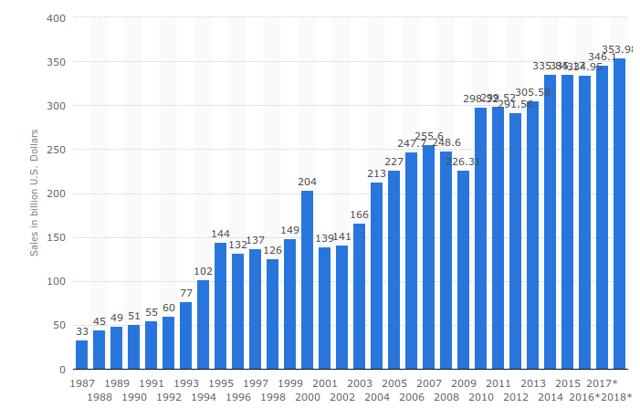 (Source: Statista)
Importantly, growth in the semiconductor sector is driven not only by the old warhorses of personal computing, but also by newer technological trends. These trends include Big Data analytics, the Internet of Things (IoT), and the increasingly popular provision of services on the cloud. Furthermore, if Inkwood's figures hold true, the semiconductor space is set to grow by an average of around 8.5% a year. With figures like these, holding a semiconductor position seems like it might be more than just an interesting idea.
The Companies
Analog Devices
SPX vs. ADI - 1-year Share Price, SPX in blue

(Source: Bloomberg)
SPX vs. ADI - 1-month Share Price, SPX in blue

(Source: Bloomberg)
Analog Devices, currently trading at $83.26 a share, is a Massachusetts based semi-conductor company. ADI has a market capitalisation of $30.4 billion, and offers healthy dividends of 2.16%. Its 1-year share price is up 44.66%, and in the year to date, this figure is a fine 14.56%. Analog's P/E ratio of 25.05 comes in below the industry standard of 44.03, which, given the company's broad-scale growth, suggests further share price growth has yet to be fully priced in. Analysts, as per figures from MarketBeat, tend to agree. Price targets range from B. Riley's $89 per share (+7%) to Stifel Nicolaus's $95 (+14%) and Credit Suisse's $100 (+18%)
MarketBeat Price Targets - ADI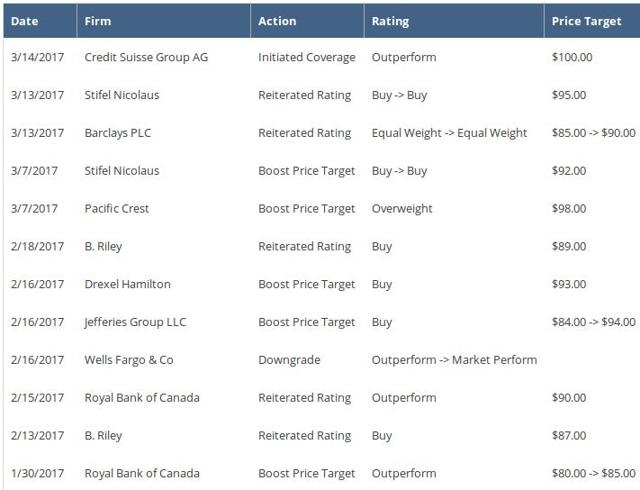 Analog specializes in data conversion and signal processing technology. It has over 100,000 unique customers, and sells its products to a wide range of companies, including those operating in the military/aerospace sector, the consumer electronics sector, and the broad Information Technology sector. ADI has a long pedigree dating back to 1965, and as with many successful companies, it originated out of a university-level meeting of minds. Its current CEO has been involved with the company since 1988, and Analog has been busy of late in terms of M&A. Very recently, it closed a deal for Linear Technology, worth some $14.8 billion. This deal expands ADI's addressable market from $8 billion to $14 billion, and it is expected to boost revenues by between $160 million and $170 million in Q2 2017.
ADI CEO Vincent Roche is upbeat about his company's recent performance

(Source: ADI Earnings Call Transcript)
Investor sentiment on ADI is bullish, with several analysts raising their price targets for the company, including the aforementioned Stifel and Barclays ($90). In fact, should Analog meet the optimistic end of available price targets and its value exceeds $100 per share, it would be the first time the company was valued so highly for almost twenty years. That said, it is important to note that short interest on ADI has jumped recently to 14.3%. Yet, with trading volume increasing, bearish sentiment may fail to bear fruit, making strong climbs for the stock potentially more likely.
Price Return Performance - 1-year ADI vs. the Market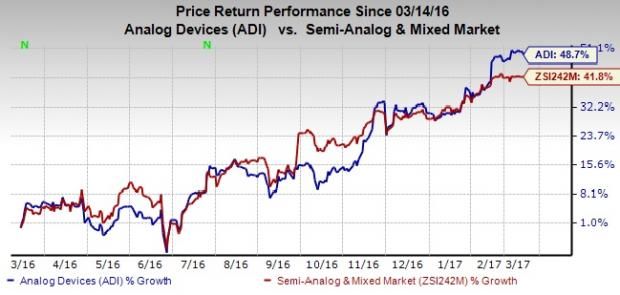 (Source: Zacks)
In terms of its R&D, an area vital for any company in a technology-based sector, Analog is certainly active in the generation of patents. This is always a positive sign. The company also appears to be consistently announcing new developments, with the most recent being an advanced accelerometer - the AXDL372 - which is designed to monitor the physical condition of high-value assets, with reliability being the product's watchword.
ADI Revenues and Income
(Source: FT.)
ADI Assets and Debts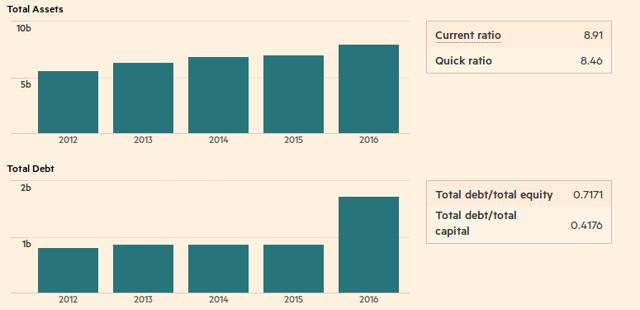 (Source: FT.)
Of ADI's financials, revenues remained flat in 2016, but net income grew by over 23%. The company has a fairly high level of debt, as does MCHP, with a total debt-to-capital ratio of 41.76%. This number is up just over 7% on the previous year's figure. Year-on-year figures for both dividends per share and EPS are quite positive, with rises of 5.73% and 25.45% respectively. This dividend growth is positive for two reasons. First of all, few companies in the semiconductor industry pay dividends. Secondly, the increase of 5.73% is quite significant, especially when compared with Microchip, which posted dividend growth of a comparably paltry 0.56%.
Dividends and Earnings Per Share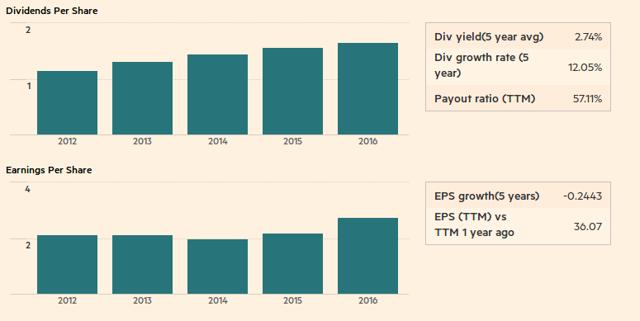 (Source: FT.)
Pacific Crest Securities analyst Michael McConnell on ADI

(Source: MarketWatch)
Indeed, in its most recently filed reports, ADI posted a lot of good news. Profits, at $0.69 a share, or $217.2 million, were up about 25% on the comparable figures from a year earlier, and whilst year-on-year revenues were flat, a quarter-to-quarter comparison sees revenues up 28%. Projections for the current quarter are also optimistic, with the company forecasting earnings per share of up to $.86 and revenue of up to $950 million. These figures have been adjusted upward by $.02 and $80 million, respectively. In light of analysts' (as polled by Thomson Reuters) predictions of per share profit of $.76 and revenue of $877.7 million, these forecast figures look even better. Additionally, last month, Analog agreed to raise its dividend by a further $0.03. These recent increases on market estimates suggest that analysts are becoming more and more bullish about the stock's short- and long-term prospects.
The FT's consulted analysts' forecast for ADI

(Source: FT.)
ADI EPS and Earnings, inclusive forecasts to 2018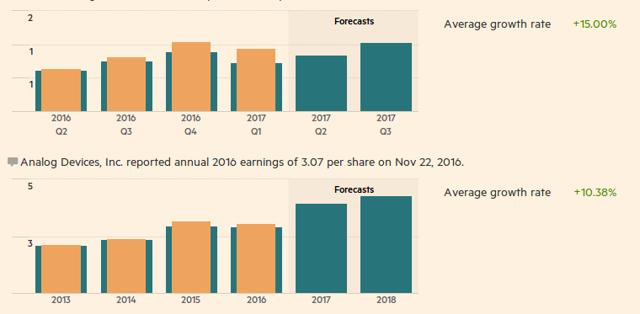 (Source: FT.)
In further positive news, in a poll by Simply Wall St., analysts have added to the bullish sentiment around ADI, expecting the company to post a 42.1% increase in earnings over the next three years and EPS growth of $4.36. Revenue predictions are also positive, with revenues expected to almost double from $3.6 billion to $6.1 billion in 2020, although Analog's return on equity remains, and is expected to remain, lower than the industry average of 22.6%, at 17.8%, rising to 19.1% in 2020.
EPS Growth Forecast - 2020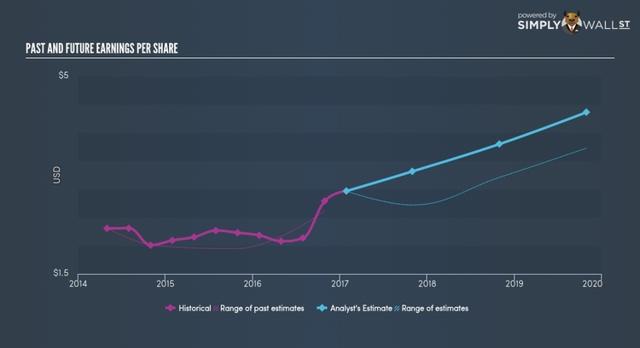 (Source: Simply Wall St.)
Revenues and Income per Quarter and Forecasts for 2017 and 2018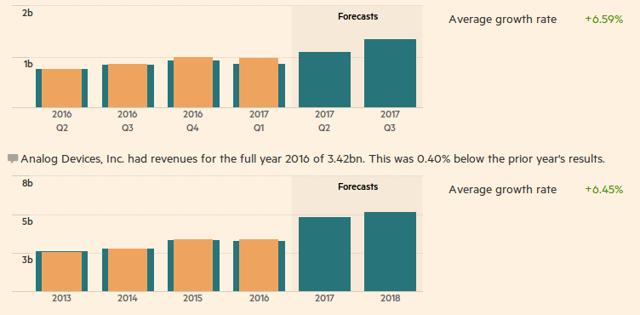 (Source: FT.)
EPS growth of 32.69%, sales growth of 27.95%, free cash flow of $2.05 per share, and profit margins of 25.14% (consistently upwardly trending), with a three-year average increase of 22.48%, appear to position Analog Devices as a strong potential investment. Finally, while ADI's debt-to-equity ratio is high (71.71%), it is a dynamic company and one seemingly set to continue its growth.
Microchip Technology
SPX vs. MCHP - 1-year Share Price, SPX in blue

(Source: Bloomberg)
SPX vs. MCHP - 1-month Share Price, SPX in blue

(Source: Bloomberg)
Microchip Technology has had a good year. The Arizona-based manufacturer of microcontroller, memory, and analog semiconductors has seen consistent share price increases over the last twelve months. The stock, trading at $74.48 a share, is up 54.91% in the past twelve months and 15.79% in the year to date. With a market capitalisation of $16.077 billion and solid dividends of 1.95%, MCHP, at first glance, seems a solid investment proposition. The company's P/E ratio is slightly above the industry standard at 44.12, indicating either that MCHP may be beginning to be overvalued or that investors are true believers in Microchip's growth story. An average price target, taken from seven analysts' projections (see table below), is $85.14 (+13%) - with potential lows, suggested by Macquarie and Mizuho, of $67 (-10%), and highs, suggested by Needham, of $100 (+26%).
Price Targets for MCHP since February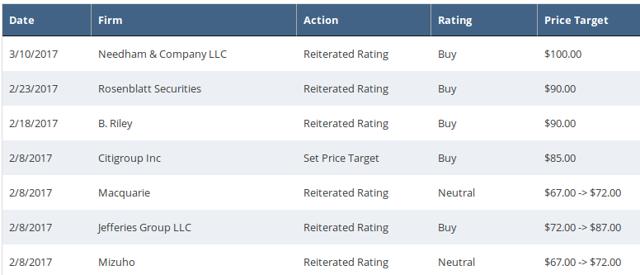 (Source: MarketBeat)
MCHP CEO Steve Sanghi is upbeat about his company's 2016 performance

(Source: MCHP Earnings Call Transcript)
MCHP, like Analog, is a specialist in the semiconductor industry. The 33-year-old U.S. company, with yearly sales in excess of $2.1 billion, ships over 1 billion processors each year. Microchip is also no stranger to M&A, having acquired several companies over the last decade, including Silicon Storage Technology (2010), Hi-Tech Software (2009), and Atmel (2016). This last purchase, whilst not without its difficulties, is beginning to become fully integrated into MCHP, and the significant sales increases generated by the Atmel acquisition are a positive. Furthermore, with Atmel on board, building and selling products in the market becomes easier for MCHP, with many of the required features for IoT device infrastructure manufacture now under one roof.
This is not to say that all views on MCHP's recent M&A activity are positive. In Atmel's last full set of independent filings, revenues were well below forecasts, and in the four years prior to its purchase, it saw yearly revenues decline by $.3 billion.
Price Return Performance - 1-year MCHP vs. the Market, up until January 2017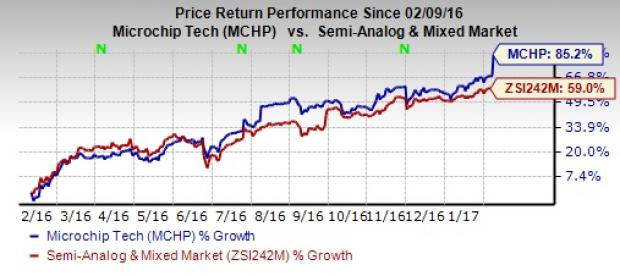 (Source: Zacks)
Microchip is a stock on which several analysts are bullish, and the company is known amongst its customers for its dependability. As earlier noted, share price targets have been raised, inclusive of S&P's (now $85), and a high medium-term valuation may be in sight, although some, including Sam Collins, formerly of Merrill Lynch, suggest that the resistance at $75 might take some time to break.
MCHP Revenues and Income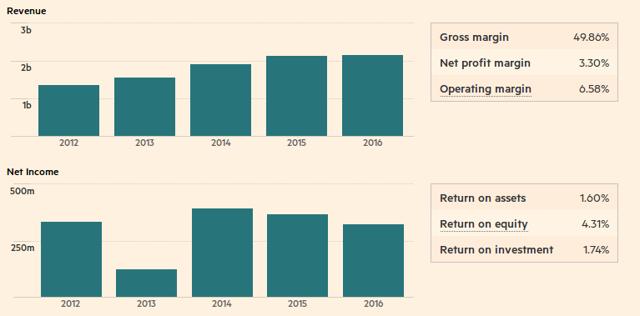 (Source: FT.)
Microchip Technology's R&D spend is a relatively healthy $132.43 million, though it is some degree smaller than the $172 million spent by Analog. That said, whilst R&D is vital for any technology company, MCHP's willingness to adopt new standards - for instance, its recently introduced support for MikroElektronika's Click Board in MCC, which reduces software development time - as well as its stable patent base should stand it in good stead in the future. Additionally, the semiconductor company does continue to bring new products to market, including its recent efficiency-improving PIC18F K42 family, which enables data transfer between chip memory and peripherals without involving the CPU.
MCHP (top) vs. Analog R&D (bottom)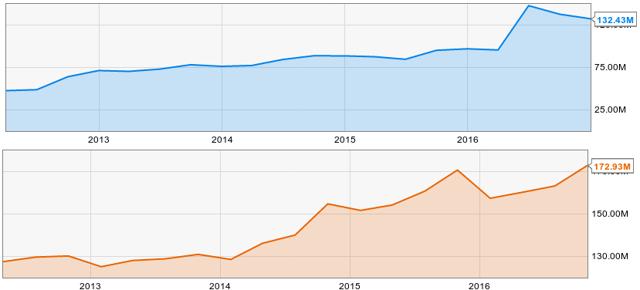 (Source: YCharts)
MCHP Assets and Debts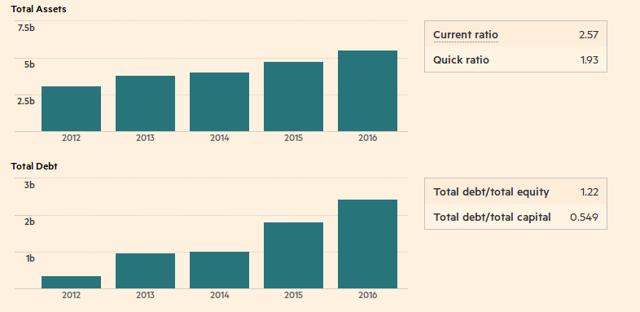 (Source: FT.)
Dividends and Earnings Per Share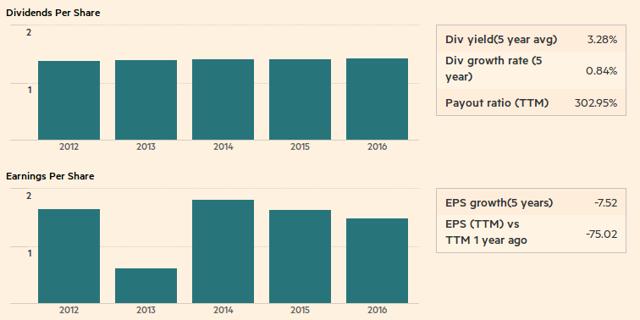 (Source: FT.)
Considering MCHP's financials, although revenues were broadly stable (+2%), net income fell by -12.16%, from $369 million to $324 million. Furthermore, whilst debt reduction seems to be being effectively addressed, with the company's debt-to-total capital ratio halved, from 113.17% to 54.9%, debt levels do nonetheless remain high. Dividend per share growth rose marginally, by .56%, yet EPS fell by -9.67%. Over the past five years, however, MCHP's dividend per share growth and EPS growth are broadly in line with industry standards.
From a more positive standpoint, Microchip Technology, in its latest reports, posted quarterly revenues in excess of original guidance and far in advance of analysts' models. Revenues came in at $881.2 million and EPS at $1.05. These figures have bolstered the Microchip bulls, with estimates, including Zacks's, raising yearly EPS forecasts by as much as $0.60, from the mid $3.60s to over $4.20. Indeed, since bottoming out in February last year at levels of around $39 per share, MCHP has been on a very positive share price run. Since January 2017, it has also always been valued above its 50-day moving average.
The FT's consulted analysts' forecast for MCHP

(Source: FT.)
MCHP EPS and Earnings, inclusive forecasts to 2018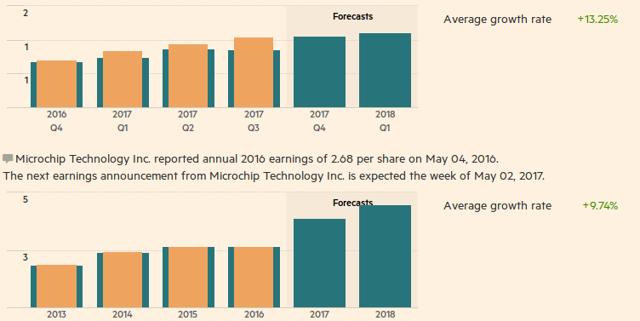 (Source: FT.)
The company's next earnings announcement is expected in May, and if recent percentage improvements continue, expect to see forecasts beaten yet again. In its most recent earnings reports, MCHP saw 3rd quarter revenues up just under 60% year on year. Concerning trends, signals, support, and resistance, analysis from Stockinvest.us suggests that Microchip is currently in the middle of a long rising trend. This analysis further suggests rises of up to 17% for the stock in the next three months. Microchip Technology is also considered to be poised between levels of support and resistance. How well the company performs over the next few weeks may determine its quarterly outlook.
Revenues and Income per Quarter and Forecasts for 2017 and 2018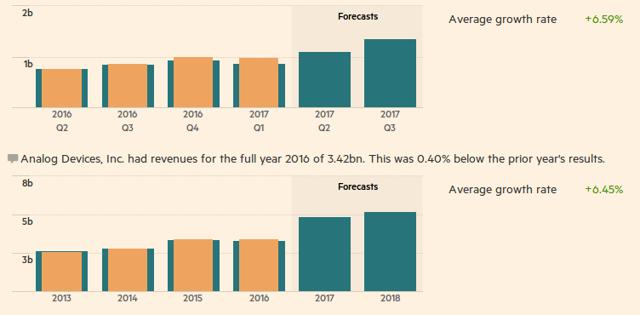 (Source: FT.)
Microchip's profit margins of 3% do not necessarily strike one as outstanding, but a profit is still a profit, and EPS growth of 64.29%, sales growth of 54.42%, and free cash flow of $1.64 per share are positive signals. However, the company's profit margins over the last three years send a different signal. Three-year profit margins show steady year-on-year reductions, with falls of around 3% per year, and current margins stand at 14.9%. Essentially, whilst there are an awful lot of positives surrounding MCHP, the figures are mixed. Potentially poor data, such as the company's falling net income, is easily contrasted with positive news, such as rising estimates for EPS per share in the current quarter. Zacks, for instance, estimates EPS figures may rise as high as $1 per share for the current quarter and $3.58 for the year. S&P agrees with this positive view on MCHP, rating the company as a "strong buy", estimating its EPS at $3.76 in 2017 and $3.97 in 2018. Analyst Hans Mosesman, an expert in the semiconductor securities sub-sector, also concurs with the positive noise around Microchip Technology, posting a price target of $90.
The bears have been consistently wrong for the past twelve months on MCHP, but the jury does seem to be still out. The bear case might yet win, but with significant momentum supporting the current share price growth, it might not. To put it simply, whilst there are significant upsides to an investment in the Arizona-based company, it may not be all clear sailing ahead.
Conclusion
Within the semiconductor industry at large, there does appear to be a broad upward trend occurring - and this is almost certain to continue, given the need for a seemingly ever-increasing number of microchips. There are still going to be winners and losers in the sector, however. Considering the merits of both Analog Devices and Microchip Technology, it is difficult to identify one as absolutely more likely to succeed than the other, and the signs seem to suggest that both companies will continue their strong starts to 2017. That said, the data that surrounds Analog is just that little bit more positive and that little bit less bumpy, but of course, positivity and smoothness do not guarantee you a winning stock. All in all, a wider investment in the semiconductor industry at large, in semiconductor ETFs, and a few targeted investments in companies, including ADI and MCHP, might be the most shrewd decision.
Disclosure: I/we have no positions in any stocks mentioned, and no plans to initiate any positions within the next 72 hours.
I wrote this article myself, and it expresses my own opinions. I am not receiving compensation for it (other than from Seeking Alpha). I have no business relationship with any company whose stock is mentioned in this article.
Additional disclosure: CFDs, spread-betting and FX can result in losses exceeding your initial deposit. They are not suitable for everyone, so please ensure you understand the risks. Seek independent financial advice if necessary. Nothing in this article should be considered a personal recommendation. It does not account for your personal circumstances or appetite for risk.