Notes for the readers
Most of the figures are based on the financial reports of Aflac Inc. (NYSE:AFL) and Cincinnati Financial Corp (NASDAQ:CINF).
The Buckeye State Or The Japanese US-Based Duck?

Source: Internal
For most of the dividend seekers, retirees, or passive investors, Cincinnati Financial Corp. and Aflac Inc. are the best-in-class listed insurers which increase their dividends gradually, rewarding the long-term investors. I am not a dividend seeker nor a retiree nor a passive investor. In the future, I would be classified at least in one of this category (especially becoming an early retiree if I have the chance to have the capital to live with the received dividends). But for the moment, the Ohio-based P&C insurer or the US's largest provider of supplemental insurance are not on my wish list.
However, I am still interested in the insurance companies and their ability to generate an extraordinary amount of cash, either thanks to a strong operating performance or an excellent capital management. And sometimes the insurers have a strong track record at the operating level and at an investing level. But at least being Warren B. or one if his spiritual heirs, insurers' top management should choose between operating performance and investment performance.
Regarding the profile of the two companies, both insurers seem to have a good operating performance, but let's have a look more deeply to see if one of them is performing better.
Competitive Position: The Growing Dwarf And The Would-Be Declining Giant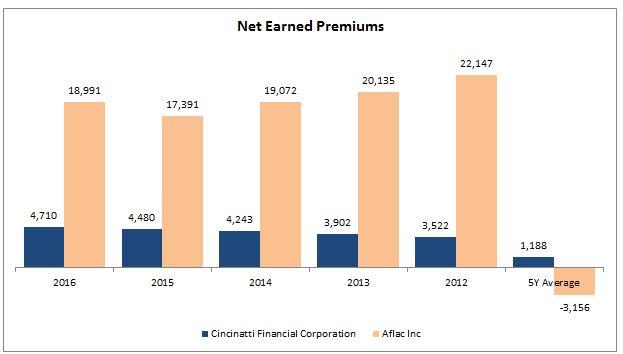 Source: Internal
Cincinnati Financial Corp. is a P&C multiline insurer which provides products for various business lines and operates mainly in the United States. On the contrary, Aflac Inc. is a leading niche insurer, only focused on one type of health insurance product, in the U.S. and Japan, which is its primary market. Regarding net earned premiums, Aflac is bigger than Cincinnati. The US's largest provider of supplemental insurance collects four times more premiums than Cincinnati Financial Corp.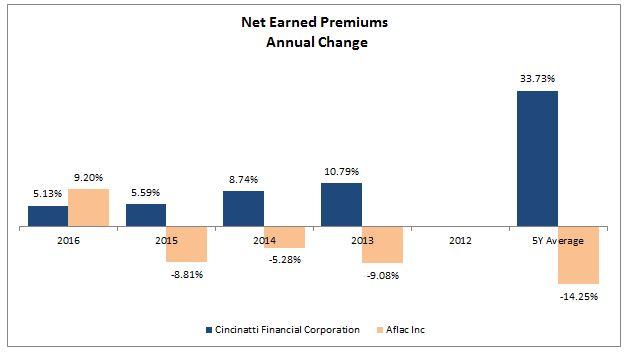 Source: Internal
However, the trend is more positive for the Ohio-based P&C insurer than for Aflac. In 5 years, the earned premiums grew by $1,188 million, while Aflac earned in 2016 $3.2 billion less than in 2012. Is Aflac a declining giant? Not exactly. As the central part of its business comes from Japan, the insurer is exposed to the fluctuations in the yen/dollar exchange rate. At a constant rate, Aflac's earned premiums increased over the 5 years, but the fluctuations in the yen/dollar exchange rate completely hid the growth of the turnover. Hence, both the insurers are growing companies, but foreign currency rate fluctuations harshly impact one of them.
Operating Performance: The Domination Of The US-based Mikado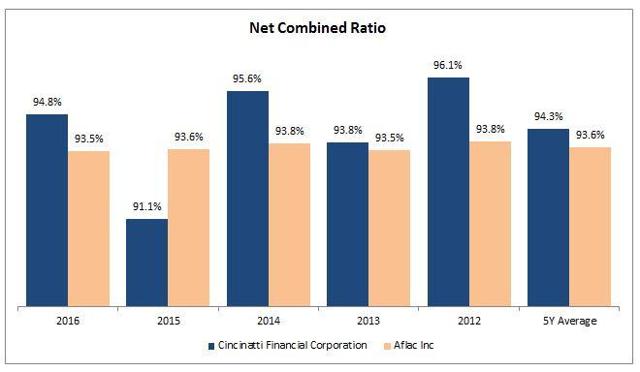 Source: Internal
At operating performance level, there is no match. Aflac wins undoubtedly. With a 5-year average combined ratio of 93.6%, the health insurer has a strong track record. Does Cincinnati Financial lose money when it writes new policies? No, it does not. With a 94.3% combined on the average, the P&C insurer monitors its business extremely well. Cincinnati's net loss ratio is even lower than Aflac's, thanks to an extensive diversification regarding lines of business (Aflac is mainly concentrated on cancer insurance policies and health voluntary supplemental insurance policies), a strong loss control practices and good standards regarding pricing methodology.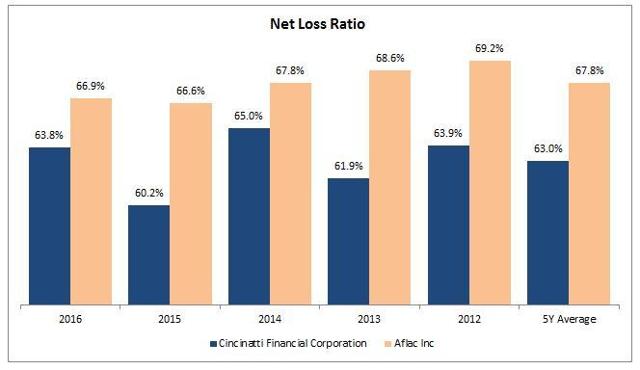 Source: Internal
However, the expense ratio is around 30%, due to the commissions paid to distribution channel and other administrative costs.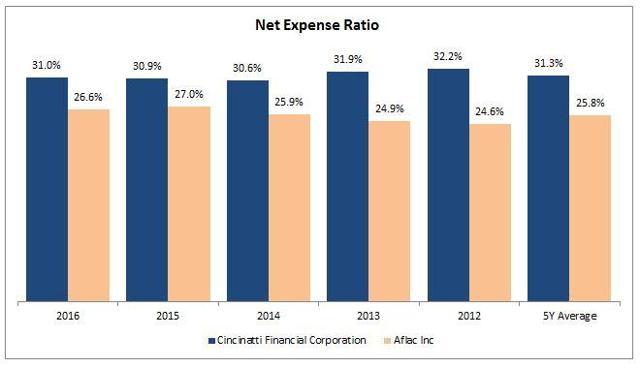 Source: Internal
By comparing only Aflac's U.S. subsidiary, we arrive at the same conclusion; with a 38% net expense ratio, Aflac's cost efficiency is lower in the U.S. than Cincinnati's. Hopefully, for Aflac, the central part of the business is written in Japan, where the company is the market leader, is very well implemented, and distributes its products through multiple distribution channels (e.g. banks, brokers, tied-agents). In the end, Aflac's Japanese subsidiary is very well cost efficient and impacts the total net expense ratio of the U.S. insurer positively.
Another thing should be pointed out: the technical result of Aflac is less volatile than Cincinnati's. Every year, Aflac delivers a combined ratio of around 94%. For the Ohio-based P&C insurer, it is not as stable as for Aflac. The main reason is that the P&C multiliner is more exposed to the catastrophes (flood, hail, wind, etc.), as it sells traditional non-life insurance products. Hence, one year could be harshly impacted by one big natural catastrophe in spite of a well-designed reinsurance program.
Regarding earnings per share, Aflac overwhelms Cincinnati Financial Corp.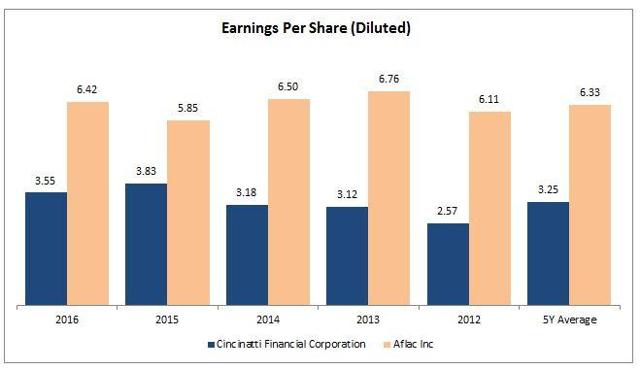 Source: Internal
The reasons are the following:
Aflac is bigger than the Ohio-based P&C insurance company and delivers a better combined ratio
Aflac repurchases a good portion of its shares every year, causing the earnings per share to increase accordingly
The investment income is higher for Aflac than for Cincinnati Financial Corp.
However, it is also important to moderate two of the above remarks. The 5-year EPS growth of Cincinnati Financial Corp. is 38.1%, while the earnings per share increased only by 5.1% for Aflac, mainly impacted by the foreign exchange rate fluctuations. Aflac Inc. remains in my view a stronger company regarding operating performance than Cincinnati Financial Corp.
Share Repurchase Program: The No-Match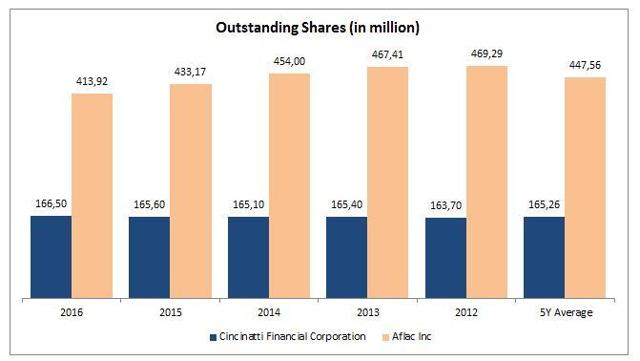 Source: Internal
By looking at the figures, it is evident that one company repurchases its shares every year, while the other one does not, and even issues new shares. From 2012 to 2016, the number of outstanding shares of the multiliner increased by 1.7%, while the niche insurer repurchased 11.8% of its share in the same period. Hence, there is no match. Aflac wins.
Dividend Policy: The No-Match, Again?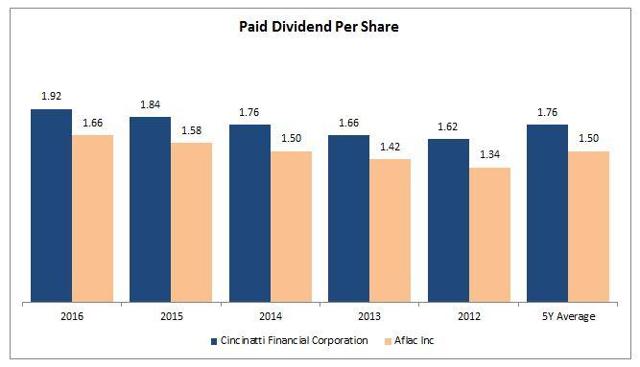 Source: Internal
Both companies are well known for increasing the annualized paid dividend almost every year. A lot of retirees, dividend seekers, and passive investors are willing to purchase shares of Aflac or Cincinnati Financial Corp., even if both stocks are overvalued because they know the capital allocation of these companies is focused on rewarding the long-term shareholders. But is one of the companies more generous? Definitely yes. On an absolute basis, Cincinnati pays a higher dividend than Aflac does. However, Aflac has two advantages compared to the Ohio-based insurer:
Aflac's payout ratio is lower than Cincinnati's. In other words, Aflac has more leeway either to increase its dividend or to smoothen a decrease of its results due to a deterioration of the claims situation.
With a 5-year average payout ratio of 57.0%, Cincinnati should deliver better results year after year to avoid drawing down cash reserves.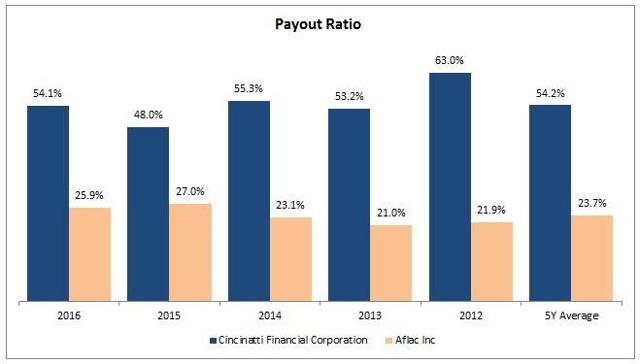 Source: Internal
Another thing which should be pointed out is related to the dividend growth. With 23.9% 5-year growth, Aflac is more regular than Cincinnati is.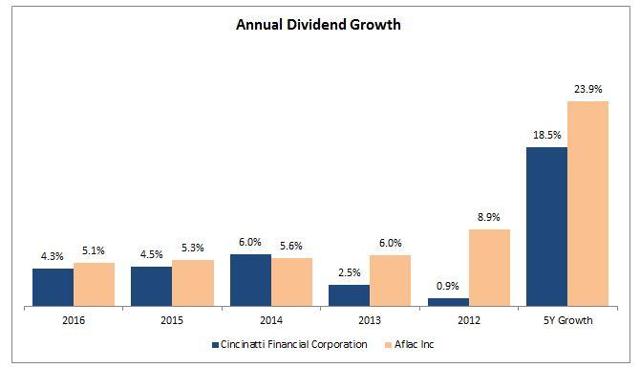 Source: Internal
An investor could expect Aflac to increase its annual dividend by 5%, while the dividend increase is slightly more volatile from Cincinnati.
However, in both the cases, we could see that the dividend growth is lower year after year. From Aflac's perspective, we could expect to maintain a 5% increase, either thanks to better results arising from fluctuation effects in the yen exchange rate or due to the growth of payout. From Cincinnati Financial Corporation, we could expect its dividend to increase by 4% annually. Hence Aflac wins, but at long term, both companies could be less attractive if the dividend growth slows.
Debt & Financial Condition: A Draw
With an A+ rating delivered by Fitch, Moody's (NYSE:MCO) and S&P (NYSE:SPGI), Aflac is considered as a reliable insurance company and issued notes accordingly. With a net debt position of around $500 million ($5.3 billion debt - $4.9 billion cash), Aflac is not too highly leveraged. With 10 million net debt position, Cincinnati is less leveraged than the US-based health insurer. With an A+ rating, Cincinnati Financial Corp. is also assessed by the credit rating agencies as an insurer with a strong financial situation. However, the interest paid by Cincinnati Financial Corp is relatively higher than those paid by Aflac. The long-term debt notes of the P&C multiliner were issued at around 6.2%-6.9%, while Aflac issued extinguished high-yield notes in the past to issue new bonds with a lower yield (2%-4% depending on the maturity date) or high-yield notes (around 6%) with a longer maturity (2039 and after).
A better net debt position vs. a lower debt burden: it is a draw.
Financial Performance: Let's Take A Pragmatic Approach
As value investors, we are always interested in the stock valuation. As retirees or dividend seekers, we are not focused on the stock price. We are only interested in knowing if we will receive more money than the year before, if the dividend payment will remain sustainable, and if we don't lose money in case we should purchase our stocks.
If an investor had invested $100 in Aflac in 2011 and reinvested the dividends, he would have more than $200 at the end of 2016.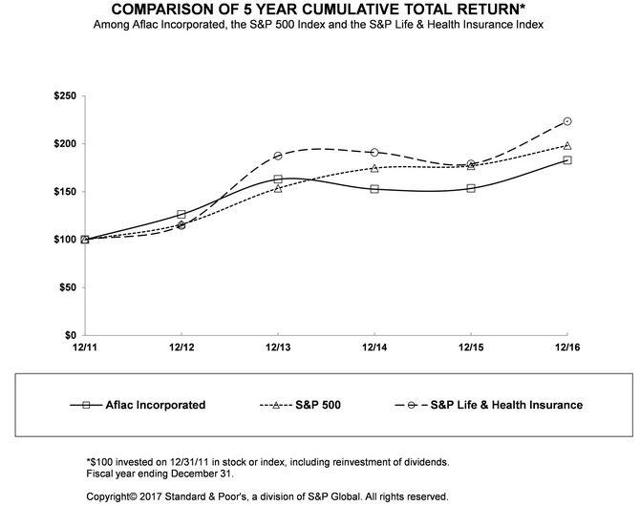 Source: Aflac's 2016 annual report
In the same period, he would have $300 if he would have invested $100 in Cincinnati Financial Corporation.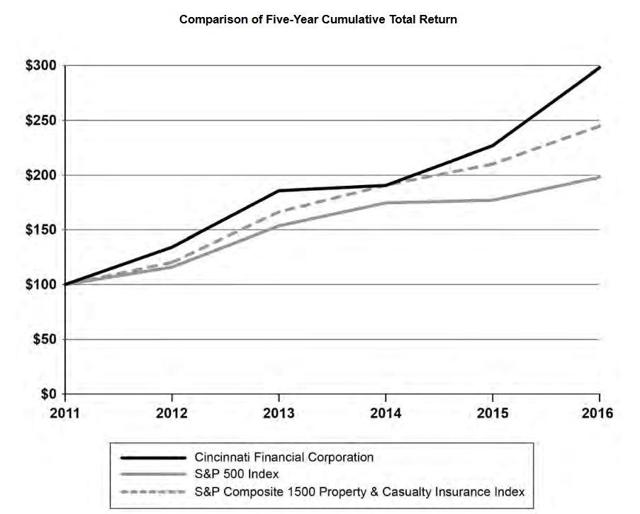 Source: Cincinnati Financial Corporation's 2016 annual report
To make a long story short, an investor will be richer by having invested in Cincinnati Financial Corporation than in Aflac Inc.
Conclusion: Cincinnati Financial Corporation or Aflac Inc.?
On a pure stock performance perspective, I would choose Cincinnati Financial Corporation. It seems that the market considered in the past the multiliner as more resilient and more profitable than the US-based niche insurer.
However, if I would only have a look at the metrics, I would pick up Aflac Inc. More efficient operationally speaking, completely focused on increasing the value delivered to its shareholders through its stock repurchase program and its dividend policy, and more pragmatic and smarter on the debt management, Aflac Inc. seems to be a must-have stock.
Considering the above statements, I would invest in both stocks. But it would be considered by many as a non-committal choice. Hence, if I had to choose only one, I would pick Aflac Inc. up, as I appreciate a lot the niche insurers.
Disclosure: I/we have no positions in any stocks mentioned, and no plans to initiate any positions within the next 72 hours.
I wrote this article myself, and it expresses my own opinions. I am not receiving compensation for it (other than from Seeking Alpha). I have no business relationship with any company whose stock is mentioned in this article.