Rethink Technology business briefs for March 20, 2017.
Intel: Skylake EP Benchmark Leaks Appear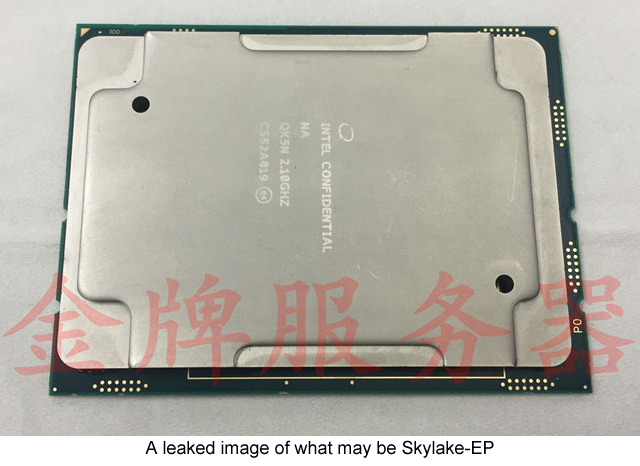 Source: Wccftech
Intel (NASDAQ:INTC) had indicated, back at its Investor Meeting, that Skylake architecture would replace its Broadwell class Xeons in the data center. It was clear that what has been called the Purley Platform would be Intel's answer to Advanced Micro Devices' (NASDAQ:AMD) Naples server processors, based on Zen architecture.
AMD's Naples appeared to have Purley outgunned. At the Open Compute Summit on March 7, AMD disclosed that Naples would offer 32 cores and 8 DDR4 memory channels per chip. Intel had only advertised that Purley would feature up to 28 cores and 6 DDR4 memory channels per chip.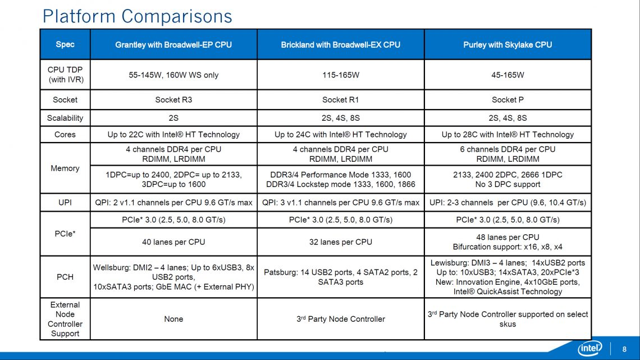 Source: Wccftech
Also, in comparison with comparable Broadwell Xeons such as the E5-2699 V4 equipped with 22 cores, the results were lopsided in favor of AMD.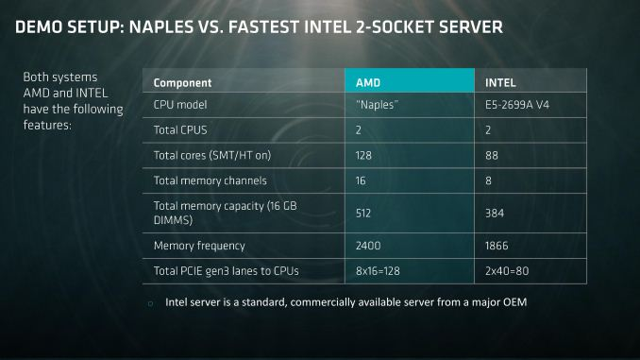 Source: Anandtech
The comparison was not unreasonable, that of Intel's current-generation best with AMD's Naples, but it was still somewhat self-serving. Everyone knew by March 7 that the Broadwell class Xeons were due to be replaced by Skylake. The question was when Skylake Xeons would be available.
Apparently, Skylake server chips are already available, at least on a limited basis, to one of Intel's biggest customers, Google (GOOG, GOOGL). There are now a raft of results uploaded to Geekbench (mostly from March 18) that show these typical results.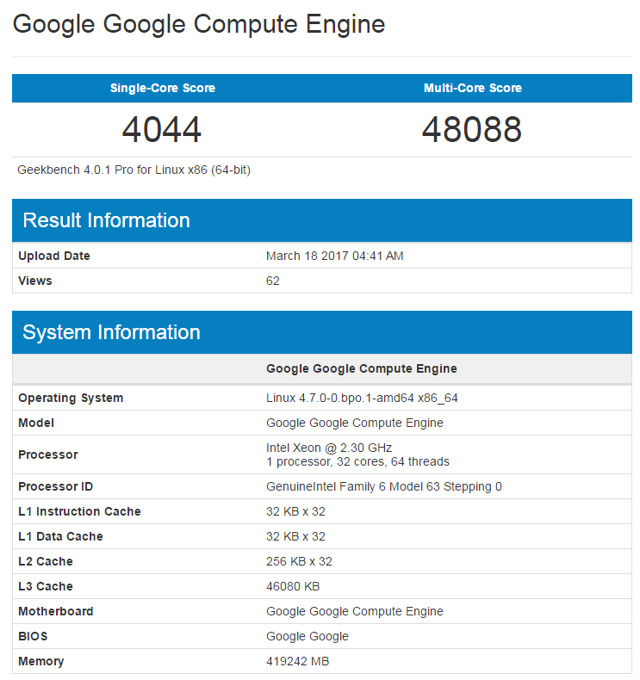 Wccftech has offered the opinion that these results correspond to an as yet unheard of 32 core Skylake-EP Xeon. I had written previously that Intel's partnership with Google constituted a big datacenter win for Intel, but noted that the company had not disclosed at its Investor Meeting when Skylake Xeons would be available.
The partnership announcement in February indicated that Skylake was already in the hands of large datacenter users such as Google. The posting of benchmark results to Geekbench, apparently by Google, suggests that Skylake-EP is much closer to general release. I doubt that Intel would have countenanced the publication of the benchmarks otherwise.
If the Geekbench results have been correctly attributed, then Intel seems to have countered effectively the claimed performance advantages of Naples. The company has equaled the core count, and also improved its single core performance compared to Broadwell, but may still lag in memory channels at 6 compared to Naples' 8.
The single-core performance appears to be about a 29% boost over Intel's Broadwell Xeons. The closest comparison I could find is a Xeon E5-2690 V4, which has 14 cores in a dual processor configuration. This had a single core score of 3219. If Broadwell was the target of Naples, Intel appears to have moved on.
While Intel may have bested Naples in raw performance, it remains to be seen how Naples will fare in the datacenter market. Pricing will probably be a deciding factor, and it will be an interesting matchup once the Intel and AMD chips are released.
Apple's iPhone: Defeated By Good Old-Fashioned Chinese Entrepreneurial Spirit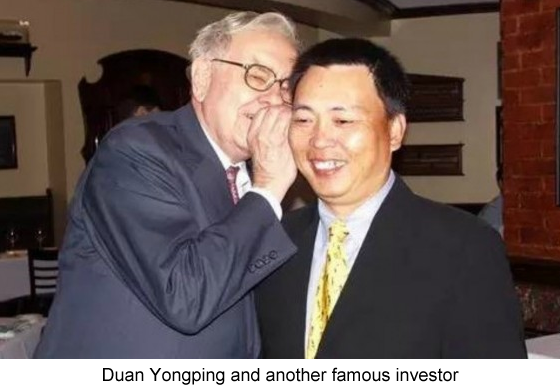 Source: ejinsight
On February 20, 2017, I wrote "Is The Smartphone Playing Field Level In China?" In the article, I pointed out that two leading smartphone brands in China, Oppo and Vivo, were in fact owned by the same company, BBK Electronics. Apple (NASDAQ:AAPL) was pushed into 5th place in smartphone market share in China in 2016.
I also pointed out that BBK appeared to be a state-owned enterprise, based on a Chinese web page that identifies it as such: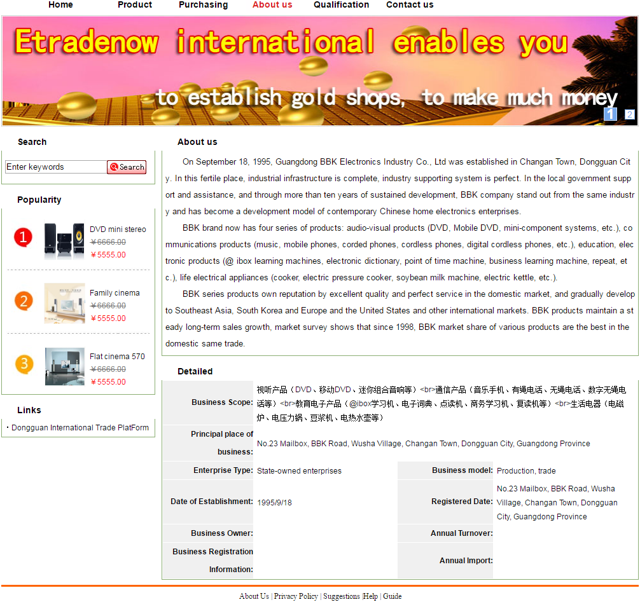 So, it was interesting to read an interview in Bloomberg with Duan Yongping, the "secretive billionaire" who supposedly founded BBK.
Apple fan media sites have tended to focus on Duan's statement about Apple in the interview:
"Apple couldn't beat us in China because even they have flaws," the 56-year-old electronics mogul said. "They're maybe too stubborn sometimes. They made a lot of great things, like their operating system, but we surpass them in other areas."
The statement is clearly part of a broader attempt to paint the success of Oppo and Vivo as the result of Chinese entrepreneurial spirit. The Bloomberg article plays along, never once raising the issue of who or what Duan's silent partners may have been. However, many of the facts disclosed in the interview confirmed what I had reported.
BBK owns the Oppo and Vivo brands, and is located in China's Guangdong province. Duan was brought to Guangdong to run a "struggling electronics plant" in 1990. He left that business to set up BBK in 1995, once again matching the timeline I had reported.
In the article, Duan is referred to as the founder of the company, but Bloomberg's Chinese correspondent refers to him as the co-founder in the embedded video. The article was careful to point out that Duan remains "a significant shareholder (he won't say how much)".
The matter of ownership is germane to the question of whether the People's Republic of China maintains a controlling interest, or any interest, in the company. When the PRC first embarked on its market reforms, the government often recruited "entrepreneurs" to run enterprises in which it held a stake. Such entrepreneurs were often well rewarded with substantial stakes of their own.
Duan appears to have been just such an entrepreneur. In 2001, he and his family relocated to the Bay Area, buying a mansion once owned by Oracle's (NYSE:ORCL) John Chambers. In California, he began a second career as an investor and philanthropist. In 2005, Duan became involved in BBK again and its creation of the Vivo and Oppo smartphone brands.
The question remains, how did Vivo and Oppo achieve their meteoric rise? Did BBK actually make a profit on the phones, or were they to some degree subsidized by the PRC? Right now, Apple investors have no visibility into the finances of BBK.
The PRC has chosen to put a face on BBK in the form of Duan, without disclosing much else that was not already known.
Rethink Technology recommends Apple as a buy.
Softbank Pulls out of $100 Million Investment in Essential Products
Essential Products is the brainchild of Andy Rubin. One of Rubin's previous startups created Android, and that startup was subsequently bought by Google in 2005. Probably the smartest acquisition ever made by anyone in tech.
After leaving Google, Rubin decided to form Essential Products with the intention of creating, now get this, a premium Android smartphone. Who would have thought?
Rubin had recruited Softbank (OTCPK:SFTBY) to contribute $100 million to the startup, which was to be valued at, you guessed it, $1 billion. Another unicorn in the land of unicorns - this one with the groundbreaking idea of a premium Android smartphone.
The WSJ portrayed the decision by Softbank CEO Masayoshi Son as motivated by a desire to avoid a conflict of interest. This was supposedly due to the fact that Softbank's $100 billion Vision Fund had Apple as a $1 billion contributor. The WSJ also acknowledged that it didn't know whether the Vision Fund would have been involved in the Essential investment.
It's actually irrelevant whether the money was coming out of the Vision Fund. If there was a conflict of interest, the investment could have easily been shifted out of the Vision Fund. I think Masayoshi Son simply became disenchanted with Rubin's latest venture.
Disclosure: I am/we are long AAPL.
I wrote this article myself, and it expresses my own opinions. I am not receiving compensation for it (other than from Seeking Alpha). I have no business relationship with any company whose stock is mentioned in this article.
Editor's Note: This article discusses one or more securities that do not trade on a major U.S. exchange. Please be aware of the risks associated with these stocks.