Investment Thesis
Staples Inc. (NASDAQ:SPLS) is struggling to compete with the likes of Amazon (NASDAQ:AMZN). Like many brick-and-mortar retailers with significant operating leverage it is struggling with a declining level of traffic through its stores. This has weighed down its sales but its has been more than accounted for in its current share price. I argue that investors are leaving meaningful returns on the table, upside potential of at least 40%.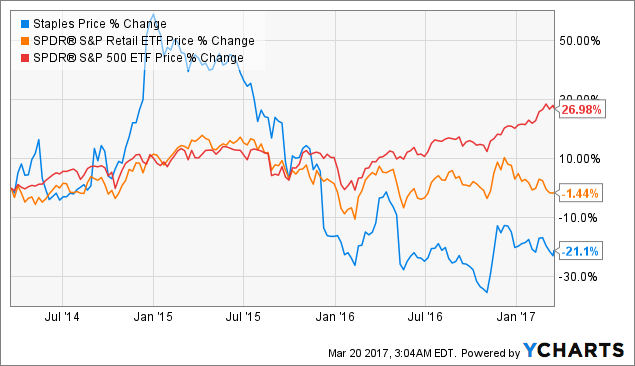 Business Overview
The company has been working on what it calls its 20/20 strategic plan since last summer. The plan has 4 priorities:
Separate its online business (North American Delivery) from its brick-and-mortar businesses (North American Retail)
Within its online business it has Staples Business Advantage and quill.com. It will attempt to grow this business.
Preserve profitability of its Retail stores.
Return its focus to North America and come out of other geographies.
Staples' management certainly have their work cut out as they try to keep Staples profitable in this super competitive and highly fragmented market. In an effort to give investors clarity into its business strategy, Staples has separated its business into two distinct segments. I will also analyse these segments separately below.
North American Retail (Retail)
This segment is the smaller of the two segments (2016 revenue of ~$6.6B). Within its Retail segment, Staples's management understands the difficulty it has in competing against online competitors like Amazon, mass merchants such as Walmart and electronics retail stores such as Best Buy (NYSE:BBY). Within consumer electronics where it has no pricing power, Staples has made the active choice not to pursue revenue for the sake of revenue and sticking to more profitable categories such as print and marketing services.
I recommend that investors think of its 20/20 strategy plan as a legacy segment (Retail) and a growth segment (North American Delivery).
Within the Retail segment it will have to fight declining revenues and squeeze suppliers and trade partners in order to retain profitability and to maximize operating margins. If 2015 and 2016 are anything to go by this segment could generate about $300m in operating income per year. It will look to grow this operating income, but it will be stable and reliable and investors could look to pay an 8x multiple on its EBIT, making it worth somewhere in the ball park of $2B-$2.5B.
North American Delivery (Staples Business Advantage; contract business; online)
The other operating segment (North American Delivery), this is the segment that management feels it has a story worth telling. This segment is the larger of the two segments (2016 revenue of ~$10.6b) and has had comparable growth of 1% in FY 2016 vs FY 2015.
Staples attributes this increase in growth to its facilities supplies, computers (business PC as opposed to consumer PC), and breakroom supplies.
Staples is aggressively targeting the mid-market customers with sales in what it terms beyond office supplies. So far, it appears this focus is paying off with this quarter being the fourth consecutive quarter of growth, with sales up 16% year-over-year. However, in spite of it being up year-over-year, Staples does not break down this particular contribution to its North American Delivery segment. So, in spite of growing it is difficult to understand just how much of this growth will ultimately impact the overall revenues growth of its North American Delivery Segment.
Staples alludes to the fact that currently 40% of the sales mix of its mid-market comes from what it has called beyond office supplies and Staples is attempting to make this revenue stream contribute to more than more than 60% of its sales mix. However, without knowing just how big a contributors its mid-market mix is to the overall North American Delivery segment investors are left to focus on the 1% comparable growth in this segment year-over-year.
However, not having the granularity, in of itself may not be such a bad thing. Since investors hate uncertainty, it leaves a lot of money on the table for investors that have a longer term horizon and are willing to invest now and wait for results to finally materialize. In 2016 this growth segment generated $672m at the operating income level and if does actually deliver what it set out to do, it could, in time be rewarded with a 10x multiple, making it worth roughly $6.7B.
Financials

Source: morningstar.com; author's calculations
The main highlights from it Staples's financials are:
There is no evidence of any growth in the last decade
It does produce some FCF; normalized at $713m
It has a history of using that FCF from the business to pay a dividend currently yielding investors 5.33% and it has also repurchased some small amounts of shares (not shown)
Balance Sheet
Staples has a very strong balance sheet, with ample cash to invest for growth, currently at $1.1B. It has $519m of debt due in less than 1 year, which it will mostly likely chose to pay off rather than refinance. This will bring Staples net cash position to roughly $500.
Also, management have guided investors that Staples is likely to produce FCF of at $500m in 2017.
Insiders
With the appointment of Ms. Goodman to the role of CEO in September it will be interesting to see if the insider compensation scheme will be modified. As of the last proxy statement, the incentives are very authentic and aligned with its shareholder:
Earnings Per Share (50% weight)
Gross Profit $ (25% weight)
Total Sales (25% weight)
One of the things that initially interested me in Staples was that the famous value investor Richard Pzena owned a substantial amount, but after digging through SEC filings, he is actually slowly exiting his position. Which, in of itself might mean nothing since he still owns a substantial amount, roughly 4.98%.
Competitor Valuation
Source: morningstar.com
When I briefly compare what investors are willing to pay Office Depot (NYSE:ODP), which is one of its competitors there is evidently a lot of negativism being priced in the overall sector, with investors only willing to pay 0.2x sales. Having said that, ODP has rallied approximately 30% in the last 6 months and SPLS has lagged both ODP and the S&P500 (NYSEARCA:SPY) (data not shown).
DCF Valuation
Investors are not being asked to pay for any growth at the price that Staples trades at. In fact, sentiment is so negative against Staples that even with 3% growth over the next 5 years, which is near enough equal to inflation, before leveling off at 2% (equal to historical inflation) before being discounted back 8%, results in $8.8m market cap versus the $6B it currently trades at.
I think an 8% discount rate is very appropriate and conservative when we consider the fact that Staples has a net cash position and produces meaningful amounts of FCF.
Moreover, not included in my DCF analysis is any optionality that Staples does in fact deliver some growth in its North American Delivery Segment.
Conclusion
Regardless of the lip-service that management is paying, the business's results are very much lackluster. Any investment in Staples will not be a home run for investors. On the other hand, as far as midcap/large caps go, Staples is trading very cheaply, particularly, on a FCF basis.
It generates substantial amounts of cash, and it has a history of returning that cash to shareholders. In 2016 it returned $311m via its dividend program. Also, management has signaled that it intends to reinvest a large portion of its cash into its North American Delivery segment as well as some accretive M&A. Since the stock market values growth a lot higher than it values a higher dividend stock, this is exactly the correct thing to do. All in all, I consider an investment in Staples to be worth roughly 40% more than it currently trades at.
Please remember that this article is not a recommendation to purchase shares of any of the securities mentioned. Investing in out-of-favor securities has risks that may not be suitable for you. Please do your own due diligence to reach your own conclusions. Thanks for reading.
Disclosure: I/we have no positions in any stocks mentioned, but may initiate a long position in SPLS over the next 72 hours.
I wrote this article myself, and it expresses my own opinions. I am not receiving compensation for it (other than from Seeking Alpha). I have no business relationship with any company whose stock is mentioned in this article.