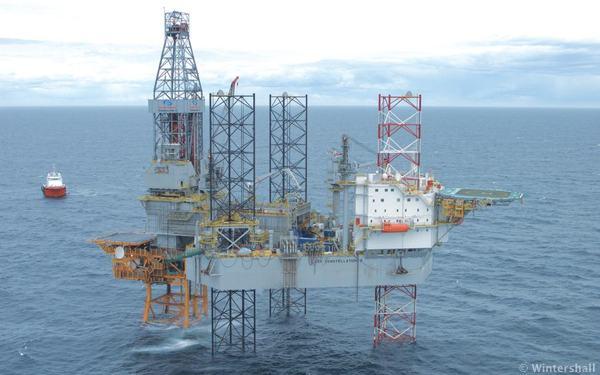 Image: The Jack-up Transocean Constellation II.
News about Transocean Ltd. (NYSE:RIG)
Investment Thesis:
The offshore drilling Industry is suffering through the worst bear cycle in history. The oil crash that began late in 2014 has had a terrible effect particularly on the offshore drilling players such as Transocean, Seadrill (NYSE:SDRL), Rowan Companies (NYSE:RDC), Ensco Plc. (NYSE:ESV) or Noble Corporation (NYSE:NE) and another dozen or more companies struggling to avoid a financial meltdown, due to a basic lack of work, dismal day rates at below breakeven level, and rig oversupply which is the unavoidable trichotomy of an offshore drilling bear market.
Subsequently, competition is naturally becoming fiercer. The offshore jack-up market (shallow waters) and the offshore floater market, present an acute situation of rig oversupply which is not resorbed fast.
Transocean is the uncontested leader in the deep water sector (floaters) with an impressive backlog estimated at over $10.8 billion (see graph below as of March 14, 2017) and owns also a number of jack-ups representing a more modest non-core part of the total business, with a backlog estimated at $161 million (As of March 14, 2017) -- Backlog estimated by Fun Trading.

What is the "news" all about?
We can now call it a news versus a "rumor". Borr Drilling issued a press release on March 20, 2017, about the acquisition.
HAMILTON, BERMUDA, MARCH 20, 2017 - BORR DRILLING LIMITED IS PLEASED TO ANNOUNCE THE SIGNING OF A LETTER OF INTENT WITH TRANSOCEAN FOR THE ACQUISITION OF 15 HIGH-SPECIFICATION JACK-UP RIGS. THE TRANSACTION CONSISTS OF TRANSOCEAN'S ENTIRE JACK-UP FLEET, COMPRISING 10 RIGS IN TRANSOCEAN'S FLEET AND 5 NEW-BUILDS UNDER CONSTRUCTION AT KEPPEL FELS LIMITED.

TOTAL CONSIDERATION FOR THE TRANSACTION IS EXPECTED TO BE APPROXIMATELY USD 1.35 BN AND INCLUDES REMAINING CONTRACT BACKLOG AND REMAINING YARD INSTALMENTS TO KEPPEL FELS FOR THE FIVE NEW-BUILDS. THE BOARD OF DIRECTORS OF KEPPEL FELS HAS PRE-APPROVED THE NOVATION OF THE NEW-BUILDING CONTRACTS.

A DEPOSIT HAS IN LINE WITH WHAT HAS BEEN AGREED BETWEEN THE PARTIES BEEN PAID FROM BORR TO TRANSOCEAN. BORR HAS SECURED FINANCING FOR THE TRANSACTION THROUGH A PRIVATE PLACEMENT OF EQUITY SECURITIES. THE TRANSACTION IS SUBJECT TO THE PARTIES EXECUTING DEFINITIVE AGREEMENTS AND SATISFYING FORMAL CLOSING CONDITIONS, INCLUDING A FINAL APPROVAL FROM THE BOARDS OF DIRECTORS OF BOTH COMPANIES. THE COMPLETION OF THE TRANSACTION IS EXPECTED TO TAKE PLACE BEFORE THE END OF MAY 2017.
The same day, Borr Drilling announced the following:
BORR DRILLING LIMITED IS PLEASED TO ANNOUNCE THAT IT IS RAISING USD 800 MILLION IN NEW EQUITY CONSISTING OF 228,600,000 NEW SHARES (THE "NEW SHARES") AT A PRICE OF USD 3.5 PER SHARE (THE "EQUITY OFFERING").
1 - Let's look at the most recent Transocean fleet status released on February 9, 2017.
Note: I will show here the Jack-up part of the fleet status. For the ones who want to read my article about the whole Transocean FSR. please click here.
Excerpt of the FSR. Jack-up Segment only:
High-specification Jackups
1
Transocean Cepheus ("1")
400/35
1Q2020
Available
2
Transocean Cassiopeia ("1")
400/35
2Q2020
Available
3

Transocean

Centaurus ("1")

400/35
3Q2020
Available
4
Transocean Cetus ("1")
400/35
4Q2020
Available
5

Transocean

Circinus ("1")

400/35
1Q2021
Available
("1") - The five newbuild high-specification jackups contracted to Keppel FELS Limited's shipyard in Singapore are expected to be delivered from the shipyard in two and three month intervals beginning in the first quarter of 2020.
High-Specification Jackups
High-specification Jackup: (11)

350'/400'-30,000'/35,000'

Year built

Contract

End

Current

Day Rate

K $

Location
1

2003

3/17

Still operational per Infields as 3/14/17

85

[Bunduq]

UAE

2

2001

5/17

5/17-5/18 Option

5/18-5/19 Option

212

-

-

-

[Total]

UKNS

3

2013

5/17

5/17-5/18 option

115

110

[Chevron] Thailand

4

2013

3/18

140

[Chevron] Thailand

5

2013

10/18
139

[Chevron] Thailand
Stacked Jack-ups.
As we can see, Transocean Jack-up fleet status is composed of 5 jack-ups under-construction, 5 jack-ups working and 5 jack-ups cold stacked.
Average delivery is 2004 or the Fleet average age is 13 years, with 4 JUs (2012-2013) and five under-construction. In short, a fairly modern fleet for Borr Drilling if we add the two Hercules rigs (2013).
The Jack-up GSF Constellation I may roll off contract at the end of this month, unless the rig gets another extension?
2 - A little bit about Borr Drilling.
Borr Drilling Limited is registered on the NOTC-list as of 19 December 2016 with ticker code BORR.
On January 24, 2017, the company completed the delivery of the two Hercules JUs, the Triumph and the Resilience.
Borr Drilling owns actually only two jack-ups that it purchased from Hercules offshore for an amount of $130 million.
The Borr drilling Ran (formerly the Hercules Triumph - 2013).
The Borr drilling Frigg (formerly the Hercules Resilience - 2013).
Note: if you want to get more information about the sale of the Hercules Triumph and the Hercules Resilience, SA published my article on December 3, 2016. Please click here.
3 - Commentary:
As I stated in my preceding article last week, this is a significant news for Transocean, because the company will divest its entire non-core jack-up fleet, including its five jack-ups under-construction. The financial implications run deep into RIG balance sheet and it is paramount to analyze this major move in details.
For the ones who want to refresh their memory, it is important to read my article about the 4Q'16. Please click here.
To access the 4Q'16 conference call transcript from seeking alpha, click here.
First, Transocean will become a "deepwater player" exclusively, which will not affect significantly revenues.
RIG 2016 revenues were $4,164 million and revenues from HS jack-ups were $288 million ($526 million in 2015), representing 6.9%.
The 2016 revenues were significantly reduced compared to 2015, down 43.6% (see details in the chart below, read from right to left). [Click chart to enlarge]

RIG ended 2016 with a cash and cash equivalent of $3.052 billion and a long term debt of ~$7.5 billion (Total debt $8.546 billion).
CapEx 2016 was $1.344 billion.
M. Marc Mey, CFO, said in the last conference call:
Capital expenditures in 2017 are anticipated to be approximately $500 million. This includes $430 million in new book CapEx, largely associated with the ship truck payments of the Deepwater Pontus and Deepwater Poseidon. In 2018, we expect CapEx of approximately $325 million. This includes approximately $100 million in newbuild CapEx and $245 million for maintenance and other CapEx.
Second, by monetizing its non-core Jack-up fleet, RIG will save a significant amount of CapEx in 2020-2021 and probably a fair amount of headache as well.
As a reminder, On November 2013, Transocean ordered five jack-ups.
Keppel FELS Limited (Keppel FELS), a wholly-owned subsidiary of Keppel Offshore & Marine (Keppel O&M), has secured a repeat order from a subsidiary of Transocean Ltd. (Transocean) to build 5 KFELS Super B Class jackup rigs for US$1.1 billion. The rigs are scheduled to be delivered progressively from 1Q 2016 to 3Q 2017.
Transocean already paid $280 million in 2016, for the five jack-ups and will have to pay an extra cost for the recent delivery delay from Q1'2020 to Q1'2021. (Page 44 in the last 10K Filing.)
Borr Drilling will assume the payment of $1,135 million to be paid mostly in 2020-2021.
Jack-up name

Paid in 2016

in $ million

Total cost

in $ million

Cost remaining to be paid to Shipyard

in $ million

Cassiopeia
59
275
216
Centaurus
57
290
233
Cepheus
57
290
233
Cetus
54
280
226
Circunus
53
280
227
Total
280
1,415
1,135
Transocean will have $1,541 million in new build CapEx remaining as follow:
Drillship

Paid in 2016

in $ million

Total Cost

in $ million

Remaining to be paid to shipyard

in $ million

Deepwater Pontus
745
900
155
Deepwater Poseidon
707
910
203
Drillship TBN #1
221
825
604
Drillship TBN#2
166
745
579
Total
1,839
3,380
1,541
Conclusion:
The deal is a real positive for Transocean, in my opinion, and quite a puzzling expensive gamble for Borr Drilling.
Transocean is getting $1.35 billion in total consideration and losing only about $155 million in backlog (starting May 2017). The Backlog remaining after the transaction, will be over $10.5 billion.
Transocean remaining new build CapEx is now $1.54 billion down much in 2020. This is where I see the positive.

Furthermore, the company lowers its future capex significantly.
The only questions remaining is not really about Transocean, but more about Borr Drilling.
This is a very large transaction that I consider risky. The company is paying $1.35 billion -- assumes $1.135 billion in new build CapEx due in 2020-2021 -- and backlog is only $155 million (May 2017).
Note added on March 21: If we break down the deal, we soon realize that Transocean is not getting any cash at all and instead is losing cash.
The total consideration is $1.35 billion.
We deduct the $1.135 billion that Borr Drilling will pay to the shipyard.
We deduct the remaining backlog starting May 2017, which is about $155 million.
We deduct the payments made already by RIG in 2016 to the shipyard for the five jack-ups or $280 million
We come to a negative $220 million. However, we can also add that RIG will save on maintenance and costs for the jack-ups stacked. This is about a net negative, in cash, of about $150 million to $180 million, in my opinion.
Also, Ocean Rig (NASDAQ:ORIG) indicated that it will sell the Semi-submersible Eirik Raude (2002) for $10 million only in August 1, 2017, and the Semi-submersible Leiv Eiriksson (2001) in January 1, 2018, for $50 million and I wonder who will buy these two assets, that I consider sold at distressed price. These two rigs could be a good addition for Borr Drilling as well.
If you want to read my last article about Ocean Rig fleet status and commentary. Please click here.
Important note: Do not forget to follow me on Transocean and other offshore drillers. Thank you in advance.
Disclosure: I am/we are long RIG.
I wrote this article myself, and it expresses my own opinions. I am not receiving compensation for it (other than from Seeking Alpha). I have no business relationship with any company whose stock is mentioned in this article.
Editor's Note: This article covers one or more stocks trading at less than $1 per share and/or with less than a $100 million market cap. Please be aware of the risks associated with these stocks.