Due to rising unit costs and downward pressure on key revenue metrics, JetBlue (NASDAQ: JBLU) did not share in the airline sector's gains over the past 52 weeks. After a bumpy ride, shares in JetBlue are trading at the same level today as they were a year ago; meanwhile, the airline ETF US Global Jets (NYSEARCA: JETS) climbed over 9% during the same period.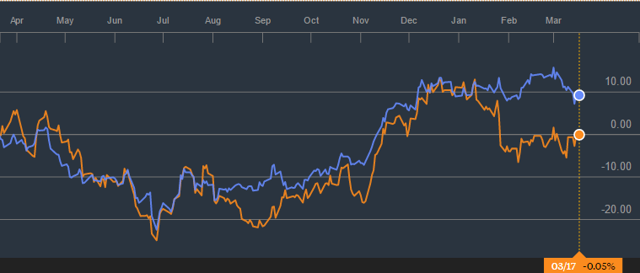 Source: Bloomberg
JetBlue -- a champion of focusing on hospitality -- can erase the gap between its own stock's performance and the recent performance of the company's competitors as the company offers routes to new major cities, expands its Mint service, and improves operations to limit operating costs.
The JetBlue Story
I have been both a JetBlue bull and shareholder for well over a year now. And, yes, there were quite a few bumps along the way. The company struggled to balance being a low-cost carrier with being the best in-flight service provider; fare prices fell, margins were pressured, and, to some investors, the company's strategy seemed to lack a clear focus.
As a long-term investor, the stock's turbulence certainly was not enough for me to reach for the bag in the back of the seat pocket in front of me(or, in this case, the sell button), but it warranted a few inspections of the company's financials and operating performance to test the merits of my initial bull thesis.
Over a year ago, this bull thesis forged out of my belief that the company featured the level of focus on customer satisfaction necessary to maintain pricing power among a loyal niche of customers and from the recognition that JetBlue's shares were undervalued relative to the general market.
This initial belief -- that JetBlue possessed a winning combination of superior customer service and a differentiated product -- persevered at every altitude JetBlue's stock slipped to. The company's burgeoning Mint service and best-in-class customer experience delivered reasons for shareholder optimism amid an onslaught of changing analyst sentiment and fare pressures; as the stock slipped, the company's distinct differentiators stayed the course.
This is the JetBlue story: the company attempts to differentiate itself by keeping the customer experience a top priority while also pressing operating costs low enough to offer competitively priced fares. For customers, JetBlue successfully deliver on these goals. In 2016, J.D. Power ranked JetBlue first in customer satisfaction among low-cost carriers for the 12th year in a row, demonstrating that the company's competitive advantage is alive and well.
However, the performance of JetBlue's stock did not follow the path of its customer service. This does not mean the original thesis is broken, or that JetBlue's competitive advantage disappeared; instead, it demonstrates that focusing on rapid growth and failing to fully define the targeted customer can lead to an erosion of shareholder value. Going forward, JetBlue must return to serving its specific market segment and must lower pressures on operating expenses.
Disciplined Growth and Managing Margins Can Deliver For Shareholders
As JetBlue derives the bulk of its revenue from six focus cities -- three of which accounted for 98% of the company's available seat miles (ASMs) growth over the past five years -- growth can be achieved by adding routes to new cities and expanding flight service from existing hubs.
Problems plagued this strategy over the past year as fares slipped dramatically in multiple quarters, leading some to believe the company was too aggressive in its growth tactics. For example, JetBlue trimmed service to Cuba by 25% earlier this year, shortly after pointing to the newly accessible market as a growth opportunity. With multiple industry participants expanding capacity in similar ways in 2016, fares faced heavy downward pressure across the board, causing JetBlue's key revenue metrics to slip.. In response, JetBlue and others have taken action to slow traffic growth to maintain control of fares.
Approaching growth with a newfound discipline will enable JetBlue to leave its worst days in the past as the company can regain control of fares and perfect its operations. The turbulence that sprung from falling fares and that rocked JetBlue's stock can be avoided going forward as JetBlue becomes more selective in growth opportunities. To that end, it appears JetBlue is progressing, as passenger revenue per available seat mile (PRASM) declines lessened successively in recent quarters from their negative 10.5% low.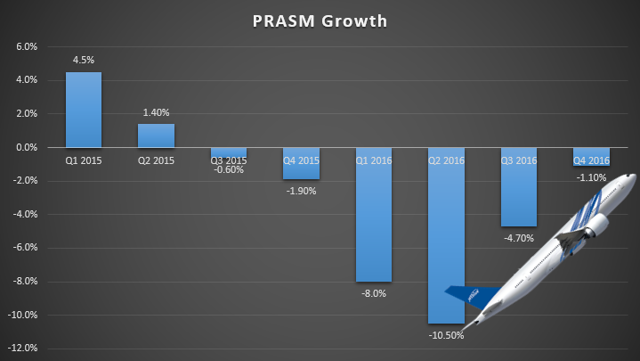 Data Source: Company Filings
The rhetoric in JetBlue's recent presentation at the 2017 JP Morgan Aviation, Transportation & Industrials Conference demonstrates that JetBlue understands the necessary selectivity in growth that must come, with one slide stating the company's strategy as "targeting value-accretive growth opportunities." The company is focused not just on growth for growth's sake, but specifically "value-accretive" growth. Rather than expand aggressively, JetBlue is targeting high ROIC hubs, such as Boston and Ft. Lauderdale, and offering its highly profitable Mint service on more routes.
Recent fare increases make the case that the airline and its competitors are seeing success in the fight to gain pricing power, as average fares were up 2.4% month-over-month in February. JetBlue is set to benefit from these higher fares, given the strength of its brand and the company's favorability among consumers.
In addition to being more selective in growth, JetBlue must be relentless in managing expenses in order for shareholders to benefit from the company's strong customer satisfaction efforts. Management clearly recognizes this, manifested by CEO Robin Hayes statement in the Q4 Earnings Call: "our top priorities are implementing our structural cost program to realize $250 million to $300 million of savings we've targeted by 2020 and delivering on operational improvement."
This is a bold ambition, but if successful it will unlock expanded cash flows for shareholders for years. By rolling customer self-service out to all of the company's major cities and driving strategic sourcing savings the company can lower recurring operating expenses and benefit each year in the future. There's another added benefit: if successful, customer self-service can drive repeat customers by creating a more seamless flying experience, thereby fostering loyalty.
The chart below, taken from the company's recent presentation, lays out the path to achieving up to $300 million in cost savings by 2020. In addition to customer self-service, corporate automation and focusing on the company's digital offering pose recurring savings that can drive cash flows as the company increases capacity.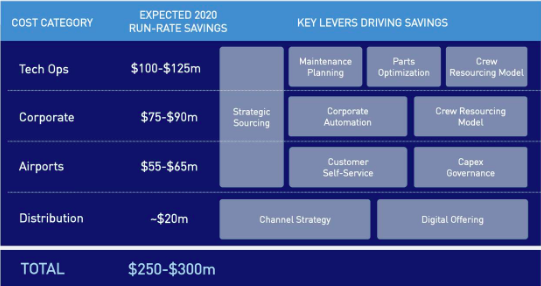 Source: Company Presentation
When Will The Multiple Expansion Possibly Come?
In order for investors to send JetBlue's stock higher, the company must show signs that it is successfully executing its strategy. In the forthcoming Q2 Earnings Release, a bounce in the company's operating margin and a return to positive PRASM growth could be catalytic in unleashing a multiple expansion. Last quarter, the company's operating margin slipped to just 18%, a year-over-year decline of 2.7%; for investors, the company must manifest progress being made against the stated goal of over $250 million in cost reductions.
JetBlue will be aided by weakening oil prices (again) and falling interest expenses created by the company's buyout of multiple aircraft leases, which constitute a major portion of JetBlue's debt. As aforementioned, the company also showed signs of a recovery in its crucial PRASM metric, and PRASM will be further supported by signs of increasing fares.
JetBlue's P/E ratio of 9.09 suggests the company is still favorably valued compared to high-flying competitors Southwest Airlines (NYSE: LUV) and Alaska Air (NYSE: ALK), with respective P/E ratios of 15.07 and 14.49. Compared to these companies, and given its edge in innovating its in-flight offerings, JetBlue has plenty of room to expand once it executes its cost cutting plans and revenue initiatives. For these reasons, I remain calmly long but will continue to observe margins and PRASM figures in the coming quarters.
Ultimately, PRASM is showing signs of a recovery and JetBlue is taking the appropriate actions to drive higher margins. The nature of JetBlue's initiatives means that it could take a few quarters before the market regains confidence in JetBlue's abilities to fully execute on their revenue and cost cutting initiatives. Investors will need to be patient before seeing the stock erase the recently created disparity between JetBlue and the broader sector.
Disclosure: I am/we are long JBLU.
I wrote this article myself, and it expresses my own opinions. I am not receiving compensation for it (other than from Seeking Alpha). I have no business relationship with any company whose stock is mentioned in this article.
Additional disclosure: I once interviewed for a position in JetBlue's Corporate offices.