Note:
I have covered Transocean (NYSE:RIG) previously, so investors should view this article as an update to my earlier publishings on the company.
After early reports surfaced last week, today both Norwegian offshore drilling newcomer Borr Drilling Limited ("Borr Drilling") and Singapore shipyard Keppel FELS Limited ("Keppel FELS") confirmed the sale of Transocean's entire jackup fleet including five newbuilds currently under construction at Keppel FELS.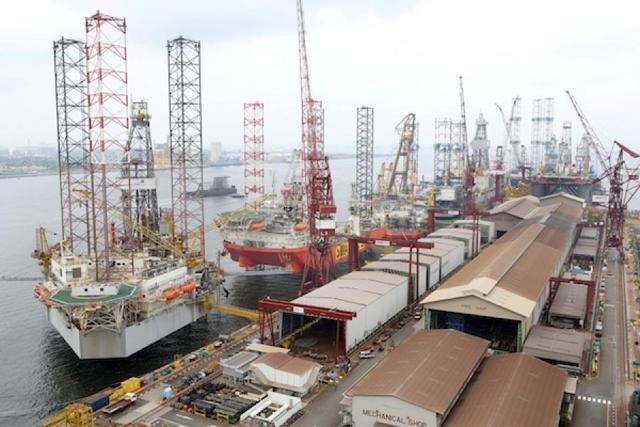 Picture: Jackup rigs under construction at Keppel FELS - Source: Seatrade Maritime News
As Transocean has not yet confirmed the details of the transaction in a press release, some uncertainties still remain but based on the information currently available, here's the deal:
Under the terms of the letter of intent with Borr Drilling, Transocean will sell its existing fleet of ten, high-specification jackup rigs including the remaining, small contract backlog at the closing date. Borr Drilling also assumes Transocean's newbuild obligations with Keppel FELS.
Total consideration is expected to be $1.35 billion but, unfortunately, most of this number seems comprised of future payments due to Keppel FELS.
As a reminder:
Transocean originally ordered the five jackup rigs in 2013 for roughly $1.1 billion with delivery dates initially scheduled for 2016 and 2017. Twelve months ago, Transocean and the shipyard negotiated a deferral for all five rigs to 2020. In return for agreeing to the deferral, Keppel FELS was compensated with an almost 30% purchase price increase. In consequence, despite $280 million already having been paid to the shipyard, Transocean's remaining obligations under the newbuild contracts of $1.135 billion were still higher than the original purchase price.
Under Borr Drilling's agreement with Keppel FELS, the delivery schedule for the first three rigs will now be re-accelerated to 2017 and 2018 while the remaining two rigs will be delivered in 2020. Borr Drilling will also make a down payment of $275 million.
In return, Keppel FELS has not only reverted the almost 30% markup stemming from the delay in 2016, the yard even slightly reduced the purchase price per rig from the original $219 million number to $216 million.
Based on Transocean's remaining $1.135 billion in obligations to Keppel FELS, the purchase price for the company's existing jackup fleet calculates to just $215 million which also includes an estimated $150 million in remaining backlog.
Including the newbuilds and assuming another $50 million in free cash flow contribution from the fleet's remaining backlog, the blended purchase price per rig amounts to $83 million which, in fact, looks quite reasonably in light of current industry conditions.
Clearly, the deal has some positive implications for Transocean:
Removal of more than $1 billion in future newbuild capex requirements
Immediate addition of cash to the balance sheet
Avoidance of stacking and maintenance costs
Avoidance of employee-related severance costs
Potential savings on corporate overhead costs
Strategic re-positioning as a floater pure play
On the flip side, Transocean will have also have to deal with some negative consequences:
Loss of $280 million in prepayments already made to Keppel FELS
Requirement of taking a major impairment charge against the book value of the jackup fleet
Losing exposure to the least oversupplied industry segment which is widely expected to recover sooner than the floater space
Being now almost solely focused on the heavily oversupplied deepwater segment
Giving up on potential superior future cash flows from a predominantly modern jackup rig fleet
I have already heavily critized Transocean's senior management for a slew of poor business decisions in the recent past and this latest, highly defensive, move might very well open up the next chapter.
While the company's CEO, Jeremy Thigpen, is repeatedly talking about an industry recovery being close at hand, Transocean's recent actions are actually telling a very different story. Over the past year, the company has almost desperately tried to extend debt maturities well into the next decade at the expense of much higher interest obligations but I was particularly baffled by the CFO's statements on the most recent conference call about the company looking to enter negotiations with its banks regarding the extension of its, currently undrawn, $3 billion revolving credit facility which actually won't mature until 2019.
Investors should scrutinize why the company is eager to extend an undrawn facility two years in advance with industry fundamentals still deteriorating? Undoubtedly, the conditions will be harsh compared to the current bargain interest rate of LIBOR plus 2%.
So with Transocean now looking to proactively extend its revolving credit facility well into the next decade, the banks have obviously taken a close look at the company's future capex obligations and might have even forced Transocean into this transaction given the very real threat of the company having to draw under the newly extended credit line for the remaining payments to Keppel FELS in 2020. With this obstacle now out of the way, the company's banks might be more willing to negotiate an extension.
That said, I still expect the facility to be downsized materially and governed by rather strict financial covenants as most banks are still looking to reduce exposure to the industry.
Bottom line:
Another highly defensive move by Transocean, once more thwarting CEO Jeremy Thigpen's ongoing narrative of an industry recovery being close at hand. Clearly, the company does not expect any material improvement in business conditions until at least 2020 as evidenced by today's transaction and the company's ongoing efforts to extend debt maturities well into the next decade.
In light of the company's stated intent to proactively extend the maturity of its $3 billion revolving credit facility during H1/2017, Transocean might very well have been required to substantially improve its future cash flow profile by its banks.
Today's news only reinforces my grave concerns regarding the ability of Transocean's senior management to successfully guide the company through the ongoing industry downturn.
In fact, despite the company's industry leading backlog, Transocean still looks like a riskier play compared to financially stronger peers Diamond Offshore (NYSE:DO), Rowan Companies (NYSE:RDC), Ensco (NYSE:ESV) and even Noble (NYSE:NE).
Going forward, investors need to pay close attention to additional details regarding the progress of negotiations on the targeted extension of the company's revolving credit facility.
Should the discussions bear no fruit, the company might very well decide to draw down the entire amount under the credit line and subsequently enter restructuring discussions with its lenders.
Furthermore, investors should take some of the calculations and assumptions made above with a grain of salt as Transocean hasn't released any transaction details yet.
I will comment further on the issue, once additional details become available, so stay tuned.
Lastly, investors looking for exposure to the offshore drilling industry might finally have an opportunity with Borr Drilling as the company has remained debt free so far and will most likely keep its current, basically unlimited access to the capital markets by picking up more distressed assets around the globe going forward. The longer the downturn lasts, the cheaper Borr Drilling will be able to purchase additional rigs. Over time, the company might very well become a leading industry player simply by going against the grain at a time when incumbent players are struggling with large debtloads and liquidity concerns. Unfortunately, the company is only listed at the Norwegian OTC so far, making it difficult for US retail investors to purchase shares.
Disclosure: I/we have no positions in any stocks mentioned, and no plans to initiate any positions within the next 72 hours.
I wrote this article myself, and it expresses my own opinions. I am not receiving compensation for it (other than from Seeking Alpha). I have no business relationship with any company whose stock is mentioned in this article.