I wrote an article on Nike (NYSE:NKE) last month in which I spelled out the long-term bullish case for the company, citing factors such as strong brand recognition, management, and Under Armour's (NYSE: UAA) fall.
However, I decided to write this article as I've seen a lot of bullish sentiment on Nike on StockTwits and other forums and do not think that Nike's shares present much upside in the short-term. I would like to note that Nike does have a solid track record when it comes to earnings and could potentially surprise to the upside after the market closes today. However, I think there are a number of factors that will prevent the company's shares from continuing their breakout, which I'll detail below.
Adidas's Rise
I'd like to put this as frankly as possible: Adidas (OTCQX:ADDYY) is back. The company released strong results and guidance in its 2016 FY report a couple of weeks ago, leading to a large run in share price. I first wrote to buy on StockTwits when the company's shares traded in the low-$60's, and have written numerous bullish articles on the company on Seeking Alpha when shares traded around $80. Shares now trade at $97, close to the $100 price target I spelled out in these articles.
The reason why I mention Adidas is that its comeback represents a dramatic change in the North American footwear landscape. Just a couple of years ago, Adidas was becoming obsolete as the company's products were seen as out of touch with the tastes of the American consumer. Nike occupied the throne, and no company came near it as far as sales or brand recognition. However, Adidas's recent results show that not only is the company intent on regaining market share and sales in the United States, but that its efforts are working: revenues grew 18% in 2016, and sales of its Adidas brand (excluding Reebok), grew by over 30% in the US in 2016.
Google Trends data confirm that Adidas is mounting a comeback, as the gap between search queries for Adidas and Nike continues to shrink: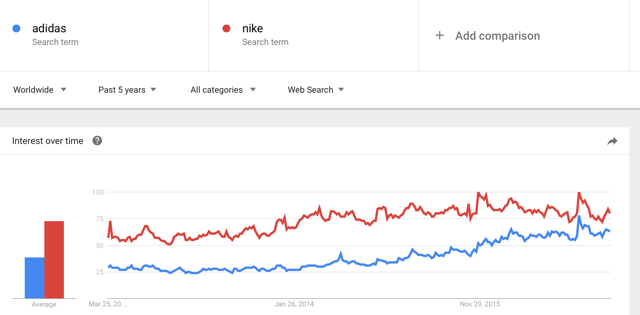 Search queries for Nike have also remained flat over the past couple of years, while queries for Adidas have enjoyed a steady uptrend.
"Casualization"
During its Q4 earnings call several weeks ago, Foot Locker's management spoke about a "casualization" in the way people dress - confirming and echoing numerous reports about a trend shift towards casual apparel and footwear choices.
I've written about and alluded to this shift in prior articles, and this was one of the primary factors that influenced my bullish outlook on Adidas and bearish outlook on Under Armour. Nike does have an arsenal of retro apparel and footwear, which has been one of the reasons why its share price hasn't suffered the same way Under Armour's has.
However, Adidas is in the best position to capitalize on this trend shift, as the company boasts the most expansive lineup of casual, lifestyle footwear and apparel. Nike, on the other hand, has focused more on performance gear and apparel, although not to the same extent as Under Armour.
Valuation
This industry comparison chart sheds some light on how Nike's valuation stacks up with that of its competitors: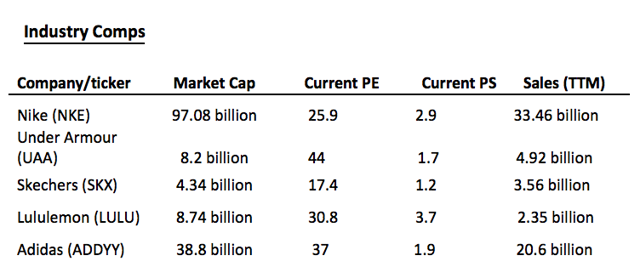 Analysts are estimating that Nike will report revenues of $8.47 billion, up from $8.03 billion a year prior. This represents an increase of 5.5%, which is a bit lower than the 8 percent growth the company reported last quarter. I believe Nike remains fully valued at the moment, as it currently has a 26 PE and 2.9x price-sales multiple on expectations of mid-single digit sales growth.
I believe that Nike is currently at a plateau when it comes to margins and profitability. Stiff competition from Adidas and Under Armour should compromise Nike's pricing power, which will lead to a continuation of the trend that has seen Nike's gross margins deteriorate. EPS has increased impressively in past quarters, although I would argue that this is due in large part to a massive four-year $12 billion share buyback program that the company began in 2015.
Nike has enjoyed strong operating margins in the US in past years due to its dominance - it was able to charge premium prices for its products as it didn't face much competition: just a couple of years ago, Skechers was at a distant second, Under Armour was (and still is) much smaller than Nike, and Adidas was barely in the picture. This landscape is much different now that Adidas has begun to concentrate more effort in increasing its US sales and market share.
I would argue that Adidas is a much more serious threat to Nike's continued dominance than Under Armour was. Not only is it 4x larger than Under Armour in terms of revenues, but it is also Nike's closest competitor when it comes to global sales and brand recognition.
Its recent hot streak in the United States means that Nike is in a much more competitive landscape than before, which should lead to lower margins and weaker pricing power. Nike will be fine in the long-term and I've wrote in previous articles that Nike and Adidas will share a position of co-dominance in the sportswear industry.
However, Nike shares enjoy a premium valuation compared to other companies in the industry because of the dominance it has long enjoyed. For instance, Skechers is growing at roughly the same rate at Nike yet has a much lower price-earnings ratio of 17.4. I would argue that Nike shares don't have much upside potential because shares already trade at a premium and I don't believe that the threat the company faces from Adidas is fully priced into the shares.
Key Factors
There are a couple key factors that I will be keeping an eye on tomorrow when the company reports: while the company emphatically mentioned in its last earnings call that "Basketball is back", I remain doubtful. Performance basketball has suffered for the past several quarters and basketball sales have been propped up by an interesting decision by Nike to mass-produce what have traditionally been limited-edition retro Jordan models.
The company, despite being very positive about basketball in its last earnings call, wrote in its 10Q report (page 24) that "growth in our Sportswear, Running, and Jordan Brand categories more than offset declines in other categories, most notably Soccer and Nike Basketball".
Nike's sales growth in North America and China will also be important metrics to consider. North American sales increased by only 3% last quarter, and will be a telling sign as to how successful the company has been in combating Adidas. China sales will also be important as growth in that region is considered to be one of Nike's key drivers of revenue growth in the years to come.
Conclusion
I am bullish on Nike in the long-term but wrote this article as a reminder for readers to exercise caution going into Nike's earnings. Nike has enjoyed a nice 13% run-up to start the year, but this isn't based on anything substantive. The company will have to prove that it can fend off Adidas and adjust its product line to accommodate the fashion trend shift away from performance gear and towards casual apparel and footwear.
Due to the factors I mentioned above and others that I've detailed in prior articles on Nike, I remain slightly bearish on Nike in the short-term and do not believe that the company's shares have significant upside in the short-mid term. However, if the company's earnings report surprises to the upside or reveals surprises I haven't considered, I'll be more than happy to admit my mistake.
I will keep readers updated via articles on this site and am always welcome to any questions or disagreements either in the comments section or via email (email address is in my Seeking Alpha bio). Thanks for reading!